---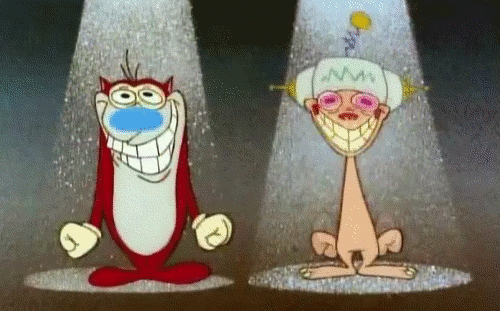 Hello, boys and girls
This is your old pal Stinky Wizzleteats
This is a song about a whale
No! This is a song about being happy!
That's right! It's the Happy Happy Joy Joy song!
Happy Happy Joy Joy
Happy Happy Joy Joy
Happy Happy Joy Joy Joy!
I don't think you're happy enough
That's right! I'll teach you to be happy!
I'll teach your grandmother to suck eggs!
Now, boys and girls, let's try it again
Happy Happy Joy Joy
Happy Happy Joy Joy
Happy Happy Joy Joy Joy!
If'n you ain't the granddaddy of all liars!
Think of the little critters of nature...
They don't know that they're ugly!
That's very funny!
A fly marrying a bumblebee!
I told you I'd shoot! But you didn't believe me!
Why didn't you believe me?
Happy Happy Joy Joy
Happy Happy Joy Joy
Happy Happy Happy Happy
Happy Happy Happy Happy
Happy Happy Joy Joy Joy!
I think Iíll just leave this right here. The first attempts at some larger components are finally finished, and theyíre looking
goooood!
Top:
The first print attempt met with someÖ difficulties.
Bottom:
With improved fortune, the second try was much more successful and looks great on the Rhino.
While a gift from the Omnissiah, Servitor Solus still comes with some quirks and eccentricities in its machine spirit. Rush the process and the odds increase that problems will arise, but even if everything is prepared properly sometimes something unexpected will still happen. In this case, Solus justÖ stoppedÖ mid-print for no reason that I could figure out, but a reset and restart got to the desired results. It seems Iíll need to be more diligent in my rights of preparation, operation, and maintenance with Solus in order to keep its spirit cooperative.
While it looks very good in this photo, this was a test print and it really illustrated some changes to the design that are required. Iíll post another update with more images and a longer ramble once I get more adjustments done and iterate a little more. The fit and finish are gorgeous, now it just needs a little more refinement.
Critique for da CriticGod
Join Date: Aug 2010
Location: Philadelphia, PA USA
Posts: 3,350
Reputation: 43

---
Great progress! The new bits are looking very promising. That last Solidworks screen cap is diabolical!
---
Last edited by Kreuger; 01-27-19 at

05:52 PM

.
---
Woohoo! Payday, with a big lump of back pay included. Time to stock up on resin and rubber in preparation for the next push. The prototypes and moulds are only going to get bigger, so I suspect Iíll be moving to the 5-gallon buckets of rubber in the near future. The producer of my Solus 3D printer has also starting to release the grey printing resin theyíve been working on that produced some amazing results in the tests that theyíve been showing. I canít wait to get my hands on a few litres of that.
So, this wasnít exactly what I had planned when I posted that last teaser screenshot. I was going to quickly follow up, but then, as Iím apt to do, I got pulled in to doing more modelling and trying something else. I knew I needed to wait a week to restock on rubber anyhow, so Iím not going to dwell on it. While a bit delayed I think Iím happy with what Iíve come up with while I dabbled; since they are larger components I wanted to take the opportunity to experiment a bit and showcase a some of the ideas and concepts I want to create going forward.
In honour of Chaos being muse that started all of this, the Mk.1 is treated with a basic Chaos/Renegade style.
I want this first armour kit to address a shortcoming in the first set of armour I made for the Predator; the first set was made specifically for the Predator and it didnít really suit the Rhino if it was stripped down. With this set I wanted it to work well on both the Rhino and the Predator. Breaking the armour plates up in this spaced style achieves that end while also creating reasonably sized components that my 3D printer can handle.
The first test prints of this design showed that I could simplify how I planned to attach the armour to the hull (Yay! Less fiddly bits!), and really illustrated that the doors on top of the Rhino were a missed opportunity. If the Predator gets armour for the sponsons and turret, the reasonably simple flat bits to add the doors to the Rhino version of this kit was simple enough. Besides, this just provides more room to model details. Iím tempted to complete the process and just do the side doors as well, but I think it actually might be too much since I like the ratio of original model to the amount of armour kit at this point.
The Mk.2 offers clean lines and large open surfaces perfect for the murals, squad markings, unit numbers, and/or chapter symbols of an imperial collection.
Along with the Rhino Tracks and the Siege Ram shown earlier, these initial armour kits are complete and just need final details done before the casting masters will be printed. I still need to do the unglamorous task of labelling the sprues, a dull but naturally necessary part of the process. Ah, the joys of manufacturing. That said, these kits represent a good baseline of where I want to start, but now that Iíve got the base models thereís so much opportunity to exploreÖ
The Mk.3A is the first of many explorations into warped, mutated, possessed, versions of the kits Iíll be producing. It takes a little more time than I expected, but I think the results are worth it.
In this case, Iíve been focusing on just similarly shaped spines as I get a better understanding of how I can deform surfaces, and even here I still need to do the other side. Expect to see future ideas with tentacles, teeth, eyes, appendages, and other gribbly bits plus I want to try my hand at some battle damage and corrosion/decay. Naturally, I also want to mix the elements for some variety and to let a builder get a few kits so they can mix-and-match some parts to keep things unique across several vehicles. Another idea that will go along with kits like this will be the inclusion of a strip of mutated/warped details in the same theme that can be attached to the base model in other areas to tie the look together.
This concept is still somewhat experimental, and I can see now that Iíll need to be careful not to create problems in the design that will make bubble trapping issues during casting; some of the spines might need to be shortened a bit and/or their curve toned down, just to be safe. Iím also tempted to break up all of the spines by adding a few tentacles, just to add some visual interest but Iím not totally sure. I like the consistent look, like some singular malevolent aggressive daemonic entity has entered the vehicle, but a little variety isnít usually a bad thing either. Being a starting point and experimentation for future examples of mutation and possession, expect to see this concept return once Iíve got the starting kits in production. As I work out a process for creating each kind of detail it just becomes a matter of repeating the process to add similar details to future kits.
If Mk.1-3 are the Bad, Good, and Ugly, then I guess the Mk.4 could be considered the Elegant? For those who want something less utilitarian but not overtly Chaos.
While this pattern is really intended to be an alternative design that is suitable in an Imperial army, I can easily see this type of style being paired with Thousand Sons or Emperorís Children and thatís the general idea. Iím working with lots of splines here and theyíre a pain in the ass but they really do create wonderful flowing lines if youíre willing to take the time to tweak and adjust them. While Iím very pleased with the direction and results so far Iím still not sure if Iím completely happy with some spots so Iím sure there are still some changes that are going to happen to this concept but itís a good start to show the feel that Iím aiming for.
In general, this will be how I want to start expanding the selection in the shop; creating a series of base kits and models, to begin with, and then adding unique and exotic variations to expand the line. How quickly and/or how many variations will depend on demand and the capacity of the studio, but something Chaos/Renegade, Imperial, mutated/possessed, and elegant/ornate, seems like a good place to start. With the convenience of digital creation as I expand on the concepts trying new ideas and 3D modelling techniques, I add to the options I have to go back and update a design with a new style. A lot of the key techniques will start with figuring out how I can best deform, distort, and otherwise mangle the base designs, but doing delicate precise line work comes with its own challenges as well Iím quickly discovering. It always comes down to adding the right amount of details to accentuate the look without cluttering it with too much.
Ok, enough rambling. Servitor Solus has a bunch of manufacturing to get on with, and Iíve got a bunch of cleanup and mould preparation to keep going. Updates with progress photos and first casts will be showing up soon. Thanks for lurking, reading and commenting if youíre so inclined.
---
Doing great work mate, will you be doing more "imperial" styled stuff
---
---
Damn, posting can be such a mixed blessing. Iím always hungry for input, but sometimes the internet gives input that just causes a feedback loop in my own overthinking. Now Iím rethinking the anti-grav Rhino concept. Iím not going to scrap it by any stretch, but I think I want to reconsider some elements now. Jeez,
thanks
internet! With your forcing me to seek excellence. *gives a snooty face* FineÖ *wanders off muttering* Ö Iíll make it even
betterÖ
But seriously, thanks for the comments and feedback. Like I always say, I canít do every suggestion but it all gets considered and it all adds to the final results.
The casting masters are pretty much finished for the next round of kits, but a few small parts might need a reprint for quality control.
Two litres of the new high-resolution grey resin that the makers of Solus were working on is on the way in the next few weeks. It should arrive just in time, as Iím almost out of my first litre of the red resin Iíve been using up to this point. Getting Solus dialled in and learning how to get acceptable results consumed quite a bit of my first batch of printing resin, so I expect this next batch to go
much
further towards making actual casting masters for production parts. Itís also going to be much easier to work with and photograph since the red simply washes all the detail out; sometimes it makes it possible to overlook minor flaws that I clean up in preparation for mould making, and thatís never good.
Hereís a close up of the Predator all dressed up with nowhere to go, as it were. Iím very pleased with how well itís all coming together.
Iíve quickly remembered that I donít have an unmodified Predator in the studio; the original armour kit required changes to the turret and sponsons so it looks like I should get my hands on a new Predator sprew so I can showcase future kits properly. Itíll finally give me a reason to assemble and paint the current kit for a third predator in my Black Legion collection, so itís not like itís a bad thing. And with rumours of some more Chaos releases in the coming year, I guess the timing isnít too bad really.
Mould making is ongoing so expect to start seeing the first casts for these kits showing up reasonably soon. Once Iím happy with the results of this first set of armour then Iíll get the Imperial friendly Mk.2 into production. With the feedback and input that came back when I showed the concept 3D models Iíve got a few ideas I want to try on the mutated Mk.3 concept, so that series is going back to the design table, but the Mk.4 should be easy enough to have followed up after the Mk.1 and Mk.2 are in production. Some other version of tracks will also start showing up once Iím happy with the results of this first set. Iím also itching to try some enclosed sponsons and perhaps some exotic weapons systems for the Predator chassis, but if I do that itís very tempting to do a custom turret as well. I better be careful not to fall down the rabbit hole with the Rhino/Predator chassis, since I need to turn my attention to the Land Raider and Storm RavenÖ and Knights, donít even get me started on KnightsÖ so many wonderful opportunities! *shakes his head* Focus! All in due time.
---
Quote:
Doing great work mate, will you be doing more "imperial" styled stuff
Absolutely! The plan is to start most kits with Imperial and Chaos/Renegade versions, and then expand the selections with other versions that will range in styles with one that should be suited to Imperial.
Lower Navigation
Legion Rising - Projects from The Dark Works