Iron Hands - Clan Draythar - Project Log
---
It's about time I got round to posting this...
For those of you who follow Humakt's annual Army Painting Challenge, you may have seen my Iron Hands popping up here and there - it has been a great driver to get something painted every month, especially as some of these guys have been sat around in black undercoat for more than two years!
To date, I have mucked about with Army Lists from all of the available Marine Codices - but until I trialled the Dark Angels book, none had really seemed to gel with my play style. The shiny archeotech wargear (mostly Power and Displacer fields), army-wide Stubborn USR, unlocking troops as terminators, and cheap tactical squads - all these things made my inner machine happy
So firstly, a little Fluff:
'The Clan Draythar, hailing from the Mercury Narrows region of Medusa, where two Acidic Rivers meet in a Mighty Delta, the brutality of their assaults is legend amongst the other Warrior Clans of Medusa. Using a combination of Orbital and Subterranean assault transports, Clan Draythar's siege-breaking prowess is something to be envied...

Despite their prowess in the Art of War, there are those whose opinion of Clan Draythar is less than complimentary. In some circles it is whispered that the Iron-Fathers of the Clan meddle with the technologies gifted to them by the Adeptus Mechanicus - Rumours of Techo-Heresy are usually quashed by the Great Clan Council, but the recent string of successes against enemies using pin-point accurate teleporter strikes, risking multiple suits of archeotech terminator armour, it has become more difficult for the council to disagree with the rumormongers...

The Clan eschews the use of speed in favour of brutality, land speeders, bikes and airborne units are extremely rare within the armoury of their Mobile Fortress-Behemoth, and rarely see use in open warfare. Recon is carried out by advanced orbital sensor arrays deployed from Strike Craft, as opposed to utilizing scouts - it is the collected opinion of the Clan's Iron-Fathers that Scout Armour does not have enough protection, nor a reliable enough power source to keep the bionics of the wearer functioning at peak efficiency.

The Clan symbol is that of a Romanii-Numeric Delta, in Black on a White Cog, worn upon the right shoulder of their Power Armour. This switches to the left shoulder for those honoured enough to wear on of the Clan's seven suits of Terminator Armour, the design of the Crux Terminatus having been changed to represent the Clan's Heritage - the fact that they are wearing Terminator armour immediately sets them aside as Honoured Veterans from their Battle Brothers. The Imperial Aquila of the Emperor is not worn upon the chestplate, but as an honour - earned in battle for exceptional feats, its appearance is sparse across the Clan, as those who wear it, are often those in the thick of the fighting...'
Right, time for a quick run down of a typical army list, then, onto the pictures!
Using Codex: Dark Angels -
Belial, (Clan Commander Varan Ironstorm)
Sword and Bolter
Librarian, (Epistolary Tynar)
Terminator Armour
Digital Weapons,
Auspex
5 Terminators, (Clan Veteran Squad Morticon)
Assault Cannon,
Chainfist
10 Company Veterans, (Clan Veteran Squad Dekkan)
Plasma Gun,
Melta Gun,
4 Combi Plasma,
4 Combi Melta,
Drop Pod (Termite)
10 Tactical Marines, (Tactical Squad Arkitren)
Plasma Gun,
Drop Pod (Termite)
5 Tactical Marines, (Tactical Squad Lanrok)
Multi Melta,
Rhino
5 Tactical Marines, (Tactical Squad Taled)
Heavy Bolter,
Rhino
Siege Dreadnought, (Veteran Brother Ferranus)
Lucius Pattern Drop Pod
Predator Executioner, (Designate:
Riparius
)
Heavy Bolters
Whirlwind (Designate:
Cascadus Primus
)
Whirlwind (Designate:
Cascadus Secundus
)
Total: 1750pts.
As you can see, using two of the three drop pods and the Deathwing Assault rule, this army has a very powerful Alpha Strike element, backed up by a myriad of fire from the backfield. It can also survive an enemy alpha strike relatively well, and suits my playstyle quite happily!
For 1850pts, I upgrade the two whirlwinds to the Whirlwind Scorpius from Forgeworld... they are really rather devastating!!!
Right, enough Preamble, picture time!
---
PDC Gaming Webstore Now OPEN!
---
First up, Veteran Brother Ferranus: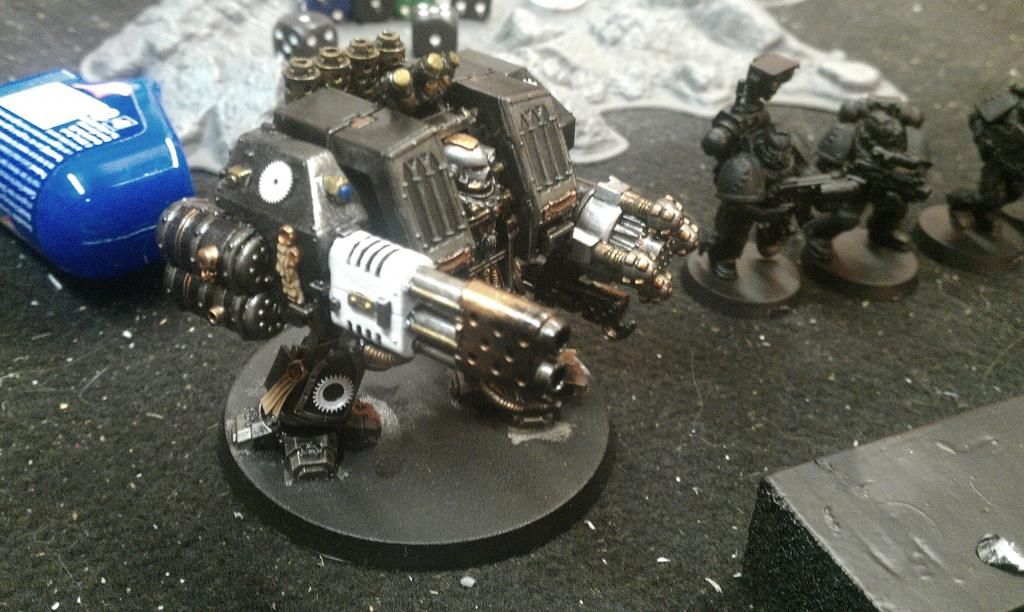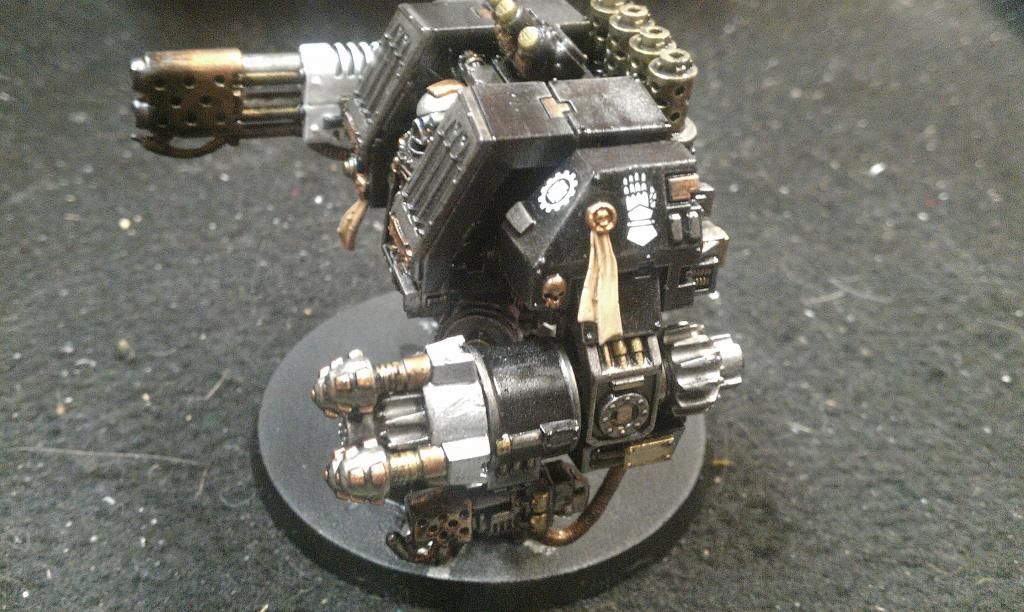 Built from a Venerable Dreadnought, the armament of which never sat right with me for a pod dreadnought (assault cannon), I added an Ironclad Siege Drill arm, and converted an old Dread arm to house the Flamestorm Cannon. A myriad of Purity Seals, and a smattering of watch gears later, et voila, a mighty Siege Dreadnought to terrorize my opponents backfield...
---
PDC Gaming Webstore Now OPEN!
---
Now that's a flame thrower! Nice work and nice fluff. Looking forward to seeing where this goes.
---
Next on the Bill - Clan Veteran Squad Dekkan (Melta Combat Squad):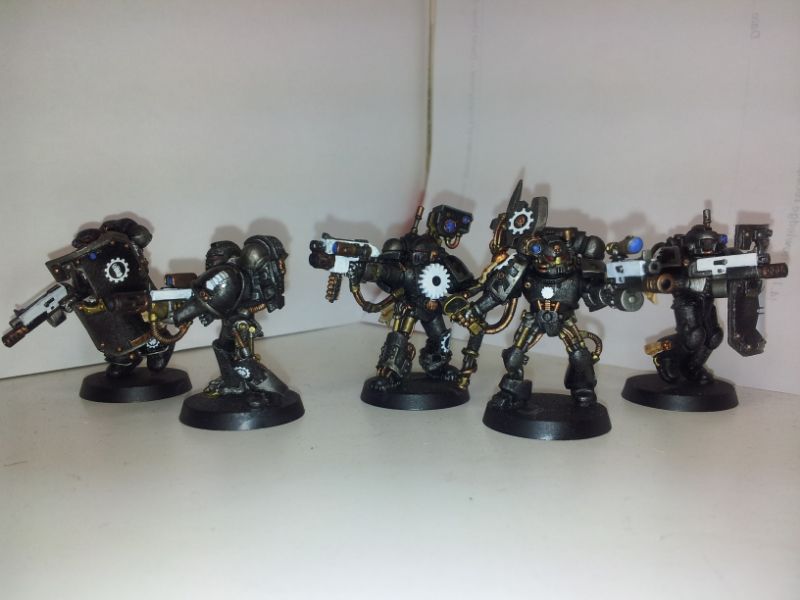 Sergeant Dekkan - built from an Iron Warriors Warsmith, and a techmarine power axe. All squad sergeants in the army carry a Battlefield Uplink on their backpack, allowing the Commander to receive real-time data, and adapt tactics to reinforce areas of the battleline.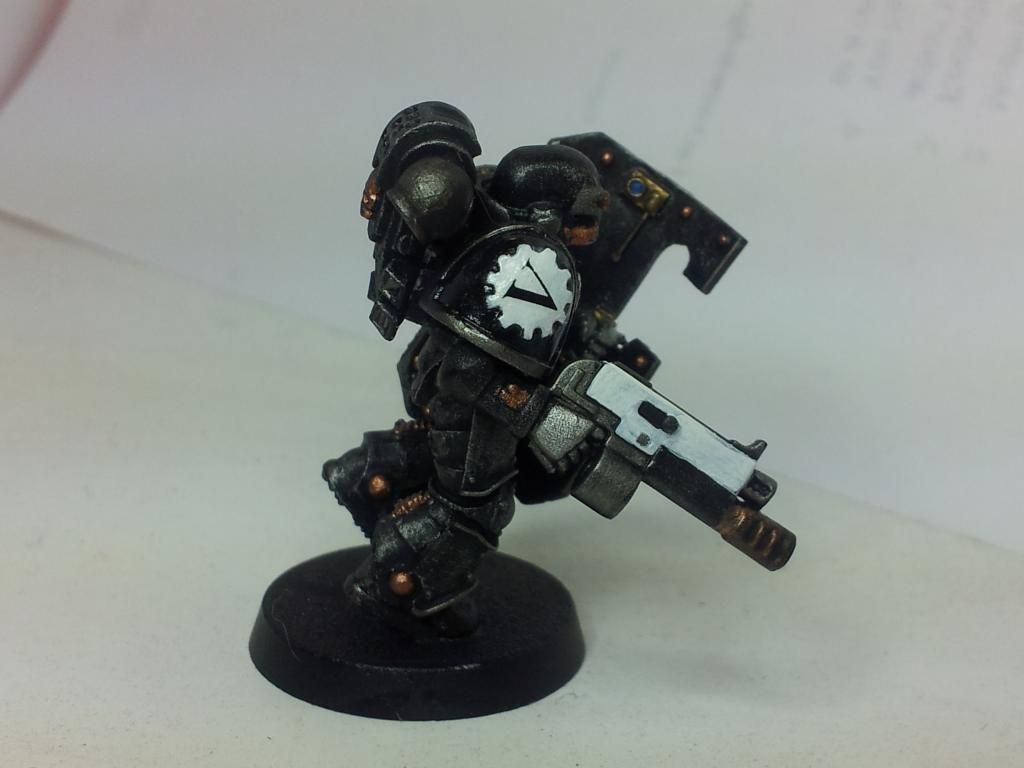 Initially I had intended to use the boarding shields as storm shields, however, the squad became somewhat pricey with the addition of the other 5 members, so now they add to the siege/assault aesthetic which makes me happy in my cybernetic brain...
---
PDC Gaming Webstore Now OPEN!
---
Very cool!
---
Tactical Squad Arkitren:
(apologies for the quality of the photos!)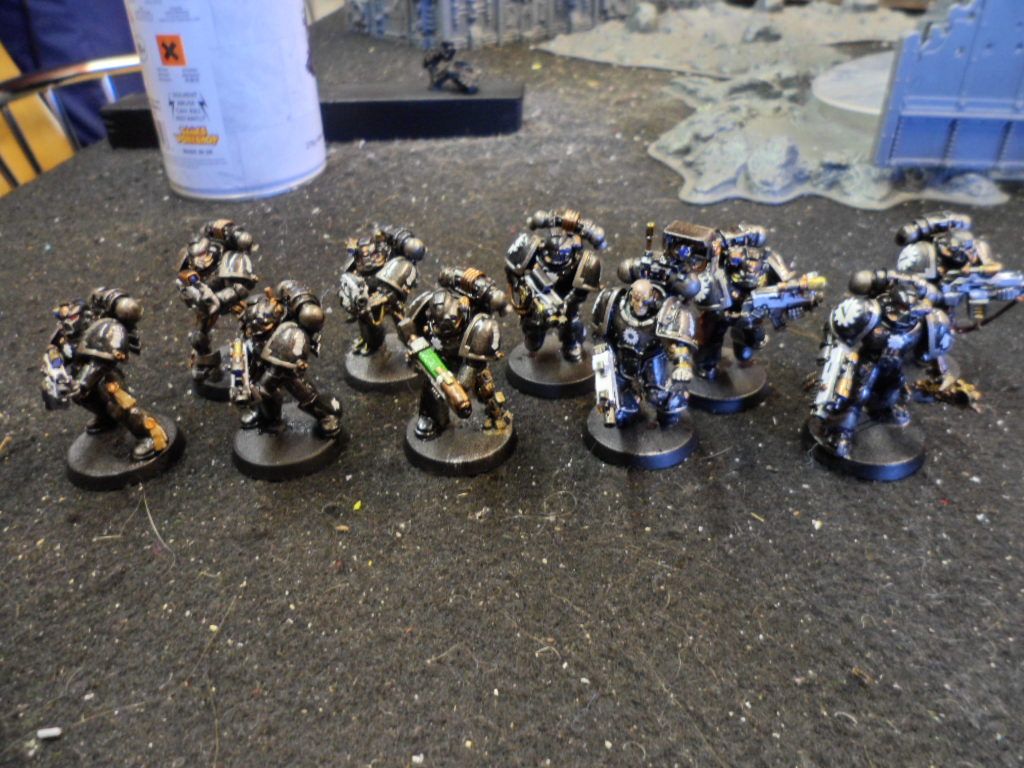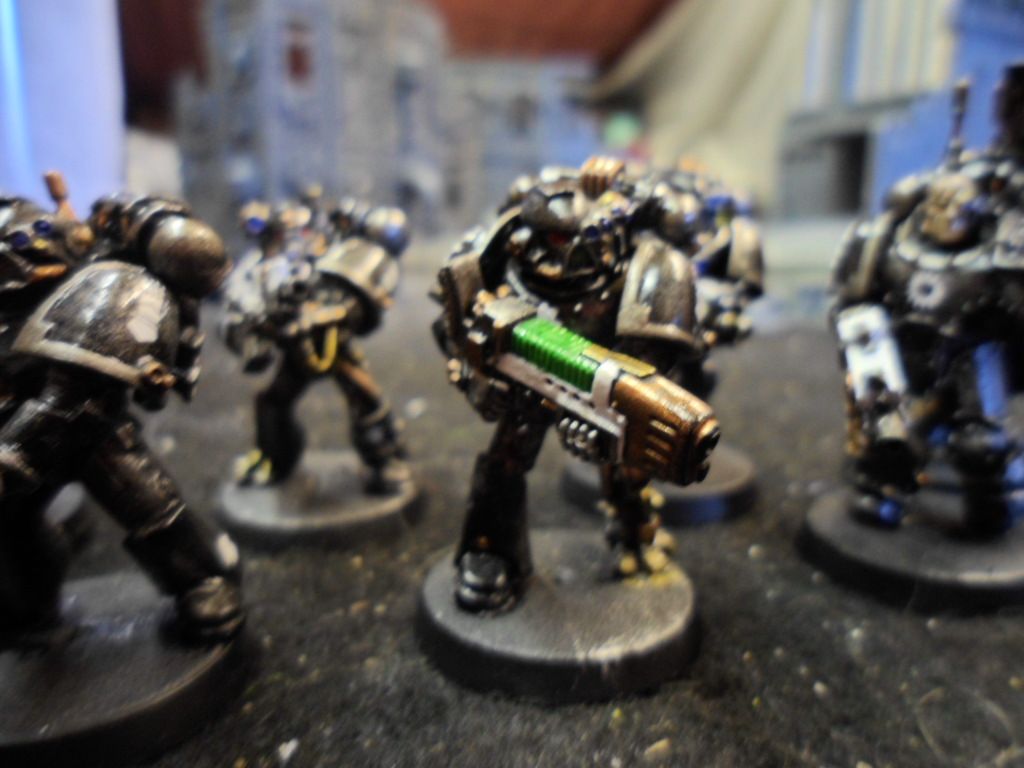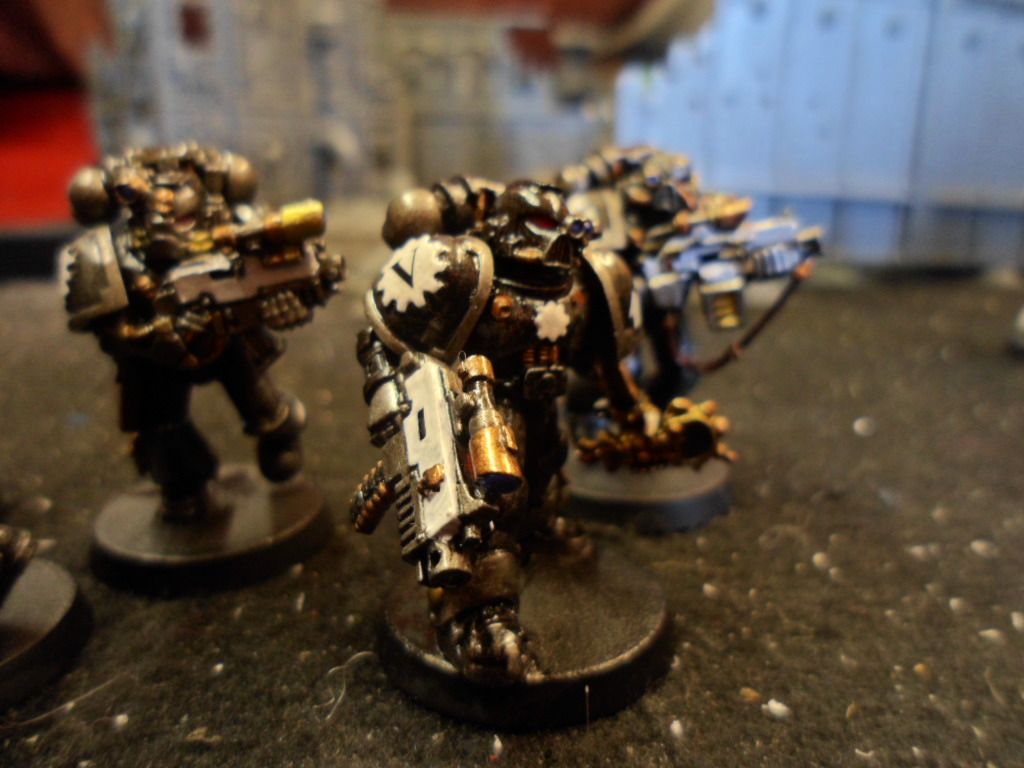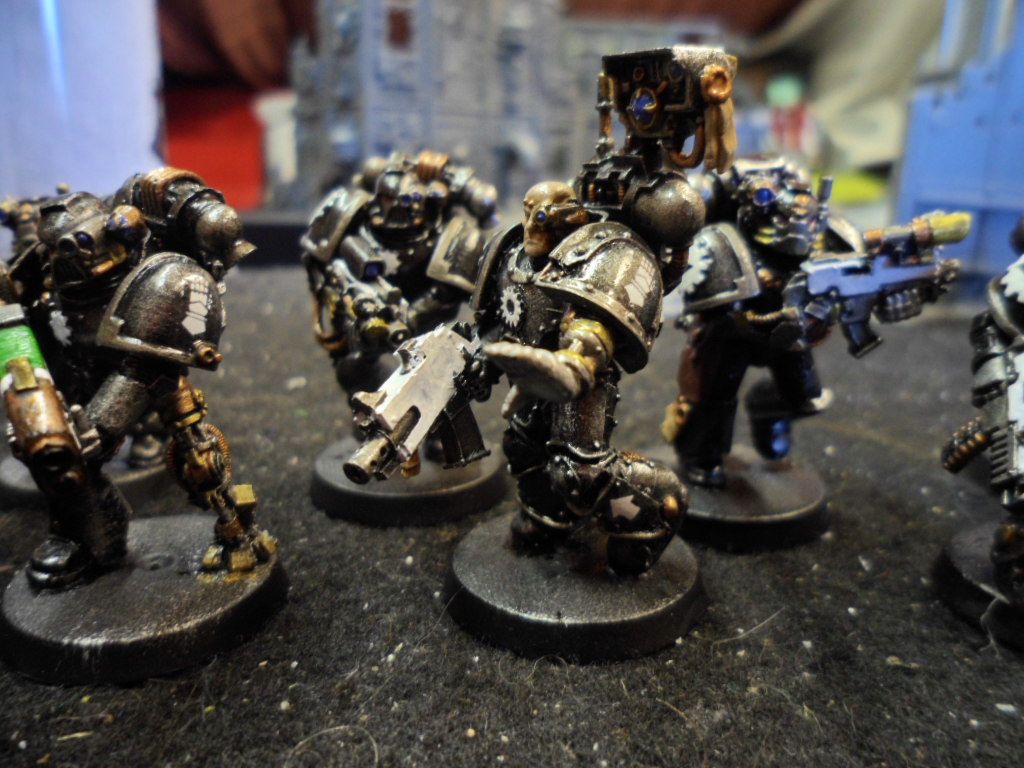 Sergeant Arkitren, sporting mk3 Iron Armour, a Veteran of the Great Crusade, has led his Termite assault unit through many breaches to secure vital objectives in the name of his Clan and Primarch.
---
PDC Gaming Webstore Now OPEN!
---
Tactical Squad Taled: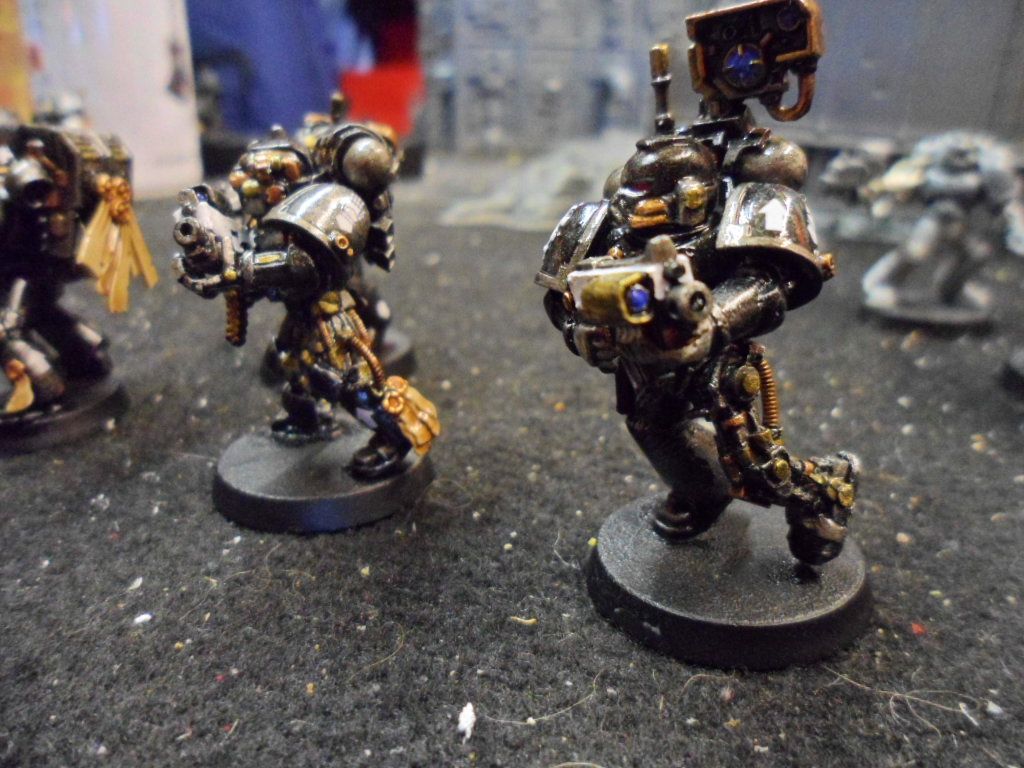 Sergeant Taled sporting a bionic leg and a bolter - all of my sergeants carry bolters out of choice, i don't see the need for power weapons on them, so why take a pistol?
Transport!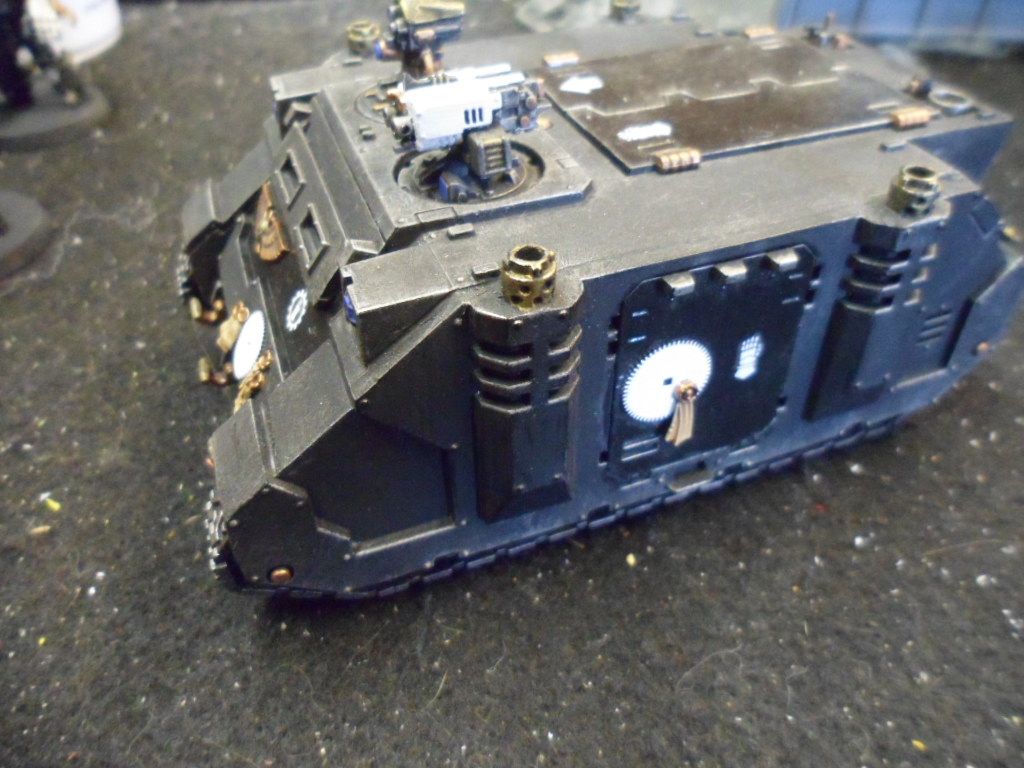 Just needs a last coat of varnish to give it a slight sheen, similar to that of the rest of the army... I had an argument with purity seal... even in dry heat it fogs my models... and I have since seen that gloss varnish makes my colours 'pop' more, and I approve of it much more!!!
---
PDC Gaming Webstore Now OPEN!
---
Clan Veteran Squad Morticon:
A few before and after pictures of these guys - it took me a while to be happy with how they looked...
I chose the Tartaros pattern Terminators as I wanted to add extra teleport 'gubbinz' and make them look more experimental - after the devastating loss of the 1st Company Morlocks at the Betrayal at Istvaan, I felt that the Iron-Fathers would have taken it upon themselves to 'experiment' somewhat with Teleporter technology... a nice piece of fluff which I have bought into my gameplay through the use of Belial...
As you can see, I have used the antenna from the Grey Knight Interceptor backpacks as my additional Teleport Stabilizers, on the back of the carapace and lower legs.
Now, some painted pics!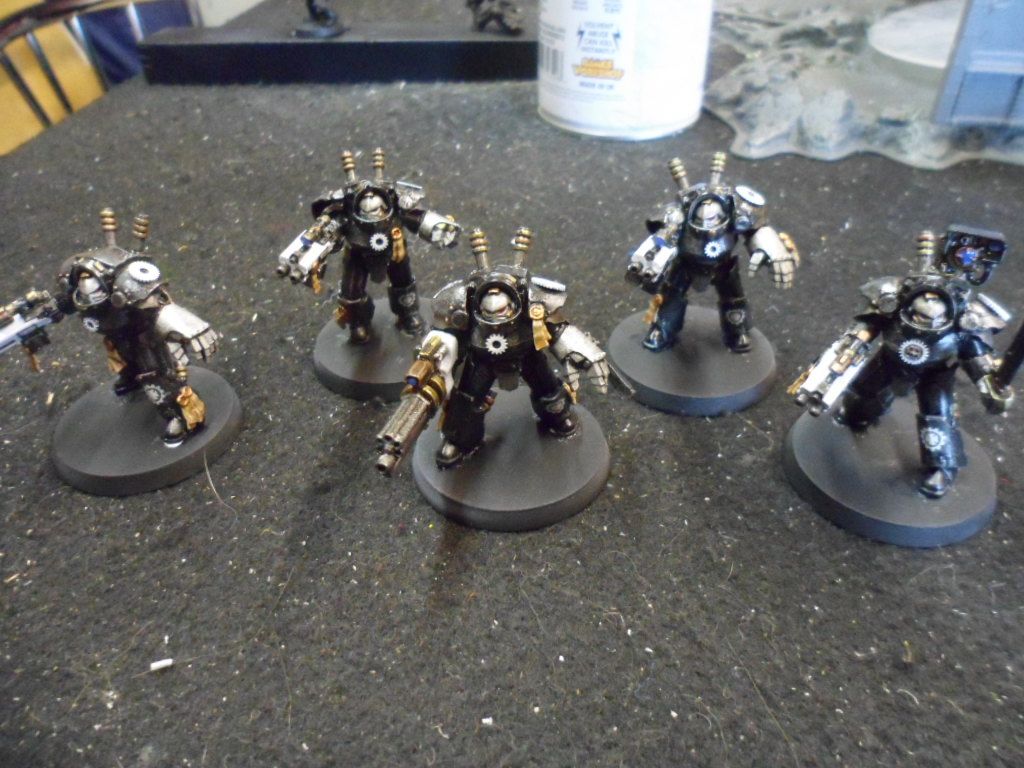 ---
PDC Gaming Webstore Now OPEN!
---
That concludes the tour of what I have painted currently!
So, what's next for Clan Draythar I hear you ask?
Well Dear Reader, as hinted at by my Army List at the beginning of my Log, I have several mechanized units which have been alluded to...
First up, I have a pair of 'Termite' Pattern Subterranean Assault Pods - I have two of these to paint in the near future. The model is from Curtis @ Ramshackle Games.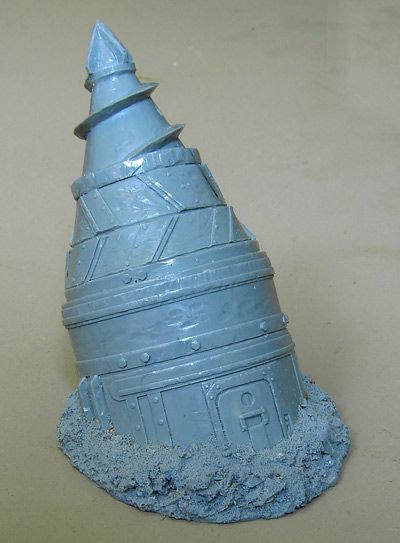 I have also put together my own version of a Predator Executioner - I had envisioned that the Plasma Technology has been repaired and parts replaced for so long, that although the vehicle still functions as the Tech Adept who designed it intended, it is now an altogether different vehicle to that which it started life as...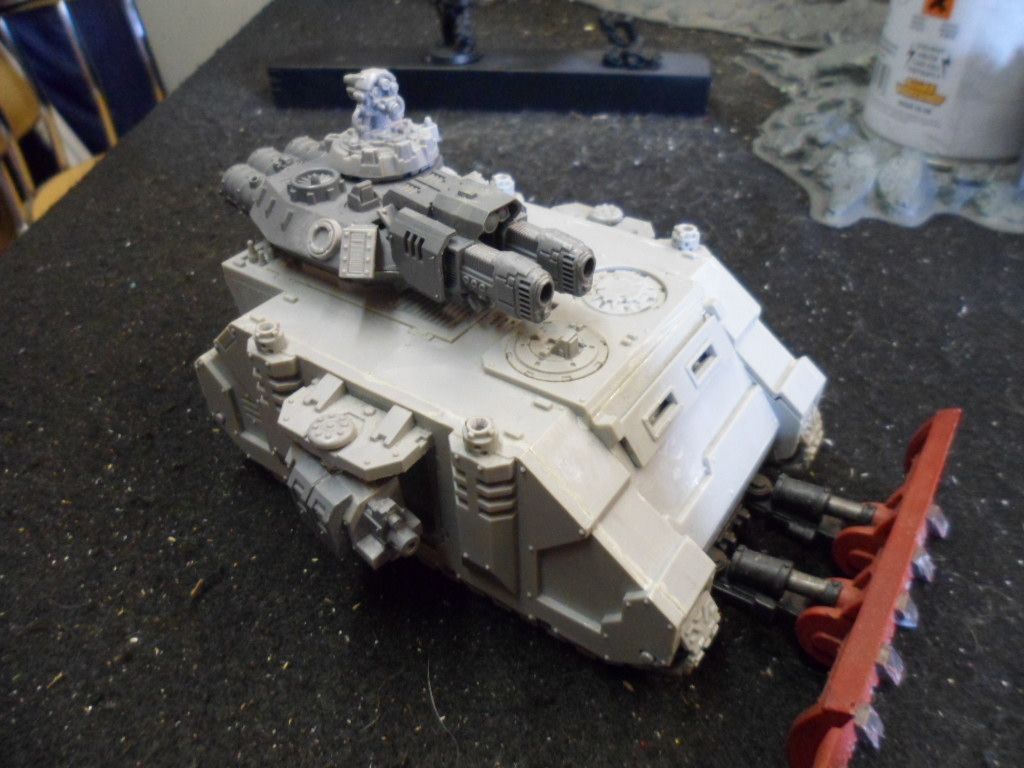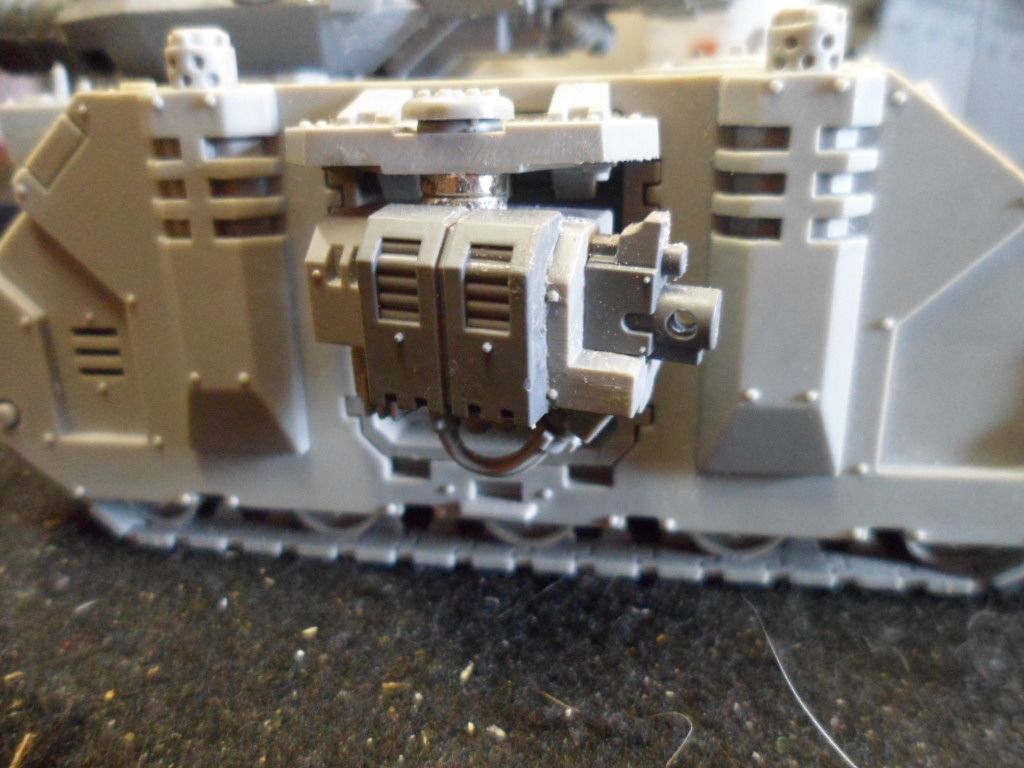 The Plasma Cannons have come from a Stormraven, and the turret has been covered in assorted vents and grilles, necessary for venting all that plasma run-off!
The heavy bolters did not escape my notice either, as I have used the ammo feeds and gun-ends from a storm talon, mounted into the predators original lascannon housings.
The whirlwind turrets still need to be modelled - I am going to model up a smaller version of the Scorpius turret for both of them - watch this space...
Infantry wise, I still have a way to go to get my full complement for this list painted...
First up, we have Tactical Squad Lanrok:
A spiffing Forge World Multi Melta in this unit, I have a fond nostalgia for shoulder mounted heavy weapons, having cut my teeth with marines waaaay back in 2nd Edition...
Next, we have the rest of Clan Veteran Squad Dekkan, the Plasma armed Combat Squad.
Once again, I have used a couple of Boarding shields as accessories, and there is (a somewhat pricey) appearance by the Master of the Relics, standing in as a Rank and File Combi-Plasma trooper - because I love the model
Epistolary Tynar:
The only suit of Indomitus Pattern Terminator Armour in the Clan-Company - and even then, it is technically on loan from the Librarius... I knew I had to use the Space Hulk Libby for something as soon as I saw him - it has taken me this long to get around to it!!!
Now, for the last of the 7 suits of Terminator Armour at the Clan's disposal, the personal suit of Varan Ironstorm himself - a fully functioning suit of Cataphractii Armour...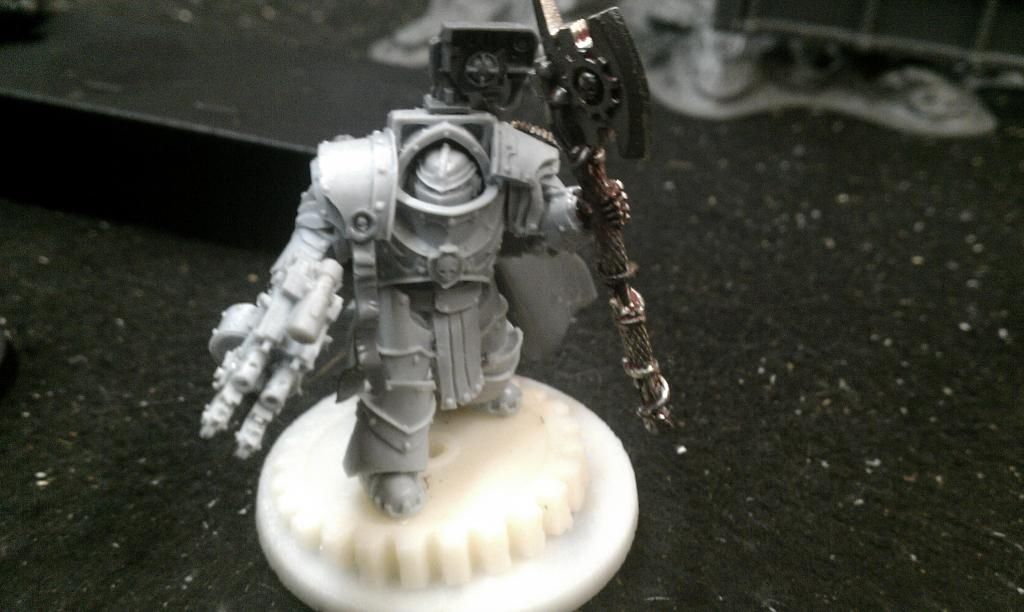 Long has it been my dream for ForgeWorld to make this pattern of armour, it has always been a favourite of mine, and now I get to field it upon my Commander - he strikes a suitable imposing figure, I am sure you will agree!
---
PDC Gaming Webstore Now OPEN!
---
Iron Hands = one of my absolute favorite loyalist chapters. Will definitely be following this.
Lower Navigation
Iron Hands - Clan Draythar - Project Log