---
I like the idea of option 2 - gives you that parasite melded to steampunk tech look.

Keeps it separate from Skaven yet not 'standard nurgle'.
---
Schweizer qualität!
---
Still working on the Amoeba ogre. It's a bit hard to see on the right side of the split, but made it look more organic/fluid in the split of the gut plate.
---
Record:
Chaos Dwarfs: Wins/Loss/Draw 20/13/7
Wastelanders (Chaos Space Marines): Wins/Loss/Draw 8/3/5
---
Last edited by swissdictator; 07-18-13 at

11:21 PM

.
---
I think you nailed the green stuff around the gut plate. Another point, did you sculpt the raised forheads? They are really bizarre but work so very well.

You should use UHU adhesive and water effects to make sticky slime and gore around the split. It would work really well!
---
The top half of the foreheads are pieces of Cthulhu. :D
BSB work in progress continued. Took some advice and turn the hand holding the book into a tentacle so the proportions remain reasonable. He's already named Bill and Ted, but he needs a fitting title. Sorry, no Grand Poohbahs in this army.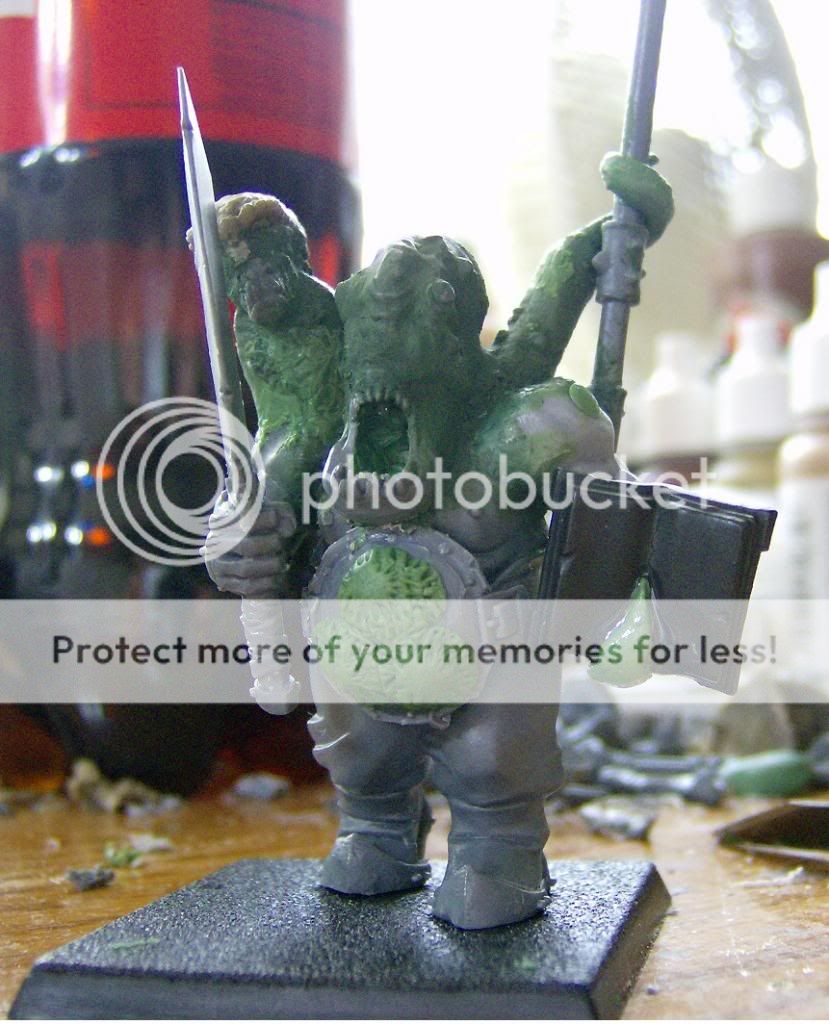 WIP Irongut dude. Found those arms sans weapon, so I made my own. He was tricky as the head and arms were already on. To remain consistent with the heads for the Ironguts, I had to detach the hands, dremel the head, reattach hands cleanly (pinned too) and rebuild the weapon.
---
Record:
Chaos Dwarfs: Wins/Loss/Draw 20/13/7
Wastelanders (Chaos Space Marines): Wins/Loss/Draw 8/3/5
---
How about Bill and Ted Mawsome Adventurers? Poor joke I know. I love how you have kept momentum with the progress of this army and your GS skills are enviable
Junior Member
Join Date: Feb 2012
Posts: 4
Reputation: 1

---
I would love to see you do a nurgle chaos giant :D
Critique for da CriticGod
Join Date: Aug 2010
Location: Philadelphia, PA USA
Posts: 3,350
Reputation: 43

---
This is looking great. I think you have a lot of great idea going on here!

The ogrerot flies look like they need to be rethought though. The proportions between the fly sections and the ogre sections, taking into consideration the chitinous armor and the fleshy ogre bits need a lot more than blobs of green stuff to make them work.

As for the lead belchers I could see either method working out well. I think my preference is for hands full of rotting zombie chunks, and gullets as guns. I could also see a perfectly good mix of both ideas in one unit. A few guys with twisted guns a few others more favored by nurgle able to shoot from the gut.

Keep up the good work!
Lower Navigation
Swiss's Chaos Ogre Army. May 26th update