Swedes Blog of starting and abruptly ending random projects.
---
OK. So heres the beginning of what will hopefully become a much larger force of Marines. My collection to date includes a Captain, Chaplain, Tech marine (Converted from bits and pieces but will be redone),2 command Squads (which also double as veteran squads), 3x10 man tactical squad with variable load outs, 1 Devastator Squad, 2x5 man scout squads (one with all sniper rifles the other with heavy bolter and shotgun), 1x5 man assault squad, 1 Dreadnought, 1 rhino transport, 1 predator(Annihilator pattern), 2 land speeders, and 2x5 man terminator squads (one with cyclone missile other with assault cannon). I have another tactical squad i am working on (Pics of them will come later) as well as a Venerable Dread(which i am featuring to start off with) and a drop pod. I'm also in the early stages of putting together a slaaneshi army for WHFB so stay tuned for updates there. But to begin with the work done tonight.
So i have always loved dreadnought and While having one in the army already (its the AOBR vanilla version)i wanted to add a little more history to the chapter (which im still working fluff out for)I started with just a simple undercoat of black followed by drybrushing with leadbelcher on the entire model. I wanted to make this dread stand out so i went back and painted the reactor panels, CCweapon, and some of the armor plates black. Using a Small detail brush i added random lines with skavenblight dinge. On top of which i went over with an even smaller fine detail brush using fortress grey (old citadel) and this was the result
[IMG]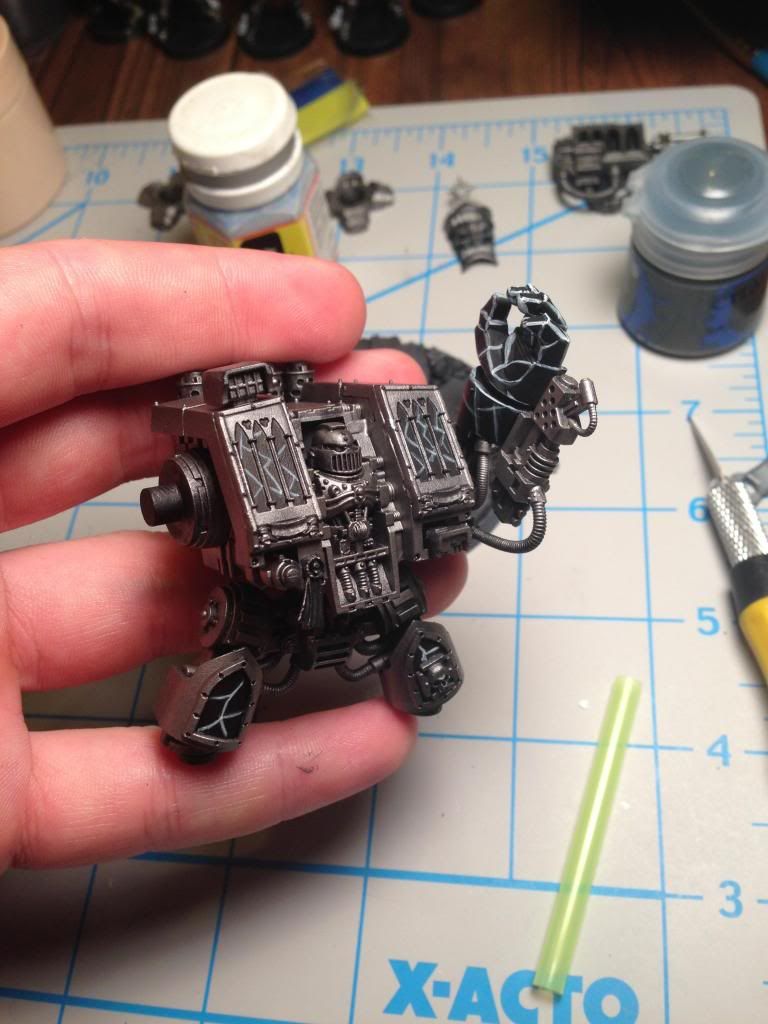 [/IMG]
[IMG]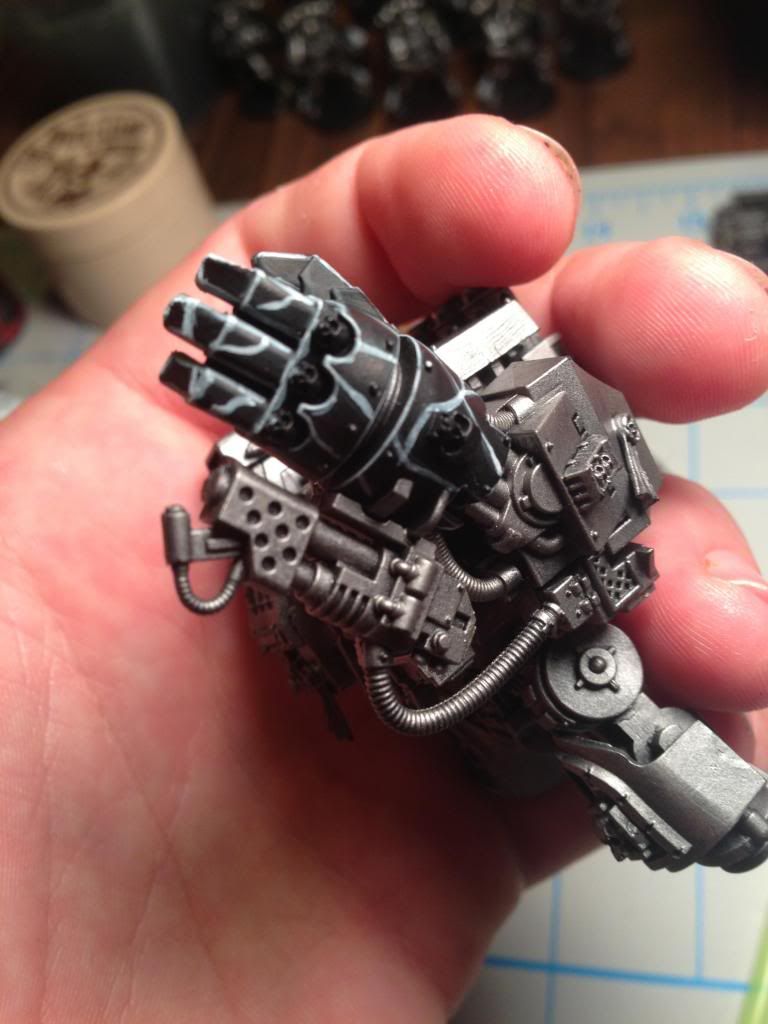 [/IMG]
this is actually the first time i have tried to get this effect and overall i thought i came out very nicely, but then my better half (Who is not involved in anything close to this hobby) suggested maybe making it glossy. So I did and this was the result.
[IMG]
[/IMG]
[IMG]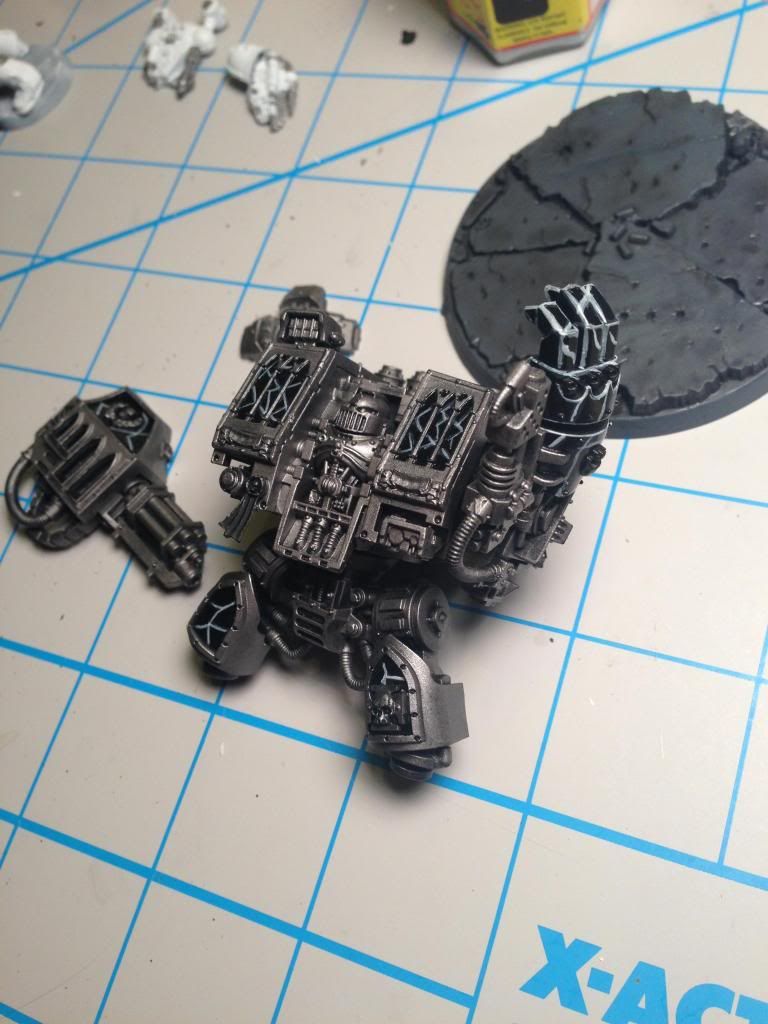 [/IMG]
That is it for the moment. I am still putting the drop pod together and i will get some pics pf that up once i have had a chance to put it most of the way together and finish it off with GS. Looking forward to adding many more posts with these guys. and maybe a tutorial or two. enjoy
---
Last edited by SwedeMarine; 05-21-14 at

01:04 PM

. Reason: Title Change
---
Spent the last few hours working on that venerable some more. Heading on vacation come this friday so I want to have it and my Drop Pod ready to go by the time i get back to do some gaming right away.
Heres what i managed to get done today.
[IMG]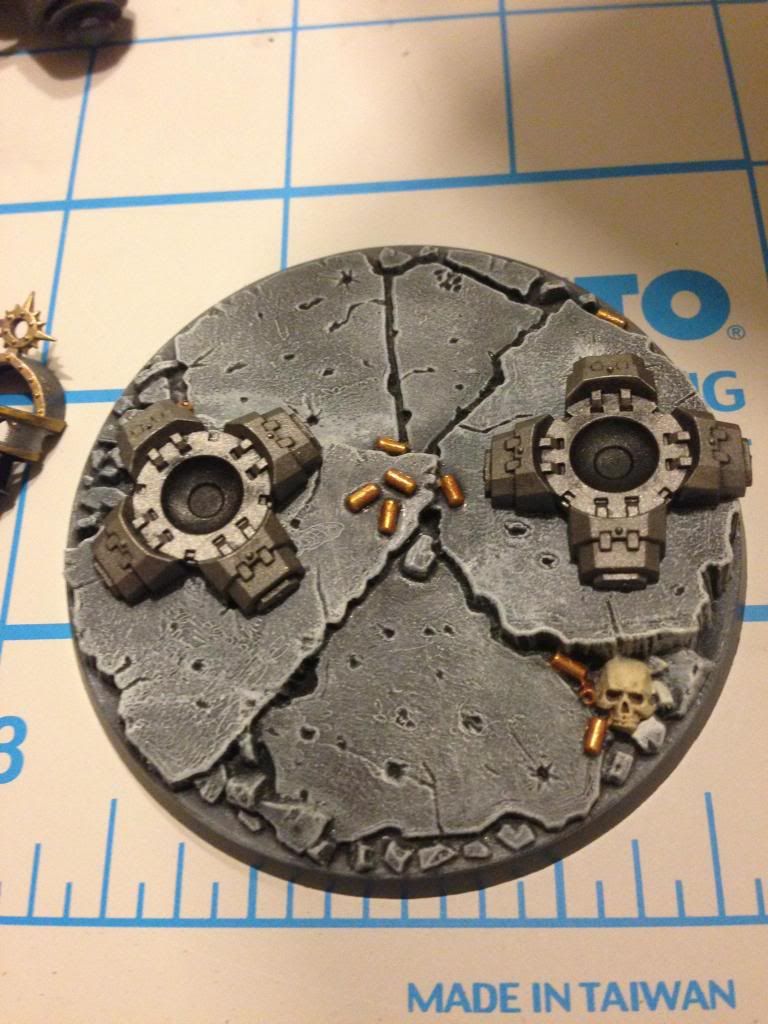 [/IMG]
Base is basically done. just need to add some weathering to the feet and some moss in the rock cracks and crevices. Also managed to get the trim painted (definetly not finished) so that i now have a better idea of how i want to approach the final details. Even took it so far as to do up the purity seals, parchment scraps, and skulls.
[IMG]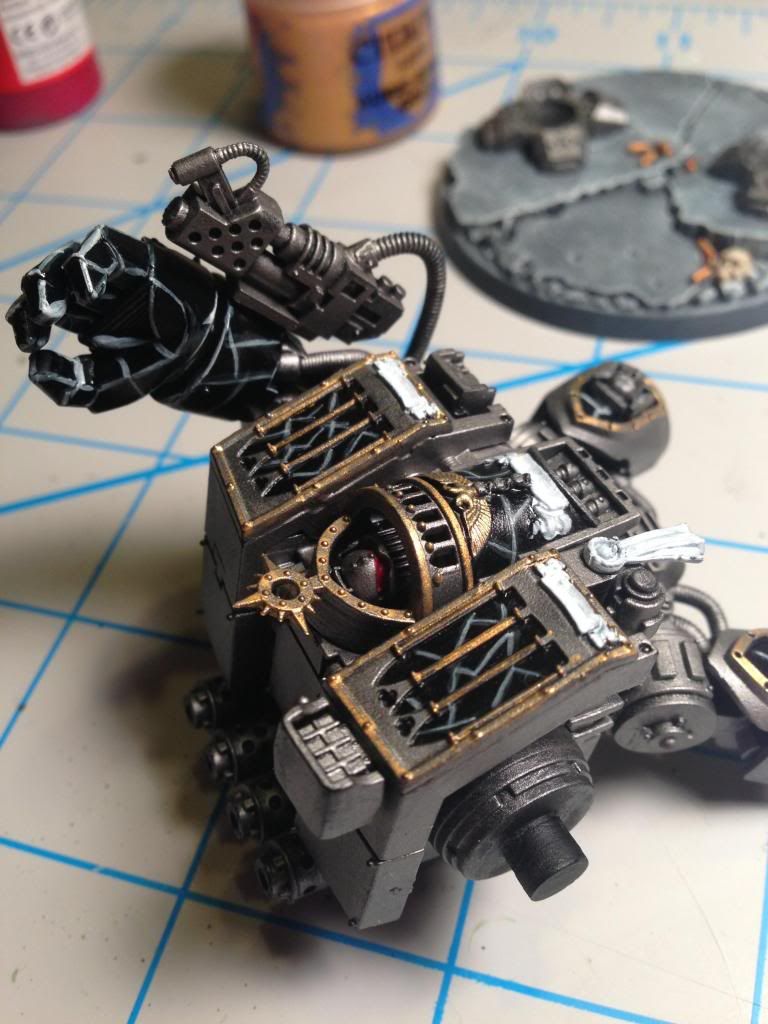 [/IMG]
[IMG]
[/IMG]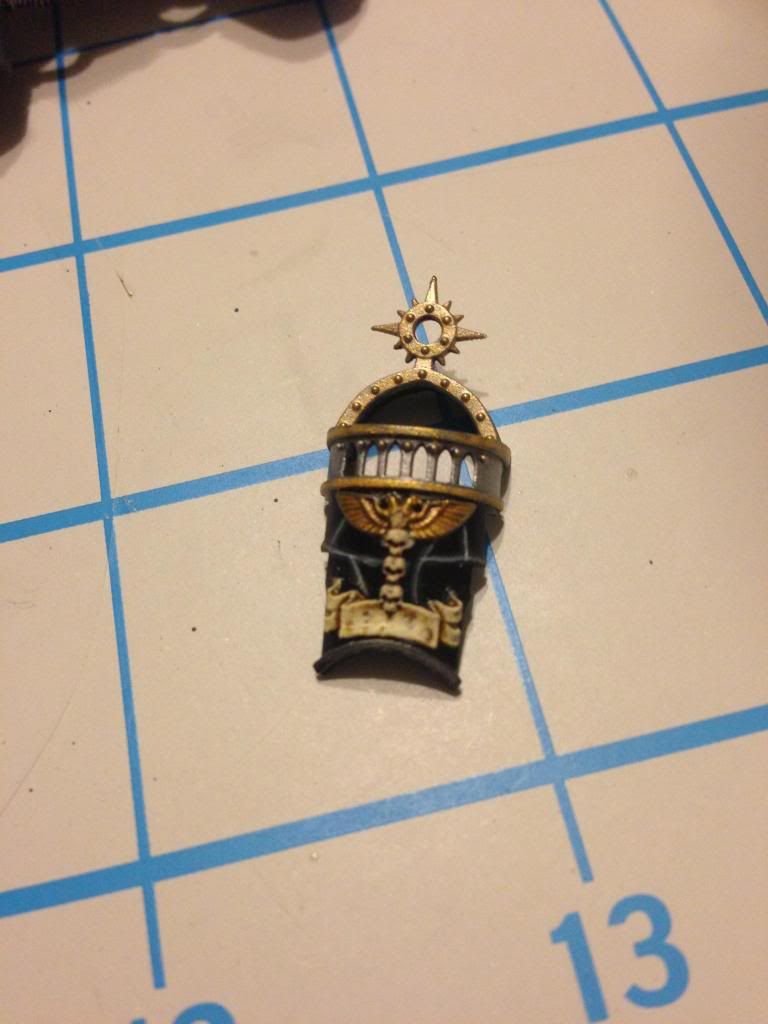 Still think i will have the chance to finish it all. just need to get cracking on it. Anybody with ideas/Comments? I would love to hear them. Happy Modelling fellow Heretics
---
So this evening ill be putting the dreadnought aside for a while and working on my drop pod. I need some ideas for magnetizing it however. Ive never magnetized anything before so this would be a first for me. In 2 days ill be gone for almost 3 weeks on vacation (well deserved) i plan on playing a game as soon as i get back and i would like to field the drop pod if i have it finished.
---
Cool Dread!
You can check out the tutorial section for magnetizing stuff!
Enjoy the vacation, looking forward to seeing the updates when you get back!
---
Like the Dread, I have seen people use skull white (can't remember the new name) to make those lightning ripples pop even more if you're interested. I would also like to say that I've never managed to pull it off
---
Alright, Back from Vacation and i managed to finish the Dread as well as Put together the drop pod. I'm still unsure if i am going to magnetize it as i don't have the luxury of having the time to do so. that being said im painting it in a three stage approach and because it is Venerable dreads transport i will be painting it to match the Dreadnought. I also picked up a Ne predator that i will try my hand with as I get my airbrush kit today (hopefully). Pictures of the finished dread and the Drop pod WIP will be put up once i get home today. Just wanted to give a little update to everyone. I have also Decided on a name for the Army. Essentially since my playing style is defensive (very much like the imperial fists) the chapter will be an successor chapter. Namely the Obsidian Fists (I just need to paint all their hands black now) I'm working on the Fluff as i go along.
---
Last edited by SwedeMarine; 07-01-13 at

12:45 PM

.
---
Heres the pics as promised. As always comments and suggestions are welcome
Enjoy and please leave some feedback
[IMG]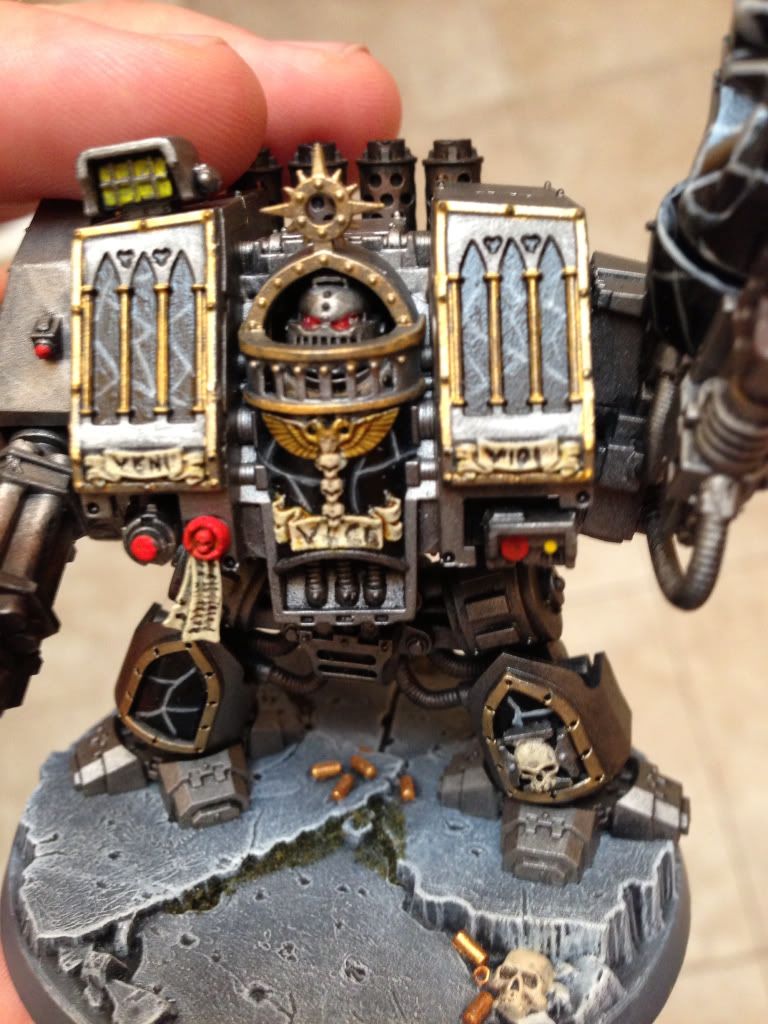 [/IMG]
[IMG]
[/IMG]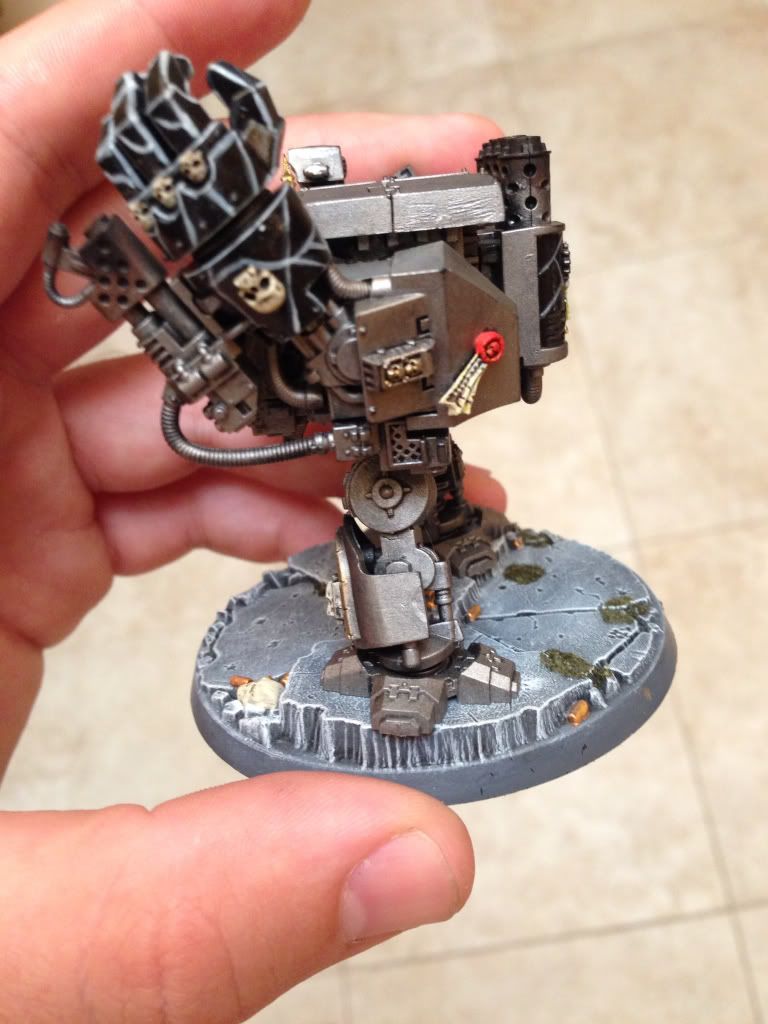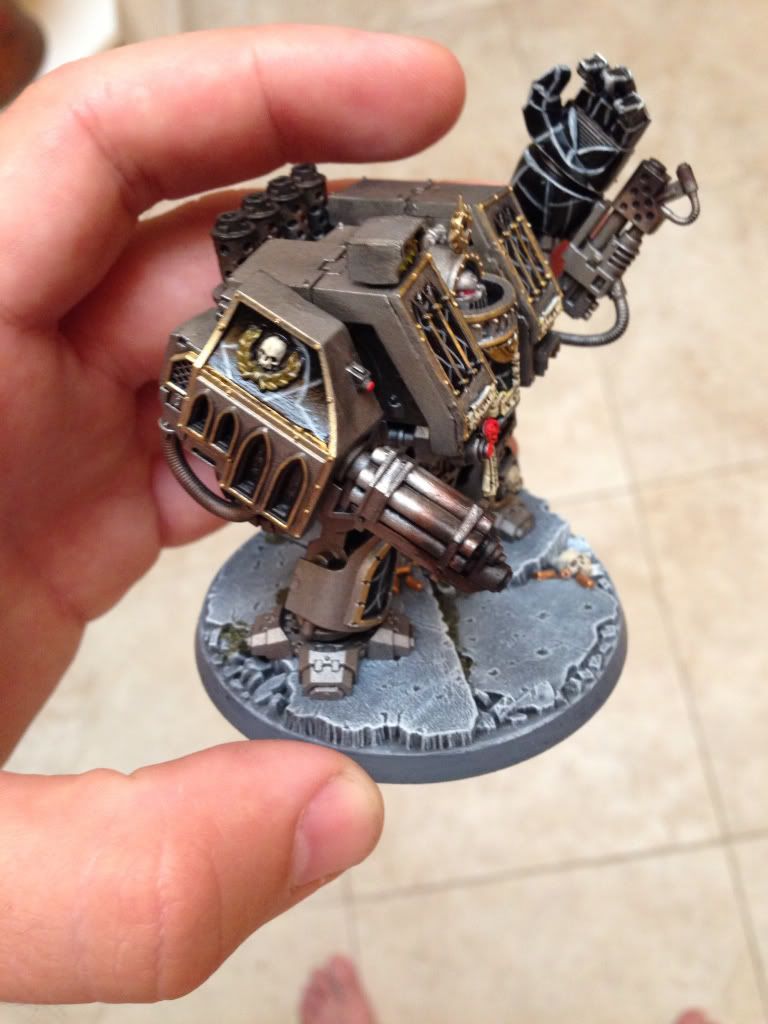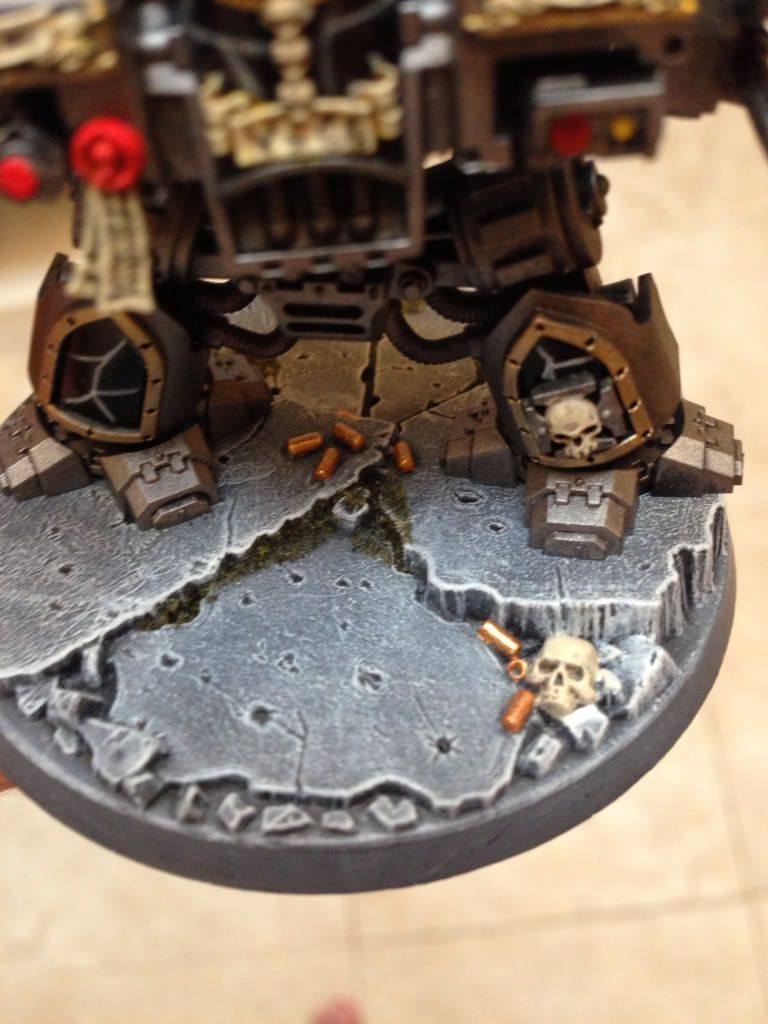 Additionally I have been working on the Drop pod. just have it primed and applying the base coating right now. Going to be mainly silver and black. as i said earlier im going it in three sections which means ill be able to put more detail into it.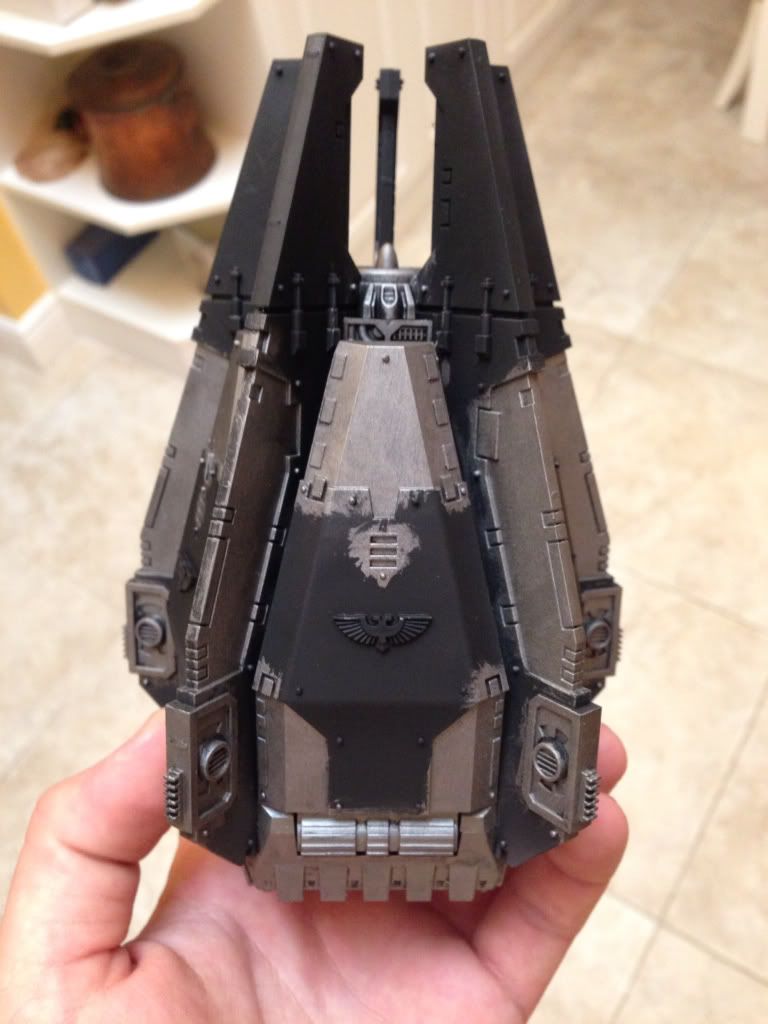 ---
Wish I could paint as well as you do man. The Dread is lookin sick.
---
W/D/L (Since returning to 40k after 3 years)
New Tau 10/1/1
---
No worries mate its just alot of practice. Personally I think I'm an average painter to say the least. this is the first model I'm doing that will be done using greenstuff as well so its a real trial and error thing for me. Hes my entry into the painting competition this month.
Lower Navigation
Swedes Blog of starting and abruptly ending random projects.