---
MOAR PICS!
So here we go again. gotten alot of painting done in the last day (not enough to warrant pics however).
but the big update is that the Ship which will be henceforth known simply as "The Ship" is coming alone nicely. I figured Id give a scale shot so you guys can see the kinds of detail that Im having to work with here. Note the size of the cannons i was referring to earlier. This is the reason they terrify me. I mean can you just imagine if one of these breaks. How the hell would i scratch build something that small?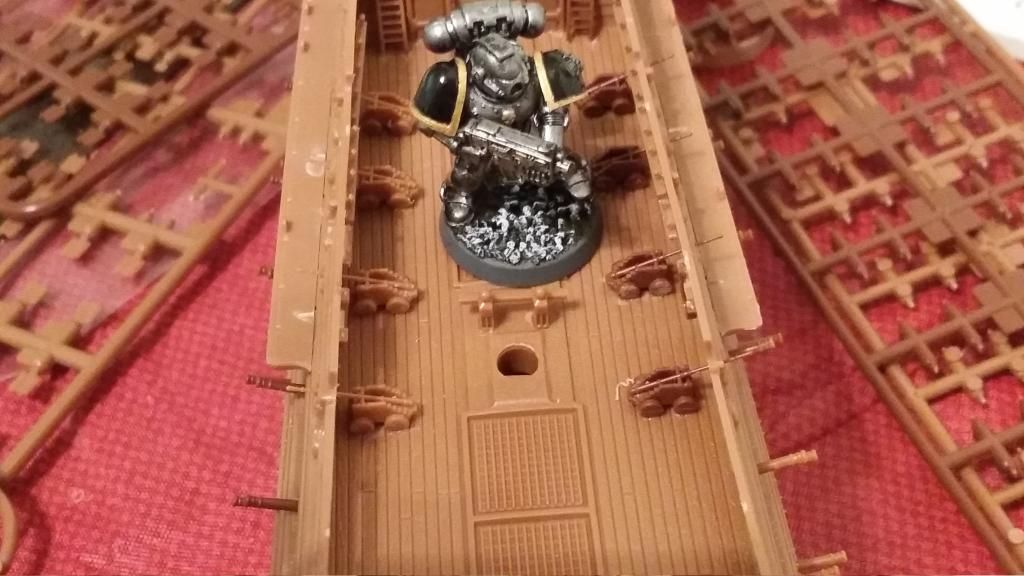 and as an added bonus I finally decided to get some Objective Markers done. All credit to @
neferhet
for this one. he gave me a really simple idea which I took a bit further. so thanks for that mate. Mind you this is still not ready for base coating but it will give a good general idea of what the final products will look like.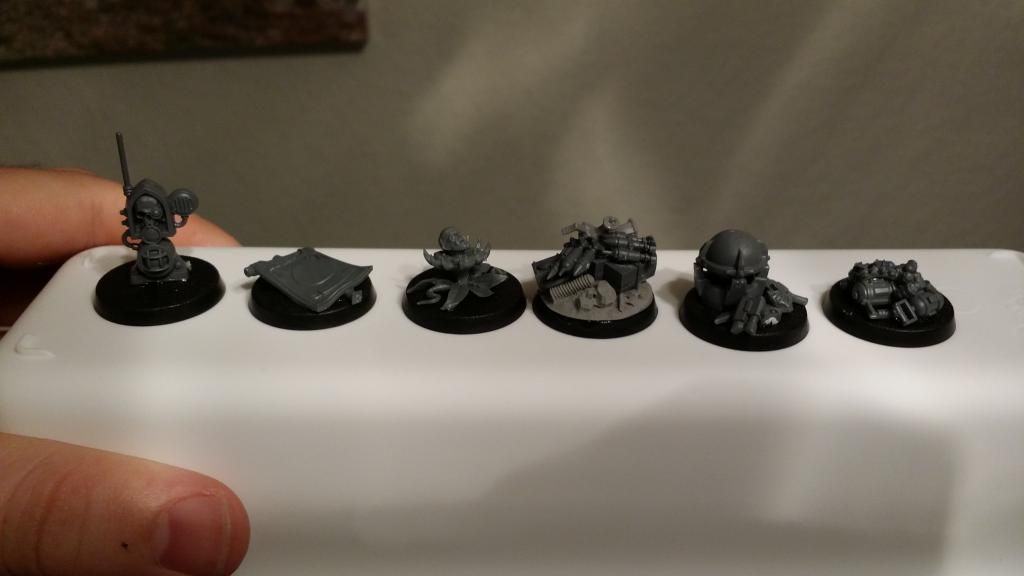 PILE-O-NADES!!!
What the Loc-Nar leaves behind
It Ate Jenkins! and Supply Drop
Message Relay and Fallen Honors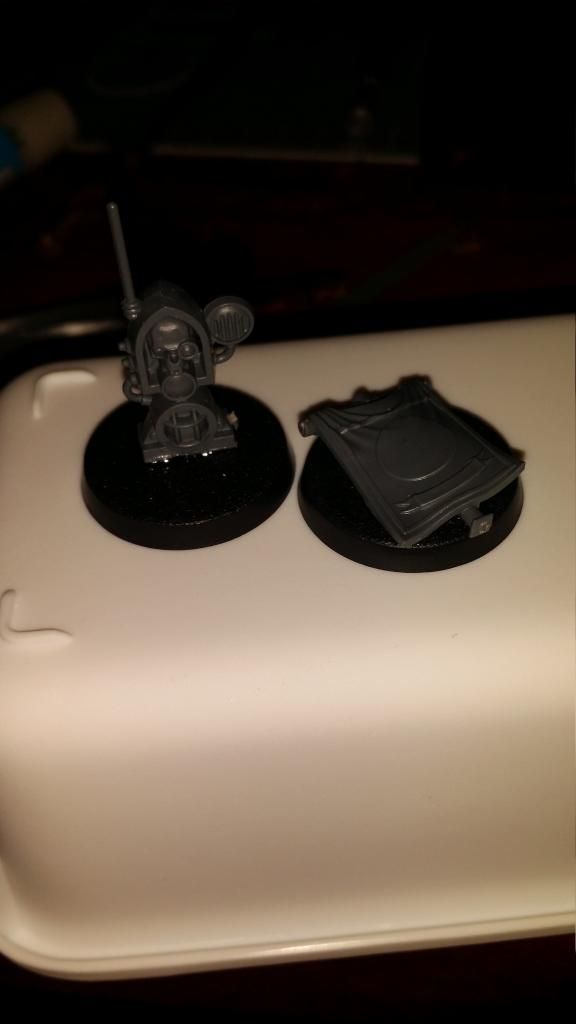 These were actually quite fun and i expect to do some cleaning up on them tonight and hopefully have them and my next unit ready for base-coating in time for the Army Painting challenge kickoff for August. I'm finally going to be tackling my centurion squad that i have had sitting on the shelf for 8 months.
---
I love the carnivorous plant!
That ship has an amazind detail for its scal, btw..thread carefully!!
---
The Legion of Perfects Project
Quote:
The calls of Slaneesh stir so deeply within me, as if I was birthed from the very essence of it. For my ambition to infinitely ascend above all is never ending, like fire within it burns me to ever cindering ash. Lord of light and ascension is who I am, realities burn to ash at my very passing. My luminescence is unparalleled for I am luminosity itself, all light is but a shadow of my silhouette
---
Quote:
Originally Posted by
iamtheeviltwin
View Post
I really like those objective markers. I need to put some together myself and those look pretty simple to do.
They are!. i raided my bits boxes for random parts and literally just threw them together.
---
Only a quick update tonight. The masts are up and now is time to work on the rigging. And why did I decide to model the entire sip with the gun ports open!!!!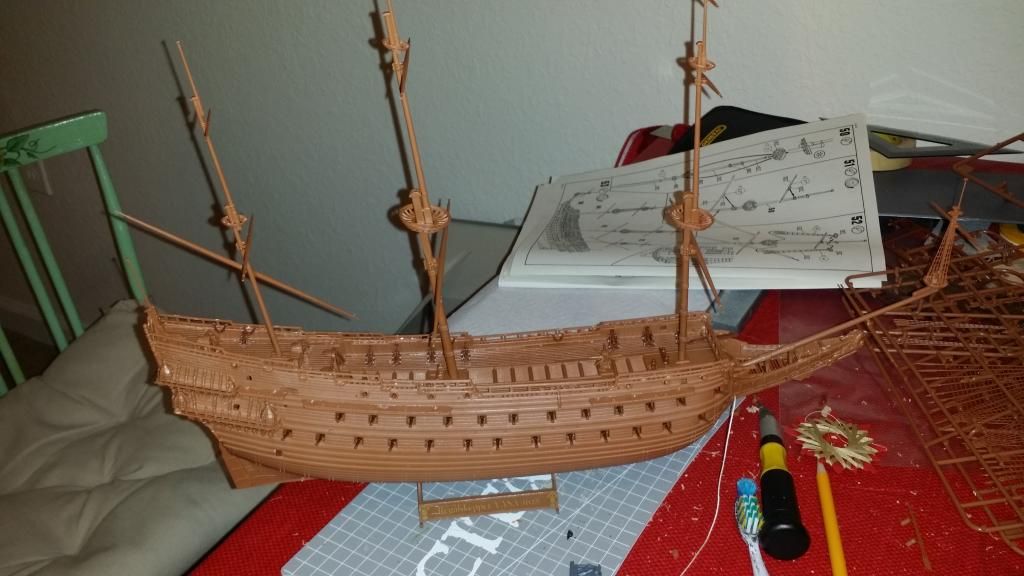 minor work on assembling the centurions. Sigh. I just want to get those guys done. I hate working with those models. They take forever when you have OCD.
---
Let me state for the record that these are beautifully rendered Dreadnoughts.

Going back to the first page that is............

All I've had a chance to view so far.
---
"It is easier to deceive people than it is to convince them that they have been deceived."
---
Last edited by Blackadder; 08-07-14 at

09:15 PM

.
---
*tear in eye* It's... Beautiful! Do you have a scale champagne bottle to break over her bow?
---
Love the pile o' nades marker, would definitely explain the sabotaged mysterious objective roll. and that ship, god shes beautiful love it when they run out the guns and strike the colors....ah simpler times
---
@
Blackadder
Thanks mate coming from you thats very high praise! hope i can someday come within a tenth of your scratch-building abilites. @
Iraqiel
As cool as it would be the champagne bottle would literally be the size of a pinhead. But i might be able to think of something else that i can do with it. (no spoilers) ;) @
Archon Grimherald
The Pile o Nades is one of my favorites as well. Glad you enjoy the ship i wanted to try something different from working on my typical SM and its definetly helped rekindle some hobby love
Hopefully over the course of this weekend i will be done with everything and i will be able to get the Basecoats on centurions the markers and the Ship (if i can manage to put on all 100 or so gunports tonight) then its simply a matter of starting to paint. I may have to invest in alot more washes or (in the case of the ships hull may decided to go with Armypainter quickshade i think it might give the most convincing natural wood effect.
Help!
---
Shes ready for the Detail work!!!!. Ok so i have a few gaps i need to fill but other than that she is ready to start taking coats of paint. Tomorrow ill be basecoating this along with the centurions and the objective markers. and possibly the Bike Captain if i can get the pieces together tonight but there is one major problem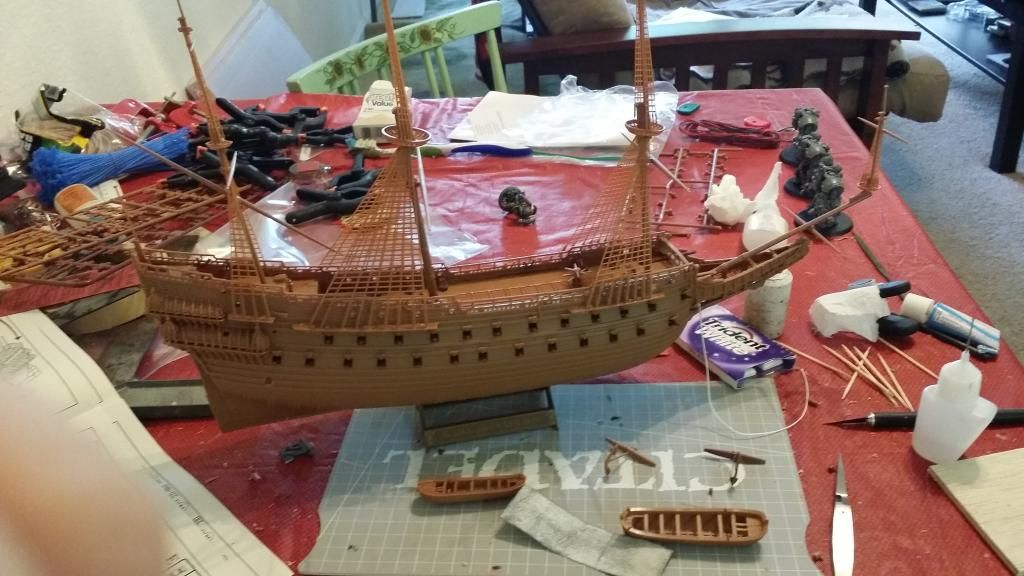 This is the sails that come with the model. and as i think you can tell right away they do not look quite like they are supposed to. So my question for everyone is How the hell can i fix this? its really thin styrene but i have no idea how to even begin fixing this problem if anybody had any idea Please please please give me some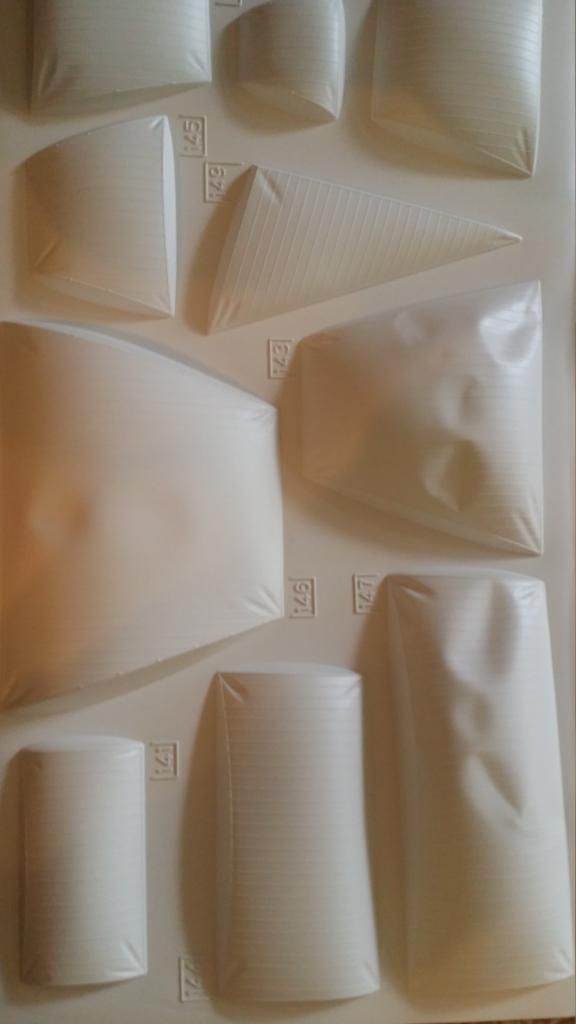 More updates later tonight after more hobbying
Lower Navigation
Swedes Blog of starting and abruptly ending random projects.