Death Company Painting Log
---
Hey there fellow heretics, I was starting my death company up last night and figured I'd go ahead and log my progress for you as well as myself. I've been working on my BA chapter completion for awhile and already have 2nd, 3rd, and 4th companies completed, but figured I'd start small and just post the progress on my Death Company.
Ive already primed and cleaned the models up and have just stared painting the first model of my 2nd Company Death Company attachment.
Here's some pics to get things started: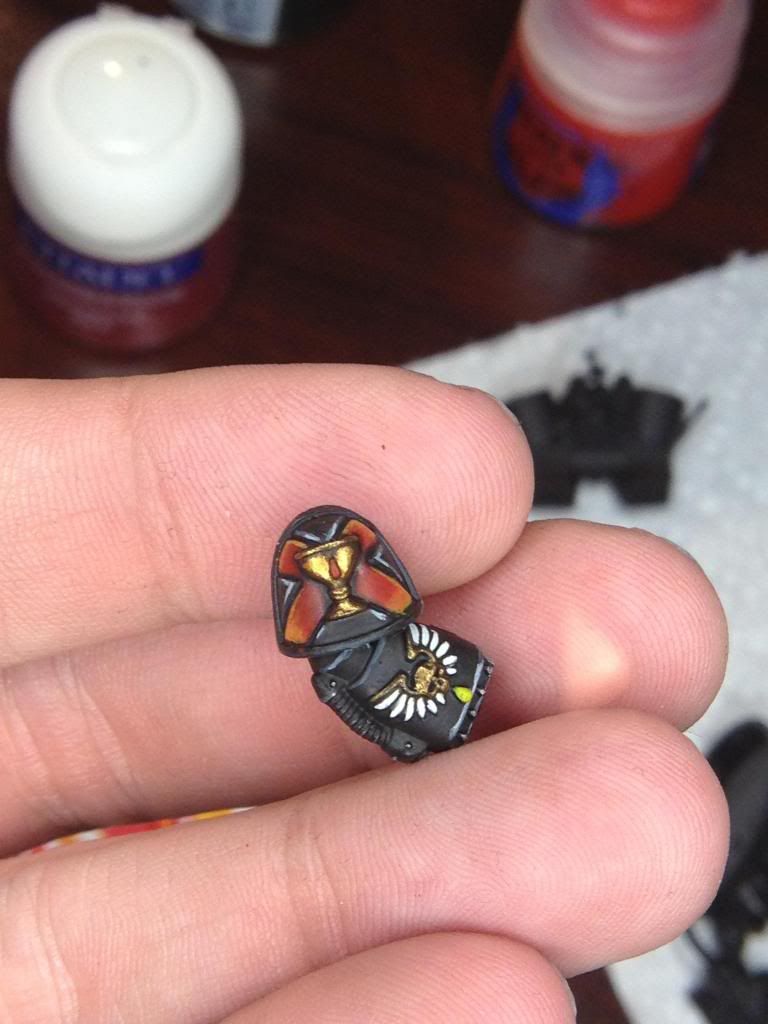 They still need to be "tightened" up a little, but since this is a progress thread, I figure everyone already knows that
C&C is always welcomed and appreciated
---
"YOU CAN DO IT! CUT HIS FUCKING HEAD OFF!"
---
I really like the way you do those blood drop jewels. How do you manage that, is it just red to orange and then a dash of white?
---
Yea for the most part, I do a 50/50 of blood red and sunburst yellow, add a drop or two of water to thin it out and just layer it on. Then I'll take thinned out skull white and do a quick highlight on it.

* I found a color I've never seen before called wild rider red, it's a pretty good mid tone when doing red.
---
"YOU CAN DO IT! CUT HIS FUCKING HEAD OFF!"
---
Looking good so far! Something that bugged me at first was that the red and orange on the shoulder-pad seemed to not blend well into each other.
---
Yea it's killing me too, lol. At a distance it looks smooth, but the closer you get to it, the more apparent a lack of blending becomes. I'm going to smooth out some blends and fix some highlights as soon as I'm off work. I wish I could just be obnoxiously rich and sit at home and paint all day!! For now though, it's 5-6 days of work a week
---
"YOU CAN DO IT! CUT HIS FUCKING HEAD OFF!"
---
Hey I've got 10 hours of classes four days a week, and I'm poor, so that doesn't help at all lol
---
Haha, feelin ya there. I got a fortune cookie that said I was going to be wealthy in the near future like 5 years ago...I feel like I was lied to O.o
---
"YOU CAN DO IT! CUT HIS FUCKING HEAD OFF!"
---
Did it say 'human-lifetime' near future or 'cosmic-scale' near future? Because if it's cosmic scale you're fucked lol
---
They look pretty awesome
. I'd be interested to see how this project develops.
---
Lol, it didn't specify, I'm sure since they're always "soulful" meanings, it meant cosmic....bastards. Or maybe they meant wealthy in the sense of happiness, friends, blah fuckin blah, lol

Thanks BoK, I'm pretty excited to get home and finish these dudes up!
---
"YOU CAN DO IT! CUT HIS FUCKING HEAD OFF!"
Lower Navigation
Death Company Painting Log