---
Quote:
Nice conversion. I think the front gun needs to be addressed as well but I like where it is going keep up the good work.
Yeah the front gun was bothering me, just not enough to fix it. Now that I've had someone on here and another site give me the same feedback, I can't ignore it any more.
thanks Mr knify I'm gonna try to keep them coming now that I'm back in the flow.
So I dug out the milliput and here is where the dakkajet now stands.
Still not finished, obviously the milliput needs some smoothing but that'll have to wait till it's set a little more. It's already an improvement I think you'll agree.
---
Yeah I have issues with milipit also. I've got the same kind it holds moisture well. If your going to be doing casting with it you can only do half at a time (using silicon molds) otherwise they dont cure, when I pulled mine out they were very tacky and still took 3 days to dry.

Losing most of the detail.
---
---
So i have a really big update for on here at the weekend but until that's ready you'll have to make do with this mini update. I was watching paint dry on a couple of models for my 150 challenge when i realised that there were several orcs from the reaper bones range sitting around for me to turn into feral boys. Instead of doing nothing i cracked on and now have 1 nob, 1 warboss and 4 boys built. Nothing fancy and they're a little tall but they'll work.
I also got inspired to hurry up and get another warboss who i had waiting in the wings done, though i now feel he's a little small. He may end up as a nob not a warboss in the end.
Ill see how undercoat looks and go from there.
Edit: i've since taken the waist out of this second warboss, made him not so tall and reprepped him as a nob. He seems much happier now.
---
Last edited by GrimzagGorwazza; 08-24-15 at

08:26 AM

.
---
Well itís been a long time coming but in November 2010 I posted this on my previous project log.
Quote:
Originally Posted by
GrimzagGorwazza
View Post
I can honestly say that this is the only modelling project that i've ever decided to undertake that has scared the hell out of me to think about starting. The problem is that i want a lot from it. as well as having a usable massive bomber i want to be able to have rotation top and ball turrets, a working bomb release mechanism with the bombs (and unwitting grot) suspended by fishing wire, and a section of the hull that can be removed to show a cross section of what's going on inside.
This thing isn't just going to be a working bomber model it's going to be a diorama.

The problem comes with putting all this together, first i'll need to detail the interior without having so much detail that it's impossible to paint. A lot of sections (and i mean a lot) will need to be built and painted separate and then introduced to the model afterwards.
Also i am rubbish at making models with moving parts, i'm one of these people that always glues his landraider doors closed, so the prospect of getting this up and working properly is really worrying for me. I really don't want to ruin it.
Then in the following march i posted up these concept pictures and started bashing the plane up.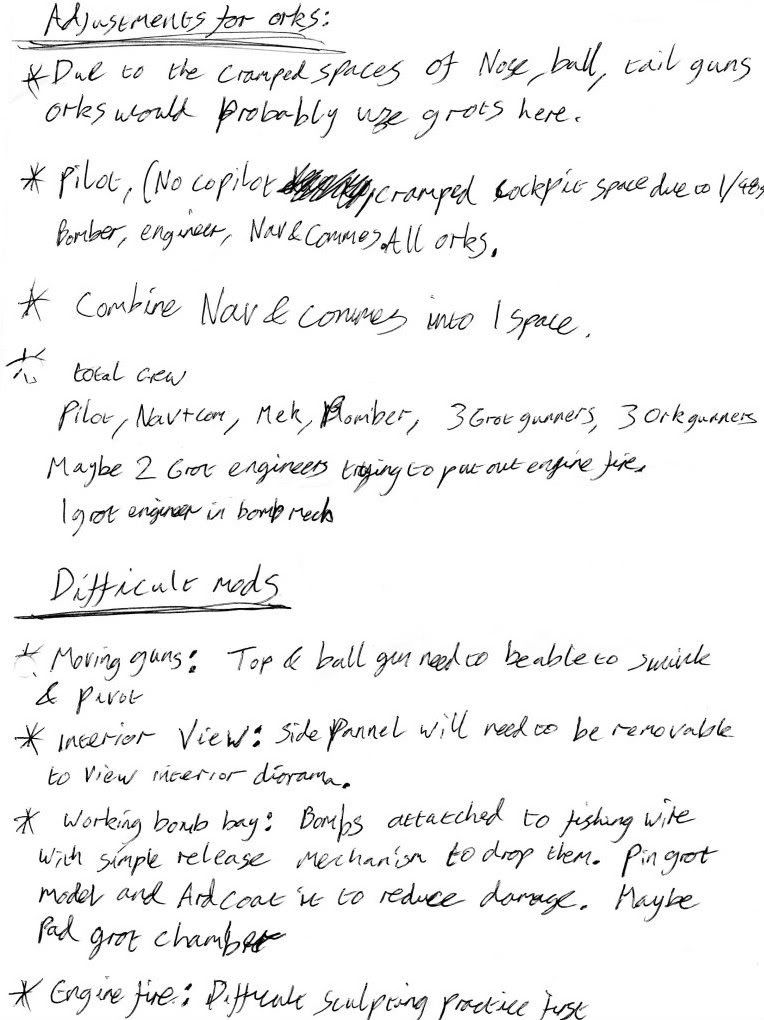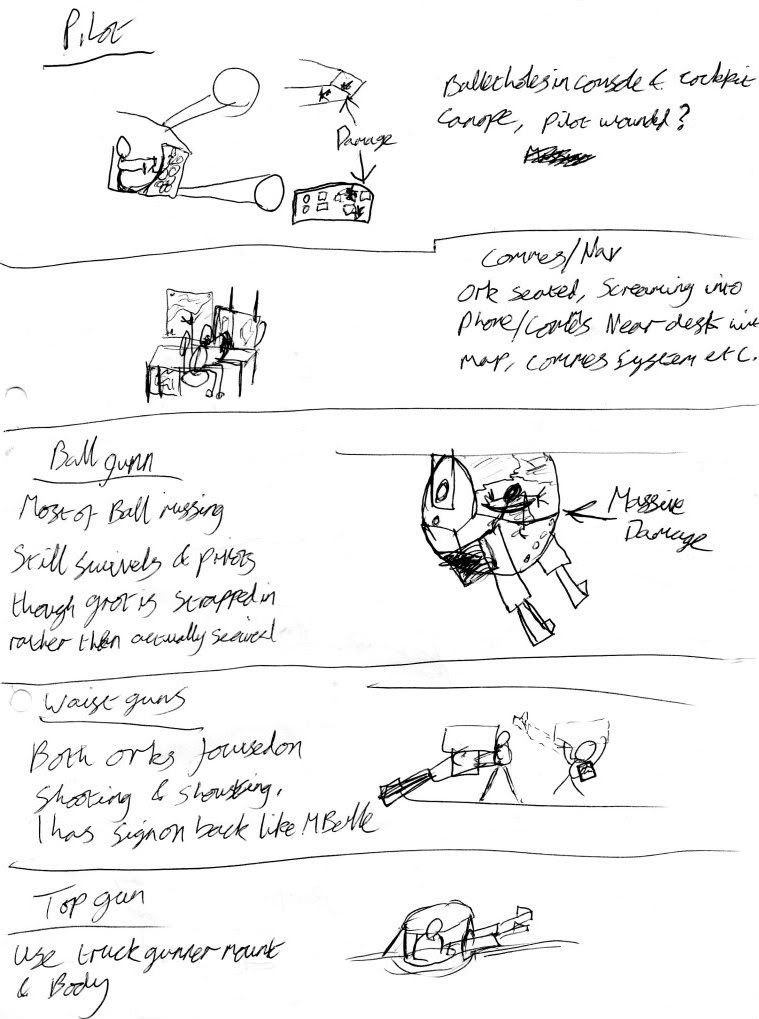 Unfortunately image shack lost most of my W.I.P shots. Now however, four and a half years after this model was started, The ďGross Miss KonductĒ has finally been completed.
So how close did i stick to my original plan?
---
So the first note says that there'll be a ten man crew and i've actually hit this assuming that the top, rear and ball turret are automated. I've not stuck to the roles i originally defined for a couple of reasons. Firstly it was impractical to fit a pilot and co-pilot inside the cockpit side by side, the ball turret which i managed to make was incredibly fragile and couldn't turn without falling apart even before i tried fitting a gunner inside and finally making the bombers area viewable would have been hard with the strengthening wire that was required to stop them wings from falling off. Maybe i'll give these another try on the next one.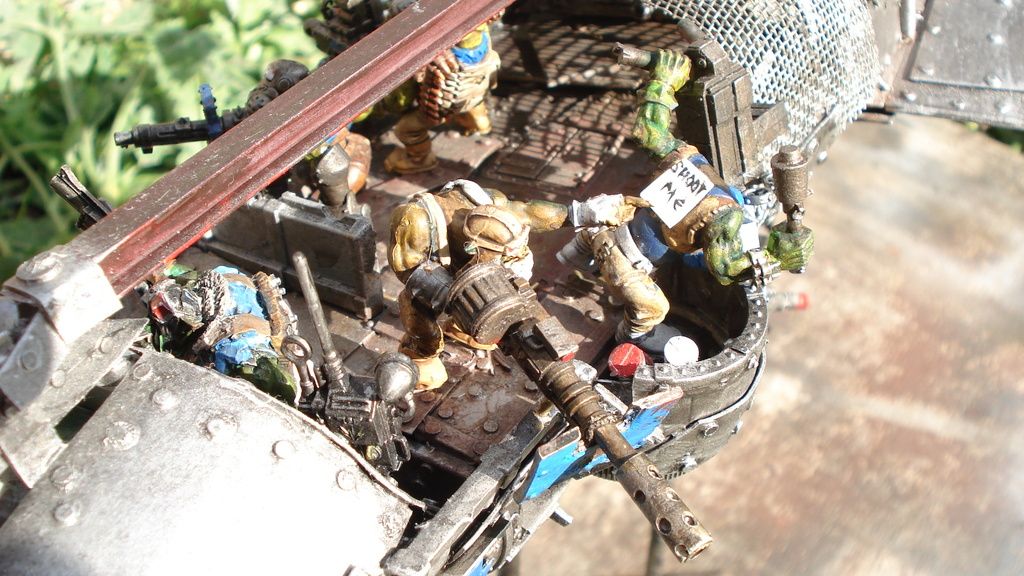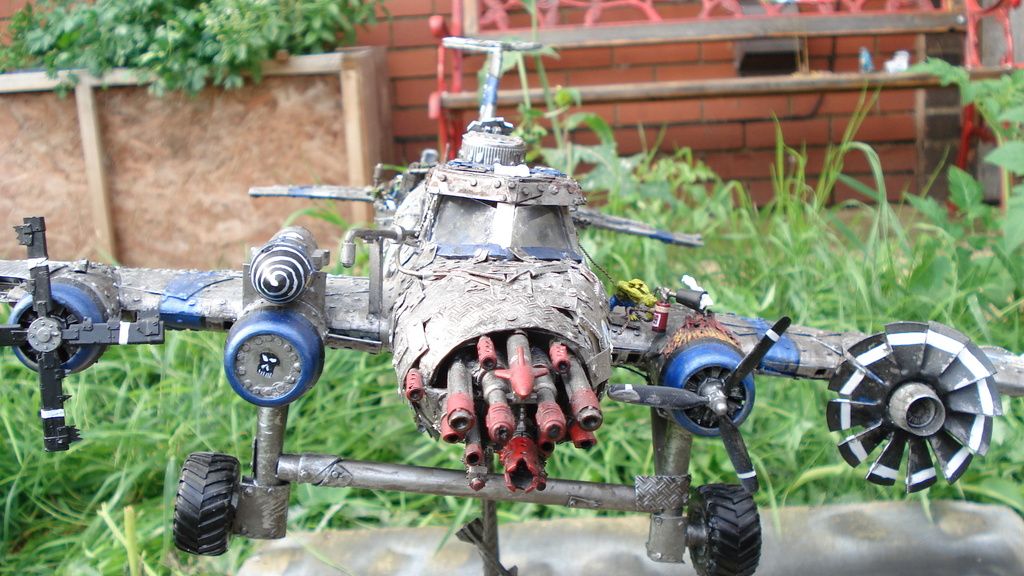 In the end i managed to make all of the difficult mods i'd written down work with the exception of the removable side panel. The flames on the wing were sculpted, top and ball turret are fully moveable, bomb bay doors open and close. @
xenobiotic
, you said 4 years ago that you would be interested to see how the bomb bay would work, in the end i cut the doors off as separate pieces, made a box for the bomb bay then added tubing and pinning wire hinges. The whole thing is held shut using a slide bolt which, when pulled, let's gravity do the work and the doors swing open.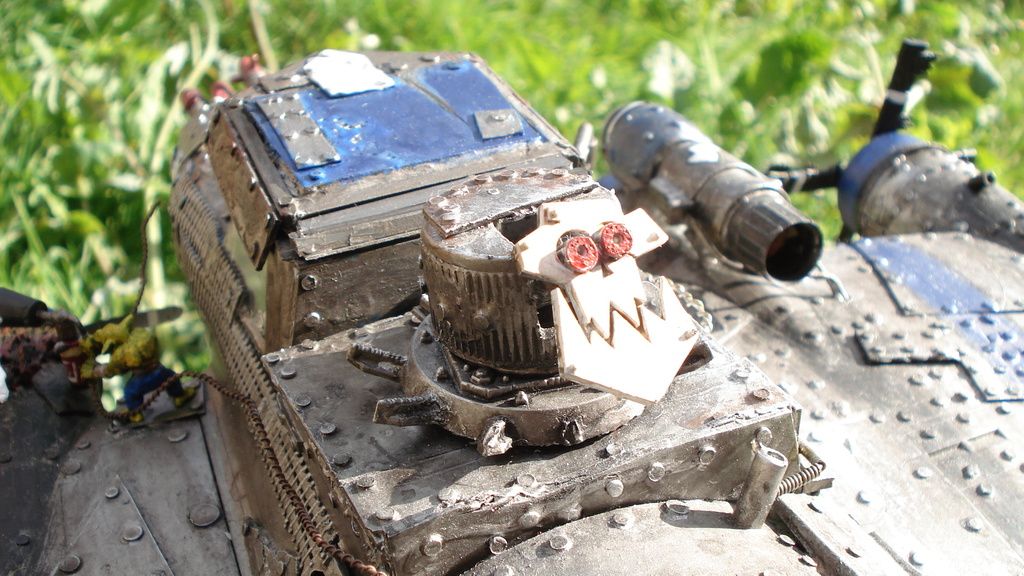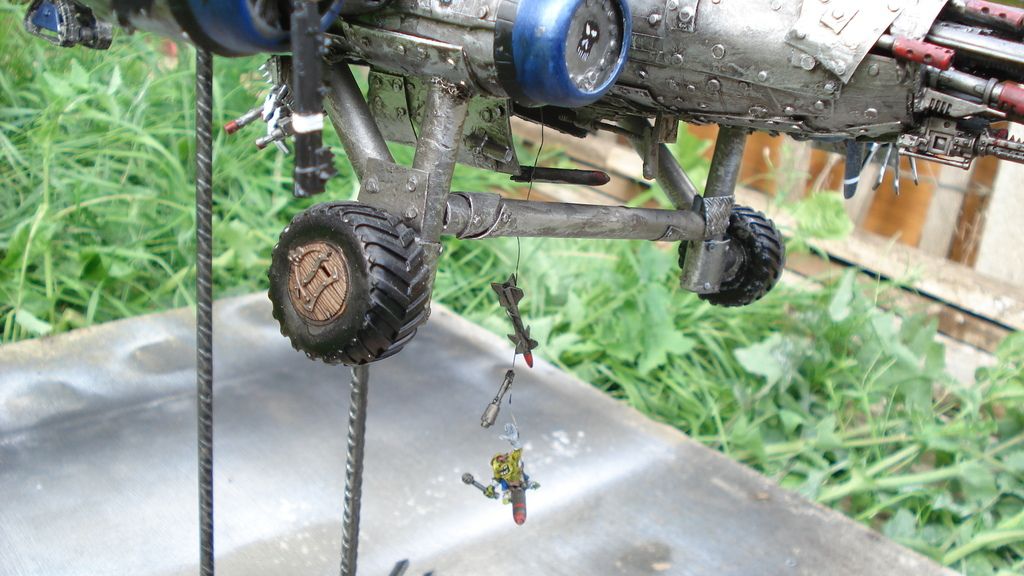 I also made sure that all of the props spin, all of the crew (except bomb bay grot) are magnetised and can be removed, the plane itself can be removed from its stand and can hold its own weight on the landing gear; and the roof for the cockpit can be removed to allow removal of pilot and bombardier.
By magnetising the crew and making the base detachable the plane doubles as a terrain piece for the airfield i plan to build.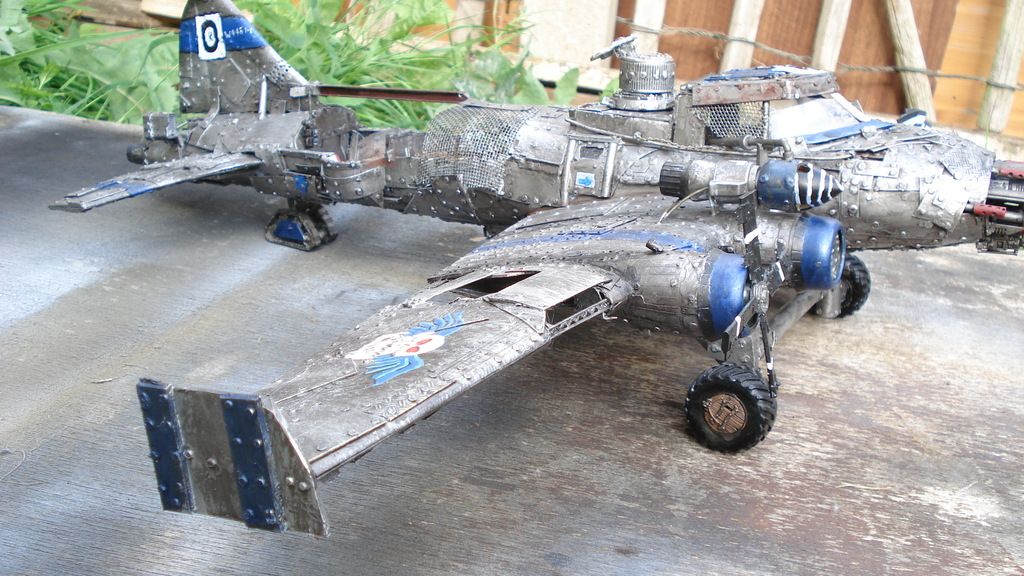 So that's it, one of my longest running, most intricate builds I've attempted to date is finally over. I'll be honest i'm not really sure what to do with myself now, i mean sure i've got other superheavies to finish but none as long running as this, nothing even close. So i'm a little sad that she's finally leaving the nest sometimes you just have to move on though.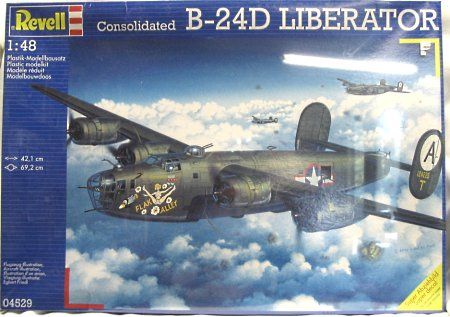 Hmm, yes definitely time to move on.
---
Last edited by GrimzagGorwazza; 08-24-15 at

07:19 PM

.
---
Time flies! 4 years already? Must feel good to get it done, your attention to details pays off though, I like that's it's such a living diorama of orkishness! S

By the way - smart move to magnetize the crew!
---
Quote:
Time flies! 4 years already? Must feel good to get it done, your attention to details pays off though, I like that's it's such a living diorama of orkishness! S

By the way - smart move to magnetize the crew!
Yeah she's spent the last couple of months sitting in the window of the shop I work in, gaining admiring glances from the passers by. One woman came in and said that she judged models for the local branch of the I.P.M.S and that I should bring the Konduct by.
Anyway, now she'll not be alone in the sky, I've finally finished off the fighter that I was working on for so long, Zaggit Goldteef's Pansy Bat.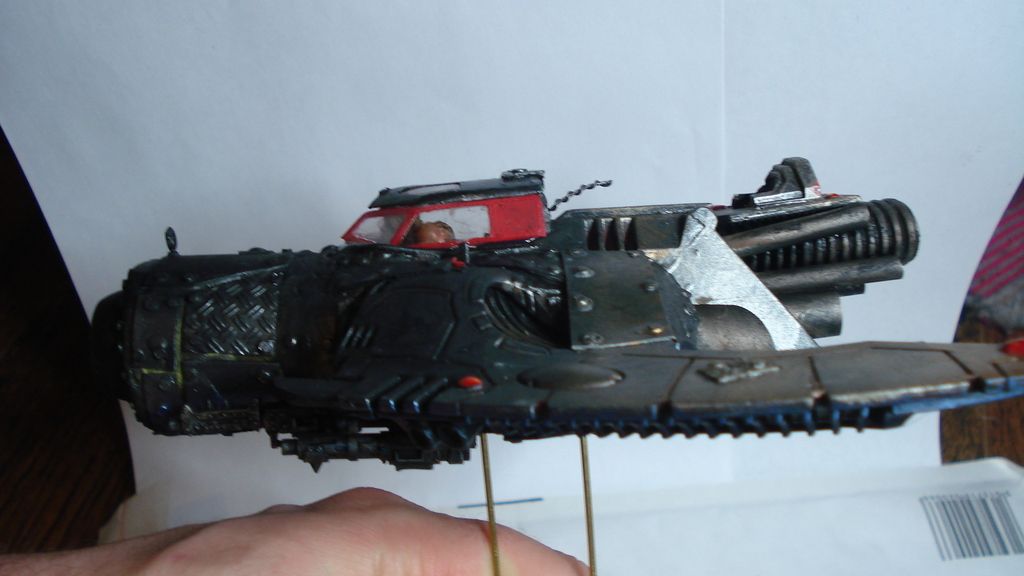 Aside from that I've mostly been painting boys and nobs, nothing too interesting, I'll be getting some more vehicles done in the next couple of days and next year I have a project involving my planes that's going to be a laugh. Once that's finished, about July Time, that plan is for myself and ring master Honka to get together and take a group shot of both our Waaghs.
---
Last edited by GrimzagGorwazza; 12-15-15 at

11:24 PM

.
---
So after my boys were treated to the addition of a new fighter for their army they all got a little rowdy. The speed freeks especially, apparently one fighter isn't enough to compensate them for the masses of feral boys I've been adding to my army of late. When 70 screaming lunatics with heavy weapons, fast vehicles and a couple of superheavies demand that you pay your dues and give them more gubbins, what are you supposed to do?
So I finished painting up the unit of rocket buggies that I've had sat around for some time.

Well far from fixing the problem that just managed to upset the bad moons who haven't had an addition in two years. Not liking the looks I was getting from Happy the stompa i painted up this guy to join them.
I get the feeling 2016 is going to be a very orky year for me.
---
So at the end of last year i realised that i had spent a lot of time painting models and working on projects for the sake of getting them done rather than doing them because i wanted to. With this realisation came the awareness that a lot of the things i was working on were only there because at some point in the past i had added them to a list, in many cases i couldnít even remember why.
Now if you play tournament style games then working to a list makes a lot of sense, but to me, an apocalypse player who uses his whole army, there just isnít the need. Why am i spending my spare time, time that is supposed to be for a hobby, and instead becoming a job.
With that thought i deleted my ork planned additions list and from here on out Iím going to just wing it.
The weight is off of my mind and without the two hundred orks that i still was going to work through, no longer an issue iíve decided that i would like to work on planes and walkers at the moment, several of my ork armies were at some point going to include both of these things and i had a blast working on the old dredd last year so why not keep up the pressure?
First off is a Dakkajet that will join my lootas, nothing too fancy and i wasnít sure where this was going when i started but iíve got some good ideas for how the second of these former Revel Trojan kits will be put together. Still lots to do but i think itís on the right lines already.
Next up will be some walkers, i managed to get this old guy dirt cheap on ebay and with a couple of additions heís more or less ready to roll out as another member of Moonstarz inc.
This kan is the first of many, there are 7 others sitting in paint stripper and another two which i feel could be bashed together from components.
If all of this goes as planned then i might be adding a couple of dredds to the lootas too, iíve found a couple of old chaos dreads that i could loot real easily.
---
Nice one, this last page has been chock full of Win! Your army must look awesome when altogether.
Lower Navigation
Waaaaagh Grimzag!!!!