---
Quote:
Today I unsubscribed from games workshops news letters. The price difference between their aos khorne and submarines has brought them to a new absurb level.
I ditched the lot of them a few months back to be fair......
---
Quote:
Originally Posted by
Jace of Ultramar
View Post
I think Tawa is a temporal entity that exists outside of the hobby/modeling timeline. Essentially, he's the Heresy Online equivalent of a Time Lord... which is kinda hilarious and frightening all at the same time.
"God-Emperor? Calling him a god was how all this mess started."
---
Quote:
I ditched the lot of them a few months back to be fair......
yeah, the newsletter realy. lost its appeal for quite a while now. much like white dwarf in my opinion.
What did you work on today?
---
Made a scratchbuilt base for my Fireprism. It hoovers over a set of Alien pilars of unknown origin, like one of my Windriders do aswell.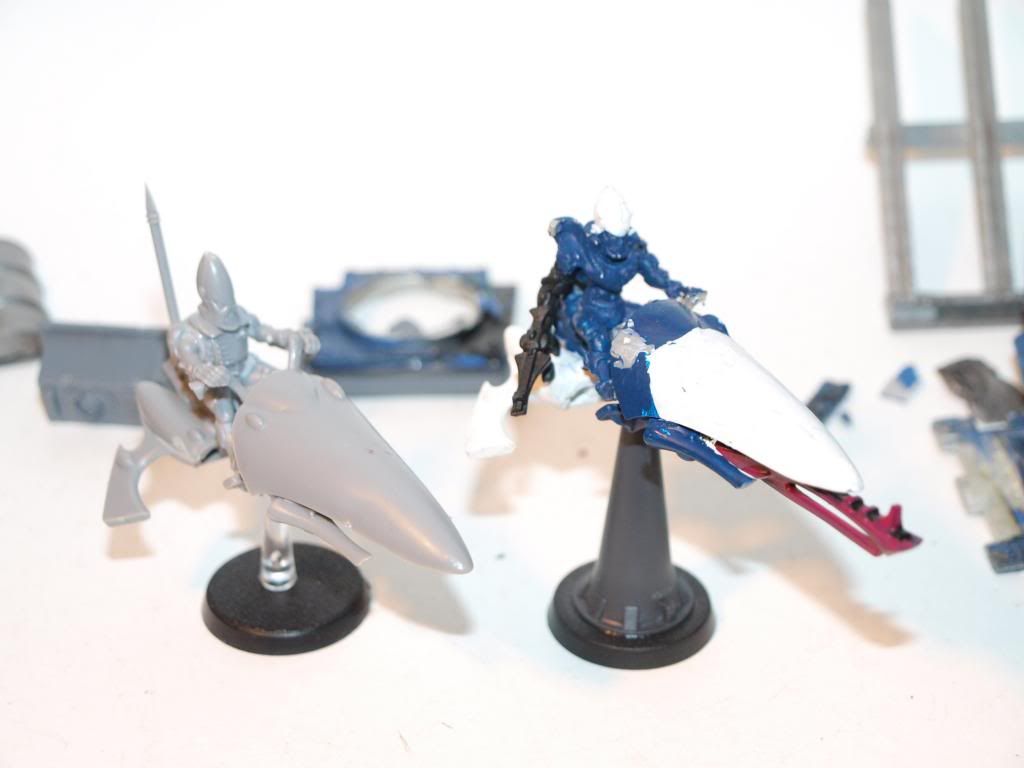 Here you can see the pilar (Pre-painted). The Fire Prism hoover over a pair of pilars mounted on a 40mm round base. And I found great balance so no wobble when I move it around. 👍
---
Good to be green
Barks Dakka Ladz
: W3-D2-L3
Altansar Eldar
: W3-D0-L2

---
Last edited by Moriouce; 08-13-15 at

10:48 AM

.
---
Sculpted my first tabard for the last of my assault marines, also slugged away at my wall of martyrs.
---
Callow Youth:
Back in the days when I was a callow youth I did so covet a FW Baneblade and to that end I started this scratchbuilt version. I also attempted to convert an Armorcast Baneblade (Note that it still sports the original Armorcast tank treads) model into the more aesthetically pleasing and highly detailed version of the Forgeworld model with the result seen below:
http://i.imgur.com/qZtg7eo.jpg
The large caliber mortar on that model was my first attempt and building from scratch and I was extremely proud of that singular accomplishment.
http://i.imgur.com/vAEkTlM.jpg
In those days I used straight pins for rivets and I wasn't all that comfortable at making thin cuts in styrene.
http://i.imgur.com/TkQhyT5.jpg
Today I take such work routinely in stride without a second thought which goes to show that by continually pushing the envelope you will be amazed what you can accomplish.
Go ahead and surprise yourself............
Poetic License:
Might I be excused for a bit of poetic license for whilst the flavor of the Demolisher cannon is still intact, the oversized dimensions required a bit more detail.
http://i.imgur.com/RDXTwow.jpg
The photos reveals that my work isn't very symmetrical but it will do.
http://i.imgur.com/7les40Y.jpg
Onward to the trunnion mount...........
---
"It is easier to deceive people than it is to convince them that they have been deceived."
---
I started putting together a Stompa I found for a quite cheap price, and I also finished painting my second Grot Tank. Gonna have to start a log for my Bad Moons here soon, I think...
---
Built a different-ish weapon for a Blood Warrior, (I picked some up on the cheap from eBay).
The whole halberd-looking thing works really well with the Blood Warrior.
Thinking about making another one.
---
I feel like I made a mistake....
---
Done more work on my Zzapp guns. Just need to find some suitable wires and they'll be finished! I'll prime them and show them off for the Conversion Deathmatch and in my plog.
---
Good to be green
Barks Dakka Ladz
: W3-D2-L3
Altansar Eldar
: W3-D0-L2

Lower Navigation
What did you work on today?