Senior Member
Join Date: Oct 2011
Location: Gdynia, Poland. Sometimes Evesham, Worcs UK
Posts: 726
Reputation: 11

---
Painting
Got quite a bit done last night and today. I've started the Krell, Lord of Undeath that's been sat primered in my case for about 8 months and it already looks pretty good. Then again it's hard to mess up that particular model - it looks good no matter what ;)
I also made a start on one of the 5 chaos knights that are sat on my paint station - just doing the one to start with to test a recipe for reds and I'm happy with how it turned out so I'll be doing the rest of them like that too - I just need to practice edge highlighting and find a good colour that's not too orange.
Modelling
I've been working on the banner top for my Knights Harlequin standard bearer. I'm using the state troops skull and crossed swords banner top with the swords and laurel cut off and repositioned and then lots of greenstuff to add more bits and I have the slight resemblance of a skull in a jester hat. I'll post pics when I get time and of course update my plog when I finish
---
Quote:
Painting:
This morning I finished off the SM Assault Squad that has been sat upon my desk for 12 months. My attention has now shifted to a couple of SM bikes and Scouts to finish off some other units.
Modelling:
Not much really, except bitz shopping for another Terminator squad
Painting/Modelling:
Today I've been working on the bases for the aforementioned Scouts & Assault Squad.
Hopefully have them done tomorrow.
---
Quote:
Originally Posted by
Jace of Ultramar
View Post
I think Tawa is a temporal entity that exists outside of the hobby/modeling timeline. Essentially, he's the Heresy Online equivalent of a Time Lord... which is kinda hilarious and frightening all at the same time.
"God-Emperor? Calling him a god was how all this mess started."
---
Last edited by Tawa; 01-15-13 at

11:57 AM

.
---
Collecting:
Gathered bits for my Death Watch squad.

Modeling:
Restored over 32 broken Space Marines who were missing arms, heads or weapons.

Writing:
Made slight progress on a short story about said Death Watch squad and written a substantial part of another piece of fiction.
---
212218457911619812520750614
Please have a look at my
space marines
.
Lord Bane says: "Keep your water bill low, drink more beer!"
My girlfriend said she didn't like Daft Punk. She's single now. Hahahahahaha lol, just kidding. She's dead...
Senior Member
Join Date: May 2012
Location: Rhode Island. No, thats not in NY.
Posts: 105
Reputation: 1

---
Painting
Ahriman robes and head. Abbadon Trim and Weapons.

Modeling
Working on putting the Lightning Claws on my 10 man Term Assault squad, and trying to figure out how to turn assembly line Loyalist Models into Chaos Terms.

Other
Hand rebinding the hardcover Binding for the collected works of Percy Shelly.

...... Its a full day.
---
You know what the chain of command is? It's the chain I go get and beat you with till you understand who's in rutting command here! -Jayne
Powered by Squig Tea
Join Date: Jan 2007
Location: In da Toolz cupboard in da Mekshop
Posts: 7,589
Reputation: 53

---
Painting
A bit more daubing on the Ork Bike Nob done today.
Modelling
Started rescuing 5 second hand Ork bikes and converting them up a bit.
Other
got myself a nice case of man flu.
---
Painting
I finally started with something that's been laying on my desk for a while.
---
Things I'd like to do better (in no special order):
- Glowing eyes...
how cool isn't that?
- Urban basing...
There are so many ways to do this cool.
- Freehand texting...
It can always get smaller...
Powered by Squig Tea
Join Date: Jan 2007
Location: In da Toolz cupboard in da Mekshop
Posts: 7,589
Reputation: 53

---
Yesterdays efforts were limited.
Painting
Whilst Papa Nurgle is visiting I have given up on painting, with snotty nose and streaming eyes I'm having trouble seeing much lol.
Modelling
Bit more success on the glue and knife front as long as I take my time and put the knife down before I sneeze.
Managed to get a second hand bike up and ready to paint.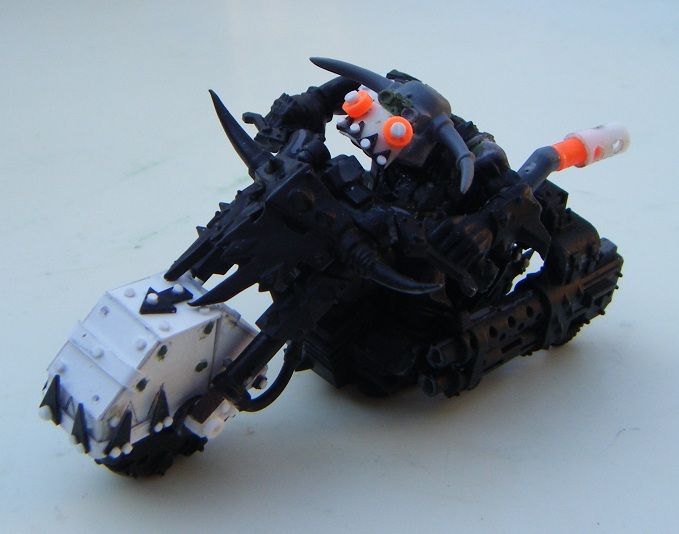 There are a couple more pictures in my plog.
https://www.heresy-online.net/forums/....php?p=1329722
---
So:

Modelling: Today I disassembled three second hand Chaos Termies with lightening claws (the CSM Termie Lord Version) in preperation for their return to the Imperium and also flung all my termies into a bag in preperation for some solid plans in regards to who will go in what squad. I also spent an hour or so on the Land Speeder Storms again. Progress is slow but we are getting there.

Painting: None!

Other: Watched docos on: The Falklands War, the recruitment of the Gurkhas and Royal Marine Officers. Successful day.
Powered by Squig Tea
Join Date: Jan 2007
Location: In da Toolz cupboard in da Mekshop
Posts: 7,589
Reputation: 53

---
Modelling
Actually finished building up a Skorcha today.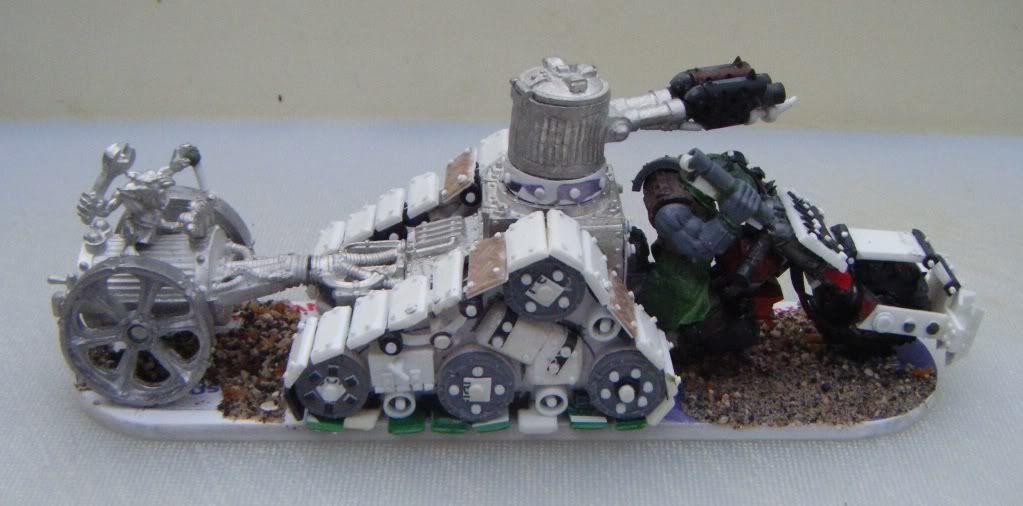 You can see what he has in his hand in my plog.
https://www.heresy-online.net/forums/...46#post1330846
Lower Navigation
What did you work on today?