Great Unclean One
Join Date: Jun 2008
Location: cavorting among Grandfather Nurgle's entrails
Posts: 2,611
Reputation: 42

---
Quote:
The dried blood effect however is working a charm.
Heh - the last time I cut myself significantly while modelling, I smeared a bunch of it (I'd managed to cut 1/4" into the end of my thumb with a fresh craft knife blade, by virtue of being a bit of a tard, so there was plenty of blood to go round) over a piece of paper so I'd know
exactly
what fully-dried blood looked like.
Which may mean I need some kind of professional help
---
thats looking a lot better now, great work as always.
Critique for da CriticGod
Join Date: Aug 2010
Location: Philadelphia, PA USA
Posts: 3,350
Reputation: 43

---
Definitely a step in the right direction.

I think he still needs more contrast and definition around the armored plates. They still seem flat and mighty chrome-shiny.
Senior Member
Join Date: Nov 2011
Location: Staffordshire, Specifically Lichfield
Posts: 650
Reputation: 7

---
Seconding Kreuger, What you need is repeated washes into recesses so that you get build up of paint, and a darker colour.
---
World's Worst Project-Logger.

Slightly Derranged, would advice staying away.
---
To be honest, I preferred the Olive drab on the weapons. Gave it something that wasn't mono-tone, and gave them a link to the rest of your army. Personally, I would do:
Olive drab basecoat.
Wash with watered black to give sharp dark recesses.
Attack profusely the higher recessed bits (the top end of weapons, top of backpack arms) with red/purple wash, and the lower bits with blue/purple. Tend more towards red / blue than purple with the mixes.
That should introduce a tiny bit more colour than just the olive, and tie it more with the blood and guts. But then if you're going for simple, maybe just changing the colour would work for you. I'm notorious for overcomplicating things.
I'd also wait with doing the blood until the rest of the model is shaded, highlighted and finished. If he's putting on the helmet last, do the blood last
Great Unclean One
Join Date: Jun 2008
Location: cavorting among Grandfather Nurgle's entrails
Posts: 2,611
Reputation: 42

---
Thanks again for the feedback...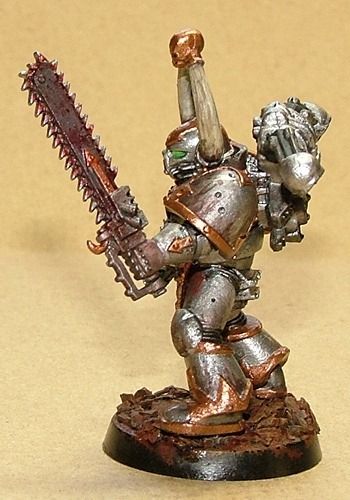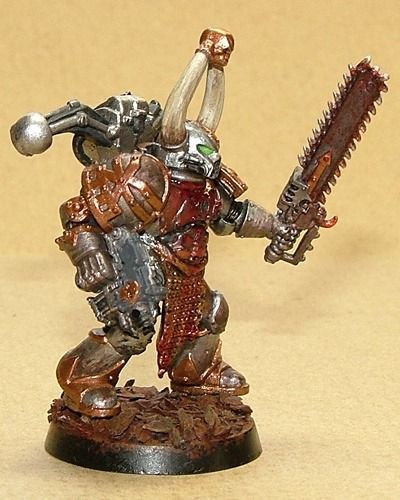 I changed the pale blue-grey for pure slate grey (Eshin Grey) since the blue-grey just wasn't working for me; I know, I know, colour theory etc. but in the end I had to make a call, and slate grey had been my very first thought for the weapons' colour. The blood is Tamiya X-27 Clear Red acrylic, which is great stuff; I'm sorely tempted to get some of the other Tamiya Clear colours for similarly wet effects. Finally I added a little more weathering and staining to the armour (mainly Nuln Oil and more watered-down Rhinox Hide) and picked out the Khorne emblem on his knee with Screaming Bell, which is a nice reddish copper that just screamed 'Khorne!' at me the first time I saw it:
Here he is next to the Plague Marine colour-test model, to show how the two colour schemes contrast: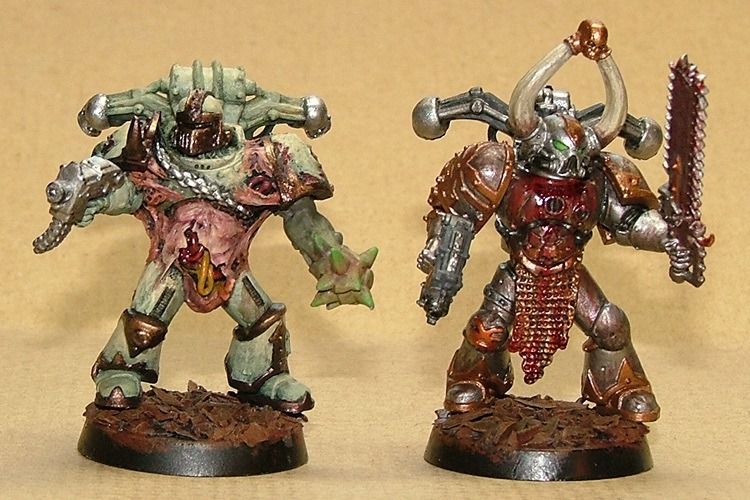 ...and contrast is what I was after; I wanted a totally different look that would stand up by itself so that if I do have a unit of Berzerkers or even just normal Chaos Marines they would be clearly different from the mass of Nurglites making up the rest of the army. Quite apart from wanting to avoid the cookie-cutter red-and-brass look, I've always liked the look of Iron Warriors/Steel Brethren/Iron Knights - the very metallic Space Marines - so that was the conceptual starting point.
The plan was to make a squad of 8, but as with the Plague Marines it's dawned on me that with a new Codex just around the corner it might be more sensible to hold off making new troops until I know what are the wargear options. On purely aesthetic grounds, I'd love to make Khornate troops with paired axes or chainswords, for example...maybe even with a single two-handed weapon like a halberd or an Eviscerator...
_____
Senior Member
Join Date: Nov 2011
Location: Staffordshire, Specifically Lichfield
Posts: 650
Reputation: 7

---
He looks alot better! I would still apply more washes, but He looks really good!
---
World's Worst Project-Logger.

Slightly Derranged, would advice staying away.
---
A couple of paint suggestions if I may (as your gs-fu is mighty and in no need of help). Using this latest model as the example there are a few things that really need a bit done to them to really make the model live up to its gs'ing level. First, the gun is a mash of colour because of the colour you have on the outer casing (same on the backpack I believe?). There is not enough contrast between that bluish/green and the metal areas of the gun. I would suggest a much darker colour, even going to black on the casing as right now it all blends together a bit much.

Second is the metal of the armour itself. Sorry to say this but the model looks half painted right now simply because, from what I can tell at least, there are no highlights on it. In fact, the silver metal areas on both minis on this page are way too bright to my mind. I would give all the silver looking areas a light wash or two of black to even it out and then just a few edge highlights using the same original colour. It won't really change the look of the model but it will make it pop more and give the areas more depth. Hell, just that alone will make your models look far better. Metals are a bit harder to paint than most people realize but once you learn the tricks it becomes very easy. You could even do the same with the bronze areas but just use Devlan Mud to shade it a bit.

Don't take my word for it though Svart, give it a try on a test model first. If you don't like it, you haven't ruined a model on my say so :D
---
one thing I want is the ability to split my fire everywhere, it makes no sense that a squad of 10 guard or marines or whatever all have to fire at 1 target with everything, is the guy with the lascannon not smart enough to realize maybe he would be better off firing at the massive tank looming overhead instead of the little man no bigger than a squat running at him, or is that far too complex for the 10yr olds?
My Thousand Sons Project Log
My Warriors of Chaos Project Log
My Cryx Project Log
My Necron Project Log
Critique for da CriticGod
Join Date: Aug 2010
Location: Philadelphia, PA USA
Posts: 3,350
Reputation: 43

---
I think the Wraithlord hit it on the head. Excellent suggestions every one.
Lower Navigation
Death Guard WIP: Pandemic (May 2 - more Defiler paintwork)