Boc's Sons of Horus Project Log (Updated 18APR13)
---
Sons of Horus Heresy Era Space Marines
Greetings all, and welcome to my project log! Below you will find a table of contents with links to facilitate browsing on this project log, as it may get rather... long. I hope you take the time to browse it and that you like what you find! And if you don't like it, let me know that I suck!
Sons of Horus 19th Battle Company
First Tactical Squad
Second Tactical SquadComtemptor Dreadnoughts
First TalonJustaerin
Terminator Squad Triarii (First Cataphractii)PraetorianCenturionsWarhound Titan (Dreamforge Leviathan Crusader)Predator SquadronsGroup Photos
Of course, I'll do my best to keep this up to date, but I historically suck at that so we'll see. Enjoy!
---
Heresy-Online's Expeditious Stories Challenge 13-06: "Serenity" has started, get your stories in by July 11th!
Quote:
3. Nothing Boc said should ever be taken seriously. Unless he's talking about being behind you. Then you run like fuck.
---
Last edited by Boc; 04-18-13 at

05:54 PM

.
Boc's Sons of Horus Project Log (Updated 22FEB13)
---
Well, when the Horus Heresy Betrayal book came out a couple of months ago, I knew I'd have to get into a Heresy era army. I mean hell, reading the Horus Heresy books are what got me into 40K in the first place. It took me a good while to finally decide upon an army, however, though I finally decided on the Sons of Horus. I mean, it IS the
Horus
Heresy after all. Go big or go home, and these boys are certainly big.
I am, however, completely sick of painting green. So how the hell could I paint a green army without painting... green? I opted for the following colour scheme, and I think it turned out rather well.
Abaddon Black base
Dawnstone on top of that
Adminstratum Grey as a highlight
Coelia Greenshade to make it green (but I don't have to paint green!)
I've decided to really try and focus on each of the characters, each model. In such an epic era as the Horus Heresy in the grand scheme of 40K, it deserves nothing less than my best, and I'll be trying throughout to improve my techniques and build upon what I've learned over the last years (good and bad) to try and make each model in this army look top notch.
I started out with a simple Marine with a bolter. Primarily because that's the easiest way to figure out whether or not I liked the scheme I was going to try and go with. I purchased the Bone Fields bases from Secret Weapons miniatures as well (I'm already dropping a ton of cash on FW models, might as well base them too!), with the intent to fill them up with "bloody puddles." This first attempt turned out... not as well as I'd hoped.
But before I babble further, my first completed model: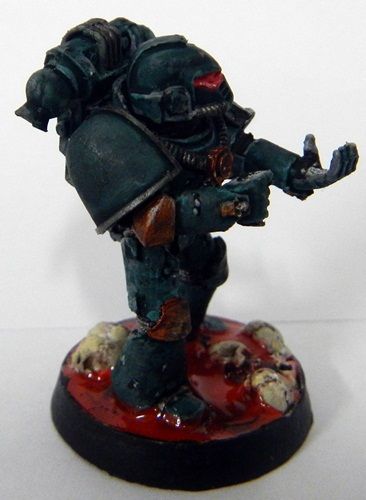 And with his bolter (not sure I like how it turned out)
For this first model, a couple new things I tried:
Using the FW "weathering powders"
-Not sure I really liked those, maybe I'm not doing it right but once I put the glaze coat on top of them (as directed in the FW instructions) it seemed to just spread them out. There are parts where it looked to have worked rather well, but some (especially his back, fortunately hidden by his backpack) the mud just smeared in a giant blob.
Be careful how much powder you get on the model before you glaze it, that's for sure!
"Glowing" eyes
Big props to Normtheunsavoury for answering my question on how to do this on his PLOG. Basically, I used a ridiculously watered down red, and while still wet put on some watered down white (a lot less, though). I really gobbed it on there, a big nasty ugly blob, but when it dried down, I really liked the effect.
Blood puddles
Yeah... this one wasn't quite as I'd hoped. I had intended for the model to be standing in red, but still relatively transparent, puddles (of course full of skulls, because it's 40K, dammit, and we demand skulls!). At first, I tried to just add Bloodletter Red to the Citadel Water effect, but it wasn't noticeable enough... then I added in red paint (whatever the new Blood Red is). It turned out MUCH brighter (and darker) than I had hoped. That's what I get for not being patient enough to wait for Tamiya Clear Red. Ah well. It should be on it's way, but I probably won't be doing any more of the base-filling until then. I did waste my time painting the dirt UNDER the puddle, granted it was only 5 minutes.
This model is probably the longest I've ever spent on a non-HQ infantry model (hell, maybe even more than my HQs in the past) and I think the result definitely reflects it. The biggest failure (I think) was the bolter. I had wanted it to be black, and used the Abaddon Black -> Eshin Grey -> Dawnstone formula (with FW weathering effects around the barrel and the top of the "saw") but it turned out way too flat. I'm thinking of trying out something else, any suggestions on possible colours for the bolter?
Hopefully, in the days to come, I can start sorting out a few more of these and get them posted. I'll be working on Mk IV first, simply because my Mk II shoulderpads haven't come in yet lol. Hope you enjoy!
---
Heresy-Online's Expeditious Stories Challenge 13-06: "Serenity" has started, get your stories in by July 11th!
Quote:
3. Nothing Boc said should ever be taken seriously. Unless he's talking about being behind you. Then you run like fuck.
---
Last edited by Boc; 04-16-13 at

12:48 AM

.
Member
Join Date: Dec 2012
Location: Arizona
Posts: 61
Reputation: 2

---
I may have to try doing the bllod puddle effect on my berzerkers
---
I like the bayonet and blood effect. I wonder if GW will ever make rules for bayonets. To me they seem reasonable to give benefits. I use them on my Iron Warriors.
Senior Member
Join Date: Nov 2011
Location: Staffordshire, Specifically Lichfield
Posts: 650
Reputation: 7

---
Looking Good Boc! Also thanks for the technique, I'm going to paint-to-sell some justaerin and this is a much better scheme than the one I devised!
---
World's Worst Project-Logger.

Slightly Derranged, would advice staying away.
---
bayonets would also give a downfall to shooting at range btw which could equal things out
The Tamyia Blood effect is AMAZING btw, little hint is to badly mix in some Abaddon Black (Chaos Black) to it.
I actually like the flat coloured Bolter but you may want high (or low) light it with some now as flat black, could make it pop more
---
After another day at work, here are some WIP photos of the next two Tacticals: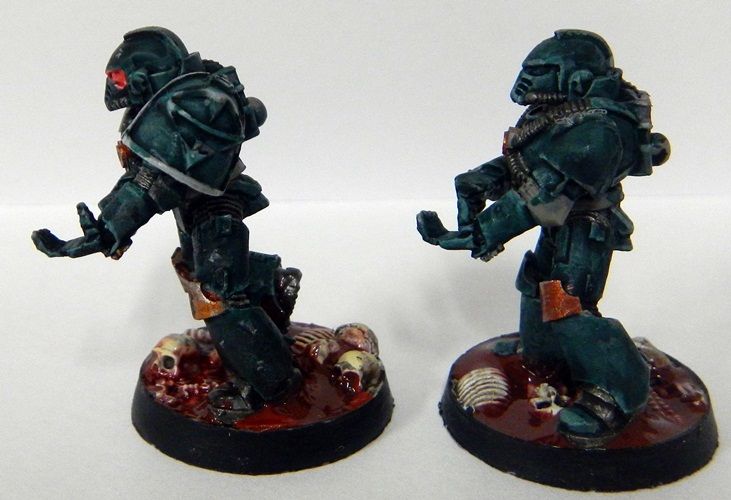 The one on the left turned out FAR darker than I had intended. I made the error of having too light of a layer of the green wash, so followed it up with a second. The resultant near-black is a bit "meh" if I must admit. I was rather careless with the second layer, and may wind up repainting him. The left marine still needs "weathering" and the battle damage applied to both shoulder pads (as well as the silver trimming added) which will make them look better, ideally.
The second marine I worked on primarily while paints/inks were drying on the first. His green is much more in line with yesterday's marine, but he's still very much incomplete. No weathering effects or powder have yet been added to him.
I haven't redone the first bolter yet, as I plan on completing these guys' and then doing a comparison to see which versions/techniques I like better. I do plan on applying more dawnstone as a highlight (used Eshin Grey primarily before) so that the highlights stand out more noticeable following a black wash.
As per Hellados's recommendation, I added a tad of Abaddon Black to the water effect, and the deeper red is definitely an improvement, cheers mate!
Lessons Learned:
Water effect - while it dries, it retracts significantly. There was a large "hole" in the middle of the first marine's base this morning when I went to work on the next two. Throughout the day, the drying of the water compound would cause large absences to appear, as is noticeable in the middle of both of today's marines. You pretty much have to constantly monitor it to fill the gap in as it forms in order to maintain a uniform appearance to the liquid appearance. I hadn't noticed the gaps in these until I was editing the photos and had to refil them in for probably the 3rd or 4th time today.
Basing - Yesterday, I had filled the base in with blood prior to putting the marine in the base (I had him on the standard base to paint). This was a poor choice, and led to problems getting the glue to set when I stood him in the puddle (...obviously). Also, it led to some difficulties as the puddle dried in odd places from the displacement caused by setting the model up. Today, I ensured that I super glued the models to the base prior to pouring the blood in, and used one of my cheap-o hobby lobby brushes to even the puddle out, or drag it up the legs as I deemed necessary. While the running model's glue is still rather iffy (I think I filled it in too soon to let the glue properly set) it was, as is probably obvious to most of you, the easier way to go about it.
Eye glow - while I said yesterday that in order to create the effect required an overdose of watered down red, I overdid it today on the left model. Even when liberally applying paint, carelessness can take away the desired effect. As is visible, the "red" seeped way too far to the back of the lense, creating a glow effect where there shouldn't be one. I'll retouch his helmet when I get a chance to make the effect less... sloppy.
Anyways, hope you guys enjoy, should have these guys finished in ~2 days (tomorrow will be busy). Thanks for reading!
---
Heresy-Online's Expeditious Stories Challenge 13-06: "Serenity" has started, get your stories in by July 11th!
Quote:
3. Nothing Boc said should ever be taken seriously. Unless he's talking about being behind you. Then you run like fuck.
---
Last edited by Boc; 04-16-13 at

12:50 AM

.
---
The green is neat, maybe a bit dark. The eyes.... They honesty look more like sloppy paint instead of glowing.
---
To get glow I usually use a bit of layered drybrushing. Given the small workspace in this instance however, try putting an orange or yellow highlight on the lens itself and maybe a thin line near the edge of the faceplate just under the eyes. I found that generally worked. If not I'd go djinn's site's method.
Also, I love how your metals have turned out.
Lower Navigation
Boc's Sons of Horus Project Log (Updated 18APR13)