---
Started on the Wolves from Stormclaw. Using the shitty camera on the phone, however... but, you get the idea.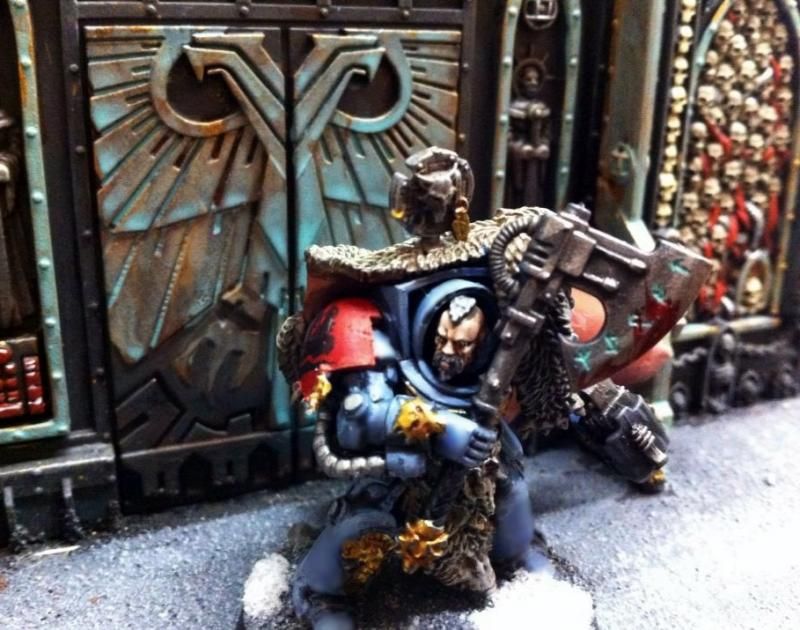 ---
IN THE US? ASK ME HOW TO GET 10% OFF GAMES WORKSHOP PRODUCTS!


---
I like the look of it in the photo, although the picture quality is low it looks like you've done a good job, and the terrain behind him looks cool too!
---
My hobby time is still limited these days, but I managed to crank out a Venerable Dreadnought. I dropped the skull bit that was supposed to go on it that has a laser sight in one eye, so I replaced it with a similar bit off of the Wolf Guard Terminator sprue. I actually like the head better without the laser pointer.
I also got a new camera (although this was still an iphone picture), and as soon as I grab a memory card for it (I derped and forgot to get one...) I'll have better pictures of all this stuff soon.
---
IN THE US? ASK ME HOW TO GET 10% OFF GAMES WORKSHOP PRODUCTS!


---
I absolutely love the model... Shield and axe on a dreadnaught makes me happy :D

Good job!
---
I had an AMAZING time at fightclub.

I arrived a bit late, so I missed the introductions, but man... I had an awesome time at fightclub! 10/10 I would recommend fight club to anybody!
---
I've been busy with terrain work for most of my hobby time. I ended up with a couple extra sets of Dark Vengeance with the 6th Edition rulebook in 'em-- GW never sent me a return label for them and they never charged me for them in the first place, so I just said screw it and popped 'em open. I took one of the sets of Dark Angels and mounted 'em on cake pillars-- cake pillars are criminally inexpensive (I got 18 of them for about $12) and just painted 'em up. I knocked out five of these in about 20 minutes, and they're great line of sight blockers, inhibit movement, and they look sharp on any table.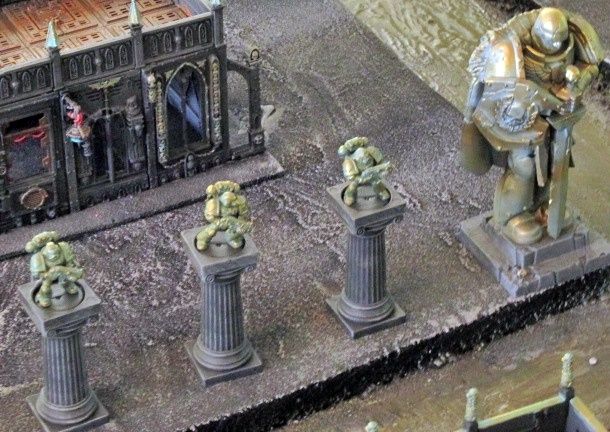 I also did this little oasis for my desert table, using just leftover junk and some classic Citadel jungle trees that were donated to the store.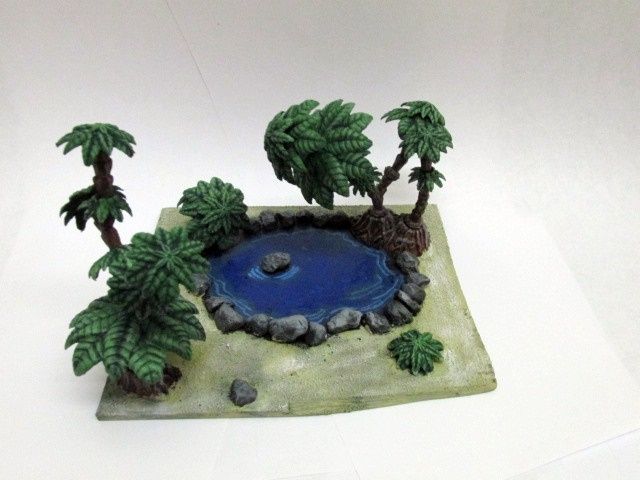 And, the full Wolf Guard Terminator Squad, Bjorn Ursusson's Pack:
---
IN THE US? ASK ME HOW TO GET 10% OFF GAMES WORKSHOP PRODUCTS!


---
Last edited by The Son of Horus; 08-13-14 at

05:34 PM

.
---
Nice work all around
Love the WG!
---
Quote:
Originally Posted by
Jace of Ultramar
View Post
I think Tawa is a temporal entity that exists outside of the hobby/modeling timeline. Essentially, he's the Heresy Online equivalent of a Time Lord... which is kinda hilarious and frightening all at the same time.
"God-Emperor? Calling him a god was how all this mess started."
---
The wolves are looking really good. Consider the cake pillar idea well and truly stolen.
---
I'm still playing around with the new camera settings to figure exactly how to get a good picture. In the meantime, I did finish a drop pod for the Venerable Dreadnought. Since it's for the dreadnought, I decided to leave basically everything out of the inside of it so it looks like a dreadnought could conceivably fit inside the thing. While the rest of my Space Wolves look fairly clean (as far as drunk, hairy vikings can be, at any rate), I figured nothing is coming through atmospheric entry without looking heavily scorched, so I weathered the hell out of it.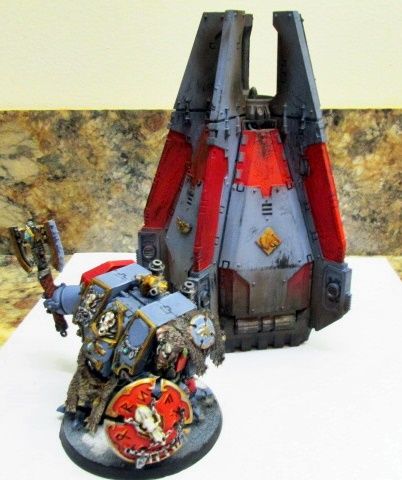 And a couple Grey Hunters. I haven't put the snow on their bases yet, but you get the idea.
---
IN THE US? ASK ME HOW TO GET 10% OFF GAMES WORKSHOP PRODUCTS!


---
yeah gonna have to yoink the cake pillar thing as well and where is your store located? might have to look you up when i go visit my big sis
Lower Navigation
The Son of Horus- Collected Visions