---
SoH for your black legion list you need Abaddon to field chosen as troops thought I'd let you know. Love the work so far mate making me wish I could get better and start painting again.

Gothic
---
Quote:
SoH for your black legion list you need Abaddon to field chosen as troops thought I'd let you know. Love the work so far mate making me wish I could get better and start painting again.

Gothic
Nope! Check the Black Legion supplement. Chosen are just Troops choices in a Black Legion army; if Abaddon is around, he must be the Warlord (of course) and can upgrade a unit of Terminators to his special bodyguard that have a different name but are the old Justaerin. If I were using just Codex: Chaos Space Marines, you'd be absolutely right, though!
---
IN THE US? ASK ME HOW TO GET 10% OFF GAMES WORKSHOP PRODUCTS!


---
I'll have to replan my army lol
---
Absolutely terrific pieces here brother. Inspiring !
---
Perhaps not much of an update, considering there aren't new models in this post, but it's very relevant to the plog overall.

I've been giving some thought to the Black Legion list. And I've decided to make a few adjustments. While festooning everyone who can hold a plasma gun with one seems like a good idea on paper, the price tag for the Chosen squads wasn't meshing with their performance. The plasma guns have, by and large, been wasted. And after giving thought to the armies I typically play against, a more balanced mix of weapons may prove more advantageous. With that in mind, I'm switching the flamer to a combi-flamer, and one plasma gun to a meltagun in each squad-- there's a weapon of opportunity for tank hunting if I absolutely need to (I'm a fan of tactical flexibility), the flamer's there for the one turn I might use the thing but otherwise the model is still contributing at the 24'' mark; and there are still a pair of plasma guns in the squad for shooting up heavy infantry. Ultimately, though, the Chosen want to be in close combat-- they have an extra attack for a reason and there's not a whole lot in the game that stands up well to 30 of them being led by a Lord and a Sorcerer casting buff spells.

I may still ultimately drop the meltagun in favor of a combi-melta-- while the combi-weapon costs as much as just a straight meltagun, the reality is that this game takes place predominantly at the 18-24'' range these days, and is decided point-blank in the closing turns. Experience has shown that in a tactically flexible unit I should only need the meltagun one turn, if at all-- keeping the bolter on that same model allows the model to continue to contribute to the unit's shooting at further than 12''.

One pleasant surprise lately has been how well the cultists have performed. So well, in fact, that I think I need fewer of them for what I'm doing. A 3 or 4+ cover save (depending on where they're going to ground) is surprisingly resilient for what are otherwise guardsmen, and I've found many people opt to ignore the cultists until later in the game anyway and instead focus on the Chosen, meaning the Cultists don't even need to go to ground and can continue to support with their autoguns. In some of the games I've played so far with the army, they've actually outperformed the Chosen in terms of shooting effectiveness... which is statistically speaking an anomaly but it has shown me that minimum sized units do what I want them to do just fine, and I don't need to invest in larger squads.

I will most likely be using the Rhinos to physically block line of sight-- essentially, a wall of metal boxes that goes Rhino-Vindicator-Rhino-Vindicator-Rhino, with the 30 Chosen and the HQ advancing behind. It's rarely an issue for the Havocs to find a vantage point somewhere to shoot over that advancing Rhino wall. And if need be, the Chosen can even ride in the Rhinos... the HQ choices will just have to run along behind and out of line of sight in the one or two situations where the squads are safer in the vehicles. When the Chosen get within 24'', the Rhinos will create fire alleys for them to screen them from enemy fire as best as possible, while the Vindicators go to work on the heavy armored targets the Havocs didn't kill the turn before (keep in mind there's usually a 24'' no-man's land, so there's just one turn of Rhino shield usually), and then the Chosen should typically be in range to charge or continue shooting as necessary on turn 3. It's not that different from my typical strategy with my Space Marines, and it's time-tested and consistently effective. That this list uses Chosen as the staple unit just means I'm bringing more special weapons to bear, and when I do get into close combat, there's not a whole lot that can withstand me. The Chosen can even do a disordered charge and just shrug at not getting their bonus attack on the charge and pretty reasonably attack multiple targets at a time without being overwhelmed, too--something I'm not used to having the ability to do.

Anyway, enough rambling about tweaking the list.

HQ/
Chaos Lord
-Dual Lightning Claws, Mark of Tzeentch, Sigil of Corruption, Warlord

HQ/
Chaos Sorcerer
-Force Sword, Bolt Pistol, Mark of Slaanesh, Aura of Dark Glory

Troops/
Black Legionnaires
-10 Chosen. Rhino APC. Champion has a bolter, bolt pistol, and power axe. One meltagun, one combi-flamer, two plasma guns, one power fist. Veterans of the Long War

Troops/
Black Legionnaires
-10 Chosen. Rhino APC. Champion has a bolter, bolt pistol, and power axe. One meltagun, one combi-flamer, two plasma guns, one power fist. Veterans of the Long War

Troops/
Black Legionnaires
-10 Chosen. Rhino APC. Champion has a bolter, bolt pistol, and power axe. One meltagun, one combi-flamer, two plasma guns, one power fist. Veterans of the Long War

Troops/
10 Cultists
-Autoguns

Troops/
10 Cultists
-Autoguns

Heavy Support/
Black Legion Havocs
-10 Havocs. 4 Lascannons. Veterans of the Long War.

Heavy Support/
Vindicator
-Dozer Blade

Heavy Support/
Vindicator
-Dozer Blade


I'm also working on an alternative list that features Abaddon and the Bringers of Despair... I haven't figured out where to put them in the army yet and what gets cut for them, but... that'll get sorted out sooner or later I suppose.
---
IN THE US? ASK ME HOW TO GET 10% OFF GAMES WORKSHOP PRODUCTS!


---
Took pictures of the two complete squads. Not sure why the combi-flamer guy in the first picture is out of focus... I tried several different pictures but none really came out. Oh well.
The first squad:

And the second:
---
IN THE US? ASK ME HOW TO GET 10% OFF GAMES WORKSHOP PRODUCTS!


---
Stop with the great work already!
I can't keep up!
---
Quote:
Originally Posted by
Jace of Ultramar
View Post
I think Tawa is a temporal entity that exists outside of the hobby/modeling timeline. Essentially, he's the Heresy Online equivalent of a Time Lord... which is kinda hilarious and frightening all at the same time.
"God-Emperor? Calling him a god was how all this mess started."
---
Finished a couple vehicles. I decided to try freehanding the signature Chaos banding on the hulls and use a progression of red through yellow to have a sort of "burning" effect with it. Not sure if I like how it came out, though. Both vehicles are rescues from either my (very) old Black Legion army that is being refurbished, or ebay... so I went with an intentionally loose painting style on them overall to help hide the models' physical imperfections.
A vindicator:
And a Rhino: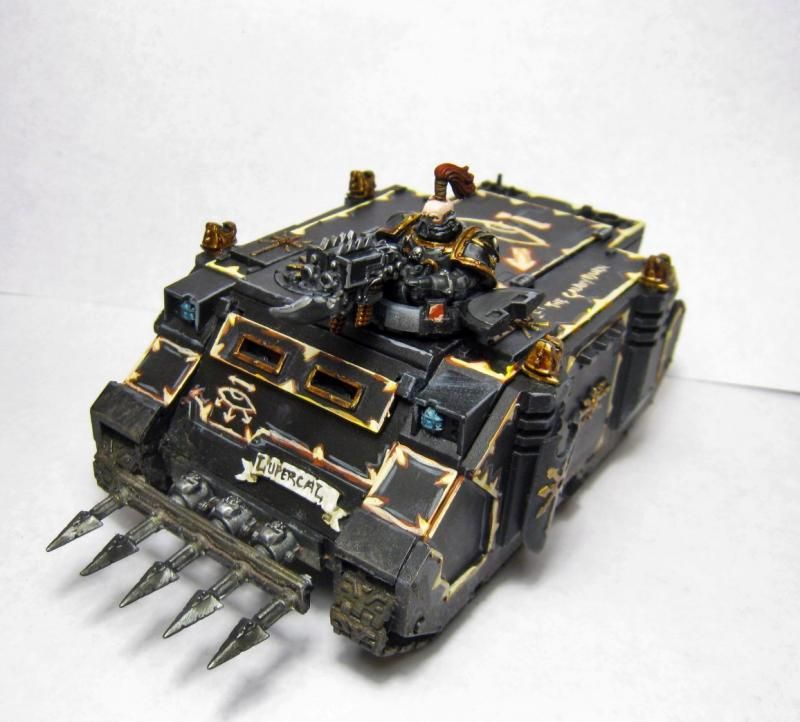 ---
IN THE US? ASK ME HOW TO GET 10% OFF GAMES WORKSHOP PRODUCTS!


---
Been cranking out Black Legionnaires-- at this point, I have only twelve Marines, a Rhino, and a Vindicator to paint and the 1850 list will be done!
So to start off what's gotten done... these Terminators don't actually make the 1850-point list, but I wanted to have a unit for the army anyway in case I ever feel like running them instead of one of the Chosen squads. They're enough cheaper than a Chosen unit the way I've got my Chosen equipped that I can drop my Lord for Abaddon and bring the Terminators along with him, and still come in nicely at 1850. Or, they can give a cultist squad the boot (for the surprisingly negligible points that Cultists are) to fit into a 2000 point list. Five plasma guns, three power axes, a chainfist, and a lightning claw for the Aspiring Champion.
Next up are the Havocs. I still have the Aspiring Champion and one more lascannon to paint to finish the 10-man squad.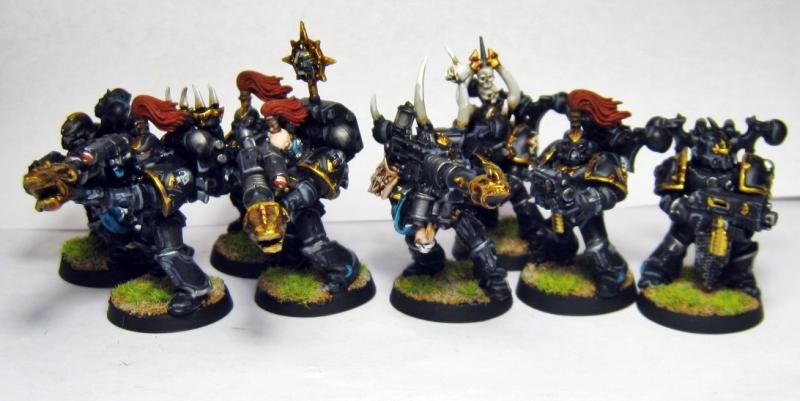 Another batch of Cultists. These guys look like crap, but I refuse to spend more than about 15 minutes per model on them... they're there to babysit objectives and get shot. Although my contempt for them seems to have been all my Cultist squads have needed to consistently outshine my Chosen at range in four of the five games I've played with the army in the last two weeks... The lesson here, I suppose, is to never underestimate what negative reinforcement can do.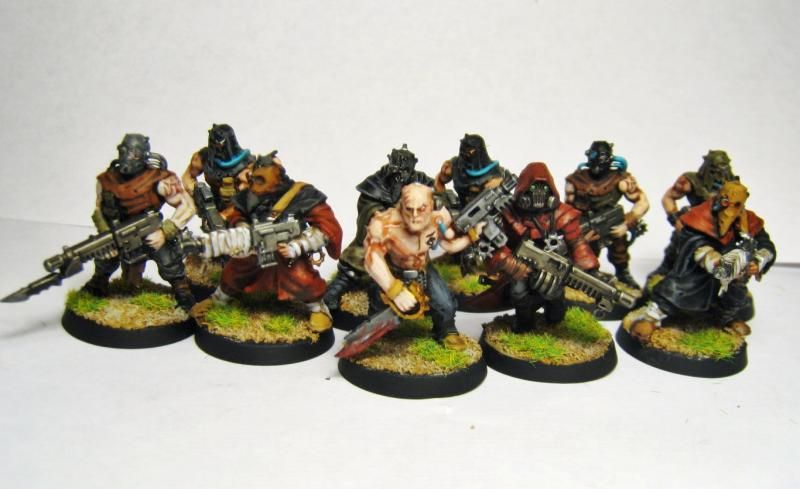 My Lord, Tullis Satrael, Captain of the 17th Grand Company of the Sons of Horus Legion. I'm also in the process of repainting my old model of him, which is armed with a Chaos Warrior's shield and a daemon sword. For this list though, he gets lightning claws, so I made a new model for him.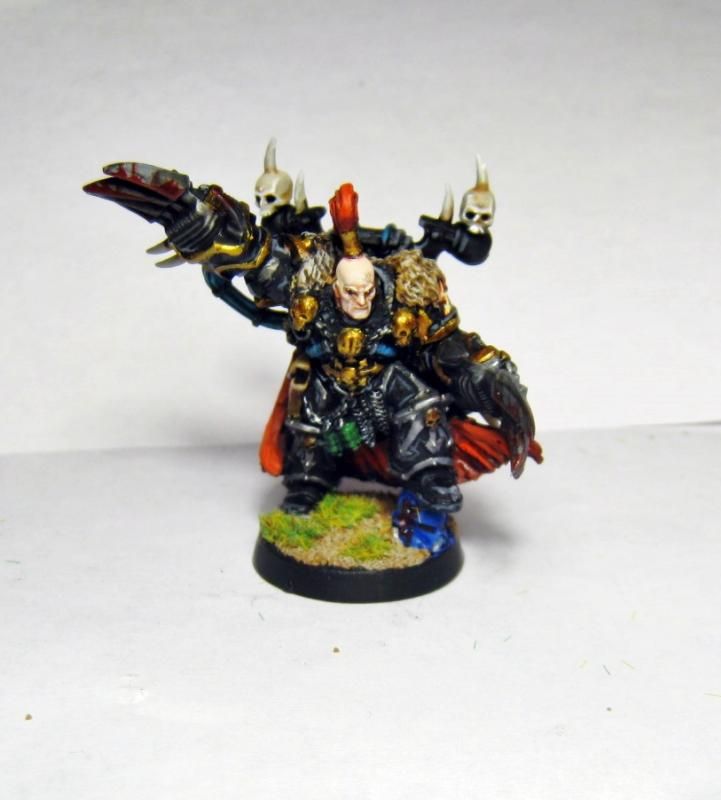 Another Rhino, this one for the second Chosen squad: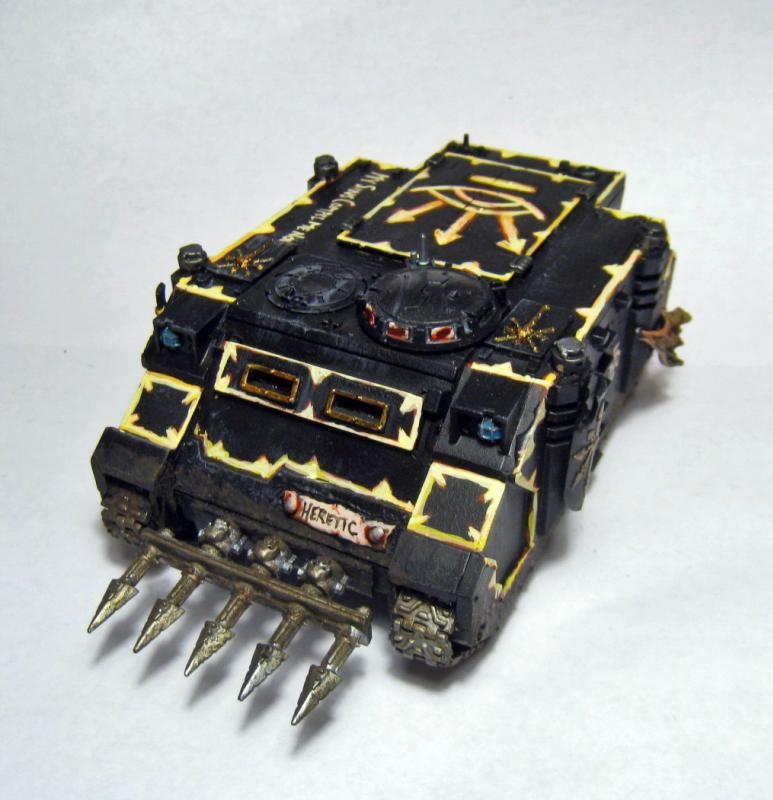 A Dark Apostle (the Chosen Champion from DV). I don't know when I'll actually play with him, but I own ~15,000 points of Black Legionnaires. I should have a Dark Apostle for 'em, and painting a random character is a nice break from painting squads.
---
IN THE US? ASK ME HOW TO GET 10% OFF GAMES WORKSHOP PRODUCTS!


Lower Navigation
The Son of Horus- Collected Visions