"Prince of the Warp, here to purge this land!"
---
Since my Daemon Prince has a fair bit of detail and will require a lot of time, I decided to start up this project. When I started painting my army, I couldnt decide on whether to paint them a Tzeentch/T-Sons theme or a Red Corsairs. So I painted 1 terminator Tzeentch and another one Red Corsairs. Since I liked both, I decided to paint my army like that and I'm playing a Chaos undivided list after all so it didnt really matter because the Red Corsairs worship Tzeentch then i can still do an all Tzeentch army.

Now, for my Daemon Prince im going to paint him half and half. One half will be Tzeentch and the other Red Corsairs. Sounds good in theory but im going to try it on one of my marines first before I waste time and paint doing it on my Prince.

Here's a couple pics of my partially assembled Prince:
(he sends a nice little message to the Loyalists and yes he's holding the head in his hand and the leg is on the base)
---
I'm suddenly inspired to strip the paint of my knorne prince and start painting...

Curse you!

I agree with your conversion as well. Show those loyalists who's boss!
---
Thousand Sons: 5W - 2L - 0T
Emperor's Children: 7W - 1L - 1T
Necrons: 1W - 2L - 1T
Salamanders: 3W - 1L - 1T
---
If thats your DP in your avi, it looks really good and i hate starting things from scratch again.

I just need to attach his wings, do a little more GS work then he's ready for painting. I also havent decided on what scheme to paint the poor marine. I was thinking Dark Angels because green contrasts well with its opposite colour, red (which my daemon prince will have).

Any suggestions for the colour of the marine?
Senior Member
Join Date: May 2008
Location: Lincoln, England
Posts: 2,628
Reputation: 8

---
looks very thematic, and would go great on a base fulll of skulls and dead marines
Powered by Squig Tea
Join Date: Jan 2007
Location: In da Toolz cupboard in da Mekshop
Posts: 7,589
Reputation: 53

---
Looking good so far love the SM kebab.

I tend to do Imperial Fists for dead Marine stuff as the Yellow is a good contrast for most schemes.

Whichever Chapter you paint him Im looking forward to seeing it.
---
Space Wolves might not be the best contrasting paint scheme, but it is the Thousand Son's hated enemy. The muted Grey of the Wolves shouldn't muck up the scheme too much either. Whatever you choose I can't wait to see the finished product either. Nice little bit of conversion work here man.
---
I like the conversion well enough but I think you may have trouble with the split colour scheme. It will be cool if you can pull it off though.
---
one thing I want is the ability to split my fire everywhere, it makes no sense that a squad of 10 guard or marines or whatever all have to fire at 1 target with everything, is the guy with the lascannon not smart enough to realize maybe he would be better off firing at the massive tank looming overhead instead of the little man no bigger than a squat running at him, or is that far too complex for the 10yr olds?
My Thousand Sons Project Log
My Warriors of Chaos Project Log
My Cryx Project Log
My Necron Project Log
---
It is a good conversion u have there
can't wait to see it painted keep the good work on.
---
Time for a quick update now. I know its been about 2 weeks since posting but i've been really busy with school and stuff. No pics of Daemon Prince until i get his foundation paints done then i'll put some up.
Meanwhile i have been building my army and have a few pics of my converted Chaos
lord that i'm working on: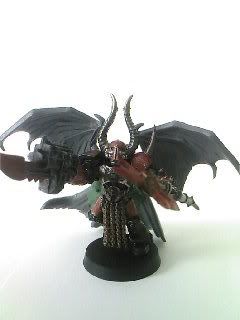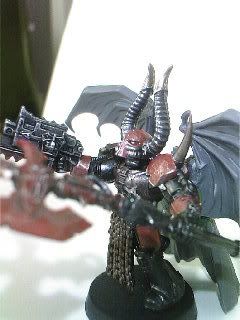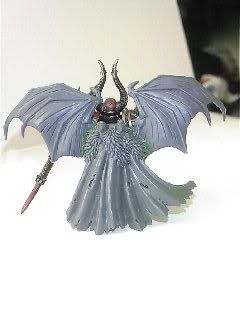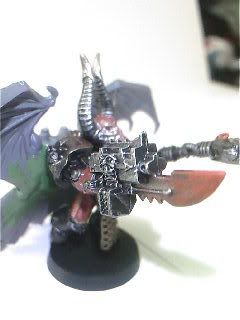 Sorry the pics are kinda small, i'll re-post bigger ones later
Lower Navigation
"Prince of the Warp, here to purge this land!"