---
He looks better with the cloak and wings, since he's more balanced, but he's not running. That just isn't a running pose. I will, however, buy that he's about to take off. It's still not my favourite pose ever, but at least he looks less confused now.

To mitigate the criticism a bit, though, I'll say again: bloody fantastic daemon weapon.
---
Four Colditz salads and a Hermann Goering.
---
What did you use for the bottom of the staff bit?
When i converted my termi lords khorne weapon, i just used the sorcerer staff that came with it, and basically joined the two to make a polearm type weapon. Came out really good.
Also, Great idea for the DP, i considered doing something of the same with my Tyranid Carnifex (melee fex who has STalons), but I decided against it since he was my first MC project
LX out
---
With the new Tyranids codex, I have returned!

"It's only after you've lost everything, that you are free to do anything." -Fight Club
---
Im not too crazy about the pose either, but im not entering him in any competitions or tournaments. As long as he looks ok then thats good enough for me.

For the Daemon weapon i used: Terminator sorcerer's force weapon staff, Power axe from Terminator power weapons, 2 spikes/knives from some sprue but cant remember which one?

For the lord himself: Berzerker legs, regular marine torso, chain mail thingy from chaos terminator lord, twin linked bolter terminator arm, chaos terminator sorcerer arm, chaos terminator lord cloak, possessed wings, chosen marines head.

The next pics i post of the lord will probably be the finished product because all i have left to do is high lights and fix up anything.
---
Some updates now on my prince, finally...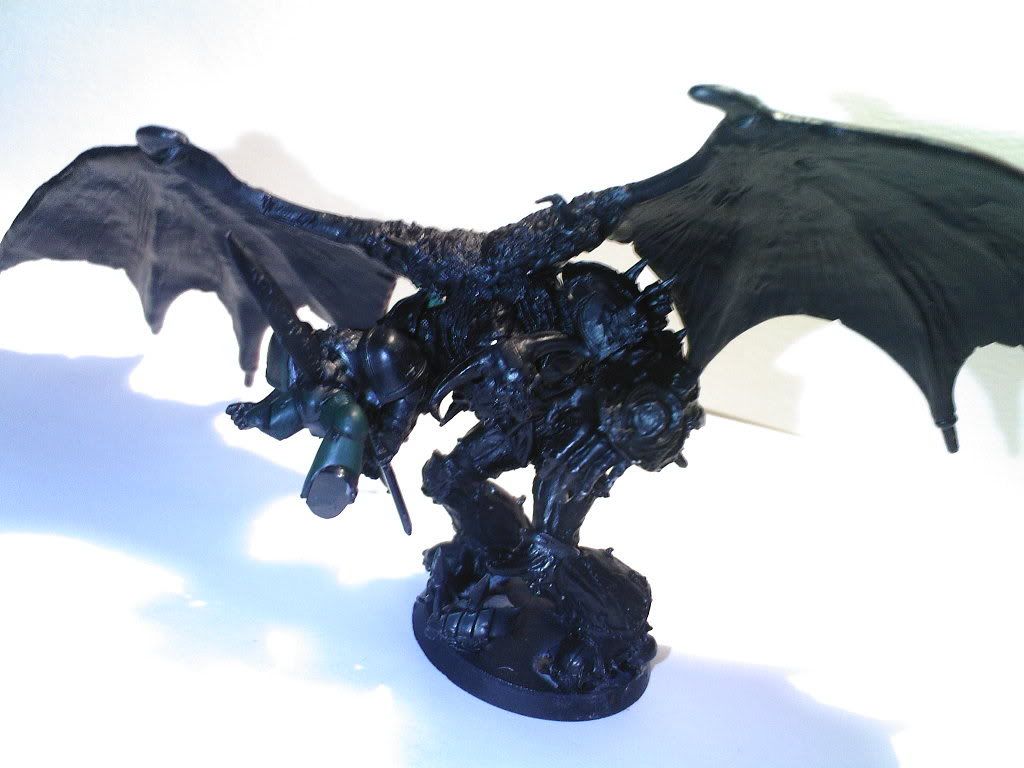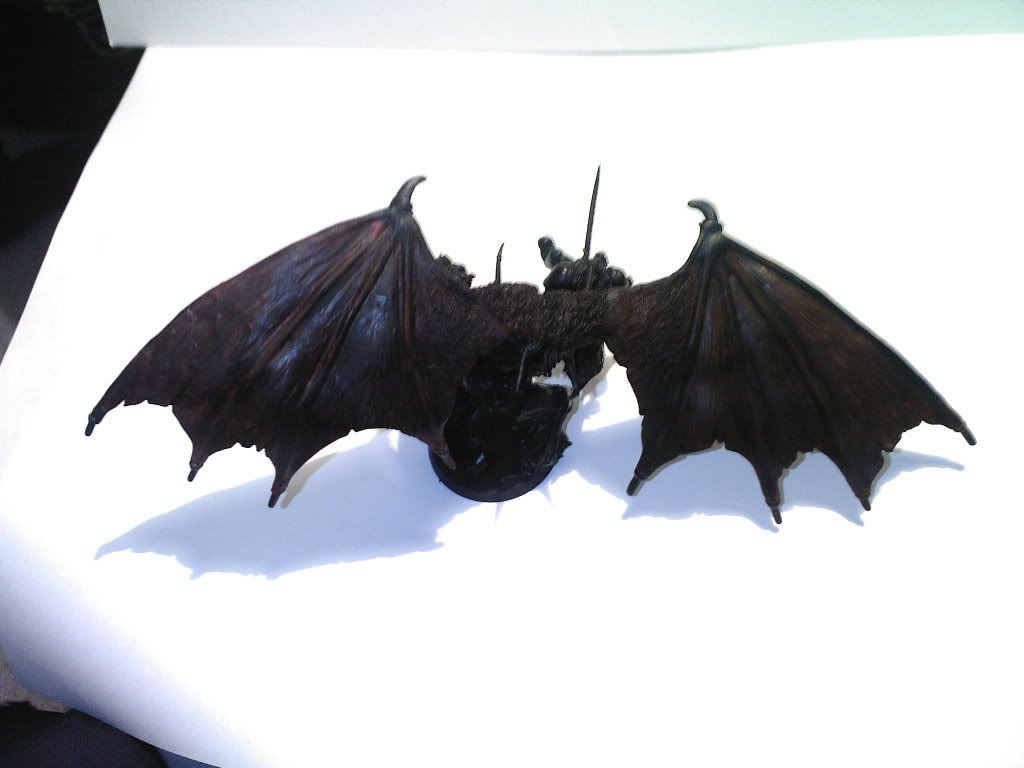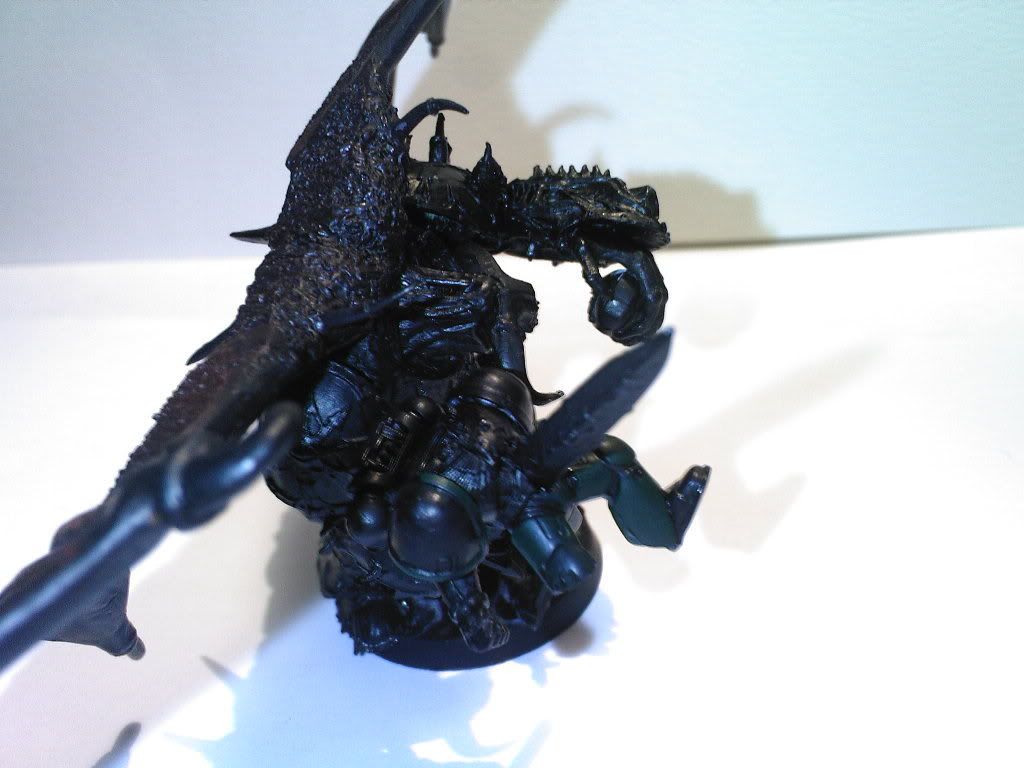 Sorry if you cant see the pics clearly, remember he's still unpainted for the most part. The marine that got owned will be a salamanders dude. I also started painting the wings and i know its kinda messy but it doesnt matter because i will be going over the wing's bone structure in a brighter red. A similar style to my chaos lord.
A couple days ago. this guy brought in his titan to the store and i was like holy crap! "that thing is epically ginormous" (someone in the store actually said that and its a good description of it. I've never seen photo's of them standing next to models before so i dont know its true scale. I have only heard about them from forge world and black library books. We played a mini apocalypse game after photo takings and this thing took out 3 baneblades single handedly without losing a single structure point!!! I dunno if im allowed to post this pic due to copyright and all that other law crap since it has GW stuff everywhere in the pic but here it is for anyone who hasnt seen one: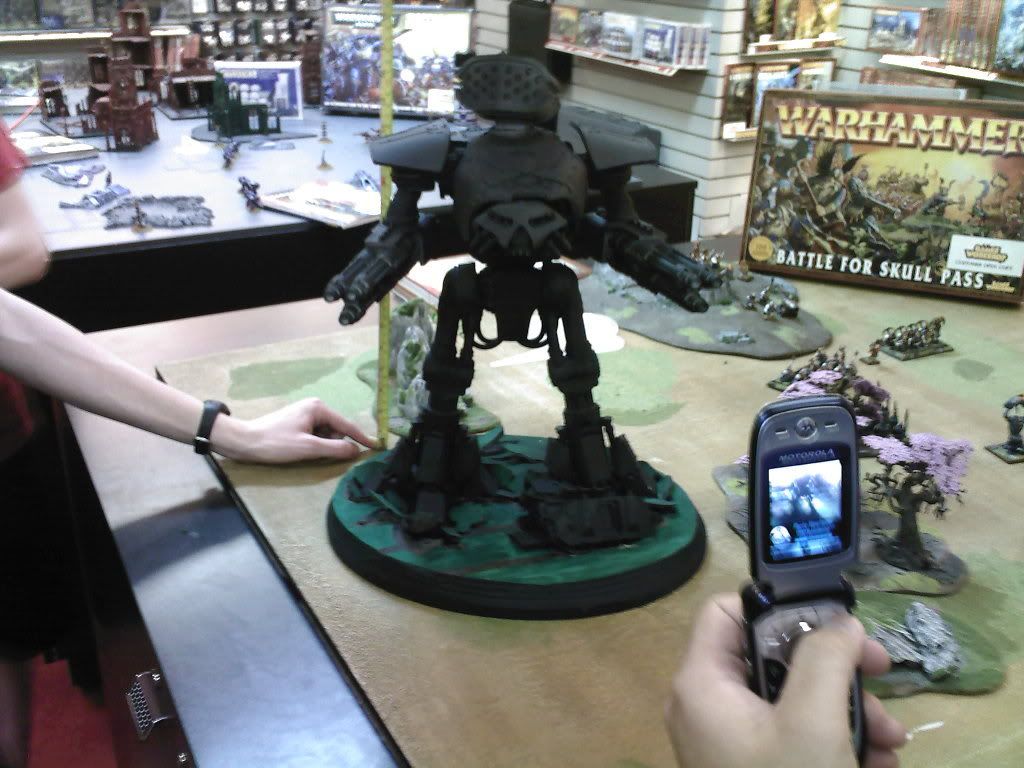 Join Date: Jun 2008
Posts: 57
---
That titan is amazing! wow...and huge, I don't doubt for a second its ability to take out 3 baneblades; that thing is monstrous!
Good to see progress on your prince by the way
Junior Member
Join Date: Jun 2008
Posts: 27
Reputation: 1

---
Is that a rhino under its foot?? OMG that thing is really huge...., Anyway nice pic of your models and as fellow red corsair player i like your lord! I'm still undecided whether i should get Huron or not.
---
With 2 Laser Blasters it could probably deal with more than just 3 Baneblades!
Senior Member
Join Date: May 2008
Location: The Mystical workshop of the Red paintjob grot. (My room.)
Posts: 673
Reputation: 1

---
Well, that prince looks good, go and scenic base it! But in all seriousness, the only thing that i dont like is how cleanly the marine is chopped up, maybe make it look more gory?
Lower Navigation
"Prince of the Warp, here to purge this land!"