---
Kinda cool actually. The wings and the cloak go together quite well. The axe on the other hand is bad ass.
---
one thing I want is the ability to split my fire everywhere, it makes no sense that a squad of 10 guard or marines or whatever all have to fire at 1 target with everything, is the guy with the lascannon not smart enough to realize maybe he would be better off firing at the massive tank looming overhead instead of the little man no bigger than a squat running at him, or is that far too complex for the 10yr olds?
My Thousand Sons Project Log
My Warriors of Chaos Project Log
My Cryx Project Log
My Necron Project Log
---
At first i was just gonna put the wing on by themselves but he didnt look like a chaos lord. So i looked through my bits box and found the extra cape from the extra terminator lord/sorcerer sprue that i didnt use.
Heres bigger pictures and a close up of the axe: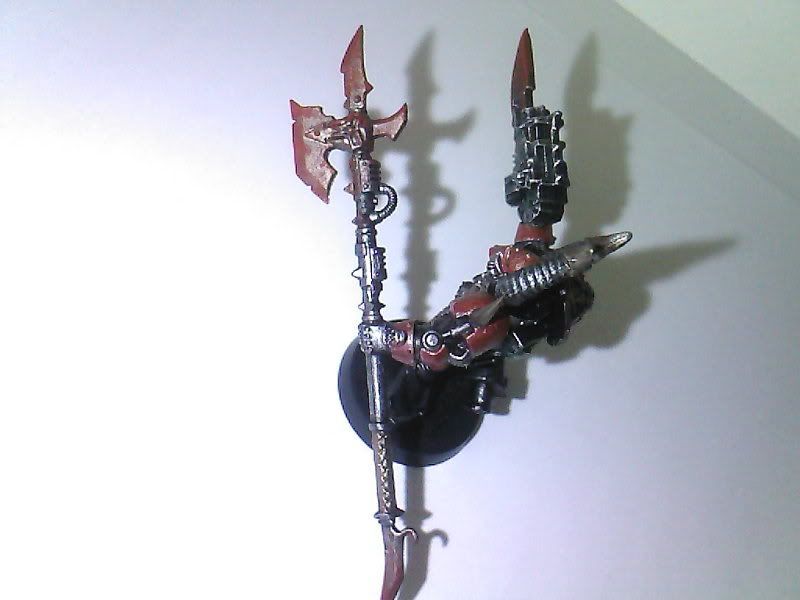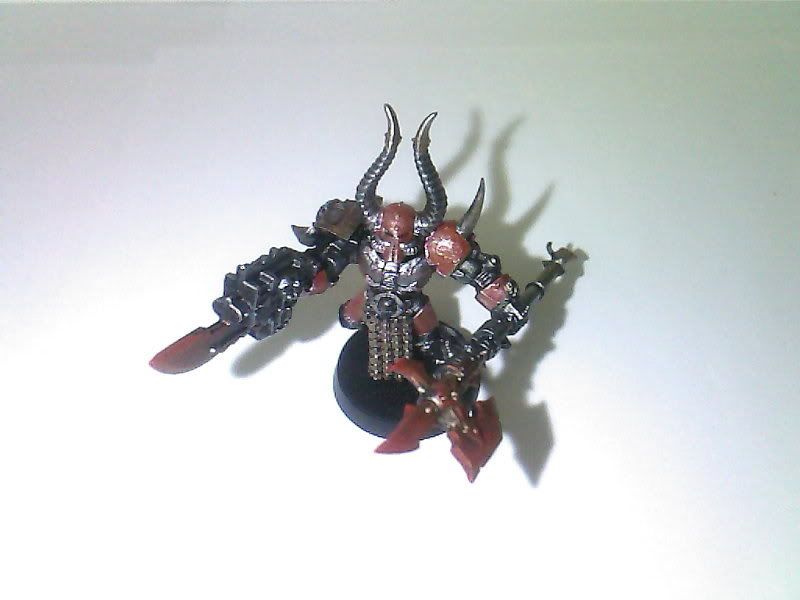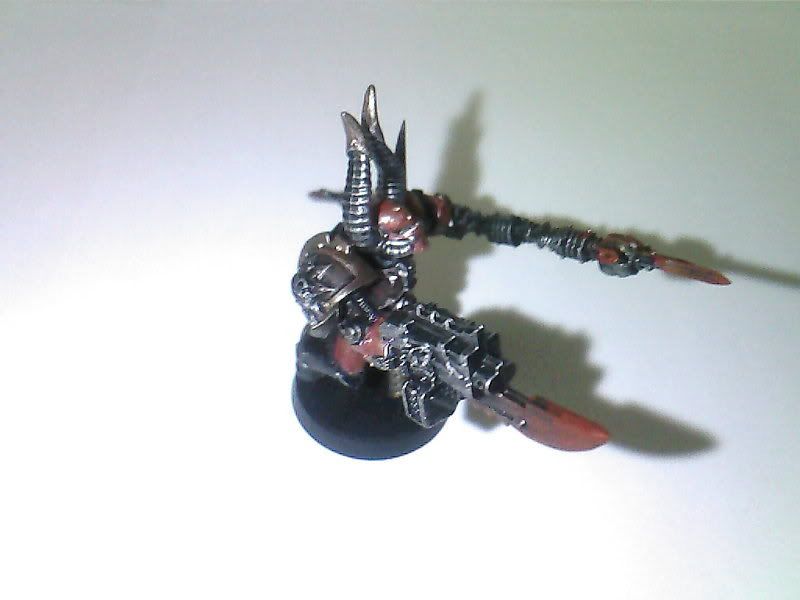 Join Date: Jun 2008
Posts: 232
---
what did you use for those wings man? that chaos lord w/ demon weapon looks sweet by the way
---
the chaos lord looks awesome.
---
when you gotta shoot, shoot. Don't talk...
---
The wings are from Possessed - I've got the sprue on my desk at this very moment. And as cool as some aspects of your Lord are, I'm really not sold on the pose. It may have something to do with the fact that there's a giant chunky weapon in each hand, but I just can't figure out what in the name of balls he's supposed to be doing.

It is a damned nifty Daemon weapon, though.
---
Four Colditz salads and a Hermann Goering.
Join Date: Jun 2008
Posts: 232
---
it looks like hes pointing the gun at something and the staff axe is at his side though yeh, I dislike his pose aswell since his heads tilted away from his gun and the axe is held out too far (only cuz of how the arm is)
---
I wasn't sold on the pose, either...but that was just on the pics without the wings and cloak. They seem to sort of balance out the model...big chunky bits of metal in the front, big ol' wings in the back...I think it works.
Keep going!
---
Quote:
Originally Posted by Navar89
if I hang out with you any more I just might pick up 40K...You, sir, are dangerous.

Holy shit, I've a plog again!
---
WOW! the prince is looking good (poor loyalist marine
), and the lord is amazing, the daemon weapon (if thats what you using it as) is fantastic! keep up the good work
---
"Pain is an illusion of the senses, despair an illusion of the mind."
"Life is a prison, Death shall be my release."
Lower Navigation
"Prince of the Warp, here to purge this land!"