Fantasy and 40k Log
---
The purpose of this log is to serve as motivation for me to try and complete my current projects. I have far too many armies in various stages of completion that i have been neglecting due to Uni commitments. However now that i have finished Uni i can devote some time to them. I have both Fantasy and 40k armies that i am working on, which include Ogre Kingdoms, Goblins, various Space Marine chapters, Necrons, Chaos, Orks and Eldar.
First up will be my Ogres. I have assembled, based and primed the majority of the force apart from the Mournfang cavalry which still need to be based and primed.
In addition to my Ogres i have included a few more pictures of the other things i am currently working on.
Ogre progress to date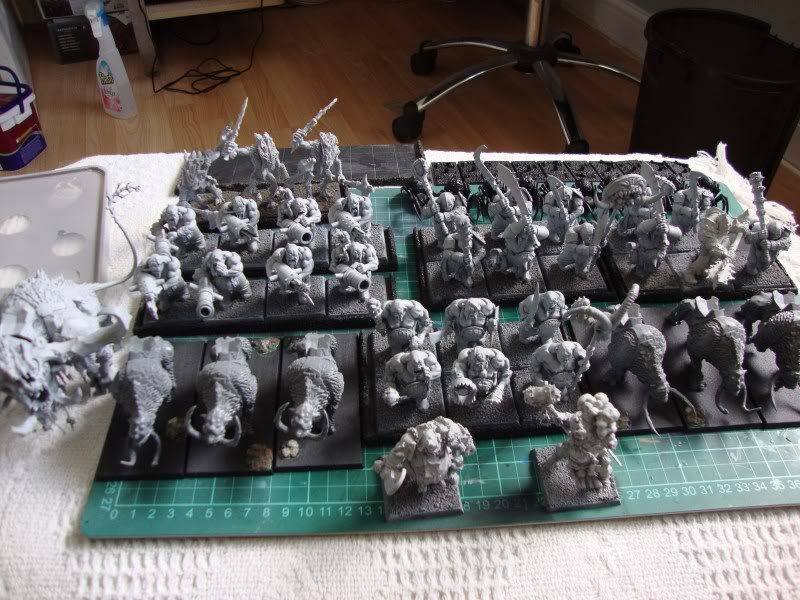 WIP Angels Sanguine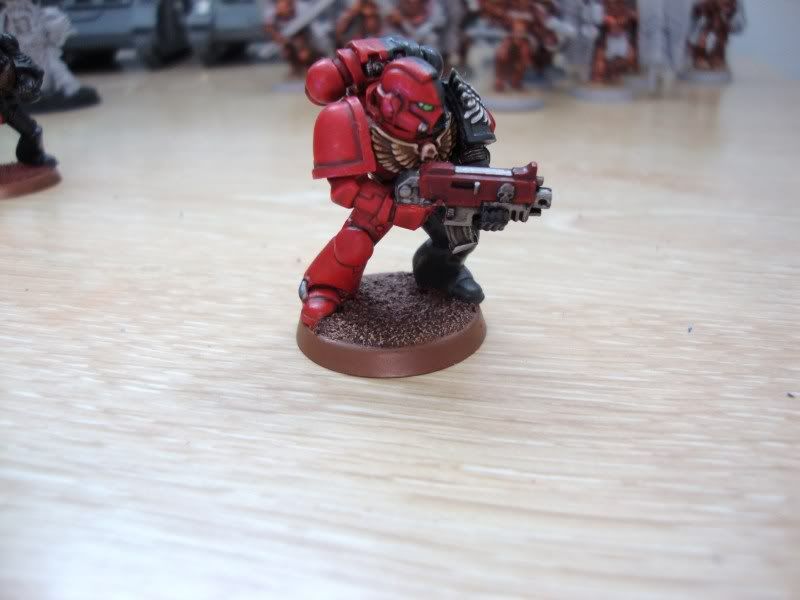 WIP Sanguinary Priests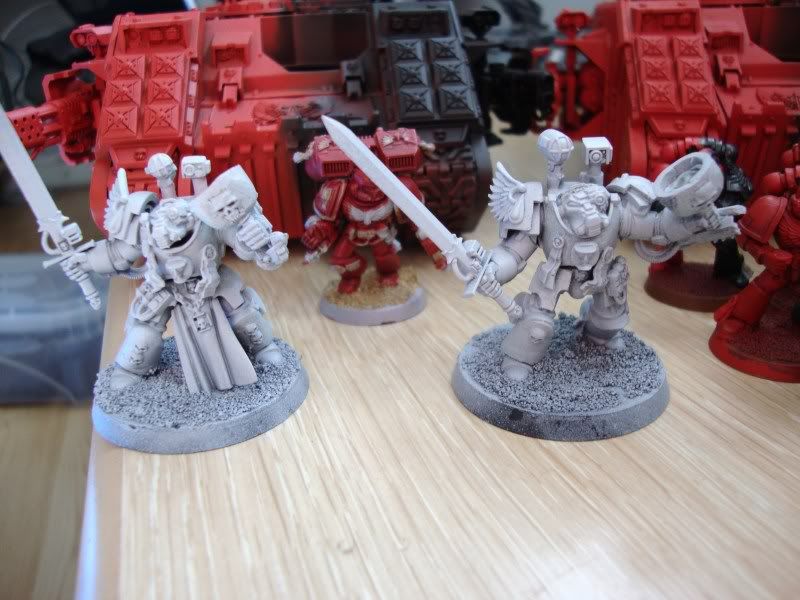 Part of my Angels Sanguine force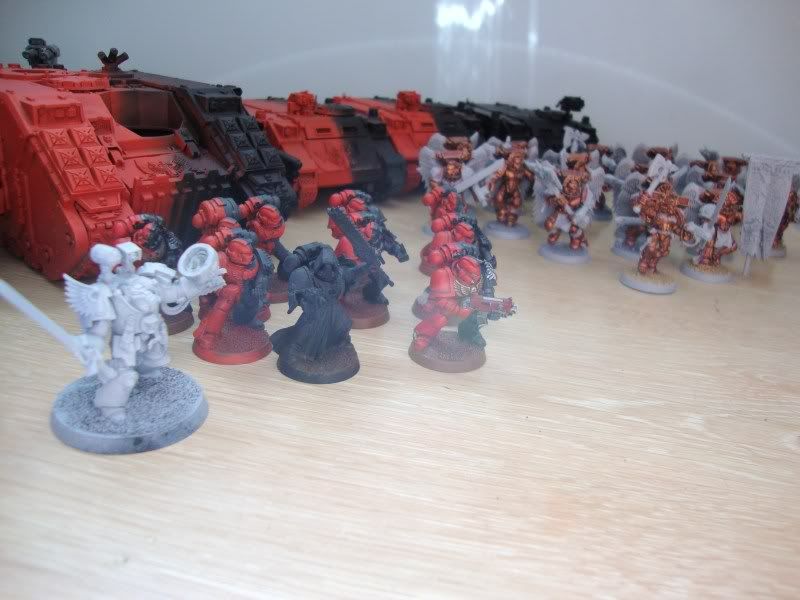 WIP Imperial Fists Terminator Squad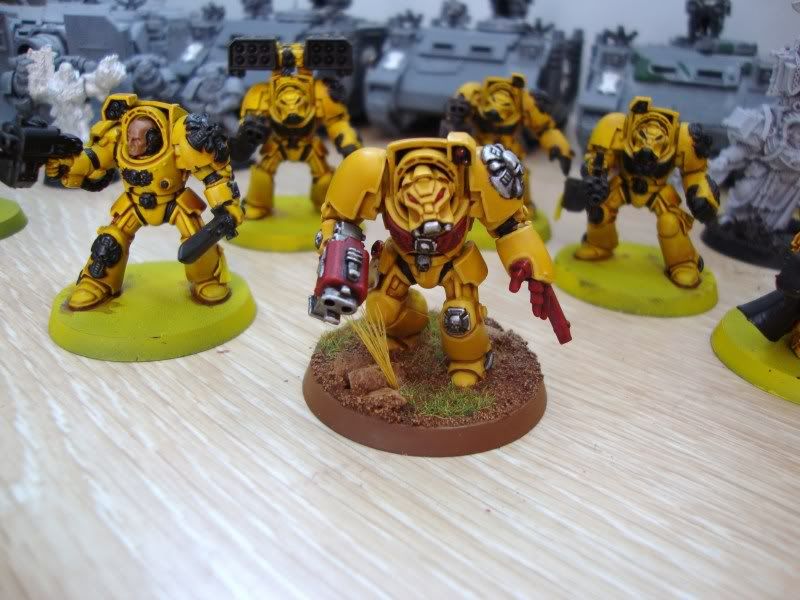 WIP Imperial Fists Army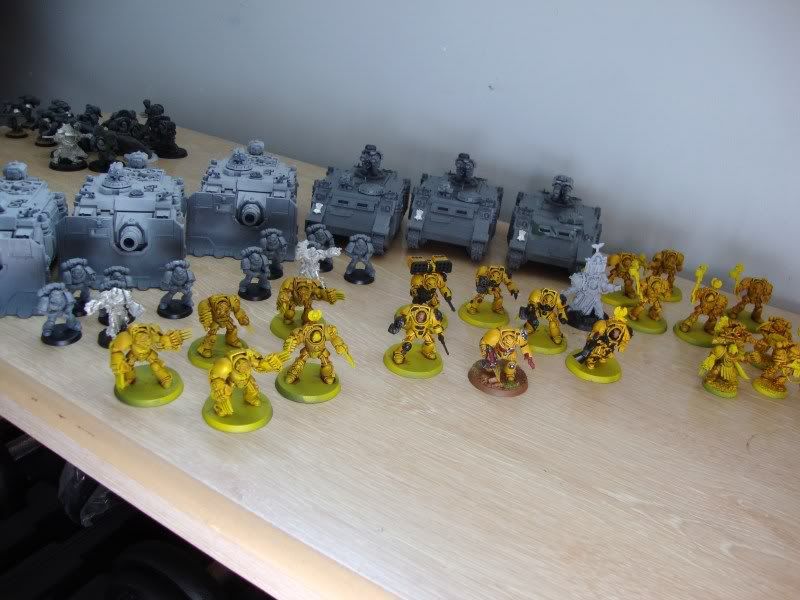 WIP Word Bearer test model
Power Sword test model for my Chaos army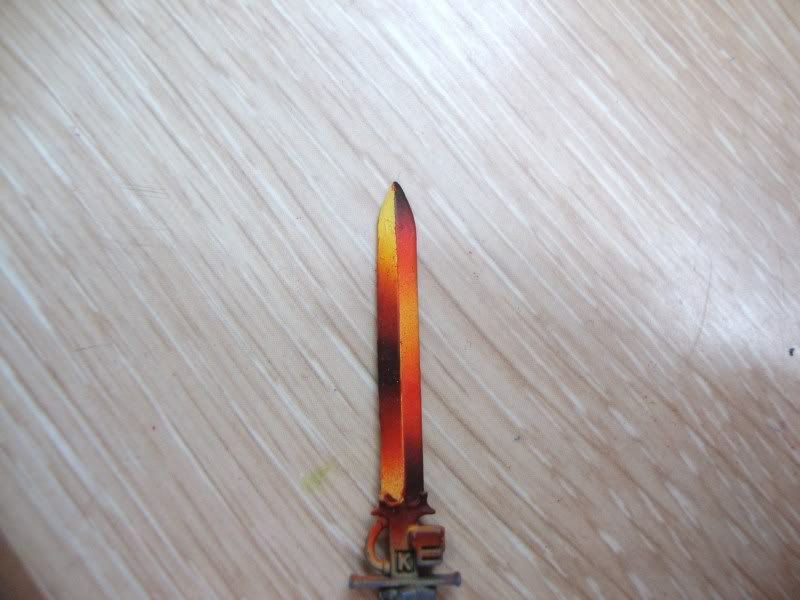 First up to be painted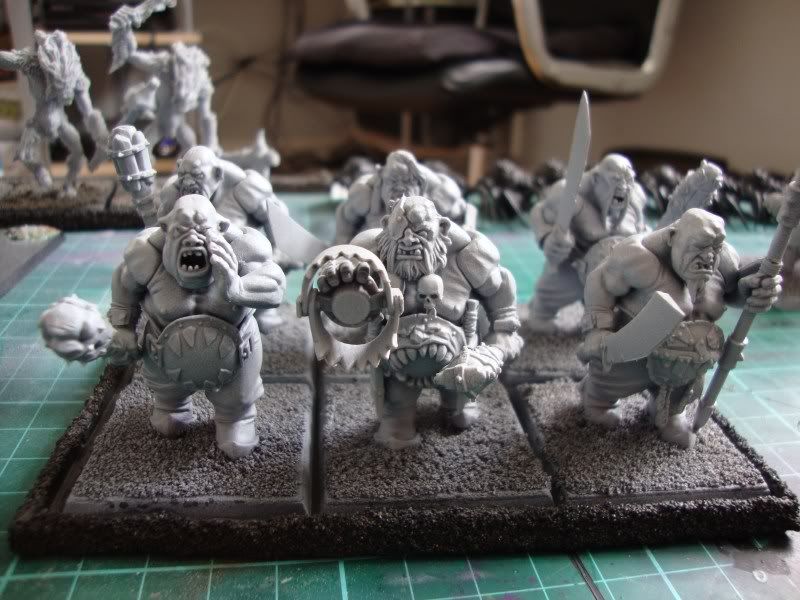 Thanks for reading. I will be updating this log as regularly as possible
---
---
Last edited by Go0se; 06-18-12 at

04:25 PM

.
---
I will definitely be following along mate. Love the look of the IF and the Angels Sanguine. Solid clean painting there. Looking forward to seeing the Ogres progress.
---

Commissions, Project Logs, and Galleries
Follow me on Twitter: @MidgesWorkshop. You can aslo follow me on face book Here
---
All the painted models look really great but the Power Sword, Wow.. that one looks amazing!
---
There are no friends in the real world, just less hostile enemies
---
Thanks for the comments guys. Just a quick update today. I have based and primed the Mournfang cavalry ready to lay down the basecoat. I have also air brushed on the basecoat for all the ogre skin. I have done a bit of work on the movement trays and just need to add a bit of static grass. While i had the airbrush out i also primed and pre highlighted 2 units of Wolf Guard that have been sitting around on my desk for far too long.
While i am waiting on a delivery of some washes this week for my ogres skin, i will be getting some more basecoats down and working some more on the Mournfang.
Mournfang Cavalry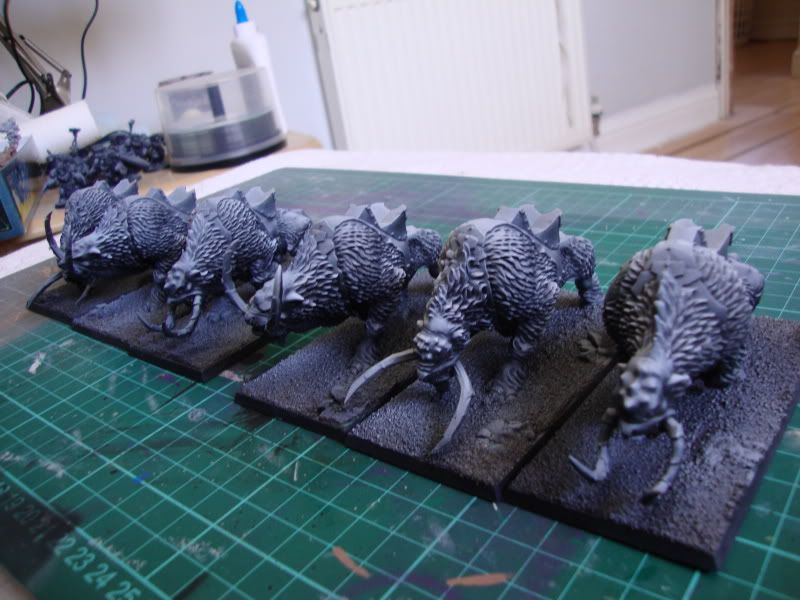 Ogre Progress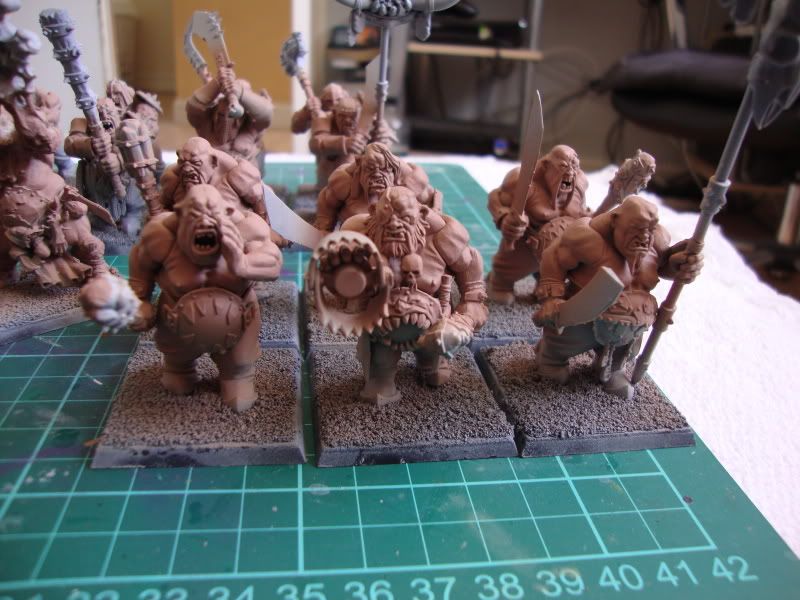 WIP Movement Tray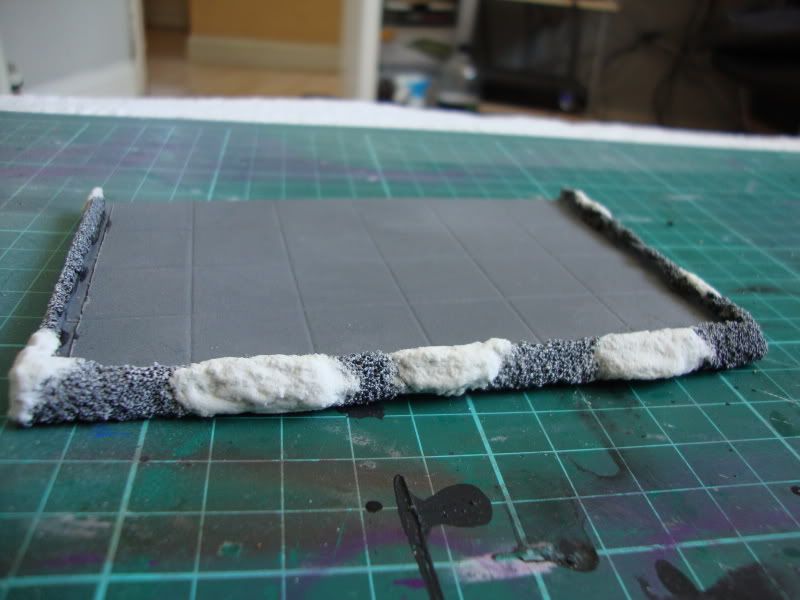 WIP Wolf Guard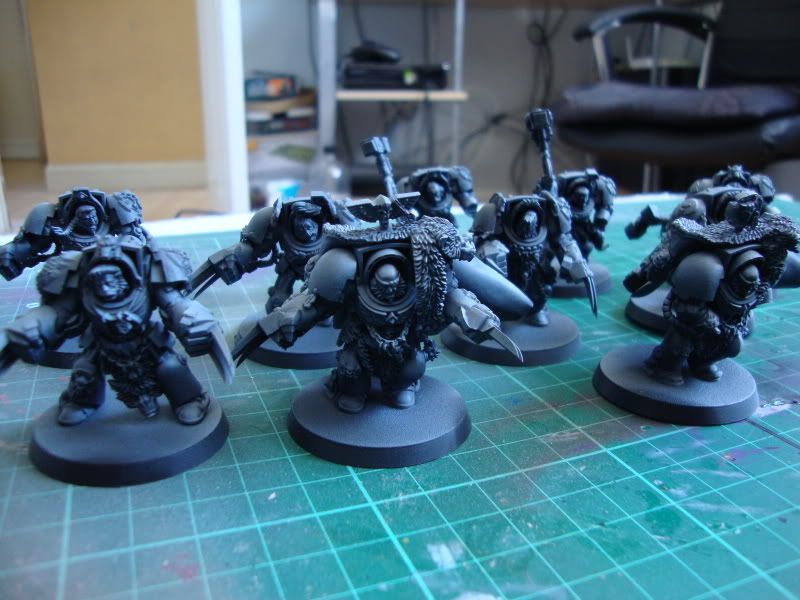 Thanks for reading. More to come!
---
---
Last edited by Go0se; 06-19-12 at

02:15 PM

.
---
Your airbrush mixes look great man. May I ask what your ratio is for paint to water when you are thinning them? I am having a hard time getting the mix right.
---

Commissions, Project Logs, and Galleries
Follow me on Twitter: @MidgesWorkshop. You can aslo follow me on face book Here
---
good looking stuff, got a similar problem, to many projects, not enough time.
Good Luck with it
---
---
Really well done, esp the termies.... + Rep
---
@Midge Thanks mate. I was having a few problems with ratios when i started using my airbrush too. I have only had it a few months so am still learning myself. It depends on the paint I am using but usually i go for a 1:3 or 1:4 mix of paint to water. If i am putting down a base coat it is usually 1:3 and that seems to go down really nicely over the vallejo polyurethane primer i am using. Next time using the airbrush i will take a couple of photos so you can see the consistency i am working with. Thanks for the comment.

@The Gunslinger Thanks mate.

@CLT40k Thanks for the comment and rep.
---
---
Last edited by Go0se; 06-19-12 at

04:45 PM

.
---
hey great stuff man loving it, can i ask what u used to make the chalice for the terminator sanguinary guard in the op pleases, they look good from what i can see.
---
Some really great work going on here. The IF, the power sword, the word bearer, all look excellent. Looking forward to see what you do with the WG.
Lower Navigation
Fantasy and 40k Log