---
These knights are definitely in some trouble! What's done the damage here?
---
Quote:
I am hoping there will be a VC lord crashing his dragon into these knights and they are fleeing. Either way, I like the idea of knights being routed.
Quote:
These knights are definitely in some trouble! What's done the damage here?
Ah well you will both have to wait and see. but I am really enjoying making this unit, it's a lot of fun creating a narrative for a unit.
Gunslinger's Summary:
---
Ok so good news, yesterday I moved into a room in a house share to start my new job on Monday, so finally some stability after the travelling. Now that I will be grounded for six months, I can finally take stock of my situation. I sold a lot of my stuff over the year, leaving me with four projects, Two small, one unending and one huge, they are:
My Imperial Guard army, which has it's own plog here:
https://www.heresy-online.net/forums/...-together.html
This project has two objectives, 1. Build a kick ass guard army, 2. start playing again. So this army will be built with more of a competitive edge and gaming in mind. Of course I love the guard so it will be affected by what models I like etc.
My Death Guard force.
A small group of models that survived the purge over Christmas, mainly because of my converted vindicator. They may get their own log, yet to decide, but there is a definite end point with this project and I will list the models soon.
My Imperial Battle fleet.
So my fleet for the old battle fleet gothic system. Again this project has an end point, a size I'm aiming for and then stopping.
My Vampire counts. This project will be getting its own log soon, as I'm hoping to create an armies on parade style board for it, with scenery and a diorama feel to it as my undead clash with a Empire force. Unlike the guard I wont be playing with these, or I doubt I will, and it's being built purely out of love. I do have an idea on how big i want it and what I want to collect, so It does have an end, just not one I will be reaching any time soon.
So there we have it, my four projects which will no doubt keep me occupied for years to come. As always I welcome any comments or suggestions.
---
Just a general update again. I have had a busy few weeks, but I have managed to squeeze in a little hobby work.
The main thing was the assembling of all my death guard, ready for painting at some point.
Some of you may have seen my cultists in last months painting competition, so I got some stuff painted.
This is the growing collection of stuff for my armies on parade style board for my vampire counts. It's all a bit unorganised at the minute so this is just a teaser.
And the ranks of the Imperial Guard continue to grow, no painting this month, but I did start to assemble a veteran squad and the company command squad, just waiting on some bits to finish them off.
I have managed over the last week to get these guys painted, not sure what drove me to pick them up, but I have really enjoyed painting them, which is always a good sign.
As always thanks for looking and let me know what you think!
---
Hey guys, just a small update for the undead I'm working on for the army painting challenge.
I have finished my test model for the skeletons and I am really happy with him. Compared to the skeletons I painted a year or so ago I think it shows how I have improved as a painter.
I have tried to make him look much more realistic this time, with a much more liberal approach to washes. I have also used a turquoise paint to make it look like the metal on his weapon and shield has been oxidised over the years.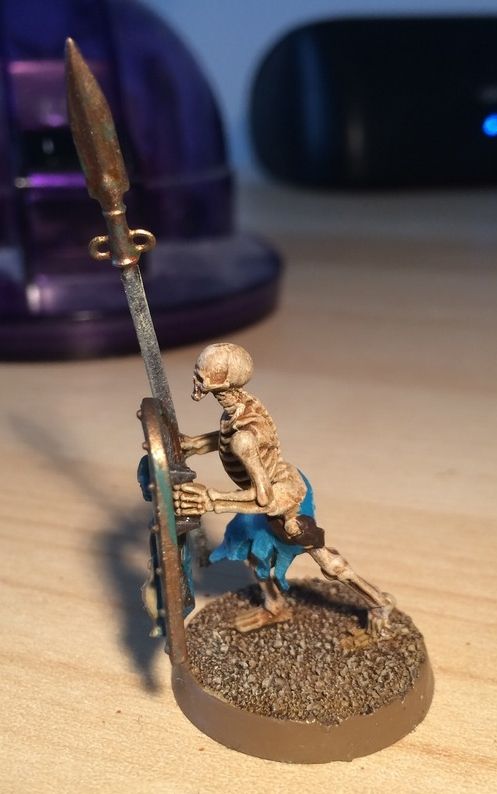 As always I appreciate comments and criticism!
Cheers.
---
Following on from my previous post, and my update in the army painting challenge, I have finished all twenty of my skeletons.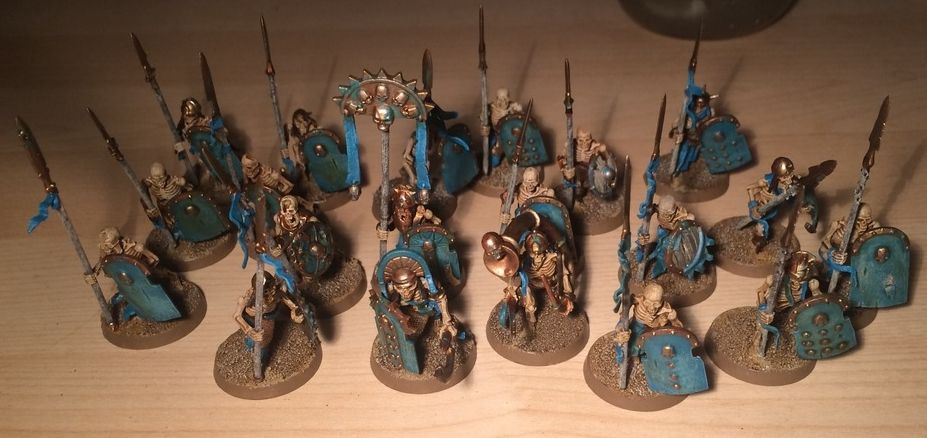 And here is the command group.
I'm pretty happy with them. I'm liking the colour scheme and once I had settled into a pattern they were pretty easy to paint.
If you are interested in how I am happy to post it up.
As always comments and criticism is welcome.
---
The turquiose is spot on! Are they part of the vampire counts army or a one off?
---
Thanks mate. Yea I am planning on adding to them and try and get some games played.

I have a huge box of undead to sort through. Next might be more skeletons or maybe some zombies.
Mounted Wight King
---
Hey guys, just an update on my undead.
At the minute I'm working on a mounted Wight King. I'm using the mounted Mannfred model as a base for this conversion.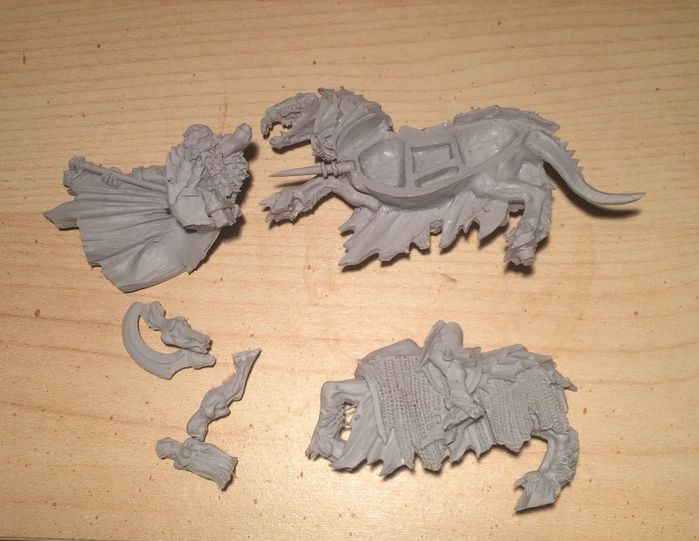 The first steps were to remove his head and arms. Plus the spirits coming out of the cape.
and obviously stuck the horse together, having to use greenstuff to fill in the gaps because fail cast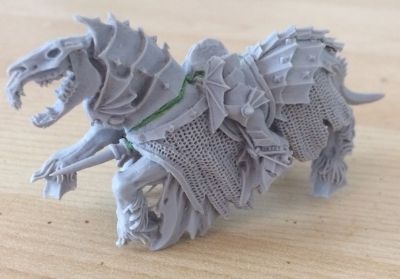 Mounted Wight King
---
More work on my wight king.
I have tried to remove the bats on his cape, very fitting for a vampire, not so much for a wight king. TO cover up the mess I made I have green stuffed some more fur onto his cape, to match what was there. Let me know what you think.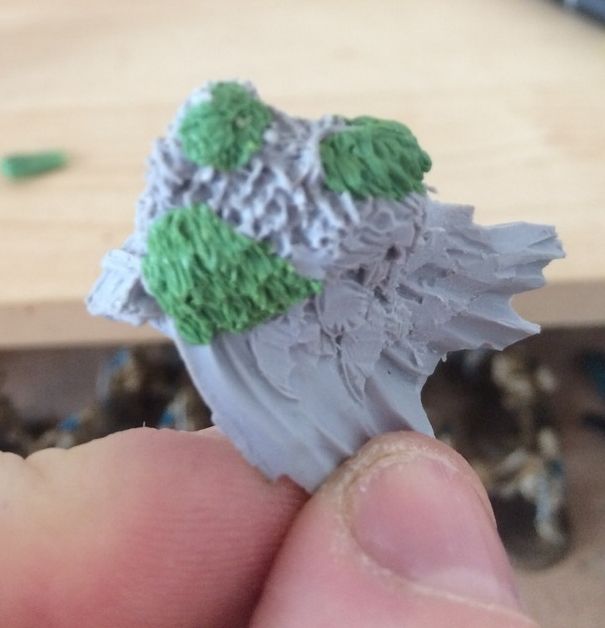 I have also started work on the head. As you can tell, my army has a slight Tomb Kings vibe, because they are Lahmian vampires. So I wanted to make my wight king look suitably Tomb Kingish. Hence the fun crown.
Lower Navigation
The Gunslinger's Project Log