Saulot's Bretonnians - The Muster of Quenelles
---
The Muster of Quenelles
Welcome to my Bretonnian project log!
This is a 2,000pt. all-comer "showcase" Bretonnian army that I am working on. As their name states, they come from the Dukedom of Quenelles, and most are serving directly under the Duke. This translates to a uniform colour scheme for my army-- noble blue and pious white-- and a cleaner look for everyone, including the usually filthy peasants.
Since Quenelles is located very near Athel Loren, the army will feature little touches of elven influence scattered throughout. I'll do this by using classic Asur and Asrai colour palettes, keeping my painting light and ethereal, and featuring gemstone accents for my Knights. Nothing too overt such conversions or count as models though.
The Muster of Quenelles will be a standard 2,000pt. Bretonnian list: Mounted Bretonnian Lord, Mounted Prophetess, Mounted Paladin BSB, Damsel on Foot, a block of Peasant Men-at-Arms, 2 units of Peasant Bowmen, 2 lances of KoTR, 1 lance of Grail Knights, 1 unit of Pegasus Knights, 1 Field Trebuchet. I also have other Bretonnian units not included here which I want to paint in the future.
So far, I have finished painting the following: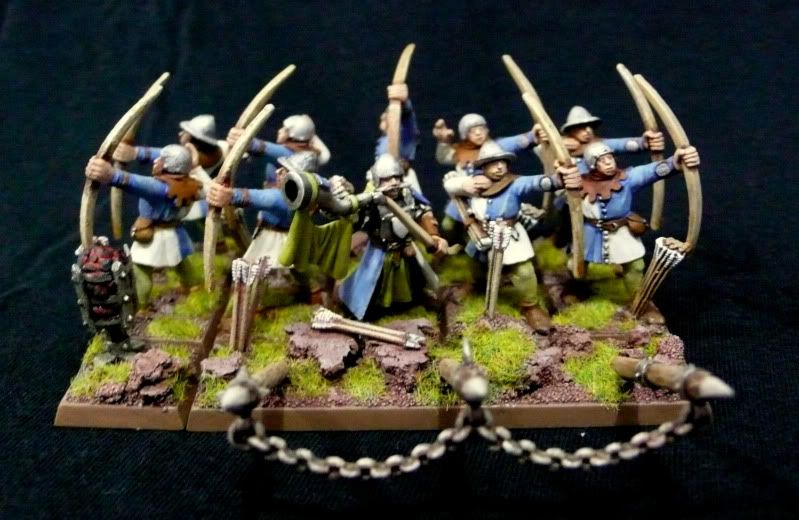 First Unit of Peasant Bowmen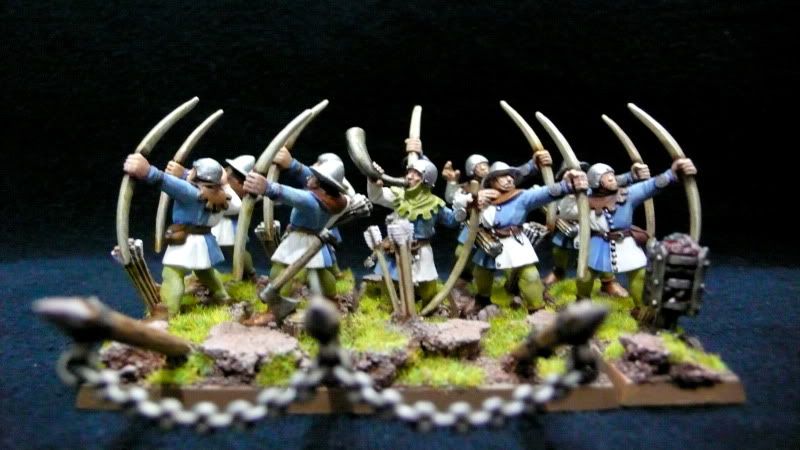 Second Unit of Peasant Bowmen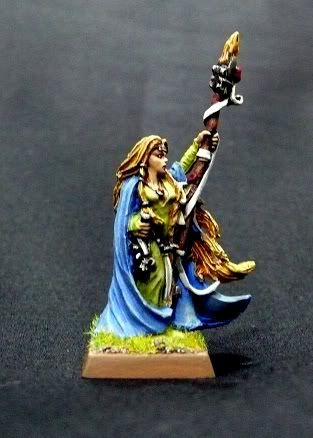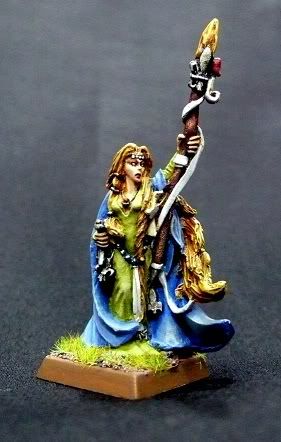 Damsel on Foot

Here they are together, plus a few detailed pictures:

I also signed up for the forum's 2012 Army Painting Challenge to encourage me to keep on painting this army for the year.
Hope to hear from you good people! Your comments are a great help in encouraging me to keep on working on my painting and to finish this project!
Cheers everyone!
---
Very nice and clean painting there. Gosh those bowmen have not aged well! Still, looking forward to seeing more of this!
Senior Member
Join Date: Oct 2010
Location: In the basement, surrounded by Woodland Scenics packages.
Posts: 614
Reputation: 5

---
Nice to see someone trying a uniform Bret force. My daugter wanted purple and green for her army, but I mixed it up and didn't go straight uniformity. It will be cool to see the whole force ranked up in the colours of the duke.

I really like the damsel. The green and blue go well together and her hair is extremely well done. Mind sharing the the colors and technique you used?
---
Senior Member
Join Date: Sep 2008
Posts: 443
Reputation: 1

---
The muster of a mixture of creamed fish, chicken, or meat, sometimes combined with breadcrumbs, with a light egg binding?
http://en.wikipedia.org/wiki/Quenelle
They used to serve these in Switzerland when I lived there, made of pike!
---
LazyG
: hahahah yeah, I've heard about that dish! It came up constantly when I was searching for background information on my Bretonnian Dukedom. hahaha
KjellThorngaard
: The hair was an easy job to do due to the sculpt itself. I used a Scorched Brown basecoat, highlighted with Bleached Bone + Scorched Brown, highlight Bleached Bone, tone it down with Sunburst Yellow (+ Bleached Bone I think), highlight Bleached bone, wash with Gryphonne Sepia. I made sure to establish a virtual light source for the mini and drybrush highlights only on places where that source should hit it. Also decided to wash the area heavily so it would look more shiny than the rest of the model (like hair often does in real life hehe).
Jacobite
: Thanks, man! I still like these old Bowmen eventhough there are absolutely no details on the faces! The new ones are just too wretched for my taste. hahaha
Fore completeness sake, I'll post what I planned to finish for this month's Army Painting Challenge.
10 Peasant Men-at-Arms
Cheers!
Senior Member
Join Date: Oct 2010
Location: In the basement, surrounded by Woodland Scenics packages.
Posts: 614
Reputation: 5

---
Thanks Saulot, i will add that to my painting notebook.
---
---
KjellThorngaard
: Please do, man! That way I can ask you about it should I lose my notes. hahaha
Just a quick update from me folks. I finished painting the 10 Men-at-Arms. Just a few tufts of grass left, and their left arm. Noticed a few smudges here and there which I need to clean up.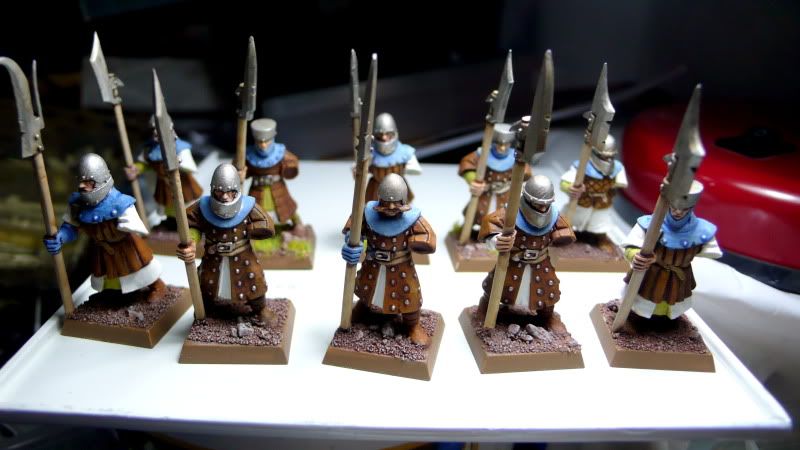 I also tried a wood grain pattern on the back of the shields just for added detail. Pretty happy with the result, in terms of speed vs. quality (didn't wanna go overboard here since it will be mostly obscured anyway).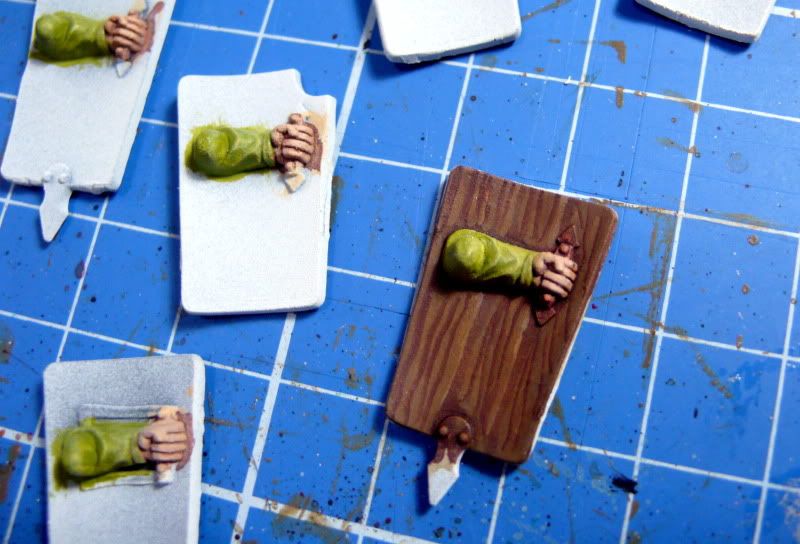 I'll post the finished minis in time for the painting challenge deadline a few days from now.
Until then,
Cheers!
---
These look wonderful mate. The browns with light blue collars looks excellent together. As for your shields, well done, those will look great when the rest are all painted. Its the small things like this that really adds that much character to the minis.

+Rep Sir!

Regards,
DoE
---
"To retreat is defeat. Advance! Advance! In our Death lies Victory."
Captain Denos, 19th Company,468th regiment of the
Death Korps of Krieg
The K.R.I.E.G. Project (My Death Korps of Krieg Plog)
---
the wood grain looks fantastic! and i love the basing.
---
Thanks guys! It was my first time painting wood grain and I'm pretty excited with the way it turned out. So excited in fact, that I finished all 10 shields in one sitting. hehehe Should be able to put up my completed work in a few hours / tomorrow.
---
Last edited by Saulot; 03-29-12 at

12:14 PM

.
Lower Navigation
Saulot's Bretonnians - The Muster of Quenelles