---
Thanks for the kind words, shelman!

I think the best "trick" I discovered to keeping a clean paint job is to thin-down your paints.

(i) thin coats do not obscure all the small details of the sculpt
(ii) easier to control how much colour you want in an area. By needing to paint the area repeatedly, you avoid painting "out of the line" (especially true for leather shield detail on the barding)
(iii) smoother finish

I'm glad you like the tight colour palette as well! When I started the army, I knew that I wanted to use a limited range of colours: blue, white, green, brown (leather, wood, "amber gemstones"), silver, and a limited amount of gold.

Each unit will have 2 to 3 main colours from the range above:

Peasant Bowmen: blue, white
Men-at-Arms: blue, white, brown (leather)
Trebuchet: brown (wood), blue or white for crew

Knights of the Realm have all the colours of the army, except gold

There will be more colour variation in the army when I paint up my other remaining units (Pegasus Knights, Knight Errants, and Grail Knights).

Cheers!
---
Hey everyone!
It's been a while since my last post! I've been busy with work and other RL stuff, and fortunately, also with playing WFB! I also recently joined two tournaments in my local gaming club:
I. MAKATI MARAUDERS WFB TOURNAMENT
2,000 point tournament with 18 players, 3 rounds of standard BRB scenarios with comp restrictions based on the Crossroads GT, plus extremely enjoyable Hidden and Fun objectives.
Round 1
I first played against a Nurgle Warriors of Chaos army. It had 2 blocks of Nurgle Warriors, 3 Gorebeast Chariots(!), a few Warhounds, a unit of Bloodcrushers, a unit of Knights, a Hellcannon, BSB, and a Nurgle Sorcerer. When his Hellcannon misfired the first turn, I held back and threw rocks at his warrior units. My PK was able to pull out the Bloodcrushers from the main combat for the entire game. The Gorebeast Chariots were victims of poor deployment and were stuck in the movemenet phase. I whittled the Warrior unit with the Sorcerer with dual Treb shots and eventually charged it middle of the game, destroying them and overruning into the other unit. I eventually killed off both units in the end. Solid win for me.
Round 2
Faced a Lizardmen army with a Life Slann and Temple Guard deathstar unit. I made sure to pick off everything else that he had (a few units of Skink Skirmishers, couple of Terradons, Salamanders, a huge Skink and Krox unit). Most memorable turn was when I double charged my KE and GK to his Flesh to Stoned deathstar and only managed to kill one Temple Guard and sent my two lances bouncing off the unit! I kept most of my units and was able to kill off everything he had save the Slann and Temple Guard unit plus two mounted heroes. Another solid win for me.
Round 3
My last round was a very, VERY quick game. I fought with one of the community veterans and his shooty Dark Elves army with Shadow Lore support. My knights got shot and Miasama'd to death! Down to the last man! Massacred for me.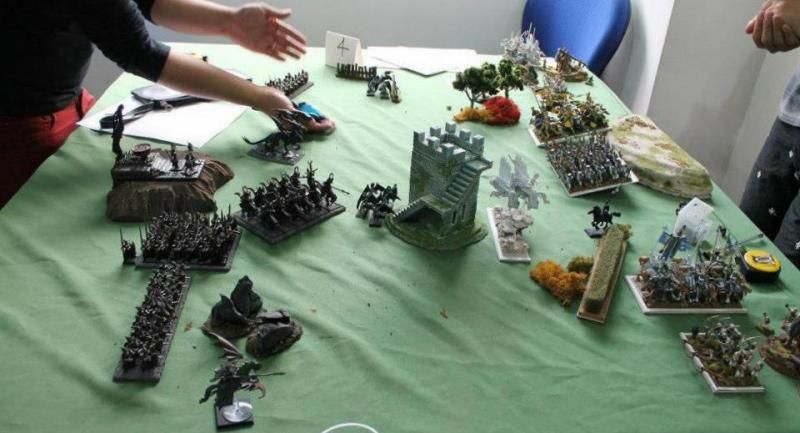 Kindly notice the Fleu-De-Lys pants!! hahahaha
I guess I ended up finishing in the top 25% spot, but I'm not sure as the TO did not give our final standing.
II. MAKATI MARAUDERS JOJOBRETS CUP 2
16 players joined this Battle Brothers type event where you pair up with a partner and play as a team, each bringing 1,300pts. I paired my Bretonnians with a Wood Elf player, and together we were The Brothers of the Ancient Tome.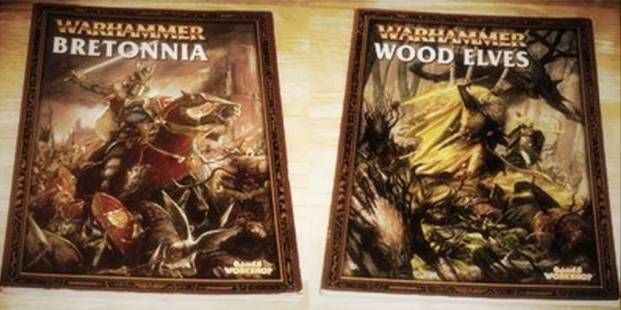 What I really liked about this tourney was the special scenarios and win conditions, plus the great fluff that came with it. (Read about it here:
The Lost Knight: Jojobrets Cup 2 by the Makati Marauders
)
It was also extra special for the community since it was a tribute to a local player who passed away 2 years ago.
Round 1
We first faced an allied army of Dwarf-HE in a modified Surprise Attack scenario (check the link above for more details). We took an early beating from their warmachines, but the lances powered through and was able to reach the Dwarf-HE battle line. The Brets were able to charge and break the Dwarf Units and the HE Archmage bunker, running them down in the end. The WE archers were phenomenal in destroying HE elite units and chaff redirecters! Major Win for us in round 1.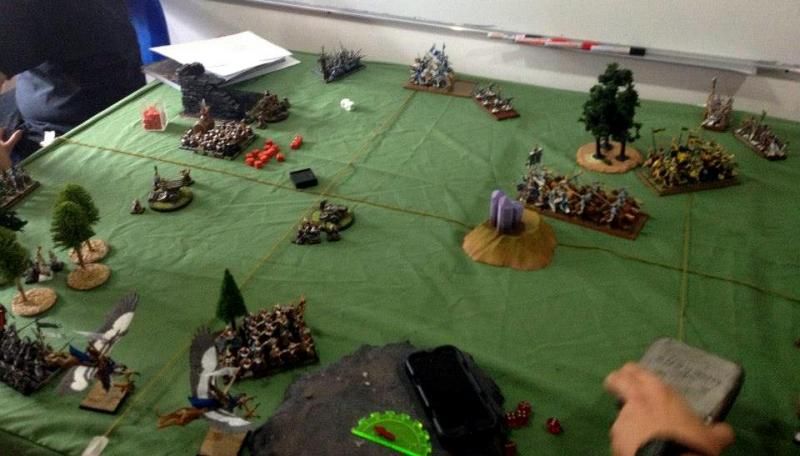 Round 2
Next round was a modified Battle Line scenario versus a Bret-Ogre army with very few (but large!) units. I made a crucial mistake in turn one which cost us the game. I had 3 lances side by side waiting for the enemy army to come closer. I was supposed to move back 4 inches on all of them to get a better charge chance the next round, but I FORGOT to move my KE unit with the defensive characters. On their turn, the enemy Bretonnian Lord's unit got the charge off to the inch (needed a 10, got a 10)! To add to that, my HKB Lord got HKB'd! And my unit broke, fled, and was caught. But it didn't end there! One other lance panicked from this and fled off the board. All before our turn 2. Joy.
The Wood Elves really held our alliance together and did what they do best: snipe and run! In the end, we were able to pick off all the non-deathstar units in that army and won a moral victory by killing the lance that killed my Lord! Minor loss to us on round 2.
Round 3
We were still doing great in terms of tournament score going into the final round, a special custom scenario full of fluffy goodnes (seriously, check the link above! hehehe). We then found out that we were paired with a monsterous DE-Ogre army which massacred both their opponents in the earlier rounds! And yes, one of the players in that army was the same Druchii player that massacred me the last tournament! Argh. Pain. He brought a similar list as before, RXBs, Cauldron, huge CO Knight unit, noble on a steed with lifetaker, a hydra, and harpies all supported by Shadow Magic. His Ogre partner had 5(!) mournafang cavalry, a block of GW Ogres, Leadbelchers, Slaughtermaster, and 3 Sabretooth cats running around the board. On turn 1, their Hydra breathed fire on one Glade Guard unit and they all died. The Wood Elves would spend the entire game trying to bring this beast down, but to no avail. On turn 2, the CO Knights were able to get off a long charge against my Knight Errants unit with 3 characters (again!), as did the Mournfangs to my KotR lance with a Damsel. It looked bad. The Slaughtermaster was preparing to buff the CO Knights to make sure they kill the knights.
Then something wonderful happened. The Slaughtermaster failed to cast their buff and the CO Knights faced my Bretonnian Lord and two Heroes on their own. They were able to get just 1 wound on the Brets, while my characters really carved those CO Knights a new one! They lost combat and TRIED to flee, but my knights ran them down. In even more awe-inspiring turn of events, my other KotR unit which got charged by the Mournfangs managed to survive and stay in combat and held up that monsterous unit for a countercharge by my other KotR lance in the next turn. We eventually broke the Mournfangs and ran them down as well!
This left the Druchii-Ogre alliance rattled as two of their main combat units were taken out by the start of their turn 3. My victorious Character Wall Knight Errant unit charged the the only remaining combat block of Ogres and proceeded to kill them one by one. The Ogres lost combat but was able to flee. They got charged the following turn and was destroyed.
At the end of our game, I had only lost 1 Paladin and a Trebuchet. The Wood Elves lost 2 units of Scouts and a unit of Glade Guards. We calculated the points and we ended up falling short of Massacre Victory by 150 points! If only we killed the Hydra!
At the end of 3 rounds, we got a Major Win, Solid Loss, and another Major Win. And to our surprise, after calculating for tourney points (battle points, painting, sportsmanship, etc.) we ended up WINNING THE TOURNAMENT!
It was a great experience for me. It was my first time playing in a doubles format, and my first time winning a tournament! The Bret and Wood Elf alliance really played to their strengths. It would be very hard to replicate this showing on stand-alone armies!
I have two other tournaments lined up for the year, one in September and one in November. I'm busy painting the rest of my army, and I hope to field a properly finished army for these tournaments. Wish me luck!
I'll leave you with the unit that really broke or made my game. My (yet incomplete) Knights Errant: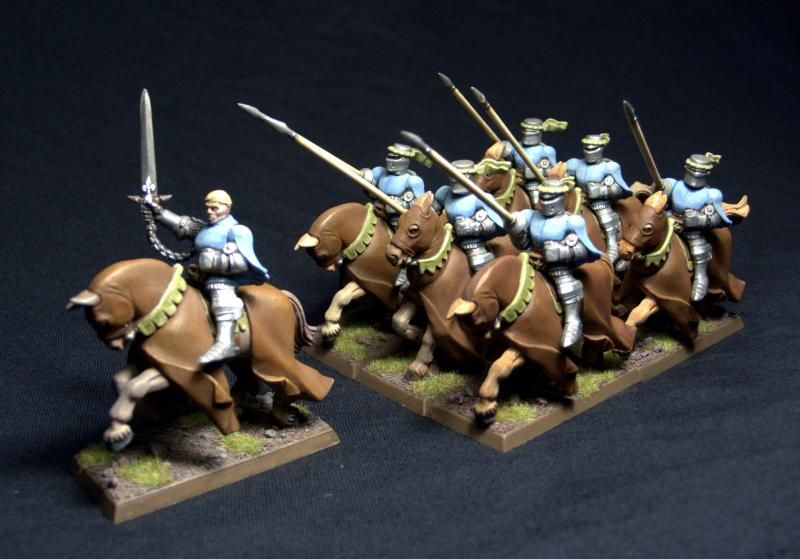 Cheers everyone!
---
Last edited by Saulot; 08-03-13 at

09:44 AM

.
Senior Member
Join Date: Oct 2010
Location: In the basement, surrounded by Woodland Scenics packages.
Posts: 614
Reputation: 5

---
Saulot, did you sand/carve off the sheilds on those horsey blankets? Makes for nice, plain Errant Knights. What else do you have to paint on those guys?
---
---
Hey KT!
These are old 5th edition Knights of the Realm, it came with much simpler horses as pictured. Their helmets are from the 6th edition kit. Really wanted to make my KE and KotR visibly different to help out players in my area who usually have a hard time distinguishing each from the other.
Here's a very cramped army shot of all the painted units so far for The Muster of Quenelles:

Cheers!
---
Last edited by Saulot; 08-03-13 at

09:51 AM

.
Senior Member
Join Date: Oct 2010
Location: In the basement, surrounded by Woodland Scenics packages.
Posts: 614
Reputation: 5

---
Genius idea. I should have looked around and done the same. Oh well, I used the limited palette for the KE boys. Green and purple only. Of course green isn't a Bretonnian color and purple is reserved for royalty....
Still loving your army. If I ever paint another Bret army, I will follw your lead. I really like how unifed it is. Truly a single muster.
---
---
*removes cobwebs*
Hi.
I'm back.
Here are some reinforcements to the Muster of Quenelles from the painting table.
The Knights of the Glade, High Royal Knights of Quenelles: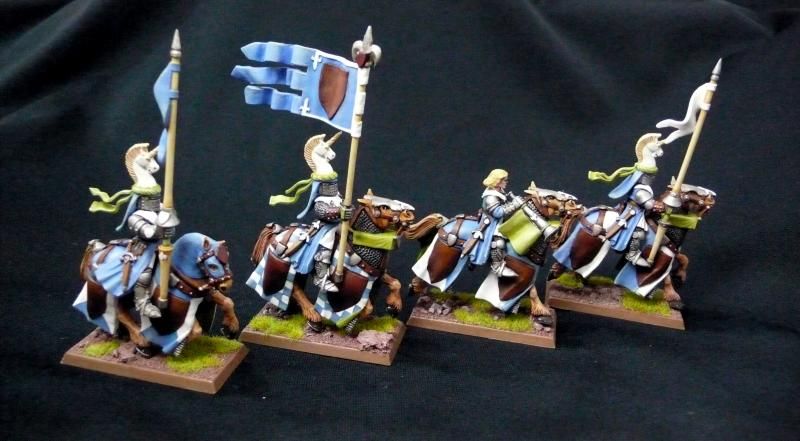 The remaining command group for my KotR and KE. Plus a Pegasus Knight.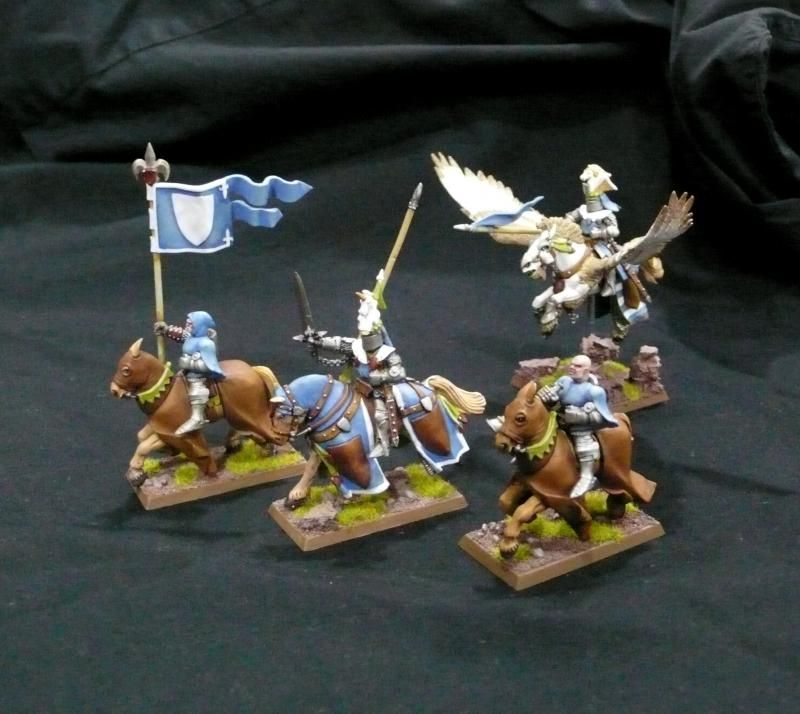 More pics of the Pegasus knight: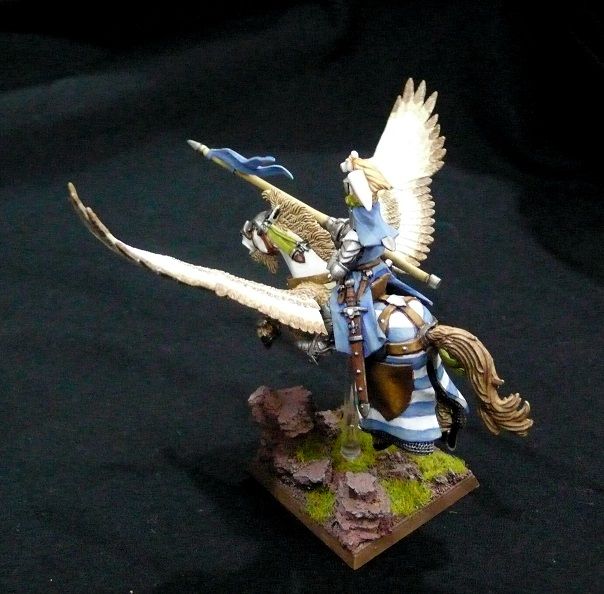 Here's an army shot of all the models I've painted over the course of the year (August 2012 to August 2013). It's not much, but I'm quite happy with this achievement.
The Muster of Quenelles: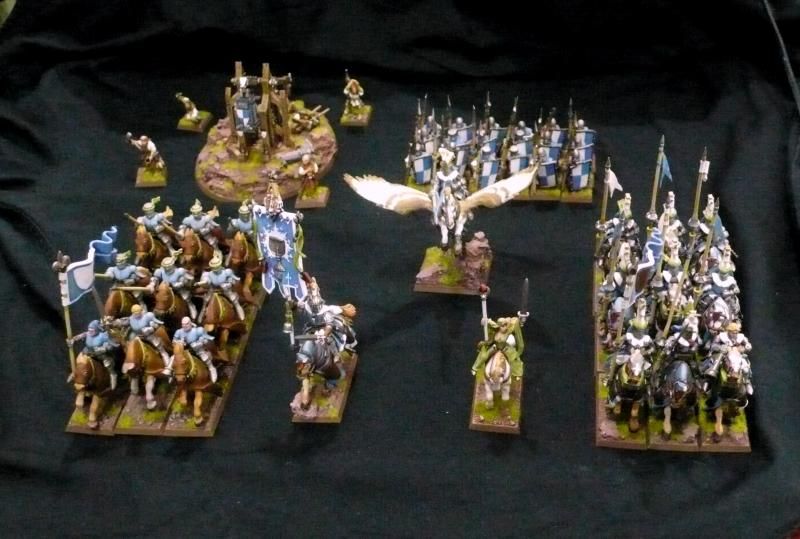 Quote:
Originally Posted by
KjellThorngaard
View Post
Of course green isn't a Bretonnian color and purple is reserved for royalty....
My Bretonnian army is pretty green! LOL
Cheers everyone!
Senior Member
Join Date: Oct 2010
Location: In the basement, surrounded by Woodland Scenics packages.
Posts: 614
Reputation: 5

---
Beautiful models Saulot. Love seeing new stuff you have painted, it keeps me inspired.
---
---
Cheers, KT!
I sheepishly return with some new pics of old models I've finished. I haven't been painting anything new for a few months now, mainly due to the fact that I got hooked by Guild Wars 2!
Anyway, here are my finished Pegasus Knight unit:
Planned ahead to make sure they rank up properly when they fight in close combat.
Back detail to show off the different caparison design for each PK.
I like this lopsided PK...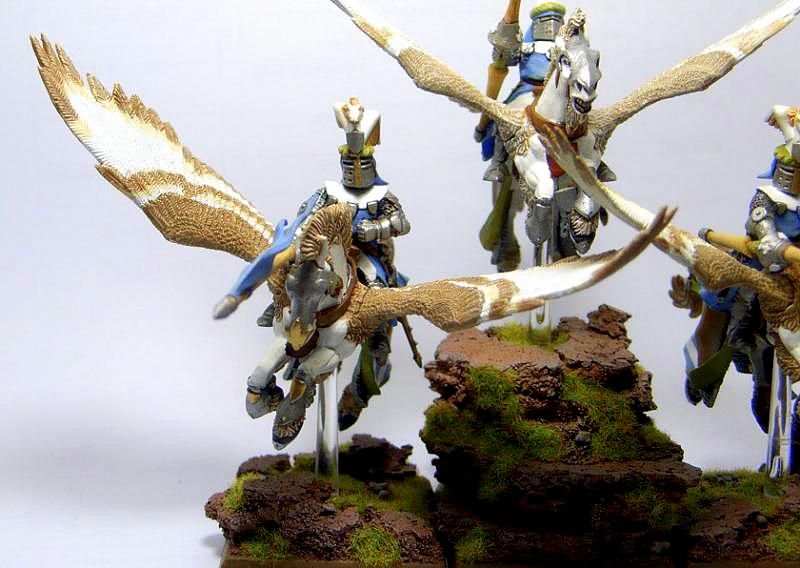 Another shot of the PKs.
Hope this inspires me to move away from my PC desk and get back to the hobby table!
Cheers everyone!
Lower Navigation
Saulot's Bretonnians - The Muster of Quenelles