Warboss (Done); 5 Boyz (Done)
---
Here are the pics of the 'Boss and the boyz with their bases finished up. First up, the 'Boss....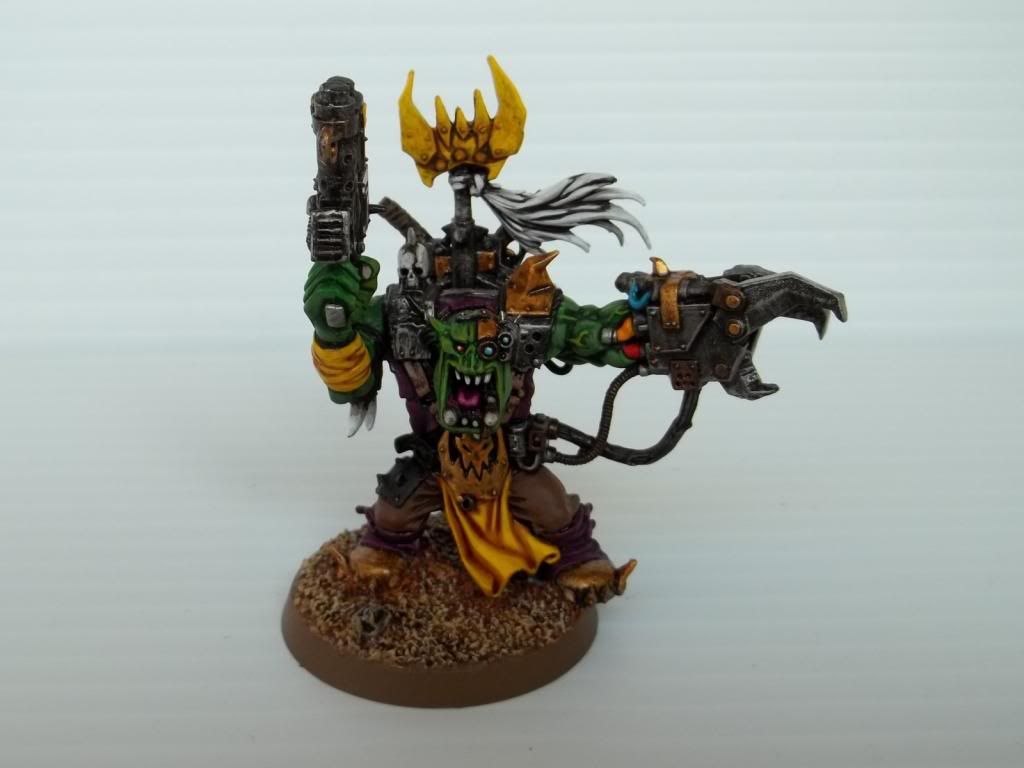 Not much to say that I didn't say above. I just re-did his base. I did find out something that I had not known before. Bestial Brown over Chaos Black is one thing. Bestial Brown over Skull White is quite another. After the first coat, the base resembled the red clay that's here in Hawaii. I didn't mind the look, but it was not what I intended. I went over it with Dark Flesh and then finally Scorched Brown. This is why the base is not exactly uniform in color.
Here's one of the boyz...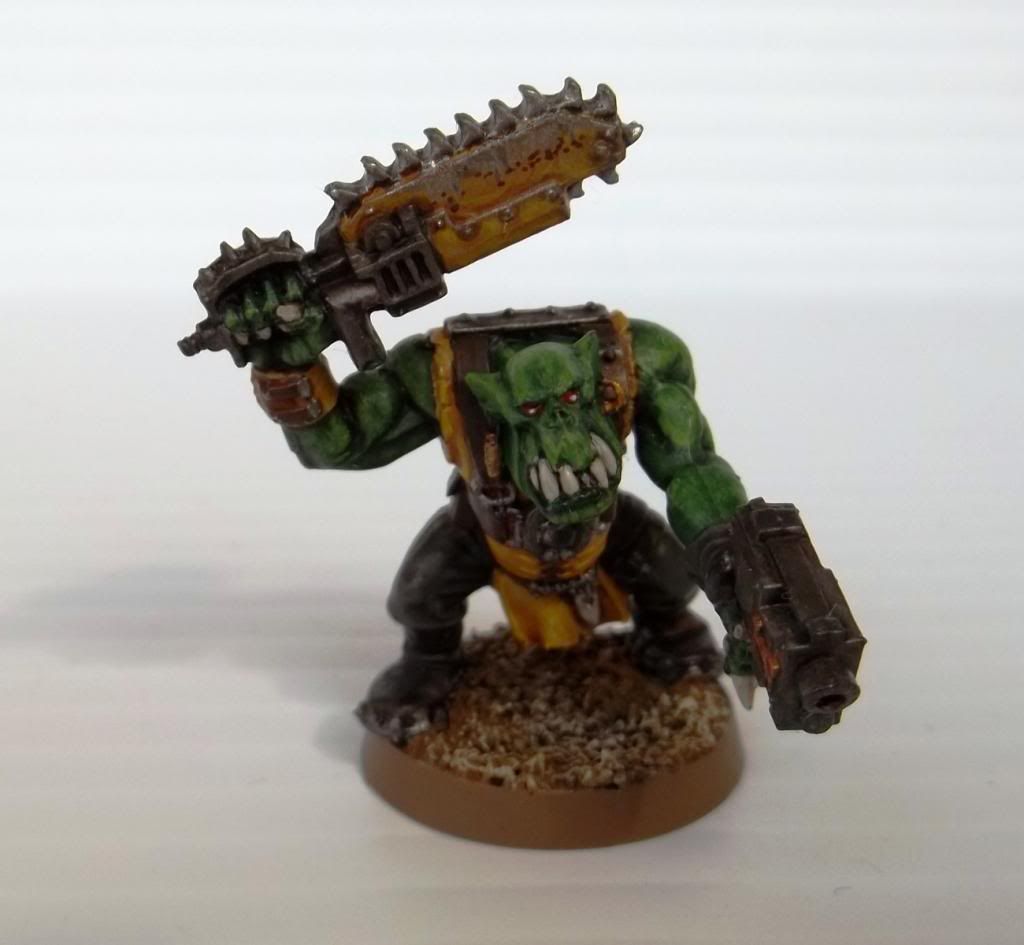 I do rather like how the choppa came out. I'm considering this beat up and weathered yellow for the other choppas.
Onto the next boy...
So here are close-ups of what I'm going for with the armor now. Rather than just dirtying it up, I've tried to see if I can simulate battle damage in the way of chipping and the splatter of... fluids. I have to admit that it is rather time consuming, but I do think the look of it is worth it.
And the last boy for today...
The skull on the pommel shouldn't look that clean. But overall, I like the mix of different metals on the choppa. The treatment on the different metals was quite a pain though.
And here are the boyz mobbed up...
Now the mob is getting bigger, I'm feeling better about project. I'm not sure what I'm going to do next.
The next couple of weeks will be rather hectic as the semester is ending on the 6th, then after is finals week, and then after that grades are due. I'm looking at three weeks of reading and grading assignments and essays. It won't leave too much time for much of anything else, unfortunately. I may finish up the artillery pieces since there's not much left other than painting (and I will need a break here and there).
I do kind of what to do something big for the winter break. At this point I'm thinking about a pair of flyers.
No change in the counter. I'm at about 330 points or so.
---
I like you're new idea for the boyz (the weathering) so much I'm gonna steal it! I want my Boyz to have a bit more character without drawing attention away from the Nobz who at the moment stand out too much
---
Loot away!
I'm always looking at other project logs and going: "Wow that looks good. Hmm, I wonder how I could it?"
So, a bit of a mini update: I've based a pair of ammo runts, a pair of grots (one with a maul), a Gorkamorka nob, old ed. of Ghaz, a Goff warboss, Bad Dok Dreggutz, Scrap Prospector Nazgrub Wurrzag; drilled out the barrels on 5 AoBR nobz; and did a test paint on an old ed. Ork boy.
The artillery piece has been painted somewhat... I tried something that did not turn out well, at all. I'm going to strip it and start over.
Still going to do the planes, though I'm thinking of doing three instead. I'm currently looking around for a 1/48th Lockheed P-38 Lightning. If I'm only going to be able to field three planes, then one of them will be the Lightning (I just love the look of it). Not sure what I'm going to convert it to as I'd like one of each type and my friends are advising against it (though considering I'll only be able to field them in casual games, they might as well proxy as well).
Bad Moons Alternate Test Paint: Mid-90s Ork Boy
---
So I've been finding some time to do some painting. But first, check these guys out: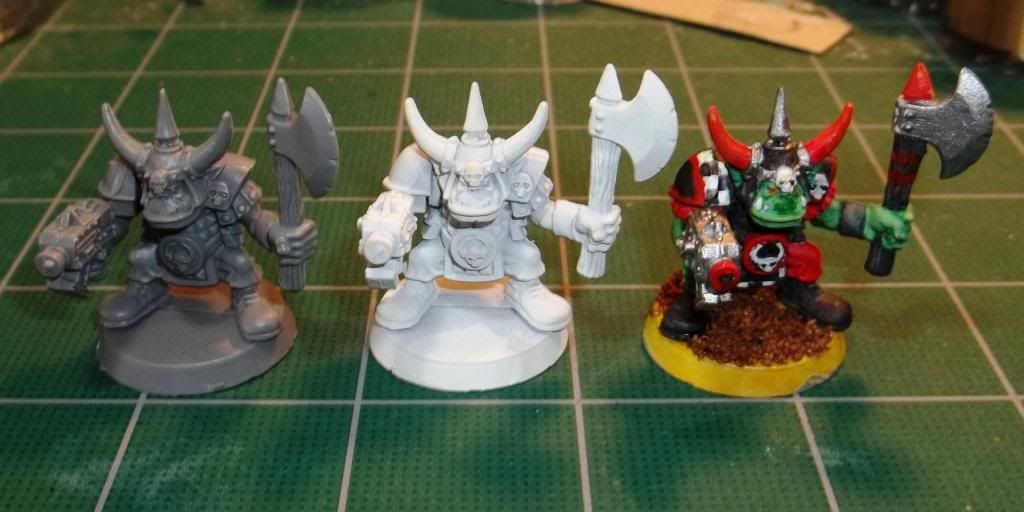 I picked these guys up when I got my first batch of Orks from when my friend sold me his army. Half of them are grey plastic, a quarter with white primer, and another quarter painted.
I'd been trying to figure out what to do with them for several months now. Then I figured I'd paint one up in an alternate Bad Moons color scheme that I had dreamt up. And here he is.
I really like how he came out. I still need to touch up the paint here and there, but it worked out well. My brainwave was in looking at the armor that looked like padded leather and painting it up as a kind of studded leather, where the studs cover almost all the leather.
I'm going to count him as an 'Ard Boy since he looks like he has 'eavy armor now.
I used the same painting techniques that I used for my other boys, except for the skull ornamentation. White primer > base coat Tin Bitz > light wash Devlan Mud > highlight Dwarf Bronze > highlight Runelord Brass. I'm going to use it specifically for them. I'm thinking of having them as another tribe of Bad Moons, the Yellow Skulls.
Oh, and the wooden haft of the choppa is Calthan Brown > wash Badab Black > drybrush Graveyard Earth.
I'm torn about weathering his shoulder pads or not. Or if I should put transfers on the shoulder pad and back plate. (I'll have front and back shots after the touch up.)
Well, that's about it. Thanks for reading.
---
Wow, your waaagghh has really grown since i last checked in. looking good DS, those old plastic boys work wonders with a little converting, thankfully because they hold their arms away from the body you can arm swap them quite easily. I've got about 5 throughout my hoard atm, in various different mobs and with different kit. i always find that when they are mobbed together though that they look a little uninspired, there isn't enough movement in the mob to make them interesting no matter how well they are painted.
Look forwards to seeing you churn through the little blighters.
Lower Navigation
Waaagh! Dicrel: Bad Moons Rising