---
Many thanks mate
In my latest models, I've actually shifted to using the Kabalite Green as my primary green, rather than the Sybarite. I found I liked the darker, kind of dirtier look a bit better. I've got a ton more done, but trying to find a camera where I;m at that can take quality close ups has been... challenging haha.
I'll continue the hunt and hopefully get some up in a few days. Here's what I've got completed though waiting to be posted:
10x Warriors
10x Gauss Immortals
5x Triarch Praetorians
3x Tomb Blades
3x Canoptek Anachrites
Almost done with:
5x Lychguard
1x Anrakyr the Traveller
---
Heresy-Online's Expeditious Stories Challenge 13-06: "Serenity" has started, get your stories in by July 11th!
Quote:
Originally Posted by
spanner94ezekiel
View Post
3. Nothing Boc said should ever be taken seriously. Unless he's talking about being behind you. Then you run like fuck.
---
And as promised, updates!
First off, the warriors: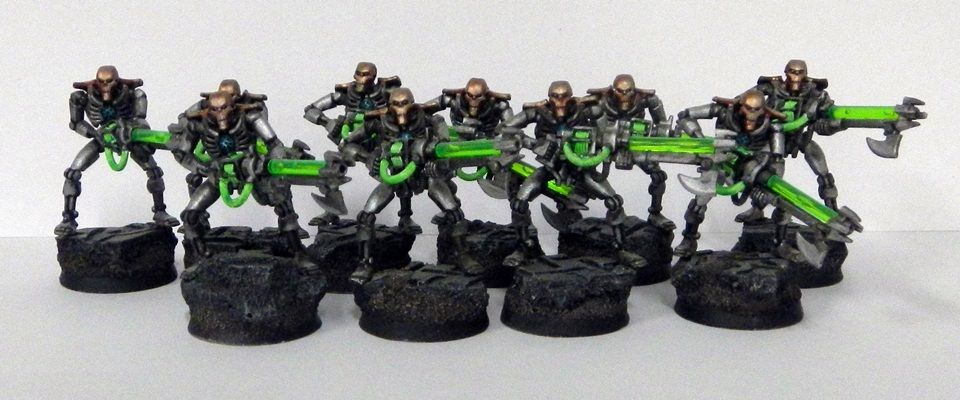 Nothing really groundbreaking here. The only change from the previous two renditions is the chestplate. Since I've opted to stop using that very green green and gone for something a bit darker (kabalite), I changed the chestplate "insignia" background to the darker green on these. Again... nothing too nuts nor noticeable to tell them apart from the last batch.
Next up, the Gauss Immortals:
With these, the stripe on the head as well as the chestplate are where the changes to the green used from my Tesla Immortals is visible. After getting (what I think, at least) a rather stunning result using the white with coloured glaze, I went for the green glaze over white for the coils and the weapon itself. While I still like the result, I find it less striking than I have with the blue, and doesn't quite give off the same glowy vibe as before.
Next up, we have the 3 tomb blades!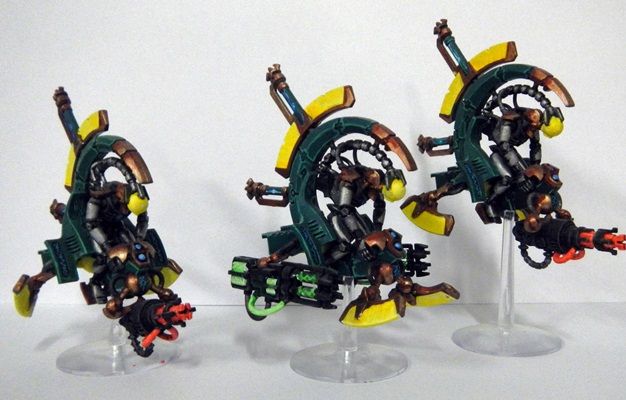 Sadly, I had assembled the one with the gauss before I decided to go with the particle beamer on the others... I couldn't get it to come off, so screw it, I'll have a gauss one. I'm unlikely to really ever field these except in Apoc games anyways, and for that I can always buy more (evil cackle). With these, I tried to keep my theme of "glowy-glaze" for weapons alive. I opted for the red glaze with the particle weapons (to satisfactory effect) and... sadly... the yellow glaze for the "fins." This... I am not remotely pleased with. It's way too bright and overly contrasts with the model. I'll probably repaint this in the future, ideally with a paler, less "DEARGODTHESUN" yellow. Still, a fun model to paint at least. And they look cool as hell, despite the very phallic nature of the model... who am I kidding,
especially
because of the phallic nature. Anyways...
My first Forgeworld-painted models, the Canoptek Anachrites.
Dear... fucking...god ... I hate these models. They look cool as hell, don't get me wrong, but they are more fragile than anything else I have touched in my life. While washing the models in soap-n-water after I got them, multiple legs and the back "nodes" broke. Trying to get these fuckers to stay on has been nothing short of a nightmare. They're too thin to try and pin, and the super glue keeps giving way whenever I so much as nudge the bastards. No joke, I moved them 12" on my desk to take the photos, and three legs re-broke. I've got three more still in the bag, and will be delaying painting them as long as possible to ideally forget about the whole ordeal. Anyways, the model itself has a much more prevalent silver feel than I had originally intended. I'd thought it would turn out more green, not quite as much as the Tomb Blades, but more than they did. Either way, I'm very happy with the overall appearance, though the makeshift battle damage on one (to account for a lost back-node) is pretty poor and I'll likely look at it in the future when I have less stuff on my plate to finish... i.e. never haha.
Moving on to some of my favourite models, the Triarch Praetorians:
I really liked how these turned out. I think the green looks phenomenal (granted, I'm colourblind, so if it doesn't, piss off!
) with the gold and silver. I tried some different (albeit poor) techniques in trying to get some sort of "lighting" effect on the highlights, but had very mixed results. Overall though, I'm very pleased with the rather aggressive and, I think, slightly dynamic poses of the models and they're uniform enough to give me warm fuzzies. Very pleased with these.
Next up: Lychguard with Sword n Board: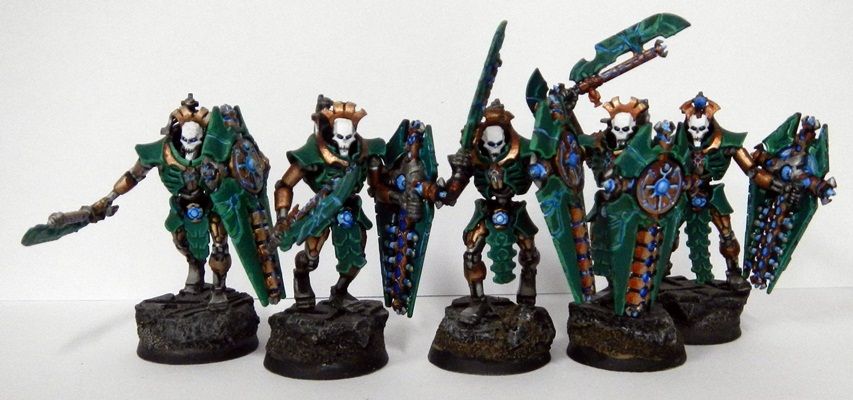 I had completed the first of these in the old paint scheme, and conveniently had gotten far enough on the other three that the shift to Kabalite Green wasn't a huge issue. I didn't go out as much on a limb with trying new techniques on these (I finished them after the Praetorians) but am still pleased with their overall appearance. Again, I think the poses work out rather well, though sadly I placed the COME AT ME BRO guard in the back so his sheer badassery isn't really visible. The other ones though, I think I did fairly well on.
And finally, the main HQ choice: Anrakyr the Traveller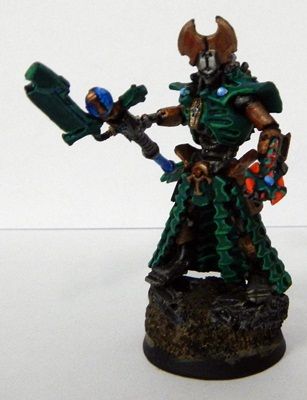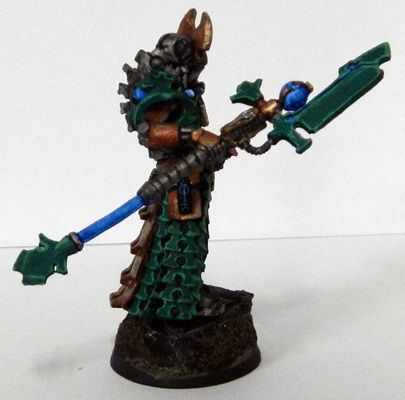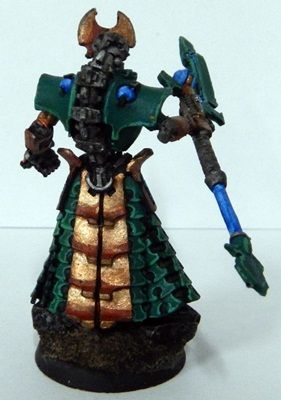 I have to say, I loved this model. While the skirting (primarily the highlighting of it) was a royal pain in the ass, I think he turned out pretty good, and will certainly be an adequate model to lead the House of Oruscar onto the field of battle (atop his Command Barge... of course... chhhheeeeeeeese!). His pose is aggressive, leaning forward with a (I imagine) flexed arm of FUCK YOU. His pose just screams badass, and I wanted to try and paint the model to suit. The weapon glow effects were done in the same manner as the others (white base, blue glaze). I need to start looking up ways to actually make the glow reflect on models, but am always paranoid that I'm going to royally muck it up and therefore ruin the rest of the model. Maybe I'll get balls one day... maybe...
Anyways, this is the completed and up-to-date PLOG for House Oruscar. I've still got plenty on the table, but my Horus Heresy minis and the paint for them are trickling in, but I'll try to keep these up. I think I'm down to 5-6 models before the army is completely table-top ready (with my old list, that is) and that prospect will keep me cranking through.
As always, any thoughts, comments, or suggestions are always welcome!
---
Heresy-Online's Expeditious Stories Challenge 13-06: "Serenity" has started, get your stories in by July 11th!
Quote:
Originally Posted by
spanner94ezekiel
View Post
3. Nothing Boc said should ever be taken seriously. Unless he's talking about being behind you. Then you run like fuck.
---
Looking great Boc! I think the yellow and blue spot colors work really well at making the models pop.
---

Commissions, Project Logs, and Galleries
Follow me on Twitter: @MidgesWorkshop. You can aslo follow me on face book Here
---
Interesting color schemes. I will say you did an awesome job painting them. I normally wouldn't have chosen contrasting colors, but you pulled it off very well. good job Boc, really liking what you have done so far. I especially like the use of blue.
Lower Navigation
House Oruscar Rises - Boc's Necron Army