Pre-Heresy Thousand Sons; The Forces Of Prospero Army Project
---
INTRO
Last year I read 'A Thousand Sons' and they're by far the most interesting Space Marine legion ever. Of course I was already interested in them thanks to the Horus Heresy Artbooks so when I brought it I already knew a bit about the Thousands Son interesting background and suspected that I would want to build an army of them after reading it. As expected I started work on a Scarab Occult army sortly after finishing the book.
WHO ARE THE SCARAB OCCULT
For those of you who haven't read the book the Scarab Occult were the Thousand Sons veteran psykers and I believe made up the entire first company. It consisted of several cults, each specialising in a unique use of psychic sorcerery…
The Corvidae
- Able to see the future and warn the brothers of threats in the middle of a fight.
The Pyrae - Skilled Pyrokinetics able to generate and control fire. Shields projectiles you name it and control robots.
The Pavoni - Able to manipulate body chemisty; boil blood, evaporate oxygen in the lungs. Disturbing stuff.
The Athanaeans - Powerful telepaths used for reading enemy squad leaders minds and communicate to their brothers.
The Raptora - Telekines that can offensively hurl things at enemies or attack them directly or defensibly generate 'kine shields' powerful invisible barriers.
Luckily at the time the two best releases required for such a project came out Codex: Grey Knights an army of psychic Astartes and Tomb Kings with some nice bitz to use. I'm also keen to build an army with a small amount of models after completing 64 infantry and 19 tanks for my last project. Lugging that stuff up a hill to my gaming club ain't fun lol.
UNIT CONCEPTS SO FAR!
Magnus The Red
I considered including the Primarch at first using Lord Draigo but then thought how unpractical it was as Magnus destroyed 3 xenos titans in the book by himself, so unless I was going to use count as stats from a titan he wasn't going to be in the army.

Little Magnus
So I decided to create a captain nicknamed 'little Magnus' due to his resemblance to the Primarch similar to little Horus of the Luna Wolves/Sons Of Horus. I then found the prefect model…
True I won't be able to use it in GW stores but I think he'd make a great Draigo counts as with storm shield in one hand. I'm also debating if I should attempt to green stuff some more hair on him?

One Of The Captains
I plan to convert one of the Thousand Sons captains from the book, not Ahriman thou as everyone does him and I think there are much better ones to choose from.
Interceptors
I been considering the idea of using artificer armoured marine as 'counts as' terminators for a while as marines are always spoken of in the 40k fiction of being able to take down hold squads of infantry and having an small army of elite dramatically posed marines was tempting.
Of course as you can see from these three I plan to model every warrior to look like a hardened veteran, attached wargear and robes, the iron armour should represent artificer armour very well and I've also modelled a personal teleporter on the backpack. Thou storm bolters would be represented by magical bolts with the heavier weapons being modelled as powerful spells being cast.
However after asking around on forums about it was decided that they looked too much like interceptors and would be confusing. So these guys will be used as my interceptors.
Terminators
So given on how my artificer armour idea wasn't going to work I decided to focus on converting terminator armour, I had already come up with some ideas on how I could do it with the legs being the only problem then I saw the micro art studio legs and everything fitted into place.
I also used a pair of chapterhouse shoulder pads I had ordered during a previous project out of curiosity and the Scibor Scarab Shield to replace the storm bolter plus a few other bits. I went with the power armoured helm because I prefer it to the angular terminator version.
I've also decided to scrap the invisible magic bolts for actual weapons so I've brought several of the SM commander's storm bolter which was the easiest to convert. However rather than trying to remove the awkward mould line on the top detail I got rid of it and was going to replace it with a bolter sight from the tactical box set, but instead I made my own sights using the parts of the interceptor teleporter packs instead.
My favourite squad member is the hammer user, I love seeing thunder hammers in Dawn Of War and Space Marine as you really feel the impacts. So I decided to copy the animation when the force commander raises it in the air then brings it down on an enemy from DOW.
Finally there's the reaper Autocannon which will represent my Psycannons, I got rid of the skull and added a eagles wing to the side to make it less chaos themed, I also swapped a halberd to the left hand.
I'm looking forward to seeing one of my squads charge for the first time as they completely dwarf standard models, just look at their size compared to the black reach marine. The dreadnoughts will be quite big as well so this will be an army of giants!

Dreadnoughts
It took a while but I final got a hold of a pair of relic contemptors and after a bit of work the first one was completed.
Aside the basic bits such as putting a scarab over the Aquila and a nice head crest on the helmet I converted the heavy bolters to Autocannons. I shorted down the IG Heavy weapon team Autocannons because I felt they would have looked odd if I had kept them at their original length.
Another edition was 2 strong magnets to make the arms exchangeable, now they weren't wide enough so I brought some plastic tubing the same width as the arms to put them in and thanks to the Dread's size this hasn't effected the model too much.
I'll talk about the specialised boltgun that the interceptor has in my next post.
& MUCH MORE
Now I know that people using the Grey Knight codex for Pre-Heresy Thousand Sons is common. But I feel one of the biggest benefits to the codex is it's ability to allow me to field the other forces of Prospero alongside the thousand sons. Will get to each of them later in the log but for now here's a quick recap.
Warrior henchmen allow me to field an attachment of Prospero Spire Guard with a general representing Coteaz.
The Legio Cybernetica robotic units can be represented by basic dreadnought and paladins.
& the Thousand Sons Hidden One Operatives can be represented by assassins and inquisitors.

LAST BUT NOT LEAST
Due to GW's attitude towards the hobby side of their business, and continuing price rise I've decided to make this army my last, but with so much potential I feel it will be my best project ever.
Anyway I look forward to hearing your feedback on the current and future conversions for this project.
---
---
All looks really good so far, interesting take on the Tsons.

There is a slight niggle though (only a very slight one!)

The legs on the Terminators look too long for the torsos, making them look like they're on stilts. It is only a slight thing and I'm sure it could be remedied quite easily with some green stuff or something.
Tzeentch laughs at likely
Join Date: Dec 2009
Location: Inside my Head, Bristol, UK
Posts: 8,557
Reputation: 44

---
This looks like a very characterful force.

I agree with Norm's thought that the Terminators look a little stretched. I feel the arms of the Dreadnought have the same too long aesthetic to them.

Two of your Terminators appear to have a Crux Terminatus; I thought that honour was not created until after the Heresy.
---
---
HUGE BITZ RESTOCK NOW ON
---
I like most of teh work you've done so far, but there's a few things I'm not sure about. I like the terminators but not sure about the heads. I like the dread but don't really like teh arms.

I'm sure it'll all look better when it's painted up so I'm looking forward to that.

Keep up the good work!

Rev
---
great work so far!! I was thinking of doing a pre-heresy TS...I have even bought a lot of egyptian bits on line. Yours look great and I will be following this log with great interest. +rep


Doc
---
Link to my Artic UltraMarines Project:
https://www.heresy-online.net/forums/...ad.php?t=89554
---
Okay regarding the issues raised...
Legs;
If you look closely you'll see that the grey knight torso is not the only part of the upper body as it has a small part underneath the waist like all terminator armour. They'll likely look better when painted.
Shoulder Pads;
Have you seen the size of pre-heresy shoulder pads, thou I guess some of the poses do make them look a bit too big.
Heads;
I went with that helmet design based of the picture below.
Dread Arms;
Personally I prefer the extended arms to the short ones, allows for more dramatic posing.
---
---
Last edited by Kolonel Grotsnik; 01-14-12 at

05:55 PM

.
---
BROTHER KARGORI RETURNS TO THE FRAY!
Behold the glory of the Thousand Sons dreadnought! A full week and half's work but without doubt worth it in the end. I'm still planning some additional work such as a name on the script perhaps name it after a dread from the Horus Heresy art book; Kargori.
It's nice to see the scarab replacement and heavy bolter to Autocannons conversion worked out. I did consider adding water effects to the base but many people believed it would ruin it.
Anyway this will certainly keep me motivated, now to continue work with the terminators and the white robes that I keep putting off but will need to be done in the end!
Omen Pattern Bolters
One of the biggest problems I was facing with power armoured grey knights was thinking of a way to represent storm bolters on my interceptors without using actual storm bolters or 'invisible magical bolts'. Luckily I came across the
'Omen pattern boltgun' converted by Wolfs16
but while he used scout pistols I used the forge world Umbra Ferrox bolter and replaced the barrel. Creating a suitable stand in for a storm bolter that can be modeled 1 or 2 handed.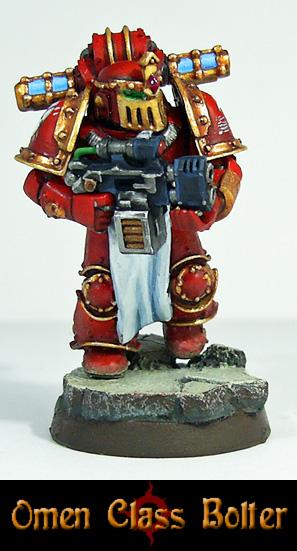 ---
---
WoW, ummm that was pretty freaking bloody fast painting! ....Nevermind, jsut read that it took you a week. Was thinking, didnt he just post the unpainted model yesterday...lol! Anyways, Fantastic looking Dread mate! I also like the way yours Sons are shaping up, def diggin the old school armour.

One thing tho, maybe a little bit of literature on the chest scroll?

Keep up the good work mate.

Some Rep for the sweet Dread!

Regards,
DoE
---
"To retreat is defeat. Advance! Advance! In our Death lies Victory."
Captain Denos, 19th Company,468th regiment of the
Death Korps of Krieg
The K.R.I.E.G. Project (My Death Korps of Krieg Plog)
---
2nd SQUAD ASSEMBLED (MOSTLY)
Well I've just completed the assembly of the 2nd squad. The 2 handed halberd won't hold together with blue tac for the photo and the I'm desperately searching for dark angel helmet wings to convert the remaining reaper Autocannon to be like the first one. So here the other warriors from that squad, remember I'll be adding grenades, pouches and other bits round the belts when they are finished.
So far I'm happy with the warriors with the hammer and sword, but while it seemed like a good idea at the time I'm not sure if the squad leader reading the tome works as he looks a little… idle? Perhaps having him holding his staff up will make it look a bit better?
---
Lower Navigation
Pre-Heresy Thousand Sons; The Forces Of Prospero Army Project