The host of Eskar Nox the father of night
---
Here is my warriors of chaos army.
In total i have about 90 warriors togather with 15 chaos knights.
I also have 2 chaos spawns 20 warhounds and 5 marauder horsemen.
I also have two Chaos sorcerers one undivided and one of nurgle.
I also have the exalted hero miniatures for Slaanesh, Khorne and a undivided one from avatars of war togather with a bsb And i also bitbashed 3 chaos lords. At the moment i am working on a Chaos warshrine. I also have Wulfrik teh wanderer and Sigvald teh magnificent on whom i am working now. I Have tried to do nmm for the first time, on the chosen son of Slaanesh. I realise that a big part of all this is missing and i will try to get a picture of all of them taken soon. Alll Feedback is apriciated.(I just noticed that I was too fast with typing in teh title could a mod be so friendly as to change teh to the?)
Here are 5 chaos knights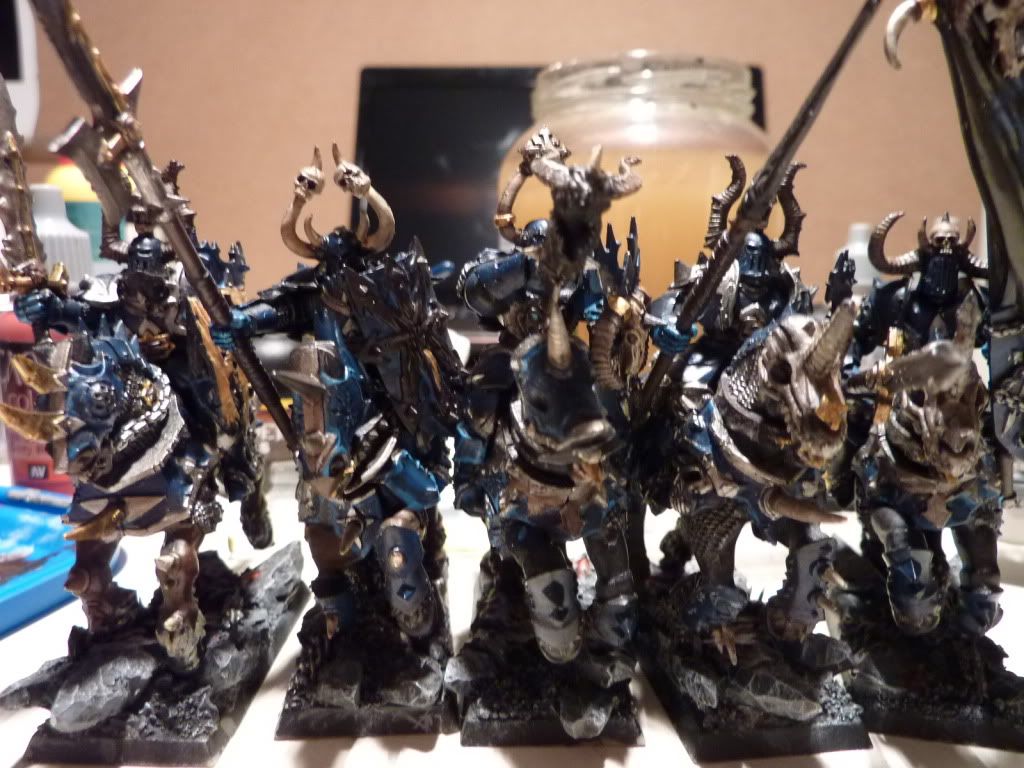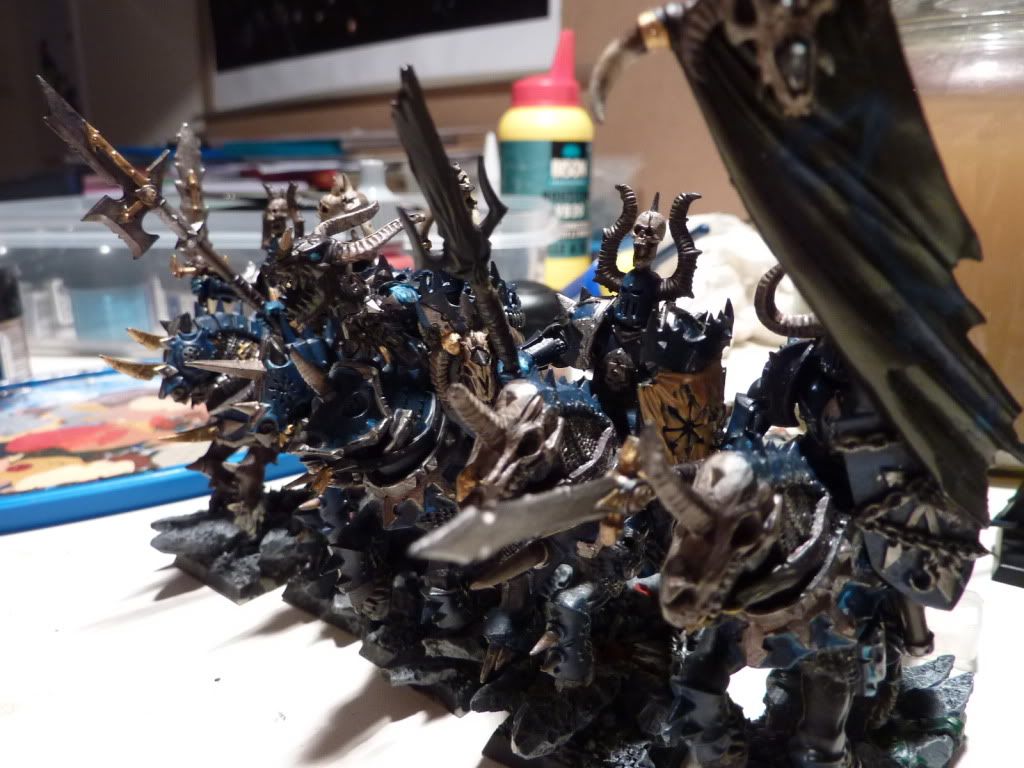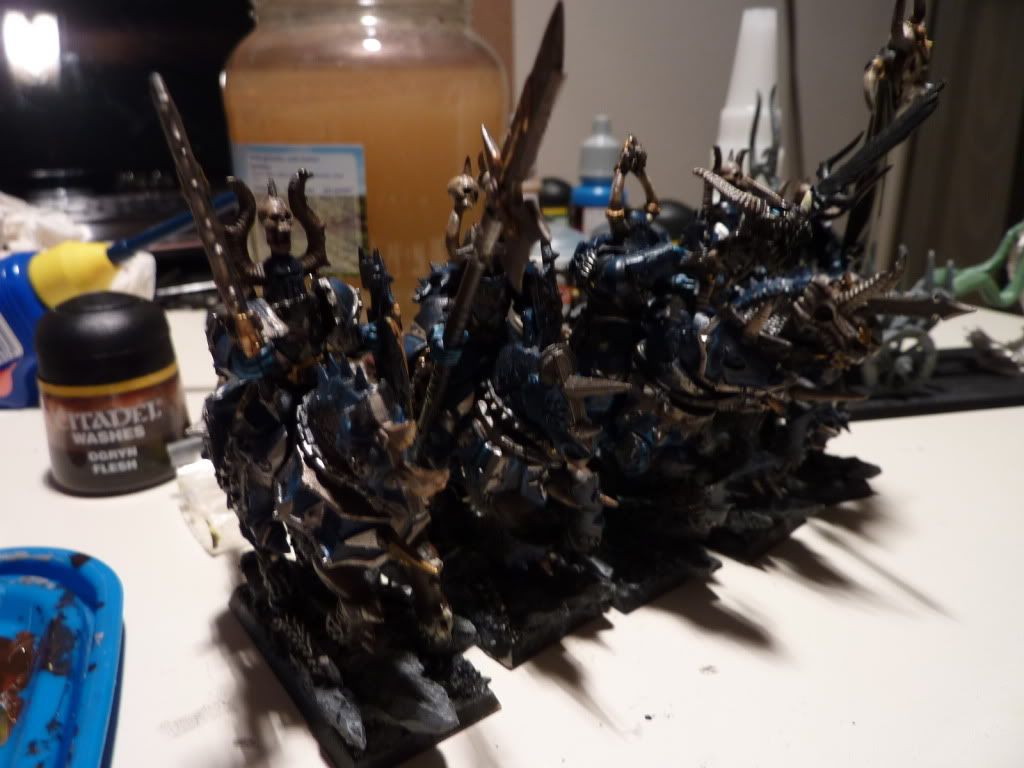 Here are some pictures of my warriors of chaos.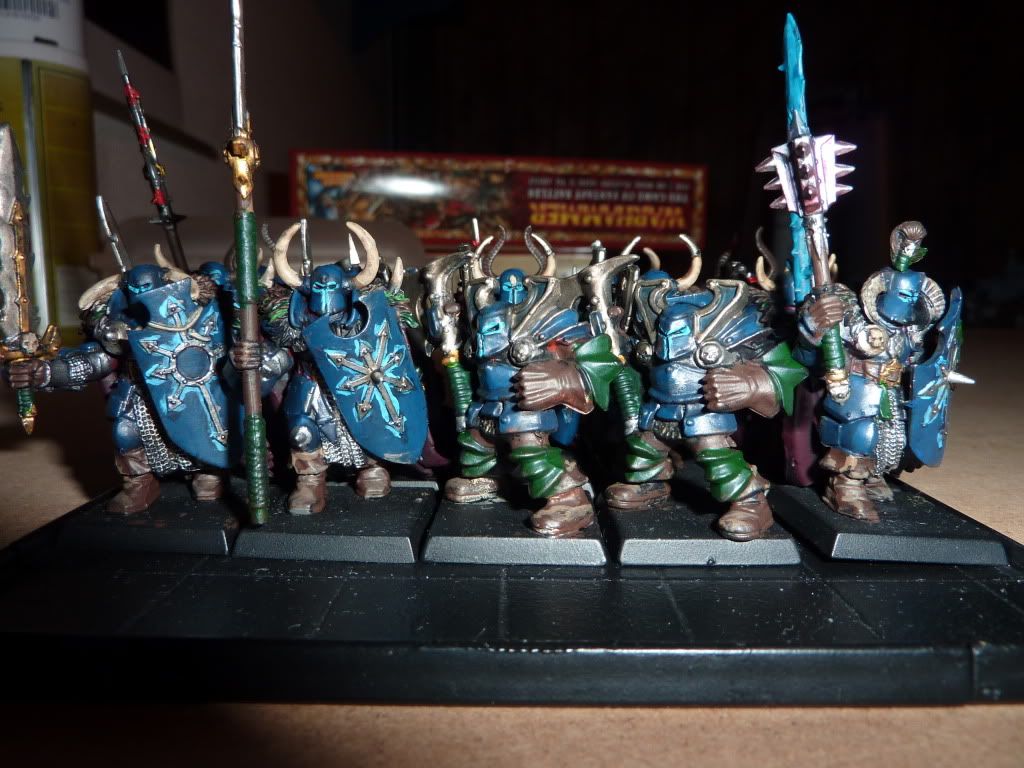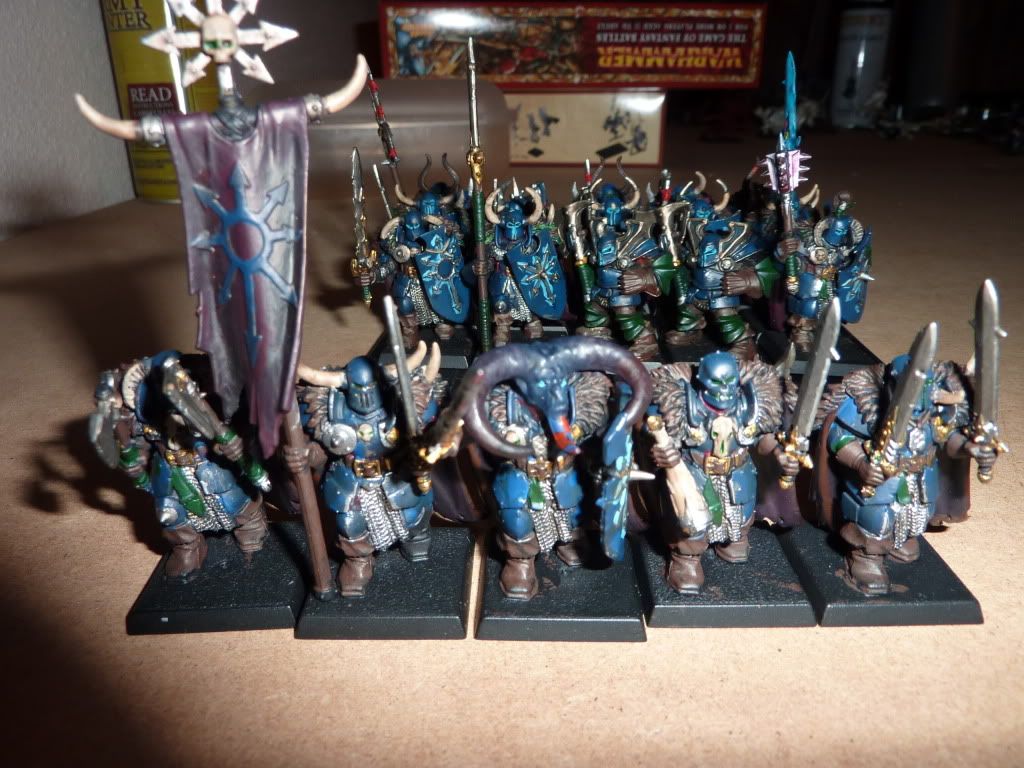 Here is a very early WiP of teh warshrine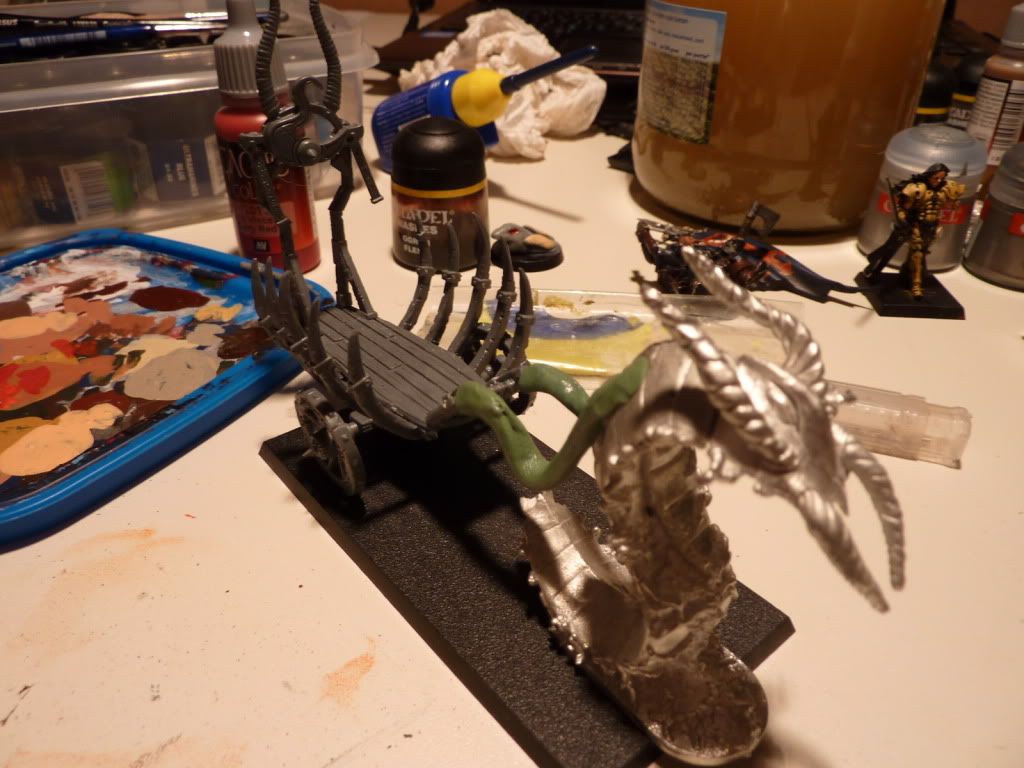 Here is Sigvald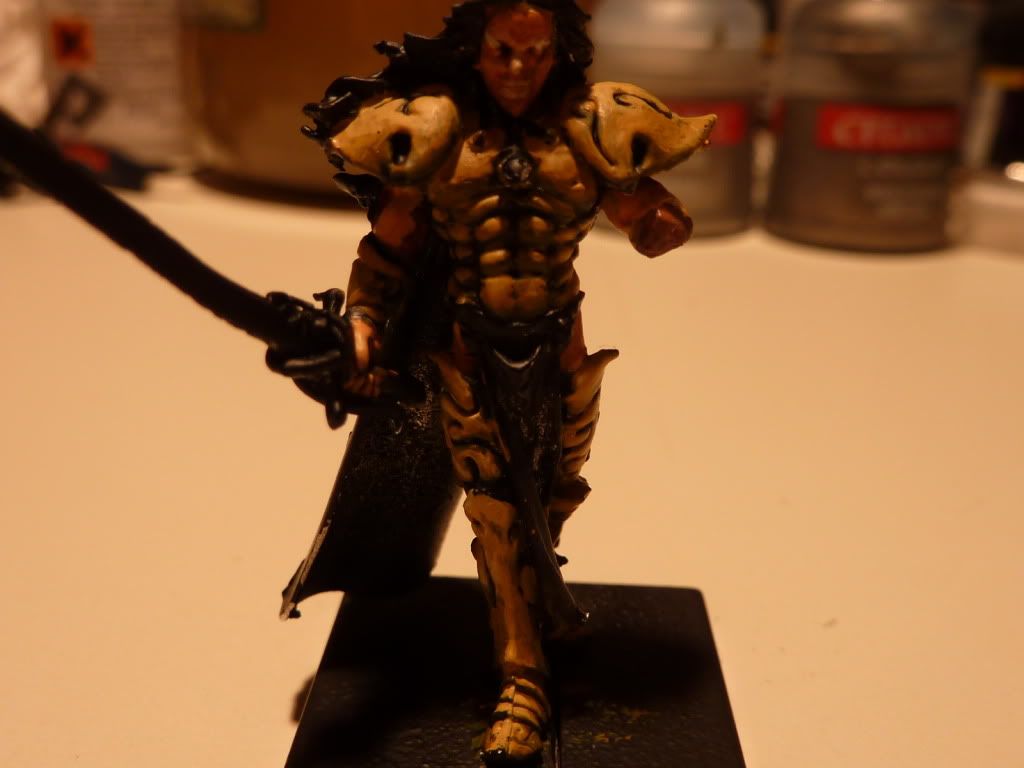 And here is the bsb. He is mostly done he just needs a bit of pinning.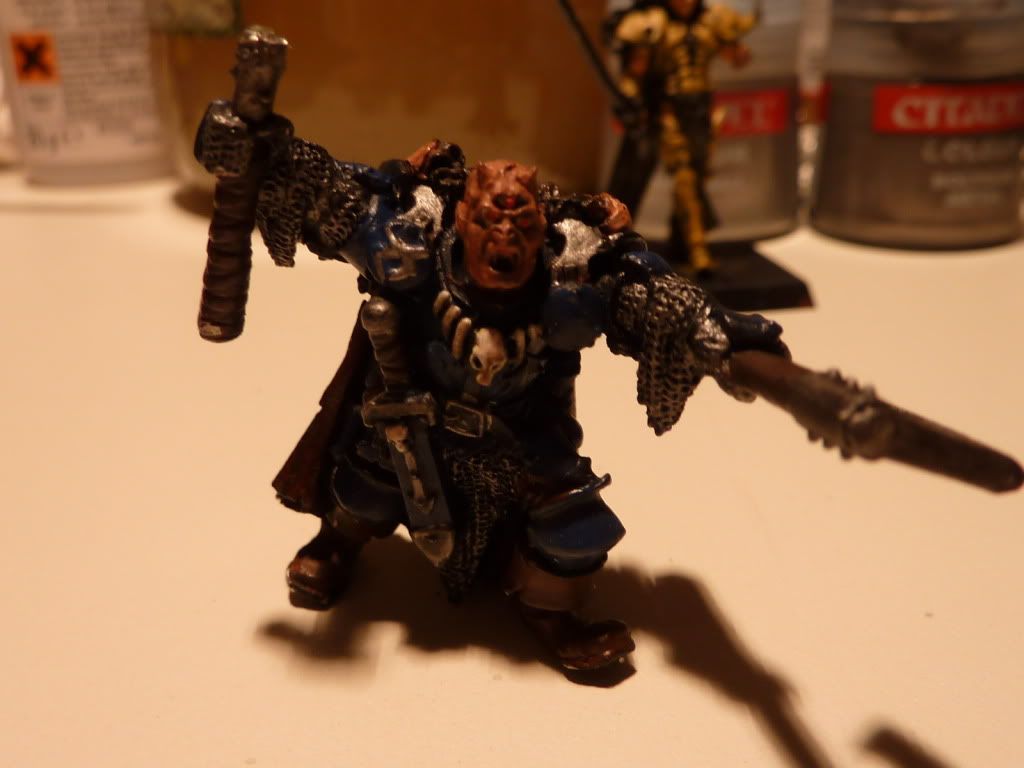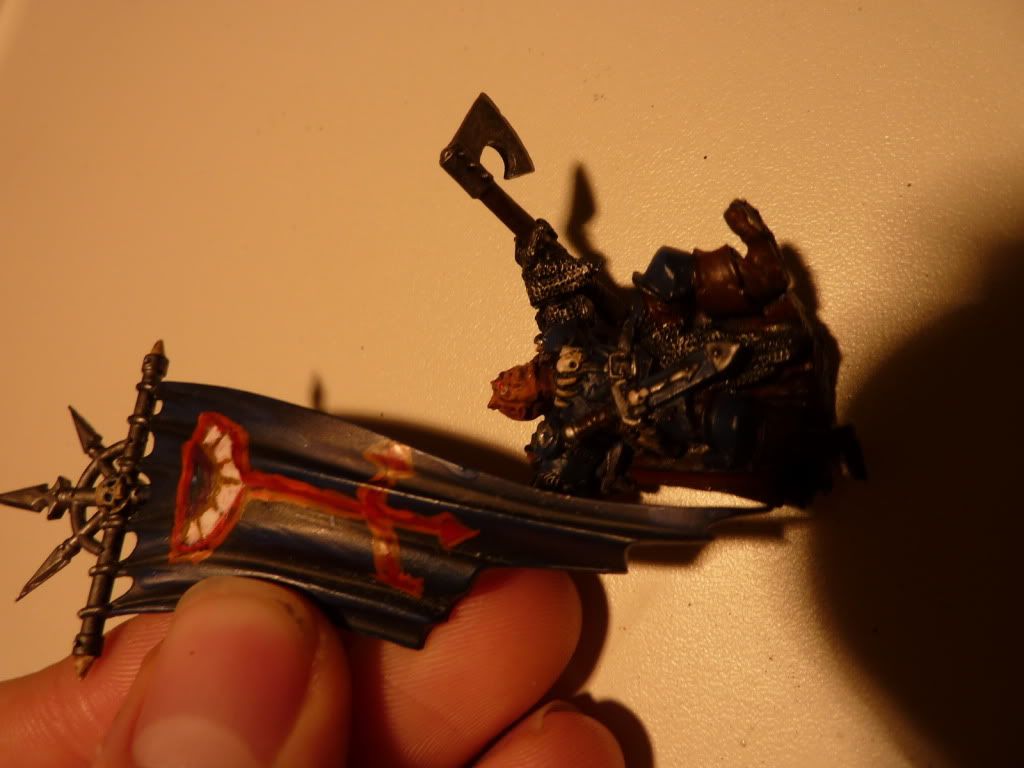 My undivided exalted hero.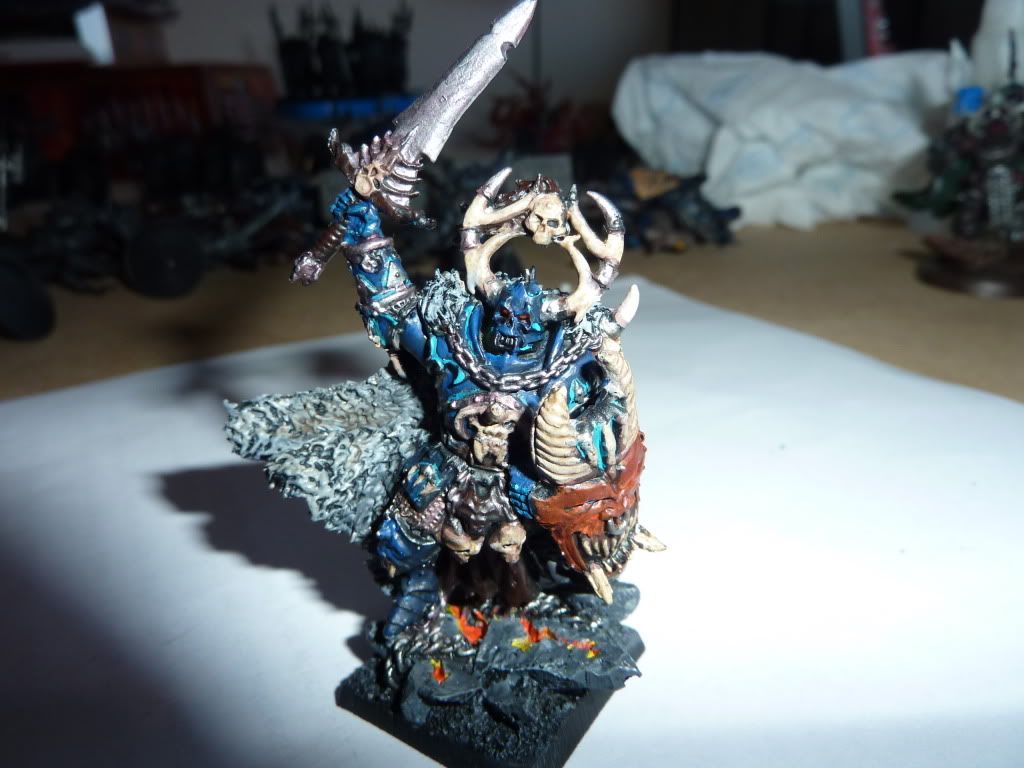 ---
Last edited by cain the betrayer; 12-17-11 at

10:10 PM

.
---
I like the colours cain. And I especially like the addition of the Avatars of War Chaos Lord, an excellent choice
---
Regards,
Jake.
---
You should paint Sigvalds hair something really freaky, like blue or green?
But good job.
---
[Flerden] 9:05 pm: Why the hell can't he just go offline if he goes to watc tv?
[dark angel] 9:06 pm: It is Doelago, we will never know
---
I like the colour, the only criticism i have is in the 5th picture the warrior with the spawn head the head doesn't look right on the warrior's body.
---
Here is the finished Sigvald. Expect a lot more to be finished in the next two weeks and a complete army picture:D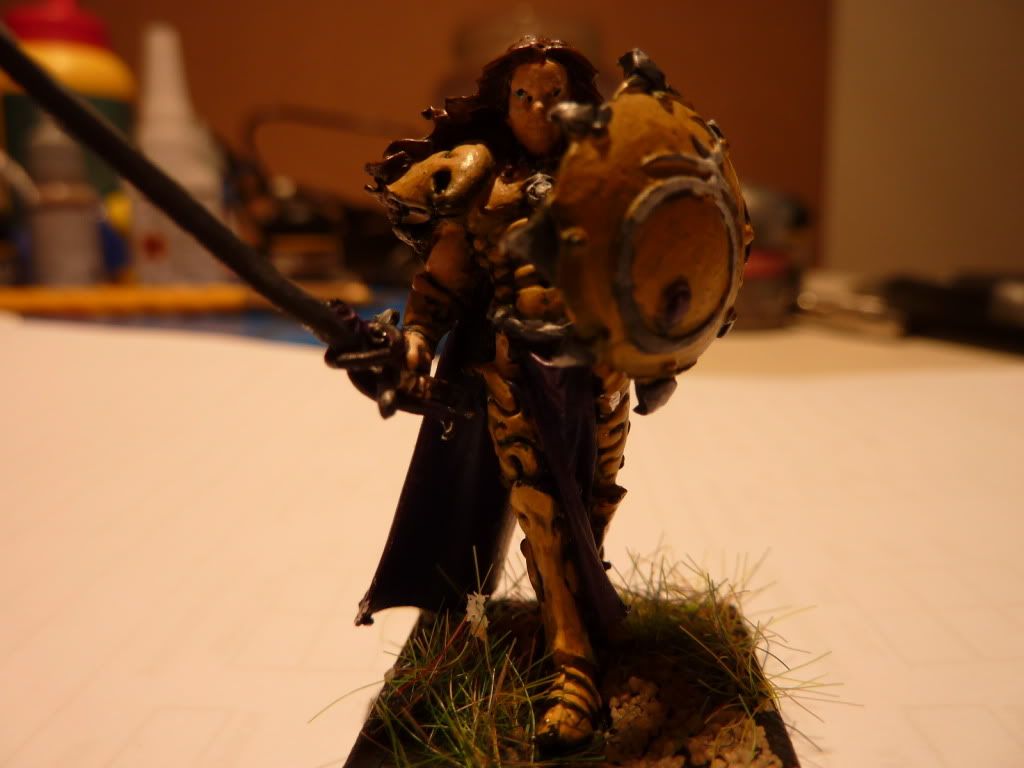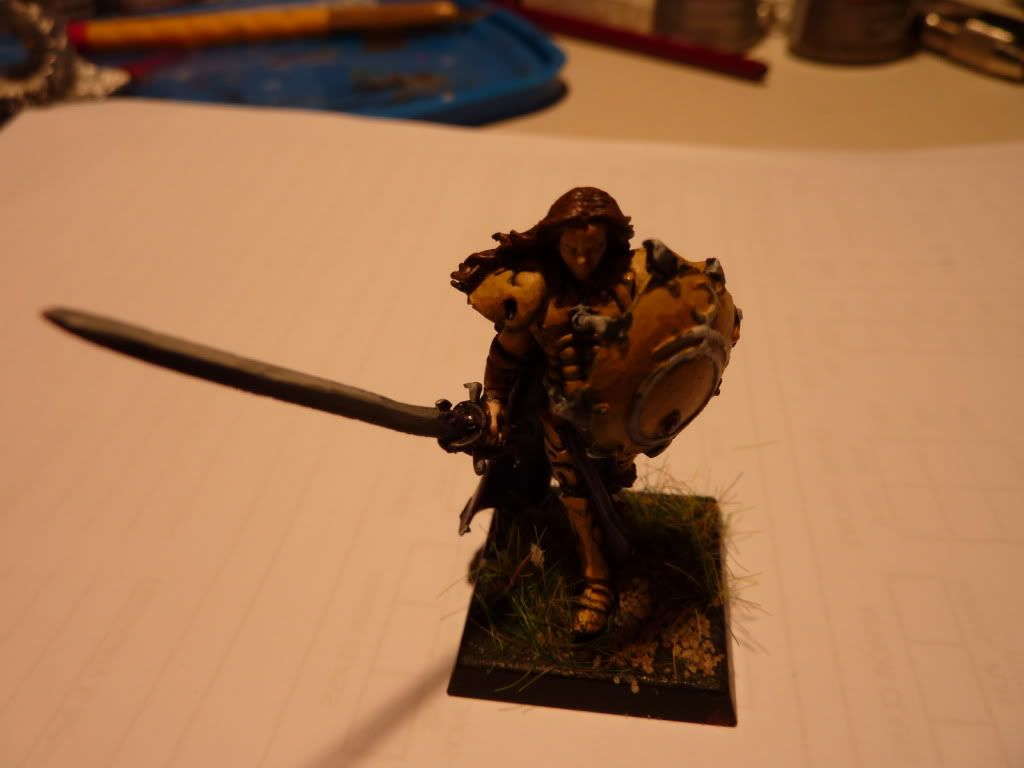 ---
Last edited by cain the betrayer; 12-23-11 at

10:21 PM

.
---
Stunning models, I have no criticisms other then the lighting in the pictures
Can I ask where or what grass you use?
---
Here are some pictures of everything the entire armies and a few allies like the Skaven and Chaos dwarfs. The grass is wild gras from Busch, I don't know much about a brand but it was for sale at a local miniature builder store(not tabletop miniatures stuff like trains and Rc cars)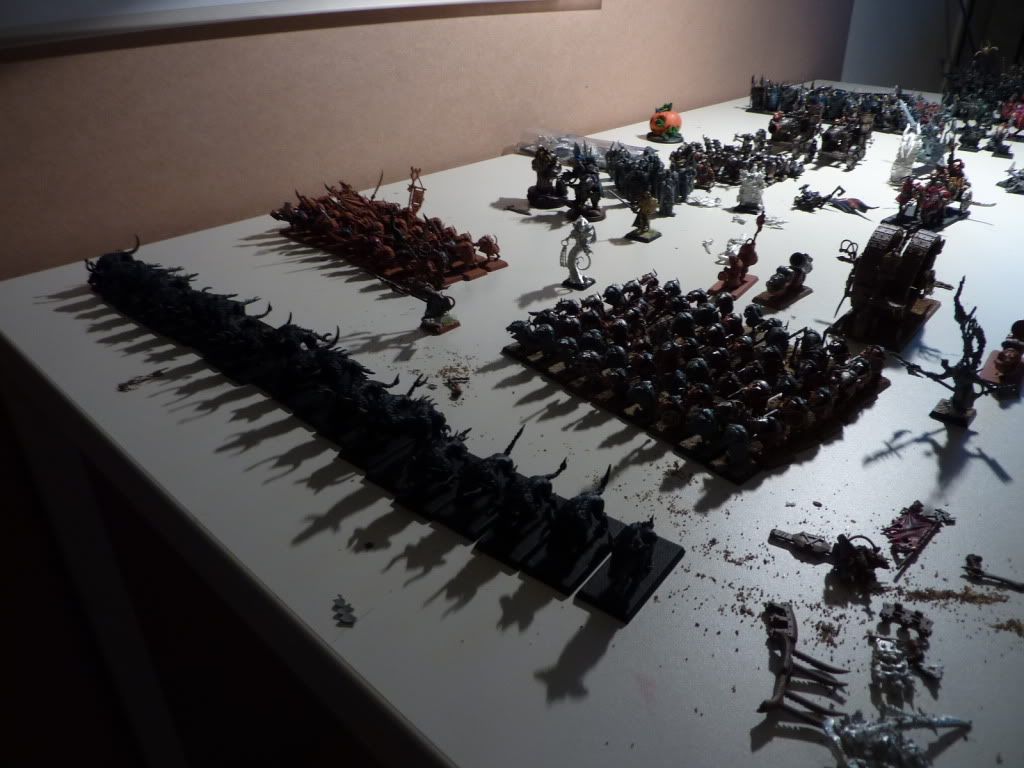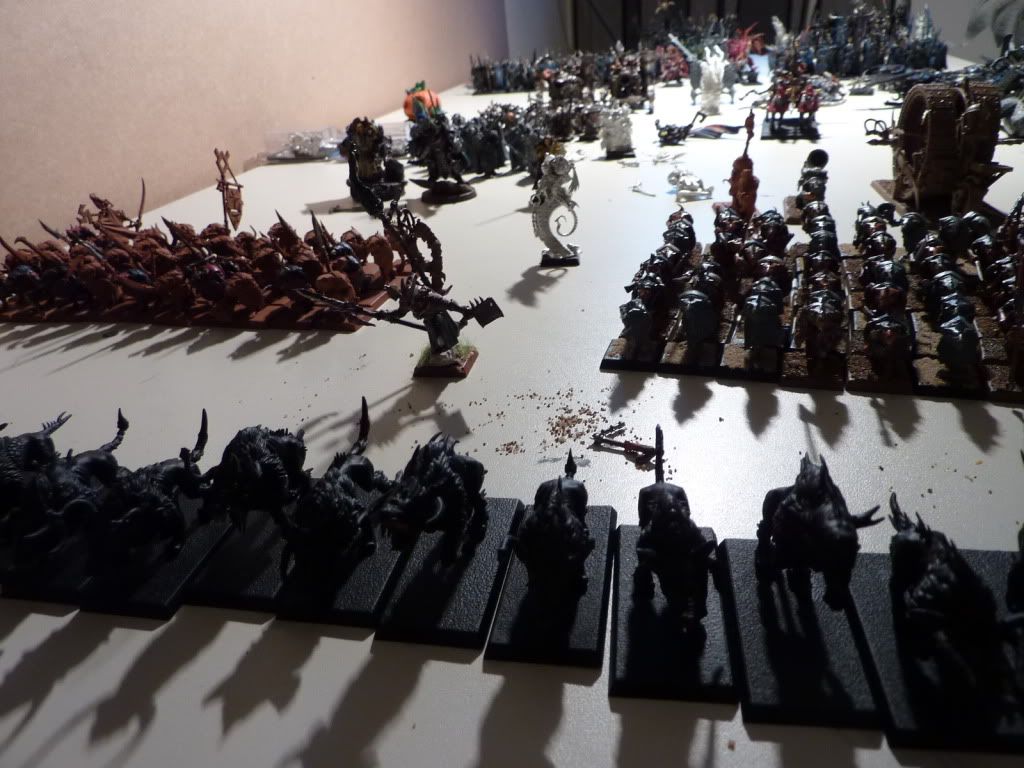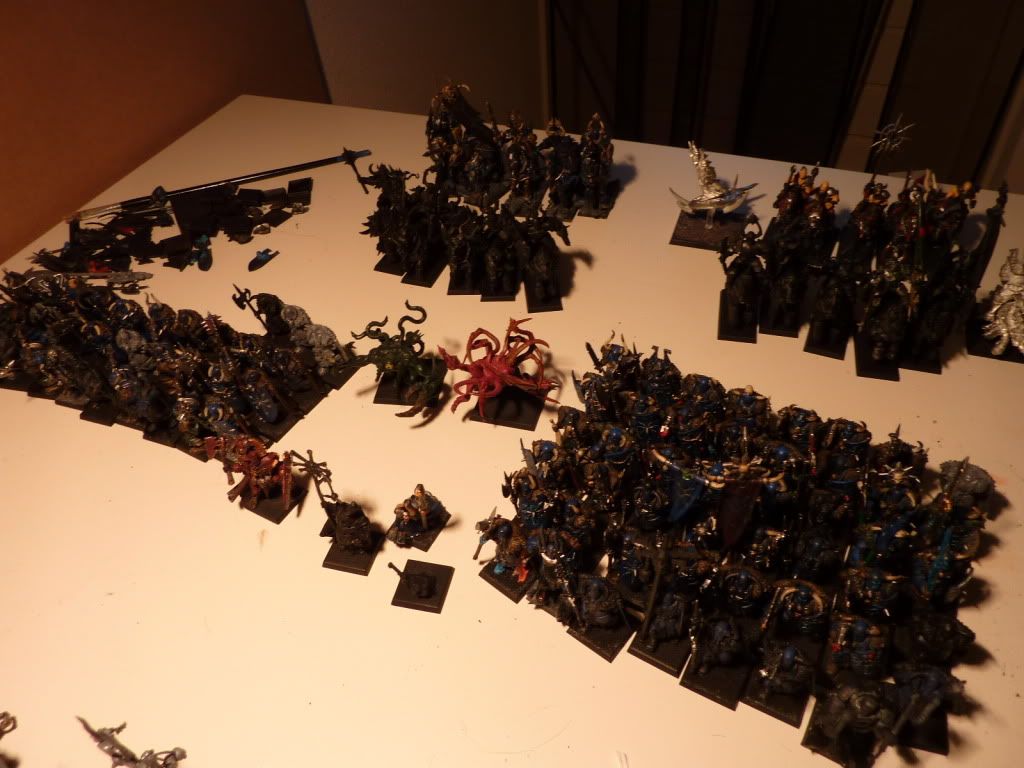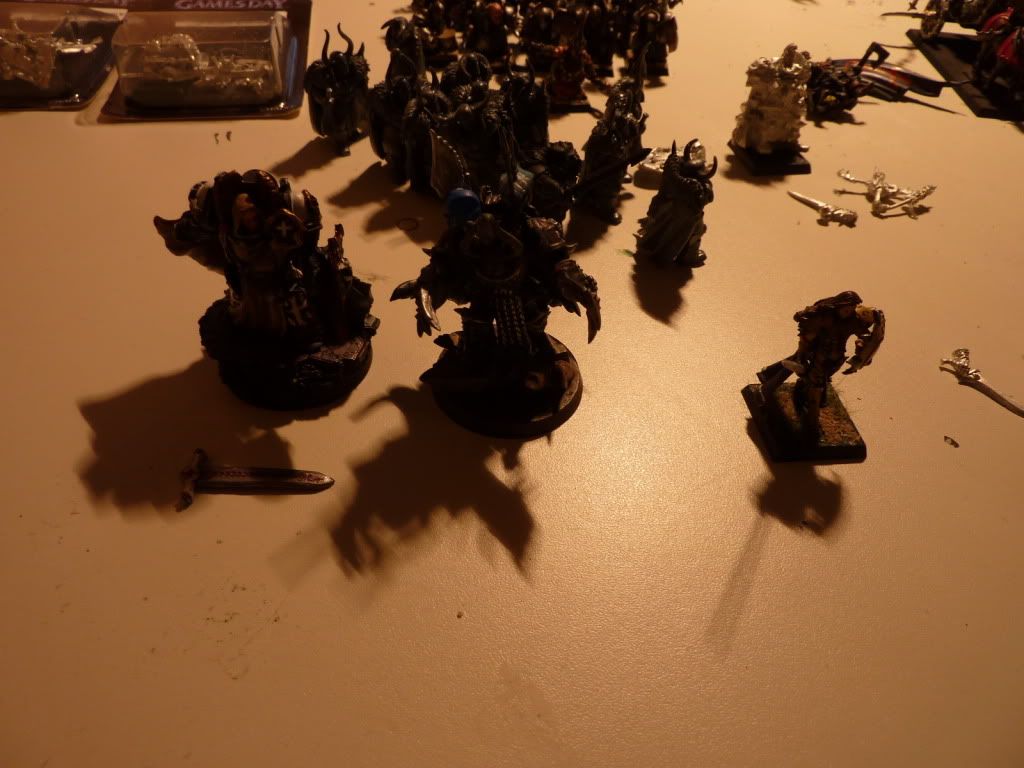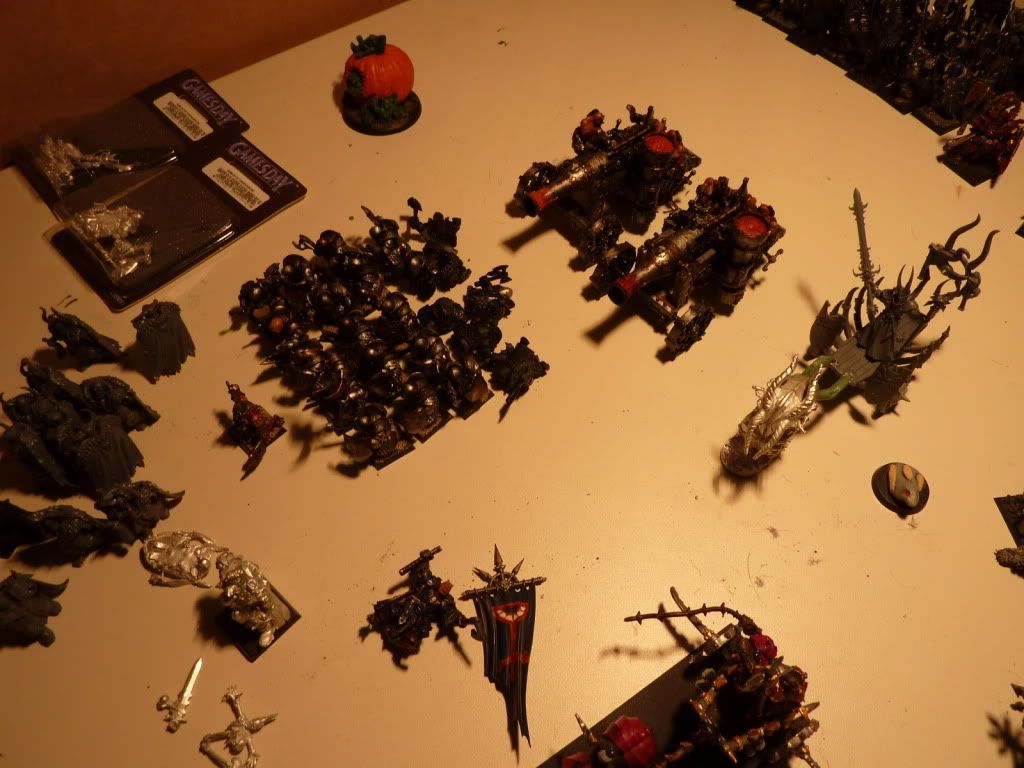 Senior Member
Join Date: Dec 2010
Location: lived on tyran, moved to occulus, then to macragge.DAMN THE TYRANIDS!!! (near derby)
Posts: 2,187
Reputation: 8

---
they look good, one critisism: i cant really see whats in the pics, either use the flash or better lighting
---
40Kprayers and benedictions
see my guard army
here
see my Empire army
Tzeentch laughs at likely
Join Date: Dec 2009
Location: Inside my Head, Bristol, UK
Posts: 8,553
Reputation: 44

---
I like the choice of turquoise tones, and there are some excellent ideas in there. I particularly like the iconography on the banner.

However, the paint does look a little thick, especially on the highlights, which slightly spoils your good work. I suggest thinning your paints to the consistency of milk; it might take another coat to achieve coverage but it will give you much better control.
---
I agree with Dave, cain. I like your work and especially Sigvald's base :D I think next you should work on the bases of the rank and file models as it really gives them that finished look and feel.
Lower Navigation
The host of Eskar Nox the father of night