---
I have so many ideas for so much imperial stuff plastered all over my lootas they should really be the other clan. . .. .. . (damn i've forgotten which ones)
Lasguns as targeters is a must! only prob is i love to kit bash so i tend not to have a very lareg bits box despite having 3 1500+ point armies
---
So time for an update, as a pat on the back for painting 10 more boyz (nothing special so no pics unless you really want some) I have painted the Big Mek!!!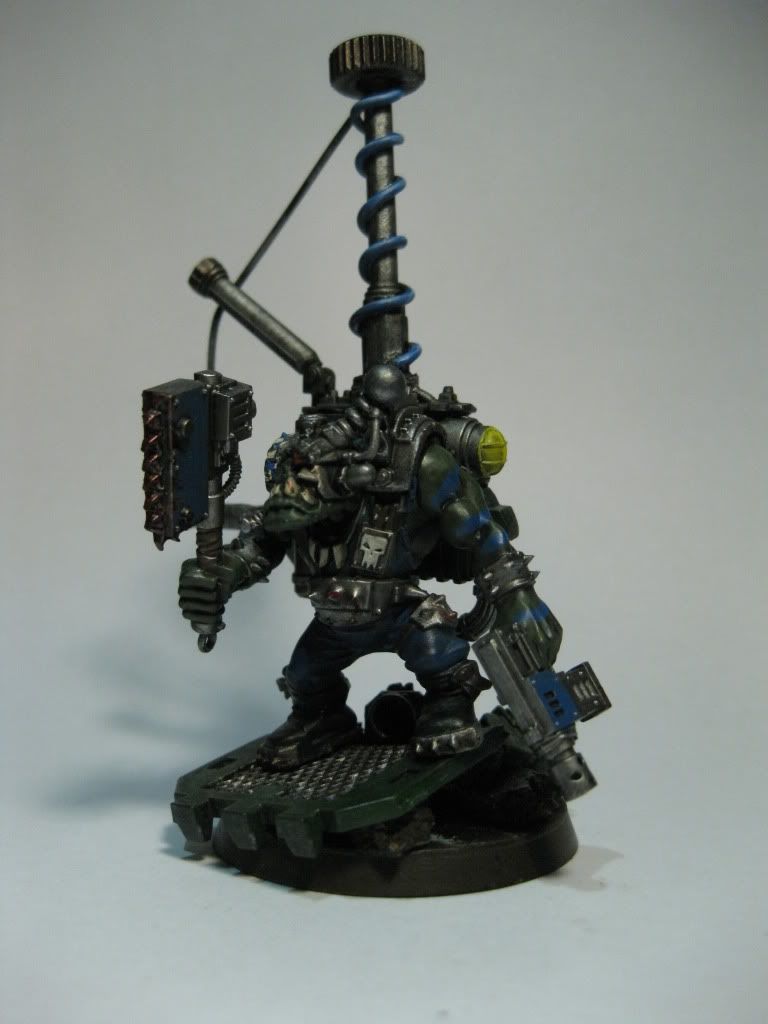 He's not completely finished, I'm going to do some more to the back pack and put a Deathwing arm poking out the LR door.
I have also decided to try and keep track of what i have and have not painted (or built) so here goes!!
Warboss : built and under coated but not painted
Big Mek : kinda almost nearly done
Lootas : still in a box on sprues
Burnaz : still in a box on sprues
Deff Dread : mostly built and awaiting undercoat
10 Nobz : painted 5 of them nearly done just some finishing touches
30 Shoota Boyz : i've finished 10 another 10 are on sprues and i havent got the last 10
19 Slugga Boyz : i've built them all and painted 15 of them!! (still got some finishing touches to do to 10 of them
19 Slugga Boys : all built
6 Deffkoptas (fyi in 2 squads) : built and under-coated just need to magnetise and then paint them
6 Killa Kans : on sprues
Battlewagon :almost kinda finished painting it but i wish i had painted the racing stripes closer together
Battlewagon : in a box
Trukk: almost finished making it
Trukk : in a box
so thats the Plog
---
Last edited by Hellados; 04-03-12 at

01:08 PM

.
---
Awesome Hellados, the skin on the Mekboy still needs just a smidge of lighter green, not much to take away from his darker skin tone, but enough to show differentiation.

As for your battlewaggon....EASY FIX for all that blue, seriously! Grab some chaos black and sponge and dab some of it all around, more so on the edges and parts of the flat panels here and there. Then take some bolt gun metal and hit up the areas that you just did with the black making sure to leave some black as an outline. It will make it look FANTASTIC!

Keep up the good work buddy!

Regards,
DoE
---
"To retreat is defeat. Advance! Advance! In our Death lies Victory."
Captain Denos, 19th Company,468th regiment of the
Death Korps of Krieg
The K.R.I.E.G. Project (My Death Korps of Krieg Plog)
---
Thanks for that DoE I like the idea for the weathering, you can't see it but I have done that to the shoulder pads on the Nobz to brake them up a bit. I also used the serpia on the white and the stuff is amazing, almost as good as devlun mud
Unfortunately I still haven't got a light box to take pics in but he is lighter then that in rl
---
Quote:
So a small update and some advice please guys, I have started to paint up my 1st Battlewagon and I think it's too white, I am thinking go faster ('racing stripes') in red because as we all know red ones go faster but i need some advice.
also I cant decide on the red wheels, they dont seem to fit some how.
I know you posted this last month but how have you gotten on with it? Just thinking that the red on the wheels look good what you could do is make this your spot colour! Add a plate or two at the upper front and then the back with the same red to give it a consistent look.
For the white i would just give it a wash and take the edge of the brightness.
As for the mek well you don't get more Orky than that
---
Ah yeah it's all worked out because of the weathering, i'll post a pic when i get up 2mw. . . later today. . . (damn insomnia!!) I think it's actually looking really nice, I have got some more weathering to do to it as suggested by DofE.
I'm actually going to use the weathering to bring all of the colours down a few tones but thanks for the advice
---
I am so sorry i have been neglecting my logs i have been sick as shit i am afraid
however i have done some more work on my battle wagon and now the sun is out re-photographed my mek that i then dropped so you guys can get a slightly better idea on the colouring
comments are always welcome
i did just notice how yellow the paint on the handrails is and its still not light enough
i think i need to read up on the guides about photo boxes tbh
---
Last edited by Hellados; 04-03-12 at

01:08 PM

.
---
I don't think your mekboy is enthusiastic enough about the WAAAGH...an ork saying "WAGH" Is like a space marine saying "For the emperor....I guess..."
---
Win/loss record for The Fists of Vengeance- 20 - 1 - 8.
Hive Fleet Kraken- 7 - 2
The Unnamed Clan- 0 - 0 - 0
Critique for da CriticGod
Join Date: Aug 2010
Location: Philadelphia, PA USA
Posts: 3,350
Reputation: 43

---
I dig the mek and the battlewagon. Both are looking good. Its hard to tell fi its the photos or your painting, everything looks sort of dark and washed out.

The orkiness factor is good on both. If it isn't the photo I think the mek needs to be brighter.

And the battlewagon would look so much more polished if you picked out the rivets! I think I say this every time I give critique to people, but it really does add an extra layer of finish to a project. Maybe more accent colors or paneling colors, like some bronze or tin bitz.

The reworked red wheels are also looking a lot better.

Keep up the good work!

@Minizke1 - at least its all in capitals, the mek doesn't have a big canvas there! Its not like he's some effette valley-girl-ork saying, "Oh well, you know I'll get to my waghing after this latte or sha, whatever!"
---
@ Minizke1 yeah another 'A' didn't fit because it made the righting too small
@ Kreuger i'll have a go at the rivets then and i did get some tin bits for it but didn't do it for some reason so i will. also different shades of blue could work nice i think, make it look more of a bodge job could work well
Lower Navigation
Against the Imperium. . . . The Boyz