---
@DoE: And because i forgot yes those are gems on the lightning claws. Rarity has been upgraded to captain of the 8th company. She is getting a few additions to make her fabulous and of proper rank.
Also i wish i could see what those 6 colors look like before purchasing them. Since i need specific colors >< if you have a sample from your set I would love to see them so i can see if i wanna purchase them or not.
With that bit of news and congratulations to Rarity for her deserved promotion I wanted to make a small update to show off the now completed Twilight Sparkle with her cutie mark terminator crux.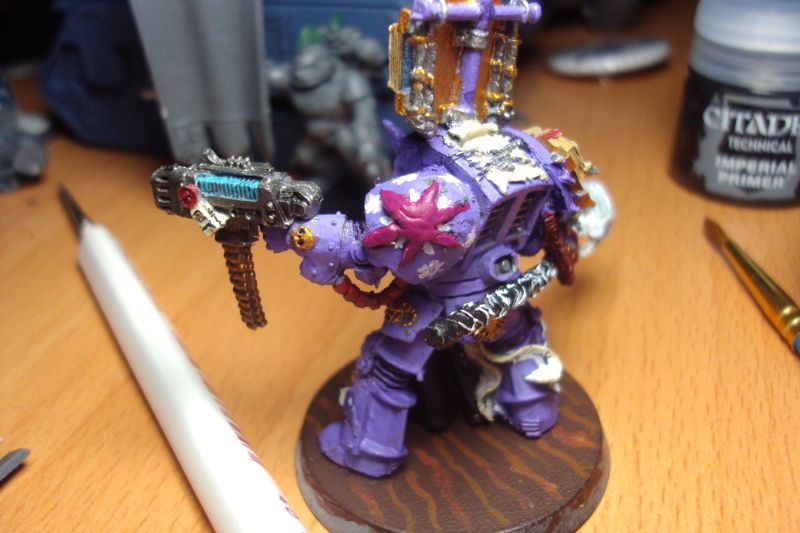 Its not perfect but im quite happy how it came out considering XD.
Any comments or opinions on it please share!!. Im finishing up rarity's upgrade and fixing some of the details on AJ before painting begins. Also 1st company banner carrier Spike is getting coat of paint! XD he snuck his way into the line up.
Thats all for now and hope to have more up for everyone!.
Any questions are also welcome XD
---
A good attempt at it. The color's perfect and I can see you got the surrounding sparkle.

My only critique is that the face of it isn't smooth. A wrinkle is particularly visible. Have you considered using that new liquid GS?
---
@Dicrel: I am fixing it currently to see if i can remove that blemish on it.
So while I have some stuff that i just got in and waiting on other things I have good news! I finished 8th Company Captain Rarity. I added a few things and gave more jewels to her. I have to wait for the person with the jewels to come in (only on sundays) to get new ones.
The gems are on the purity seals that were added and maybe I need more. I didn't want to go overboard since that would be unfashionable.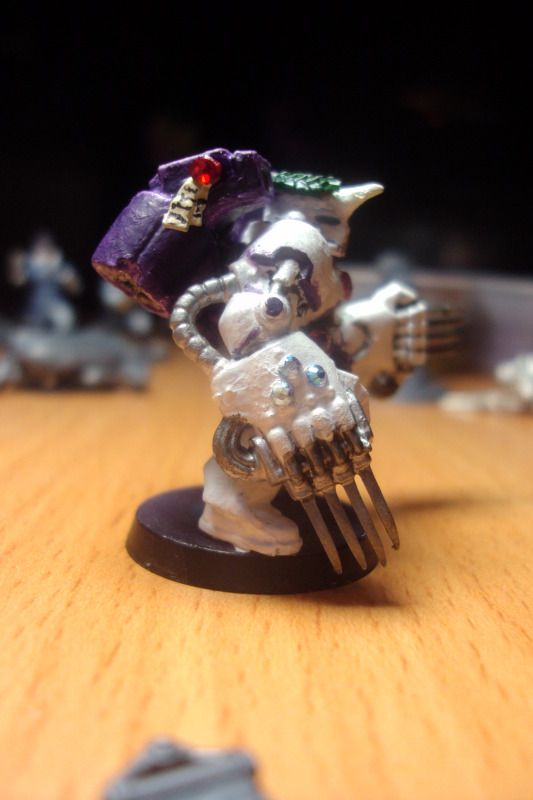 Im still waiting on finding out about those sakura pens lol but for now i can go with how it is to field her.
As a bonus for this update since I dont have AJ finished. (her paint is giving me trouble) I have a few shots of coming projects in the line.
Im waiting on the wings but i did get my Saint Celestia (yes i know) model that shall become Chapter Master Celestia XD.
Also along with her are the honor guard that will become the royal canterlot guards and their captain Shinning Armor who will be made from the Emperor's champion piece i got.
---
I have to admit that those red jewels on the purity seals really do look nice. I wonder if I could rationalize using them on some of my marines....

And when did Rarity have laurels? She didn't have them before right?

As for Celestia... bit to early to comment.
---
@Dircel: No Rarity didn't, i added it from the Command squad kit. Along with the seals that are all over the jump pack. I like to think i did a good job giving Rarity some nice gems lol.
As for an update, AJ is taking longer to do thanks to some problems with the paint not covering enough. Also a few other problems. As such I got off my rear and put together the green stuff for a bunch of my other ones that were waiting. Also did some work on another one that I haven't shown yet.
Now on to some pics of what i've done.
The first up is my Chapter Master Celestia. I did like many others and took the wings from the scourge kit and put them on her. I haven't found a good way to keep the cape with the cherub's as I kinda wanted to use it for part of her mane but i think i will stick with her hair and part of her back outfit becoming that.
I did a smaller horn but longer than my others and added what i could count as a crown along her brow. I wanna add a gem or two if i can get smaller ones for it but over all it worked well.
A longer range shot of the full model front side.
And one of her with her honor guard (unicorn ones) and Shining Armor (the emp champion).
w/o Celestia there.
And lastly for now a shot of Shining Armor solo.
I have a few new ideas that I'll be adding to my chapter layout list but for now i wanna get AJ done and complete my Mane 6. I still have spots open for any OC's that want in as I start to work on them and pick characters from the series to fill the spots. If you want one let me know!
C&C is welcome and appreciated so i know how well people enjoy this project and what i can fix. Thanks!
---
I can't wait to see how you're going to make the pastel rainbow on Celestia
---
If you can whine about it, you haven't been hurt enough.
Senior Member
Join Date: Nov 2011
Location: Staffordshire, Specifically Lichfield
Posts: 650
Reputation: 7

---
Your paint seems a little thick and not too smooth... I'm not sure why, Just stating my feelings
---
World's Worst Project-Logger.

Slightly Derranged, would advice staying away.
---
Quote:
Your paint seems a little thick and not too smooth... I'm not sure why, Just stating my feelings
On which model? If its the Rarity one it is, mostly because i had to redo the paint a few times and instead of removing the old because i didn't want to lose the gems and additions i left it so its particularly thick on that one.
---
This is ridiculous lol
---
"From the darkness we strike: fast and lethal, and by the time our foes can react... darkness there and nothing more."
— Raven Guard saying

Lower Navigation
My Little Pony Space marines - Updated 9/11/12