Cadian 7th Armoured Division
---
So hear we have the Imperial Guards Cadian 7th Armoured Division, I have already posted some pics from my IG before but the thread is too old to edit so I'm starting a new one ;)
(for those that want to see them they're here
https://www.heresy-online.net/forums/...t=76160&page=2
)
I have decided to call them the Cadian 7th Armoured Division after the Desert Rats in the 2nd World War. I love there history, the fact they went everywhere, fought everywhere and so on and so forth.
To start of I have Yarrick just because he is a cool model, he will rarely be anything other then a Lord Commisar but here he is (imho 185 points is a silly amount to spend on a man when a LR MBT is only 130)
Then we have my Techpriest Enginseer, I think I am going to call him Sebastian (as of about 10 seconds ago).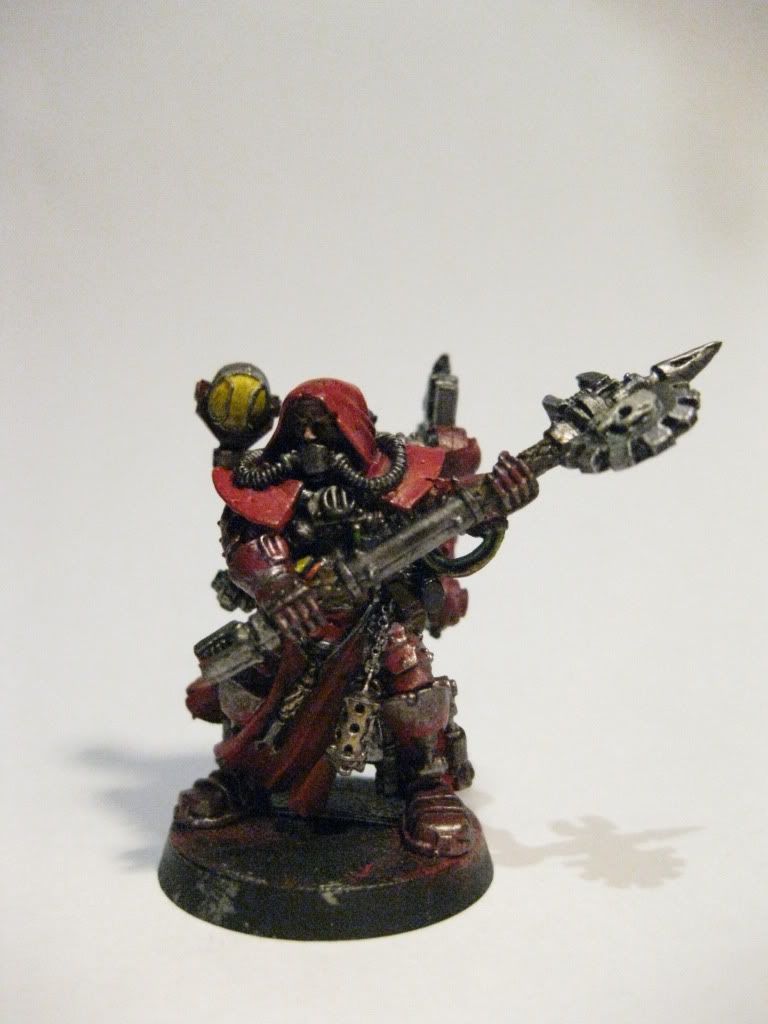 I'm going to re-paint the lamp blue, I blood hate yellow. . .
Then we have his servitors, I was going to call them A, B and C but then I thought that it was too boring so now they're Harriet, Hayley and Fred
C & C please guys be vicious
(also I would love if anyone had any suggestions on the bases)
---
Last edited by Hellados; 04-03-12 at

12:56 PM

.
---
For base you have plenty of choice that i can think of.

-Desert ( easy with sand n pva glue, paint with snakebit and brown colours )

-Snow ( easy and a lot of method but i use GW snow n pva, paint with white, ice blue )

-Plain or forest ( easy, using flocks, static grass, paint with green and yellow colours )

-Stony (a bit more complicated by using gravel and small stones, paint with grey and black tones. )

- City ( a bit harder, use metal wire and more scuplting for grid and masonery, paint in grey and black with some rust

-Jungle ( i found it quite hard cause you use ferns and more evoluate vegetals, paint in different shade of green and brown )

- Deamonic ( hard painting wise for a good lava effect, paint in hot colours ( red, orange, yellow) and black.
---
I think you should name the servitors Biggs, Wedge, and Jesse. If you are going to repaint the lamp, you could always go with a white and maybe blue wash effect.
---
Chaos- Black Legion & Steel Brethren
W:16 D:7 L:9 W:9 D:2 L:5

Eldar Dragon Claws Corsairs
W:16 D:4 L:2

Da Skull Krushaz
W:27 D:2 L:13

Space Wolves
W:14 D:0 L:3
Tzeentch laughs at likely
Join Date: Dec 2009
Location: Inside my Head, Bristol, UK
Posts: 8,554
Reputation: 44

---
They look very characterful particularly the servitors.

The metal areas look suitably oily.

However, your yellow looks patchy and quite thick, especially on the Techpriest's lamp.
---
@ troybuckle thanks for the comment
@ lunawolf I may assign numbers and role a dice
@ crabpuff I'm sorry dude I don't recognise the reference, liking the idea of the white on blue, will make it different to the blue lights on the tanks
@ Dave T Hobbit the techpriest looks nice but there was either too much shadow or over exposure
the reason they're blue is because of the term blue collar workers, the yellow. . . . I was actually sat with a pair of clippers looking at it, I HATE painting yellow, I forgot to put a bleached bone undercoat on it
Little update, I'm waiting till tomorrow to get some more paint so I can spray up the rest of the tanks then they're gettin camo etc
---
Those Servitors are actually great looking. And this is coming from someone who hates the models. :D
---
Win/loss record for The Fists of Vengeance- 20 - 1 - 8.
Hive Fleet Kraken- 7 - 2
The Unnamed Clan- 0 - 0 - 0
---
@ Minizke1; I hate the servitor models too but I need them, It means that my techie repairs my MBT on a 2+ and sometime I have ALOT of them, I'm actually building another 2 (one's on the SM log and the other one is the FW
Titan Tech Priest
just wish I could have more then 2. Also the servitors have powerfist servo arm attacks and as the techmarine only has one wound you can take the servitors off instead
@ forkmaster; I'm actually having a true nightmare with the tanks at the moment, air guns and a fear of weathering are slowing me down
---
Quote:
@ Minizke1; I hate the servitor models too but I need them, It means that my techie repairs my MBT on a 2+ and sometime I have ALOT of them, I'm actually building another 2 (one's on the SM log and the other one is the FW
Titan Tech Priest
just wish I could have more then 2. Also the servitors have powerfist servo arm attacks and as the techmarine only has one wound you can take the servitors off instead
@ forkmaster; I'm actually having a true nightmare with the tanks at the moment, air guns and a fear of weathering are slowing me down
Its alright, I got time and I know how long it can take to finish a tank. ^^
Lower Navigation
Cadian 7th Armoured Division