Senior Member
Join Date: Oct 2011
Location: Gdynia, Poland. Sometimes Evesham, Worcs UK
Posts: 726
Reputation: 11

---
It's been a while since the last update. I've been busy with my chaos marines and real life so haven't had much to report on the fantasy and random bits and pieces front.
I'm hopefully painting my Demigryph Knights for the army painting challenge this month but before I started them I wanted the bases sorted.
The bases for Demigryphs are way too big for the model imo so I'm trying to make them look more interesting. My army is based on a kind of flagstone effect because I eventually wanted to build a display for them which would be the docks area of a town. So with that in mind I've been coming up with ideas.
One such idea was simply to have a sewer cover so here's a step by step of my attempt!
Starting with the plain base I mixed up a bunch of greenstuff and rolled out enough to make a circle to mark out the area.
Next, I didn't just want a sewer entrance, I wanted something dark and malevolent staring out of it and the obvious choice would be skaven. Unfortunately I didn't have any skaven heads in my bits box so I went through until I found something suitable. It turned out to be:
A Banner top from the Empire Knights sprue. I chopped off its head leaving me with:
Next thing to do was make a drainage channel that would run into the sewer.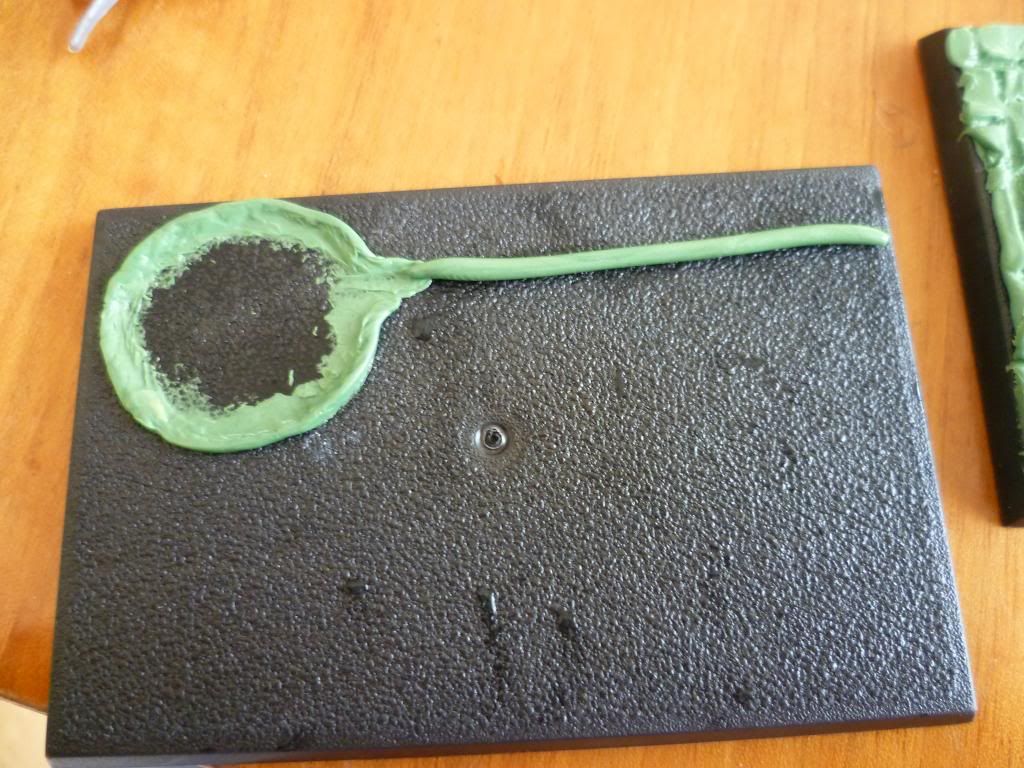 Which once smoothed down looks like:
When I was happy with that I took some paper clips and cut them to size in order to make the grille that covers the sewer. The first 2 are in place here: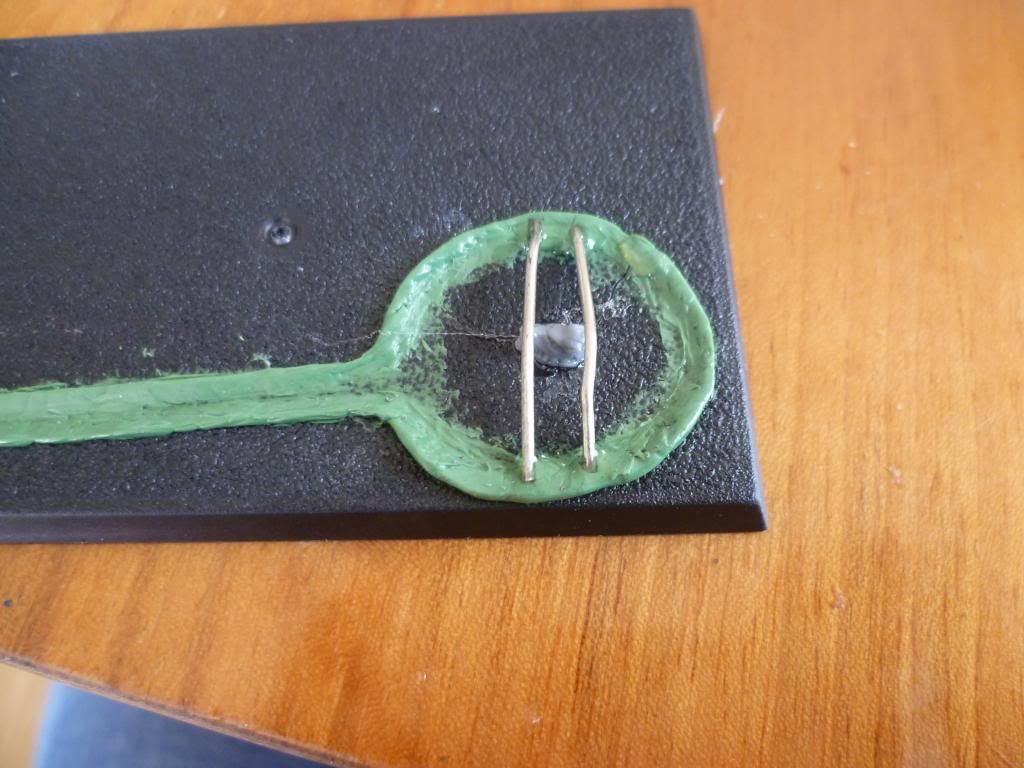 More paper clips and then greenstuff on the outer edge:
Then finally the finished article. Well, I say finished, there's a lot still to be done but that's the hard part.
More pics incoming when I finished the others :D
---
Are you going to use a touch of Water Effects on the sewer/gutter?
And I assume the "grate" is still loose so you can paint the critter?
In any case, great-looking work so far- wish I had the patience to do something like that...
---
That looks good mate, simple yet effective, I echo Den's thought about the water effects, I think it'd look great.
Senior Member
Join Date: Oct 2011
Location: Gdynia, Poland. Sometimes Evesham, Worcs UK
Posts: 726
Reputation: 11

---
Cheers for the kind words :D

I've never actually used water effects before but might consider investing in some at least for the drainage channel but maybe not the whole thing. I was thinking more of a deep, dark pit with inky blackness. Also with that in mind the critter I was going to keep fairly muted colour-wise but use OLS on the eyes for a glowing effect. The grate is actually glued in place but there's more than enough room for a paintbrush at most angles so shouldn't be a problem with painting.

I do have one more blank base, the other is already flagstoned up and will have barrels and crates etc on it. So, if anyone has any bright ideas about the final one nows your chance to have your say :D
Senior Member
Join Date: Oct 2011
Location: Gdynia, Poland. Sometimes Evesham, Worcs UK
Posts: 726
Reputation: 11

---
It's been a while since I've posted anything let alone an update on my project logs. I haven't had much chance to get stuff painted to be honest - I've had a crazy couple of months to say the least and real life was keeping me far too busy to escape into the world of eternal war.
As such this is only a small update - I'll hopefully be getting my Demigryphs started soon although I'm still not set on a colour scheme. However their bases are nearly finished which is at least something :D
Some WiP shots:
And the pretty much finished articles:
Due to part of that whole real life thing I mentioned, I no longer own a camera so these are taken on my iPod which as previously stated in the thread is terrible for taking pics xD
Still, feedback welcome.
Senior Member
Join Date: Oct 2011
Location: Gdynia, Poland. Sometimes Evesham, Worcs UK
Posts: 726
Reputation: 11

---
Another long break between updates! I've been a little bit out of the hobby over summer - not even because I didn't have the time, more like didn't have the desire although whenever I did I was working on my Alpha Legion (see other plog for updates on them)
I've actually started painting the demigryphs although I don't have any pics yet but I'm happy with where the actual demi's are going although the one knight I painted didn't turn out as well as I hoped.
I've been working on some older projects though including the Khorne lord which currently looks like this:
Basically I was thinking how best to make it stand up because all the weight is on one hoof and being a solid lump of metal it's hardly going to last long with just super glue.
I then had an idea which I now kinda regret purely because it took so damn long. I drilled a hole through the pin part that slots into the base and then searched the apartment for something that the model could stand on and yet was fairly thin and yet sturdy... I ended up with a bottle cap. So I then drilled a hole in the bottle cap and widened it so it was big enough for the leg pin to go through then with the 1mm drill bit put 2 holes in the cap on opposite sides. Then (and this was the bit that took efing forever and also destroyed my fingers - thank fuck I play bass and my finger tips are slightly calloused otherwise the damage would have been worse xD) I pushed a paperclip through the hole in the leg pin and pulled it through the hole in the cap then pushed one end through each side of the cap and pulled tight. It's now not going anywhere.
Hope that explanation was easy enough to follow - I neglected to take pictures as going along but the whole process worked and also elevated the model which is something I wanted to do all along anyway just because the pose kinda suits leaping off something.
I then broke out the greenstuff and went to town making a rock - it's not actually a solid block of GS, there's a few random bits from my bits box to give it some bulk.
Speaking of solid lumps of greenstuff if you've seen the plog from the beginning you may be wondering whatever happened to the lore of metal wizard. Well, that's the other project I'm trying to finish right now and I'm nearly there although I'm not 100% happy with the guitar holding hand but I might just paint it and just angle the model so no one will ever see the hand.... ever...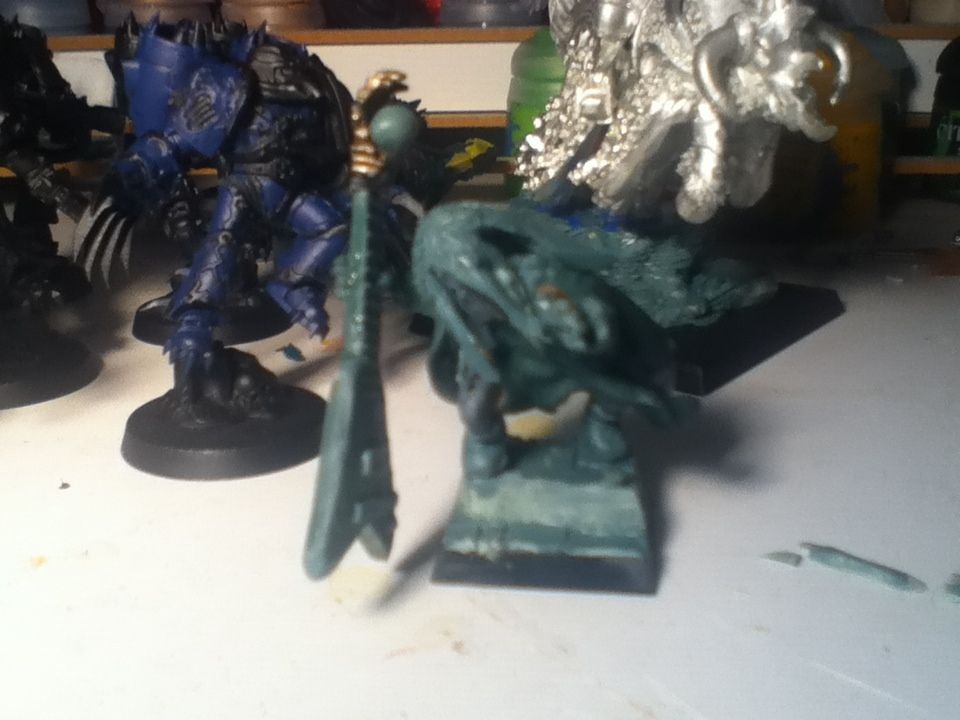 I took those pics right after giving the cloak a coat of liquid green stuff to smooth the whole thing out hence the shininess.
Anyway, comments welcome and encouraged - again, sorry for the iPod pics, I'm aware they suck but it's all I have for the time being.
Senior Member
Join Date: Oct 2011
Location: Gdynia, Poland. Sometimes Evesham, Worcs UK
Posts: 726
Reputation: 11

---
Small update but I'm trying to do more regular updates to keep myself motivated in the hope that I'll actually have more things finished than in progress.
The Khorne lord is coming along nicely and unless I find anything wrong with it in the morning is ready to be undercoated! I'm just waiting to finish the 3 chaos bikers I'm building so I can get them all done at the same time.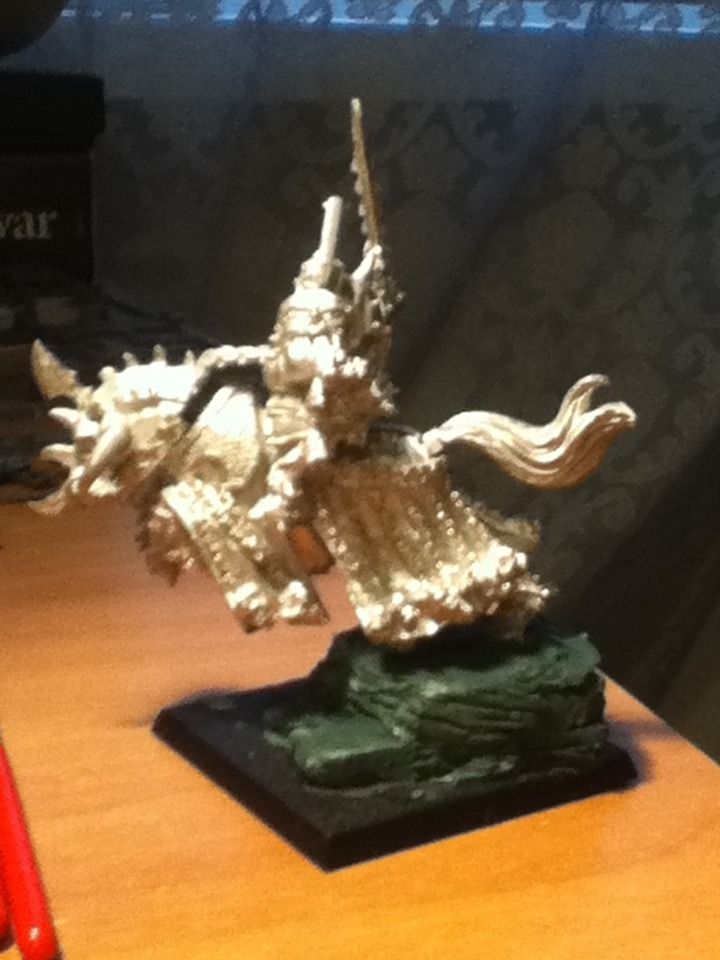 I really like the epicness of the pose which I really think only comes through when the model is elevated like that so I'm looking forward to getting him painted.
---
Oh I do like that Khorne Lord. You're totally right, his epic pose does come more to fruition when he is elevated - Great job!
Is there a chance you could get some less grainy photos though? A lot of the details gets mushed because of it
---
All things Chaos: Nordicus's Chaos project log
(Updated March 7th '19)
Senior Member
Join Date: Oct 2011
Location: Gdynia, Poland. Sometimes Evesham, Worcs UK
Posts: 726
Reputation: 11

---
Unfortunately I'm still using my iPod touch for photos and the camera on it sucks regardless of lighting, position or any other factors. But once I have a better solution I might retake and update some of the pics.
Senior Member
Join Date: Oct 2011
Location: Gdynia, Poland. Sometimes Evesham, Worcs UK
Posts: 726
Reputation: 11

---
Update time again. Been busy with various projects - chaos bikers and raptors are built and have a little paint on the raptors so far which can be seen on my other plog. Apart from those, I've done a little work on my Demigryphs and also an Eldar farseer I bought just to paint.
So here's the farseer so...err... far...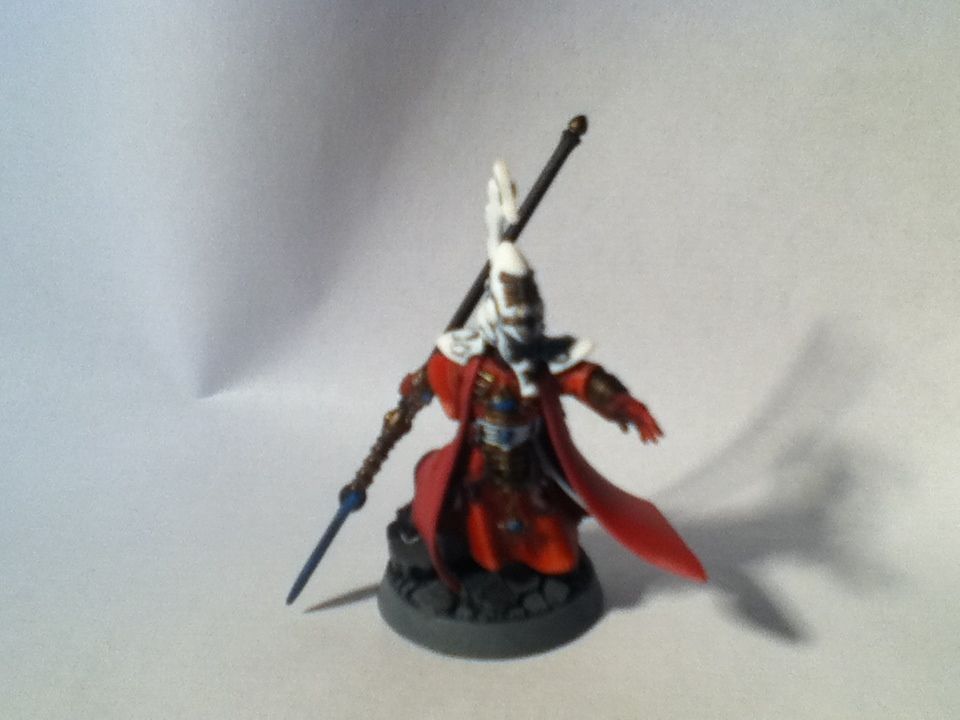 Pics are a bit blurry I know, iPod camera doesn't do well with artificial light and I played around with different methods but no improvement I'm afraid. Hopefully you get the idea with the farseer though anyway ;)
And now for the demigryphs. Points to anyone that can name the inspiration behind these: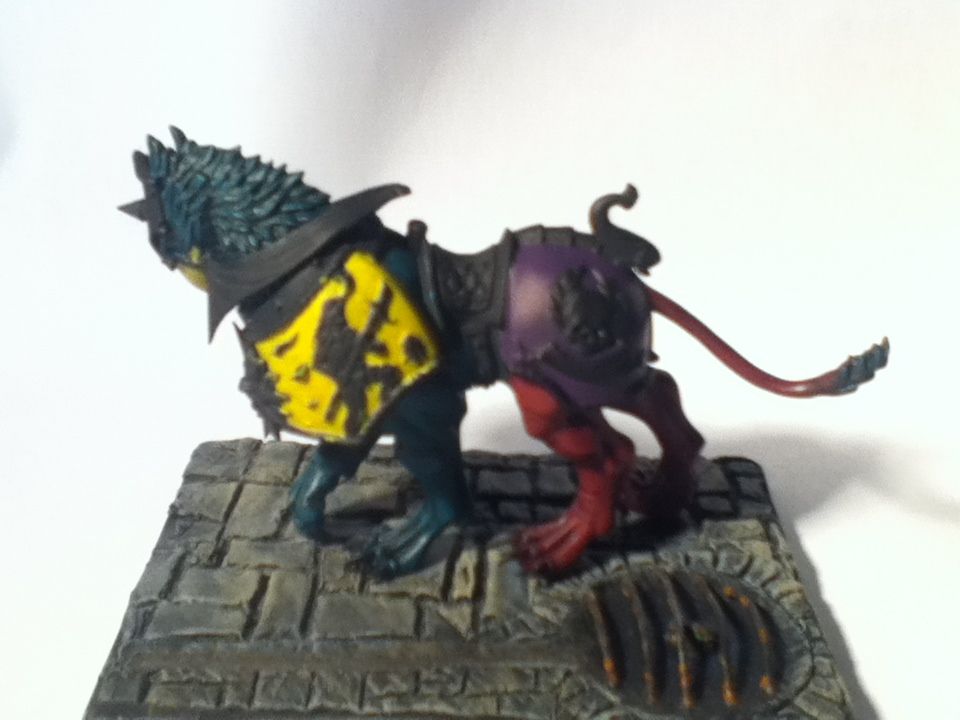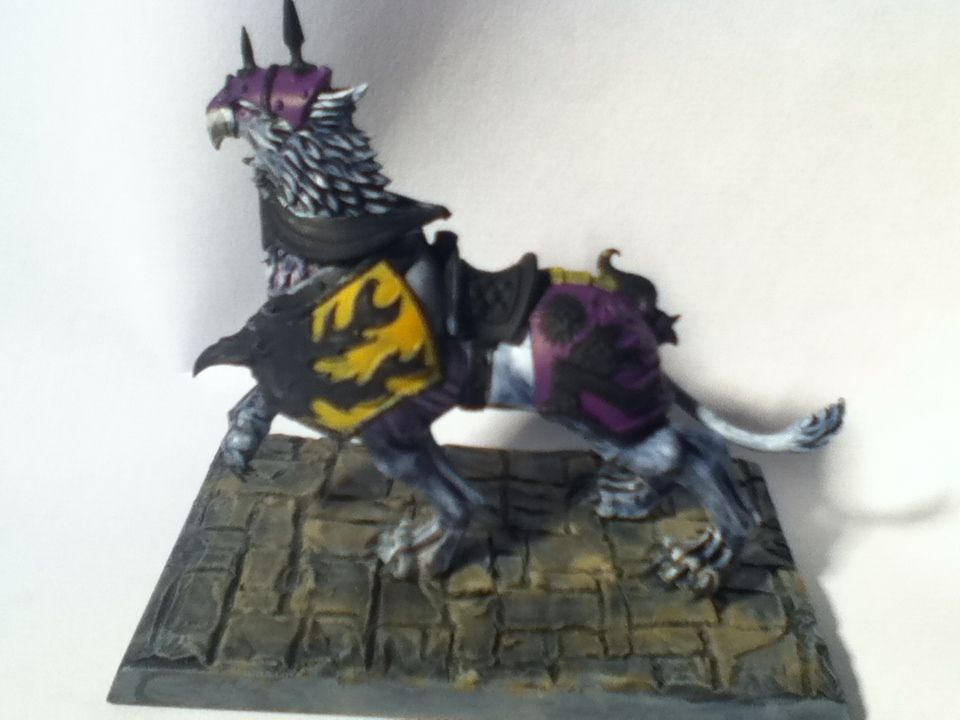 The white one is far from done, that's taken after the washes phase - I started with a base of admin grey and then white highlights then a wash of badab and one of drakenhof nightshade for a blueish hue. Now I just need to go over the white again - I just need to be patient with it and not rush through so it actually turns out ok.
Anyway, that's it for now - suggestions and other comments welcome
Lower Navigation
The suspense is killing me