Thousand Sons CSM
---
I've had a few people ask me how I got my blue on the thousand sons Terminator Lord, So here it is, with Thousand sons Marines.
This tutorial will only be for the blue sections, and I will add a post for the gold areas later on.
What You'll Need:
Assembled Thousand Sons Marines
Standard brush
Fine detail Brush
a little cup of water to wash your brushes
Paints:
Regal Blue
[You'll be using a 50/50 mix of regal and enchanted blue in this tutorial. You can mix it in a spare pot like I did, or mix it on the go, the choice is yours]
Enchanted Blue
Asurmen Blue Wash
I'm using Citadel Colors paints and brushes for this tutorial, if you know of their equivalents in other brands feel free to use them instead.
Now that you've got your supplies ready to go, let's get painting! Be sure to clean your brush before moving to the next step, and in between each of the steps as well. This will prevent cross contaminating your lighter colored paint pots.
Here We Go!
Starting with
Regal Blue
, apply your base-coat using the standard sized brush. If you keep your paints a little on the watery side it prevents brush marks and clumping.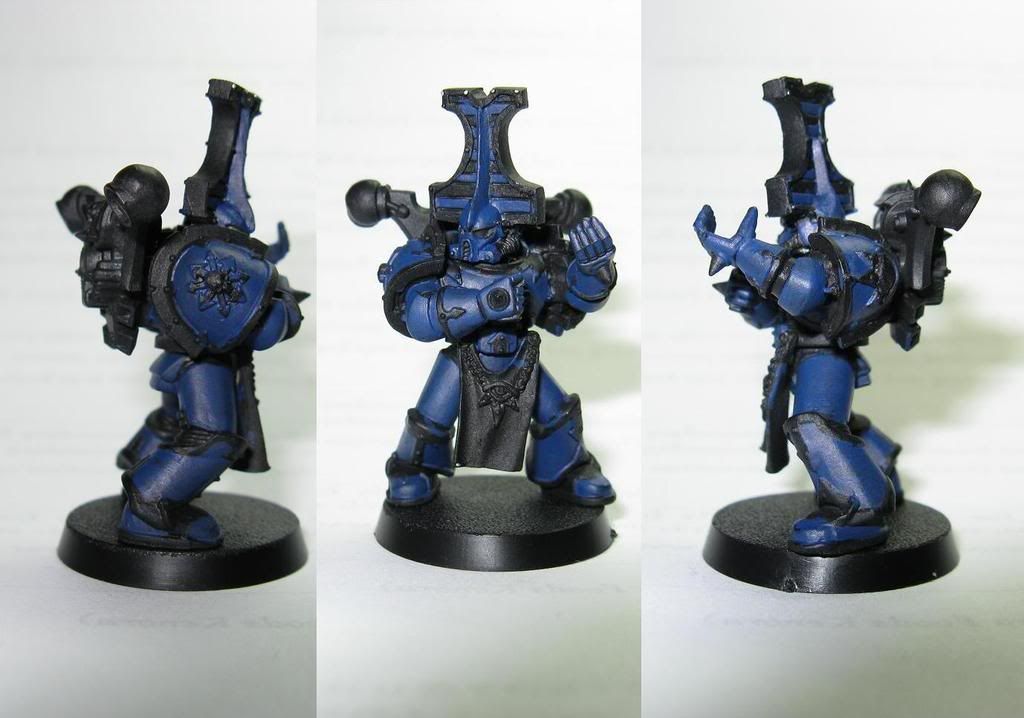 With your base-coat now in place, you'll need to create a
50/50 mixture
of
Regal Blue
and
Enchanted Blue
, either on a palette or in a spare paint pot as mentioned earlier. Again using your standard brush, apply the second layer in such a way that you leave a little of the base coat showing at the edges .
It should look something (even if a little neater) like this:
On to the 3rd color/layer! This one's straight
Enchanted Blue
. Paint this coat on in a similar fashion as the last one. Leave a little bit or the other 2 shades showing near the edges. Remember that adding a little bit of water to your paints helps the sit a little flatter and prevents brush marks and clumping.
Once it's all done it should look a little something like so:
Here's the fastest art of the model so far; The Wash. We'll be using the "
Asurmen Blue
" wash that was recently released by games workshop. The trick is to try to apply it evenly across the model. If you brush towards the cracks and crevasses it helps to get the wash to sit in them nicely. I wash fairly heavily, but it may take a little experimenting to get the effect you want. The heavier you wash, the more your highlights will stand out.
It will look like this when it's dried:
Hooray! The Final Step! This the last stop, so break out that detail brush and let's get started!
Using the fine detail pick out any sharp edges or lines with
Enchanted Blue
. I didn't add any other colors to it, it's straight out of the pot. If you didn't wash very heavily, the highlight might be a little weak, or too subtle. You can try adding a little ice blue or skull white to it for added definition.
Once you've done all that it should have turned out something like this:
Your lines are probably a little neater than mine, so it might even look better than this. If so, you've done a great job and should give yourself a at on the back. All told, this process took me about 2 hours. you might be faster, since i paint at a snail's pace, so don't be discouraged if it's taking a long time.
You may also have noticed, I left the details off the shoulder pads, but that's just personal preference and I didn't want to draw any extra attention to them. You can paint the highlight on them if you like. And, of course, this may vary slightly depending on how you assemble your thousand sons marines.
Here's a pic of some of my Marines I've yet to finish. They were all painted using this very same technique
Enjoy your newly painted Thousand Sons!
---
Thousand Sons: 5W - 2L - 0T
Emperor's Children: 7W - 1L - 1T
Necrons: 1W - 2L - 1T
Salamanders: 3W - 1L - 1T
---
Nice tutorial boss, +rep.
---
one thing I want is the ability to split my fire everywhere, it makes no sense that a squad of 10 guard or marines or whatever all have to fire at 1 target with everything, is the guy with the lascannon not smart enough to realize maybe he would be better off firing at the massive tank looming overhead instead of the little man no bigger than a squat running at him, or is that far too complex for the 10yr olds?
My Thousand Sons Project Log
My Warriors of Chaos Project Log
My Cryx Project Log
My Necron Project Log
---
This is awesome! I just use Ultramarines blue, but this looks better
---
I've posted my secrets in my project log at least once, you just have to read all the posts. I'll add the gold to this Tutorial later on.
---
Thousand Sons: 5W - 2L - 0T
Emperor's Children: 7W - 1L - 1T
Necrons: 1W - 2L - 1T
Salamanders: 3W - 1L - 1T
---
Dude, looks like I finally have to break open that extra box of 1K Sons and retire the current ones. Rep definately given.
---
they looks really sweet dude
rep +
---
How ironic it is that as fast as we spread progress and hope throughout the galaxy, the Tyranids spread death and despair. Only united can we hope to stand against them.

Aun'shi of the Tau Empire
---
Very useful - 30 1000 sons are next on my list, shall be following this thread - i'm assuming the gold is mixed with the old flesh wash?
---
I am the White Knight!
---
No, I don't have any of the old washes. I only just got back into Warhammer a couple months ago. My Necrons are the embodiment of half-assed, no effort painting. These are my first detailed figs ever.
---
Thousand Sons: 5W - 2L - 0T
Emperor's Children: 7W - 1L - 1T
Necrons: 1W - 2L - 1T
Salamanders: 3W - 1L - 1T
---
thanks matey been looking for a tut for thousand sons for a while + rep great job
---
" YOU ARE MY UNBROKEN BLADES , YOU ARE THE DEATH GUARD ! "
Lower Navigation
Thousand Sons CSM