Game of the Month May '09 - Classic Battletech
---
Featured Non-GW System of the Month - May 2009
Classic Battletech
http://www.classicbattletech.com/
Contents
Foreword
Brief Introduction to Classic Battletech
The Game
The Miniatures
Stockists
My Rating
Foreword
Now, you are reading the 'Featured Non-GW System of the Month - May 2009. This Months chosen system is 'Classic Battletech'. Throughout this Review you will find out a bit about the game play of Classic Battletech and the miniatures. Also, a list of stockists holding Classic Battletech products can be found at the end of this review (NOTE - I cannot guarantee a Full List)

If there are any comments or criticism about the layout/display of the review or the theme of the review, then please - let your thoughts be known as all Opinions and Ideas will be taken into account and considered to help Improve this Feature.
Brief Introduction to Classic Battletech
Battle Tech is a sci-fi table top game that involves giant man-controlled robots, called Mechs. The game is either played with actual models of the Mechs, or cut-outs diagrams of the Mechs (both are official products). Players can use all sorts of Mechs: Weak, Quick and Light Mechs, Strong, Slow but Heavy Mechs, or Average Mechs. This game has been out for over 20 years, and it is still well known today by others.

Classic Battletech Is a Game that dates back to 1984 with the game called battledroid. Battledroids is basically the same game as battletech George Lucas held the rights to the word droid so the name was changed to battletech. Game fluff there are many factions that make up the battletech universe and many time eras. There are 3 main categories The Inner Sphere, The Clans and the Periphery.
The Game
Battletech is played by dice, but it also involves alot of pencil and paper. While the actual models/map doesn't take long at all to set up, writing out all the stats, the weapons, and the armour for each of the Mechs may take awhile to beginner players. There are also numerous charts and rules that you have to follow as well, such as overheating, cover, jumping (to some Mechs), missiles fired, and targeting. While the game may seem difficult at first, all it takes is a bit of time to memorize the contents of the game, and you could eventually play Battletech without constant looking at the charts (although the paper/pencil part is pretty much as must at all times).

Games are played by players choosing Mechs. There could be two people choosing one Mech, two people choosing three Mechs, or 8 people choosing one mech each. There's no official rule to what you have to play by, it's completely up to you! Mechs are chosen by their weight catagory. They are either Light Mechs, Medium Mechs, or Heavy Mechs. You won't have one player choosing a Light Mech, while another will choose a heavy Mech. That's suicide!


The Game Box set comes with the following:



24 unpainted plastic BattleMech miniatures
12-page Quick-start rulebook
32-page BattleMech Record Sheet book
80-page full-colour rulebook
Inner Sphere at a Glance booklet
16-page Painting and Tactics Guide
Two heavy-duty reference cards
Two 22″ x 27″ full-colour double sided mapsheets
Two six-sided dice
One full-colour, poster-sized map of the Inner Sphere circa 3067



In the Game the Players can face off in one on one to army vs Army There really is no number to how many people can play. The Very Basics of the game is as Followed roll for Initiative, Movement, Combat, Heat and Close Combat.The Game is not very hard to play and can be learned very quickly.

All in all the game is very fun There is a ton of source books and hundred of miniatures available for the more advanced players to invest in there is also a fairly large online community for the game

The game also has many expansions. Some dating from the 80's, other's are still coming out today! There are endless possibilites to how you want to play this game. More Mechs on the field, the funner the game is. Believe me.
The Miniatures
The game was originally created by FASA Corporation, but they were bought out by WizKids in 2000. Wizkids was eventually bought out by Topps Inc. In 2003, as they are still the current owners of Classic Battletech. The minitures are published by Catalyst Game Labs.

I really like the Classic Battletech miniatures although they're nothing compared to the quality of GW's products.
Classic Battletech Battlemaster Mech
Classic Battletech Rifleman Mech
Classic Battletech Mantis Mech
Images taken from Top shelf games and exodus-road.

Stockists
Below you can find a list of stores that stock Classic Battletech products.
As I'm no longer very close to Classic Battletech at all I'm not overly sure of any other sites that sell their products. If you know of any others PLEASE let them be known here or PM me them.
My Rating

For each System of the Month I will give a rating of what I think the game is like (1 being terrible, 10 being excellent).
My Rating - 9/10
- Classic Battletech is an incredibly fun game (at least from my memory it was
) and in my opinion it certainly is a 'Classic'.
Thank you for reading!
Special Contributors this month:
---
Regards,
Jake.
---
Last edited by Red Corsairs; 05-04-09 at

07:56 PM

.
---
Awesome write-up there Red
. The game is more fun when played with the models, not the cut outs. The cut outs are kinda sad actually...
---
I love me some battletech. Played the hell out of it when I was a kid, but I had to laugh when I saw the "Classic battletech" Battlemaster and Rifleman
Which are, of course, NOT the classic versions of those two mechs (because of some sloppy, messy trademark squabbles with Harmony Gold about images FASA (the original makers of battletech) used from Robotech.
Original Battlemaster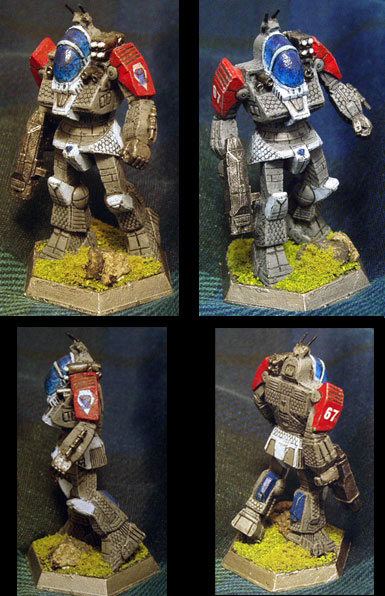 Original Rifleman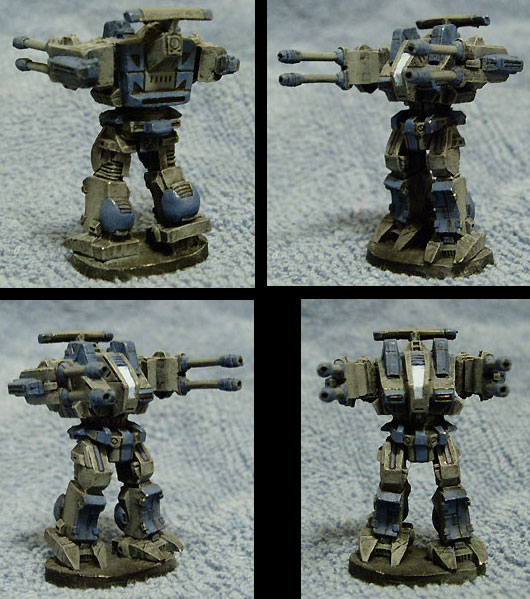 The original 14 battlemechs from the game when it was first released (along with a couple later additions) were mostly borrowed whole cloth from the mecha of the first Macross series (which in the USA was released as the first season of Robotech). Others (like the Battlemaster) came from Fang of The Sun Dougram, which was not released in America, but the model kits were released by Revel and tied into Robotech for marketing.
Eventually FASA got their pants sued off for co-opting the images (I was never too clear on whether they had attemped to license them originally, or if they just plain ripped them off), and after that they stopped making the minis of the original 14, focusing initially on later period variants and redesigns and original mechs. I never actually saw what became of them in the re-release.
I must sya, I prefer the look of the originals, but that's an old timer's take on it.
Assuming they kept "Classic" battletech the same as the original rules, then I'd highly recommend it to anyone who's into giant robots beating the living shit out of each other. You can still find the original books on ebay or in the used section of you local FLGS for a song, and they're well worth looking into.
---
-=============]xxxxo Galahad oxxxx[=============-
Check out the Heresy Combat Calculator -- MathHammer Made Easy!

Codex: Angels Errant. Read it, please.
Heresy Forum Rules -- Read them, damnit!
Reporting: When/How/Why -- Read that too!
"...remember the Golden Rule: Chill out, they're only plastic spacemen!" -Brother Jazzman
"Galahad is 100% correct in his explanation. Anyone who says otherwise to [him] is vastly mistaken." -The Wraithlord
"
You know what? Fuck DC comics."
-Robert Downey Junior

---
It is a fun game. That is a great review. I do agree it is more fun with the miniatures the the old cut outs.
Also for a while there was fantech were fans could sculpt official designs and if they were accepted they were produced.Some fans also backed the sculpting of some of the minis
---
"It is better to die for the Emperor then to live for yourself"
---
Iron Wind Metals makes some beautiful mechs.Rob
---
This game is THE SHIT! I can honestly say that this is the game that got me into both RP and Wargamming. There is no way I would be playing Warhammer had it not been for Battletech. I still have all four of the numbered edditions, you know, back before they tried to make people use rulers like in warhmmer, failed and renamed it classic battletech to get their customer base back...
---
I've got just about every original Battletech supplement made by FASA, all the tech readouts, mos tof the map sets, and a metric ton of original Ral Parthaminis (plus a few sets of the plastic ones from the boxed sets...and the original punched out cardboard ones)

Somewhere lurking in my rec room is a huge, epic-scale battletech table my father made back when he had a game shop. It was made of huge slabs of styrofoam, modular...with 3D hills that were customizable and stackable, cut on a hex grid to avoid debates on curvy topograhy versus hex battle grid.

This was before every game store was legally required to have nothing but warhammer tables LOL. It was back when we had the 2nd edition boxed set on the shelf with an inch of dust on it. So we had a battletech table that got used pretty much whenever the space wasn't needed for Magic: The Gathering
---
-=============]xxxxo Galahad oxxxx[=============-
Check out the Heresy Combat Calculator -- MathHammer Made Easy!

Codex: Angels Errant. Read it, please.
Heresy Forum Rules -- Read them, damnit!
Reporting: When/How/Why -- Read that too!
"...remember the Golden Rule: Chill out, they're only plastic spacemen!" -Brother Jazzman
"Galahad is 100% correct in his explanation. Anyone who says otherwise to [him] is vastly mistaken." -The Wraithlord
"
You know what? Fuck DC comics."
-Robert Downey Junior

Slave to Heresy!
Join Date: Oct 2006
Location: Essex
Posts: 8,803
Reputation: 26

---
There was a way to play classic battletech online as well. Going back a few years I tried to get into it but totally couldn't understand the rules.

5 losses later I gave up... I'll see if I can find it.
Lower Navigation
Game of the Month May '09 - Classic Battletech