Game of the Month April '09 - AT-43
---
April 2009!
Contents
Foreword
Brief introduction to AT-43
The Game
The Miniatures
Stockists
My Rating
Foreword
You are reading the 'Featured Non-GW System of the Month - April 2009'. This Months chosen system is 'AT-43'. Throughout this Review you will find out a bit about the game play of AT-43, the miniatures of AT-43 and stockists will be found here too towards the end of this review (NOTE - I cannot guarantee a Full List).
If you have any questions about this review or the featured system after you've read it, then please feel free to ask away.
Brief Introduction to AT-43
AT-43 is a Sci-Fi tabletop war-game which uses 28mm miniatures and terrain created by the popular French company called Rackham and was initially released in December 2006 (same month as this website!). Unlike the majority of Tabletop war games however, AT-43 miniatures are all supplies pre-assembled and pre-painted allowing players to be able to jump into the battlefield immediately after starting up. It is an intense and fast-paced game in which experience war gamers can test their tactical abilities and in which beginners can discover the pleasure of thrilling futuristic battles with a game easy to learn and ready to play.
The Game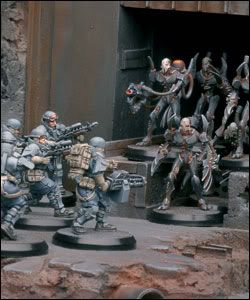 AT-43 is described by its' creators as something that could be compared to a mix between chess, for the tactical part, and poker, for the luck and bluff components. In AT-43 humanity is at war with the technologically advanced and robotic race of the Therians whose wish is to transform all planets in order to create their ideal paradise. Although the UNA and the RedBlok (described later) are often assumed to be the Human Race it is not strictly true as it is in fact the Therians who are the true Human Race. This is known from the fact they reside from a small Solar system on the spiraling arm of the Milky Way called SOL and originates from the third planet from the sun (as you know, Earth).
AT-43 features an interchangeable parts aspects in which allows all players to modify their models in order to better suit them for their personal strategies which they will incorporate into the game. Also provided for the game are various pieces of 3-dimentional terrain and 2-dimentional gaming mats that allow players to choose between playing mission-based objective games or standard skirmish based games.
AT-43 was inspired by various historical happening:
Quote:
Main inspirations for AT-43 were typical science-fiction tropes from the 1950s and 1960s, but updated with a modern slant. The Cold War and the escalating conflicts from that period are also themes in the game. Stylistically, the game tries not to depict a dystopian future, but a future where propaganda from each side paints everything in bright colours.

Metaphorically speaking it is fairly easy to separate the U.N.A and the Red Blok. The Red Blok draws its visions directly from the formation of the Communist Party, and the background of their formation seems to draw historically from the struggles that brought about the Bolshevik Revolution. The overthrowing of the government by its people sends a strong message about authoritarian rule and exploitation, leaving a lesson to be learned, while the motivation behind the political changes paints a beautiful vision of an egalitarian society.

The inspiration for the U.N.A. is almost an exact doppelganger to the formation of the United Nations after WWII, and shares many similarities to it. Their goal is to provide a peaceful existence for humanity, but in their struggle for control they have managed to forget about the interests of the people that they rule, and instead of leading a Democratic Society, they tend to be a little heavy on Socialist Ideals. This type of power struggle appears to be a resemblance of the United States struggle to maintain a uniform system of government throughout the world, and the ups and downs of their efforts.
AT-43 is designed for people of the age 12 and over and is designed for two or more players. To master this game then a great amount of Strategic skills will be required as the game itself is very strategy based. One game will usually take around 5 minutes to set up and around 30 minutes to play (on average).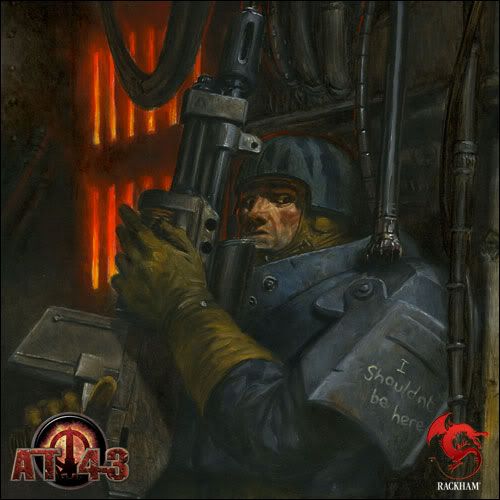 U.N.A Concept artwork
There are six forces in AT-43:
· The U.N.A - The U.N.A. army, known as the White Stars, are typical sci-fi space military, supported by heavy mechs.
· The Red Blok - Red Blok is a second human army. Their design harkens to that of soviet Russia, circa the 1940s - 1960's, and their illustrative back-story adds to the historical satire of their existence.
· The Therians - Therians are a hostile invading race of post singularity humanoids who use skeletal, cybernetic troops. Therians are in fact the descendants of humanity and that Sol is the sun at the heart of Thera, the first habitat they constructed.
· The Karmans - Karmans are an alien simian race, with advanced battle armor. They use strong melee attacks and fast, close range, shooting weapons, which are assisted by quick hover vehicles.
· The Cogs - Not much is known about the Cogs. They have been shown carrying quantum blades and a large, multi-shot missile launcher.
· The O.C.I - They appear to be a UNA corporation of cybernetically enhanced zombies, equipped with prosthetic weapons, TacArms of their own design, and their guards appear to wear UNA armor, paired with masks.
Links to rules:
· http://www.at-43.com/pdf_EN/AT43/AT-43_rules.pdf
· http://www.at-43.com/pdf_EN/AT43/AT-43_game_rules.pdf
The Miniatures
The miniatures produced by Rackham for the game AT-43 are of all pre-painted and pre-assembled and for this type of miniature are extremely good especially for the pre-painted side of things. All miniatures are plastic. The sculpts are also very good for pre-assembled minis in my opinion.
Here are some of the miniatures provided: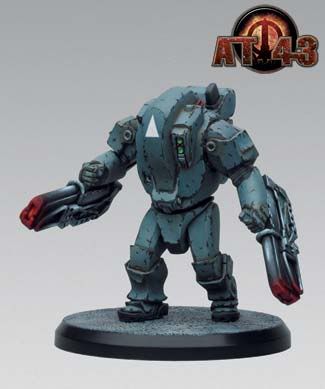 U.N.A Steel TacArms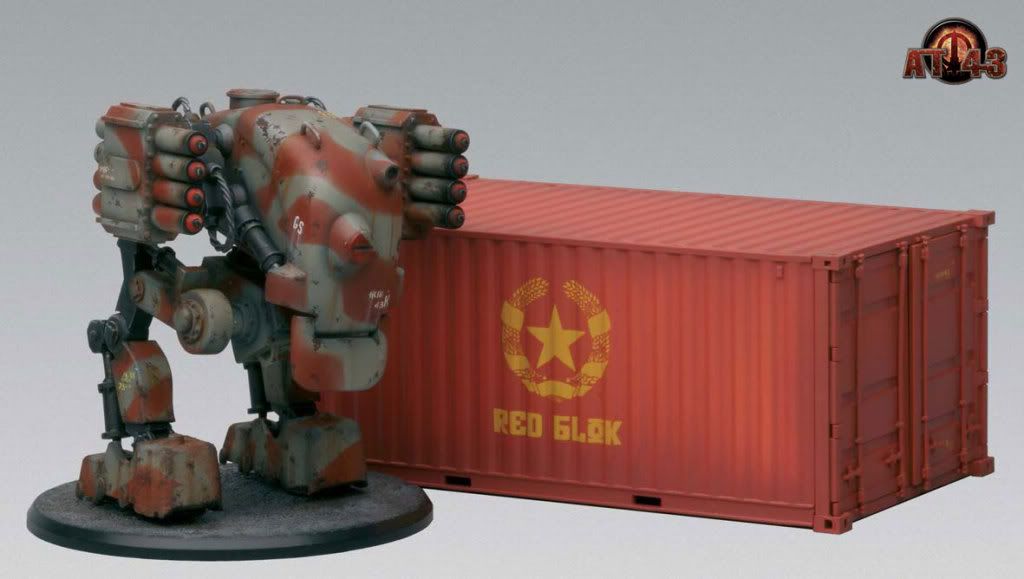 RedBlok Kossak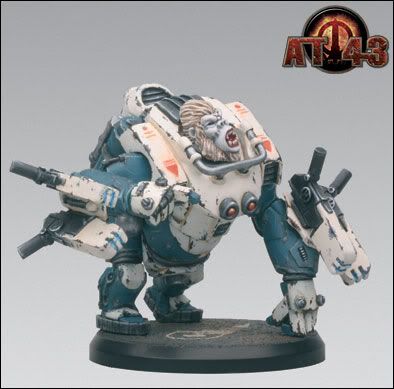 Karman Venerable Kornelius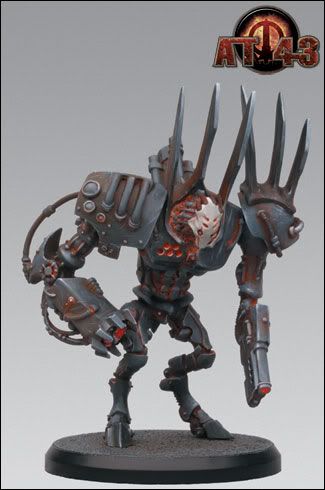 Therian Assault Goliath
Stockists
Here are the stockists I know of so far. I will add to it as I go but I'm not known for knowing many independant retailers so it's only the few I do know that stock AT-43 that'll be listed here. If you know of any others feel free to let me know so I can add them to the list.
· http://www.rackham-store.com/boutique_us/index_travaux.cfm?code_lg=lg_fr
· http://www.arcaneminiatures.co.uk/at43-miniatures.asp
· http://www.wargamesworkshop.com/GroupList.aspx?CatID=5&DivID=94
· http://www.thewarstore.com/AT43.html
My Rating
For each System of the Month I will give a rating of what I think the game is like (1 being terrible, 10 being excellent).
My Rating - 7/10
– I am rating AT-43 a 7 for the reason that although it's very good I am personally not a fan of the 2-D gaming mats it uses and the fact it's pre-assemble and pre-painted. However, it's still a good system that works fine and as far as the models go, they are incredibly high quality for pre-assembled models and the painting on them is very good.
(if anybody doesn't agree with my rating, that's fine. Remember, it's just my rating and my opinion, many people will have different opinions)
See you next time in
'Featured System May 09 – Classic Battletech'
(If you have any pictures of your Battletech miniatures you'd like to submit into next months review or anything you would like me to include then please PM me the stuff. Don't post them in this thread, this thread is for the Featured System April 09 ONLY! For more information on this please visit - https://www.heresy-online.net/forums/...ad.php?t=30426)
Thanks for reading!
---
Regards,
Jake.
---
Last edited by Red Corsairs; 03-30-09 at

06:43 PM

.
---
I apologize for the earlyness and the screwed up layout of this one, It keeps screwing up for me however it's my computer and not Heresy. Sorry for any inconvenience.
---
Regards,
Jake.
---
its all good, your only a day early (and march needs less days anyway)

I like it. Those models are pretty cool, and better painted than my army! I really like the therians. The idea of humanity going crazy on the universe is one of my fav sci-fi styles. And that walker thing is BADASS.
---
"A true king is never alone, his will is equal to the will of all of his followers."
-Alexander the Great, kind of
---
I for one have always thought a pre-painted game would be great for those people who play rather than paint in these sorts of hobbys. I think if i was always gaming i'd definately give this one a try, the models themselves are like red said, very detailed and well painted and you can always paint over them anyway ;) i know players of the game have.
---
Thanks.
I feel the same way as you moo, and it's lovely when you can just buy the models and game. But I'm so fond of painting it would seem wrong
---
Regards,
Jake.
Join Date: Apr 2009
Posts: 39
---
i play a lot a this game for the moment i play to the frosbite campagne is very good.
For the mini i ll liked it a lot specially the kolossus, the pre-paint is cool but i prefer repaint the mini is easy we don't need to sub-layer the minis we painted directly, like this this pics:
a Kolossus re-paint in white with a brush
front side:
from side:
the other:
from back:
the urod :
from side:
from back:
---
Last edited by kolossus; 04-09-09 at

02:05 AM

.
---
Wow, those look awesome, post them onto the Modeling Section, it doesn't matter if they aren't GW, with this quality, you need more rep!
---
They are incredibly nice minis kolossus! Definitely deserving of some +rep! Post them in the Other Systems section of the Gallery if you get the chance please
---
Regards,
Jake.
Lower Navigation
Game of the Month April '09 - AT-43