Game of the Month Mar '09 - Urban War
---
March 2009!



Urban War
http://www.urbanmammoth.com/um/html/uw_urban_war.htm



Contents



Foreword
Brief introduction to Urban War
The Game
The Miniatures
Stockists
My Rating




Foreword
You are reading the 'Featured Non-GW System of the Month - March 2009'. This Months chosen system is 'Urban War'. Throughout this Review you will find out a bit about the game play of Urban War, the miniatures of Urban War and stockists will be found here too towards the end of this review (NOTE - I cannot guarantee a Full List).

If you have any questions about this review or the featured system after you've read it, then please feel free to ask away.

Brief Introduction to Urban War
Urban War (Urban War: Strike-Team Actions) is a fast paced Sci-Fi Tabletop Miniature wargame for two or more players to take part in created by the company Urban Mammoth. It enables players to control a small team of soldiers from the option of different factions and compete against other factions in war within the city planet of Iskandria in the Void Universe which now also faces the threat of alien invasion. In Urban war you're able to build your teams to suit your own favorite tactical strategies, it encorporates an experience based system allowing for a unique variety of choices in-game.

The Game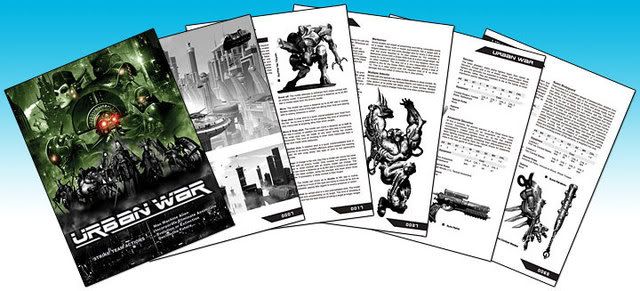 Urban War

being a skirmish game the action is focused around individual models. Each individual model acts independently when it comes to making its' turn. A regular warrior can even take out a battle hardened hero in the quick and lethal combat system.

Urban War

is a quick paced and exciting Miniature Wargame. Battles are all foughtout with small teams generally sizing between four and twelve miniatures, for this reason gathering an army playable in

Urban War

is easy and won't hurt the pocket

Troops have different levels of experience, the higher the experience the troop has, the tougher and more stable it will be on the field of battle. These highly experienced warriors can with luck defeat the majority of their lesser enemies and this twist to the system allows for many more tactical and strategic battles. The game as previously mentioned is indeed a multiplayer game and any 3+ players battle allows for players to either choose to betray their teammates or to choose to work together to fight off other factions.

During a game turn each player takes it in turns to make one of his or her models do something, play then moving on to the next players turn. This results in a more speedy gameplay and also continues untill all the models in play have done something. This makes the game more exciting because it means that you can be constantly involved in the game right untill the last minute.

Urban War

also encorporates a special rule called Shock and surpression. The shock roll represents the temporary debilitating effect of a sudden 'shock' occurrence. For example, close to being hit by enemies incoming fire may cause a shock roll to be enforced upon the victim. As expected, higher experienced troops are less likely to be effected by Shock than their lower down comrades, though it still happens. This gives the game an added realistic touch.

Urban War

also includes another special rule called Quick Play Orders which allow for the game to be played quicker. It means that all players models must have their own general course of action within the game and not untill more tensifying moments later on in the battle can specific activities be chosen. Aswell as adding to the tension of the battle throughout, it's also yet another feature that allows for more tactical twists.

You may have heard me mention the different factions that players are able to take control of earlier? Well here is a little more detail on them. Each player may choose to take his small warband of troops from one of the different factions listed below.

The Factions playable are:

Junkers

Gladiators
Triads
VASA
Viridians
Syntha
Koralon

Each different faction represents a different group of residents of the city planet of Iskandria ranging from Human cyborgs of the Syntha to the galasctic Law enforcers of VASA (apart from the Koralon who are aliens from outer space coming to invade and interrupt the war already waging).

Urban War

miniatures can be used in

Metropolis

(another game by

Urban Mammoth

) and likewise.

You can download the rules for

Urban War: Strike-Team Action here




The Miniatures
The miniatures produced by Urban Mammoth for the game

Urban War

are of extremely good quality in my opinion when it comes to quality of the cast and also quality of detail in the sculpt itself. Not only do the models look fantastic when painted on the battlefield but I think they have a unique sci-fi feel to them, I don't know why, I just do

Here are all of the strike-teams available for

Urban War.

Please note that aswell as Strike Teams there are also other blisters available to purchase that you can use too.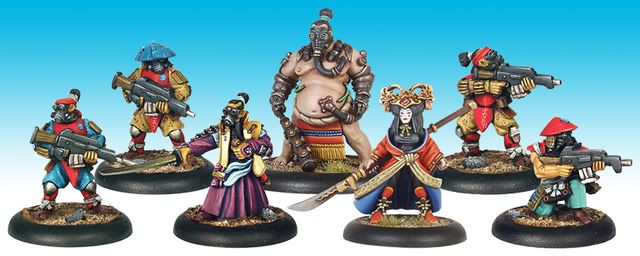 "Triad Strike-Team"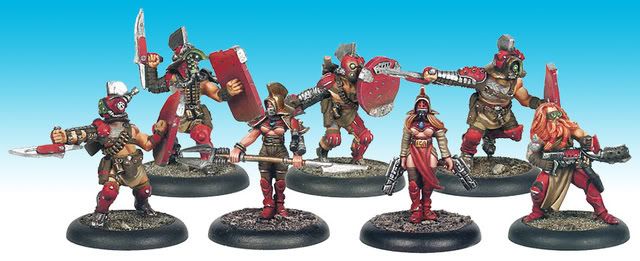 "Gladiator Strike-Team"
"Junker Strike-Team"
"Koralon Strike-Team"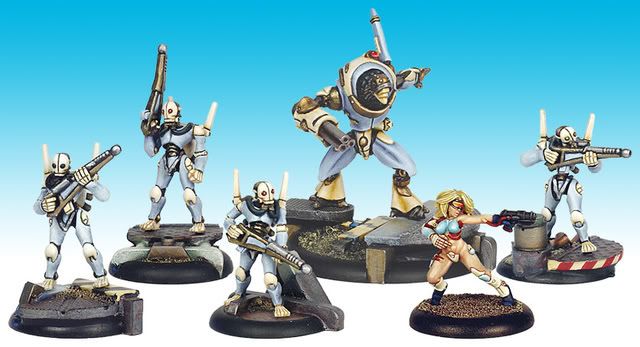 "Syntha Strike-Team"
"VASA Strike-Team"
"Viridian Strike-Team"
Stockists
Here are the stockists I know of so far. I will add to it as I go but I'm not known for knowing many independant retailers so it's only the few I do know that stock Urban War that'll be listed here. If you know of any others feel free to let me know so I can add them to the list.





My Rating
For each System of the Month I will give a rating of what I think the game is like (1 being terrible, 10 being excellent).
My Rating - 8/10

– I am rating Urban War an 8 for the reason that although it's a very good system I personally have seen better. However, it's still a good system that works fine and has a few nice rules added in such as 'Shock' for example which I do really like. And to add to that, the miniatures are flipping awesome
(if anybody doesn't agree with my rating, that's fine. Remember, it's just my rating and my opinion, many people will have different opinions)





See you next time in 'Featured System April 09 - AT-43'
(If you have any pictures of your AT-43 miniatures you'd like to submit into next months review or anything you would like me to include then please PM me the stuff. Don't post them in this thread, this thread is for the Featured System Mar 09 ONLY!)

Thanks for reading!



---
Regards,
Jake.
Powered by Squig Tea
Join Date: Jan 2007
Location: In da Toolz cupboard in da Mekshop
Posts: 7,589
Reputation: 53

---
Nice review.

The Virdian Strike Team looks like a good base for Death Korps of Kreig Stormtroopers imo.

Nice minis all round.
---
Quote:
that looks realy good- what scale are the minis? i am asuming that citidel paints go on them quite nicly, cos some of those modles will look nice in an iquistors retinue.
They're pretty much the same scale as 40k so they'll be fine I should think.
---
Regards,
Jake.
---
The Junker Strike-Team looks like they could be the forefathers to the Space Marines
---
Quote:
They're pretty much the same scale as 40k so they'll be fine I should think.
thats great.
Slave to Heresy!
Join Date: Oct 2006
Location: Essex
Posts: 8,803
Reputation: 26

---
Those are some of the best alternative models I've seen.

They look awesome for Necromunda. The Gladiators and VASA are superb.
---
Quote:
The Junker Strike-Team looks like they could be the forefathers to the Space Marines
I suppose they do a little don't they, what with the Eagle and the
'Power-Fist'
and all. Cool.
Quote:
Nice write up as usual Red, always interesting to see information about new systems (well, new to me!
). It is surprising just how many miniature games there are actually.
Thanks. But yes, there really are tonnes of games systems out there.
Quote:
Those are some of the best alternative models I've seen.

They look awesome for Necromunda. The Gladiators and VASA are superb.
I have to agree with you on that one to be honest, my favourites are the Viridians, though they are all really nice models.
---
Regards,
Jake.
Senior Member
Join Date: Nov 2008
Location: In a chair, in front of my computer
Posts: 1,282
Reputation: 2

---
I think with a bit of converting i might use the Koralon Strike-Team as raveners!
---
Praise the sun!
Lower Navigation
Game of the Month Mar '09 - Urban War