Game of the Month Dec '08 - Flames of War
---
Featured Non-GW System of the Month - December 2008
Flames of War
http://www.flamesofwar.com/

Contents
Foreword
Brief Introduction to Flames of War
The Game
The Miniatures
Stockists
My Rating
Foreword
Firstly, I'd like to apologise for posting the first Featured non-GW system of the Month early, however I do have a reason. I cannot gaurantee that I'll be able to access a computer on the 30th November or 1st December and I'd rather post it earlier than later, so here it is.

Now, you are reading the 'Featured Non-GW System of the Month - December 2008. This Months chosen system is 'Flames of War'. Throughout this Review you will find out a bit about the game play of Flames of War and the miniatures. Also, a list of stockists holding Flames of War products can be found at the end of this review (NOTE - I cannot guarantee a Full List)

This being the first ever, if there are any comments or criticism about the layout/display of the review or the theme of the review, then please - let your thoughts be known as all Opinions and Ideas will be taken into account and considered to help Improve this new Feature.
Brief Introduction to Flames of War
Flames of War is a World War II tabletop miniatures wargame created by Battlefront Miniatures Ltd. The Flames of War miniatures game allows you to command a company level force and 'Re-enact' battles from the European and South African theatres of World War II or to carry out missions against other Flames of War armies. The miniatures used in the game are to a 15mm scale (1/100). Battlefront Miniatures Ltd itself is situated in New Zealand.
The Game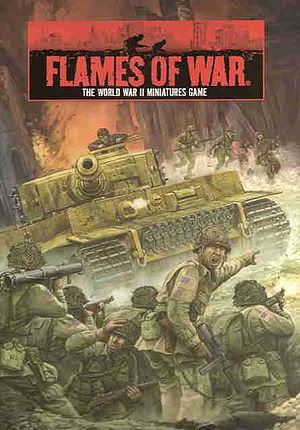 The Flames of War miniature game takes place over a series of phases in which the players take turns to do; movement, shooting and close combat. If you are unfamiliar with this game, then you're probably thinking, "That sounds a lot like the Gameplay in Warhammer 40K". If you are thinking that, then you're exactly right! This sequence of gameplay allows for those unfamiliar with rules to learn them quicker.

Players control their armies using company-level tactics. Their army is divided into squads, each represented by a single stand. The miniatures themselves are usually sold in Platoons which consist of several stands of miniatures. As I may have not explained this well enough, here is one squad (or 'half-squad') of infantry (on one stand):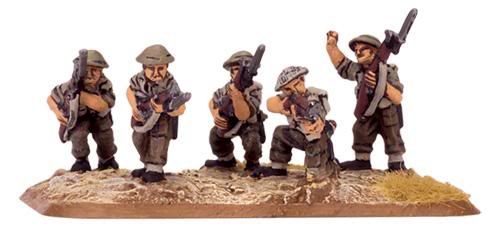 Stands are not only used for Infantry but are also commonly used for either an Artillery piece (including the crew) or a single vehicle. Aircraft are also involved in the game (well, it'd be silly for them not to be) and have their own Flying stands. Aircraft are represented with a slightly smaller scale to everything else (1/144).

The Flames of War miniature wargames armies are determined by using a Points system similar to that used in Warhammer 40K and Warhammer Fantasy Battle. D6 (six sided dice) are used for the gameplay, again, as with W40K and WFB.

The rulebook contains lots of different scenarios and missions allowing you to fight in Battles which happened years ago in World War II and capture objectives etc. To add to that, each individual Sourcebook has further scenarios in which you can participate (scenarios in Sourcebooks are usually linked with the subject of that specific Sourcebook).

The Flames of War rulebook doesn't only contain army lists and scenarios, but it also contains lots of background information about battle that took place in World War II. It also has Painting, assembling and army building guides to help you get started with the basics.
The Miniatures
It's the miniatures that make a Tabletop wargame more exciting, so the miniatures for Flames of War may aswell have their own section.

Quoted from http://www.flamesofwar.com/:



Quote:

We take pride in the quality of our products and constantly research accuracy. We are committed to giving you the most detailed range of scale WWII models on the market. We aim to bring alive the atmosphere of one of the greatest conflicts of the 20th century.

I certainly believe they've done that. The miniatures Flames of War produce are high qaulity products and a great addition to any collectors Display cabinet.

Here is a Gallery of products available for Flames of War: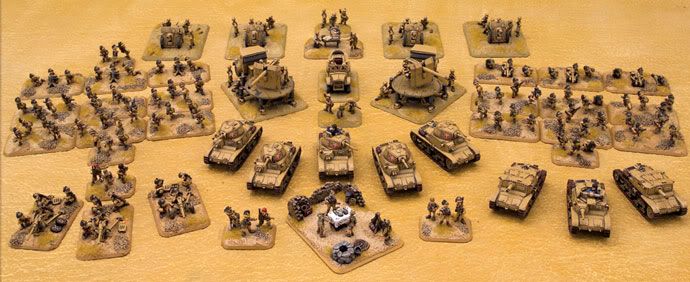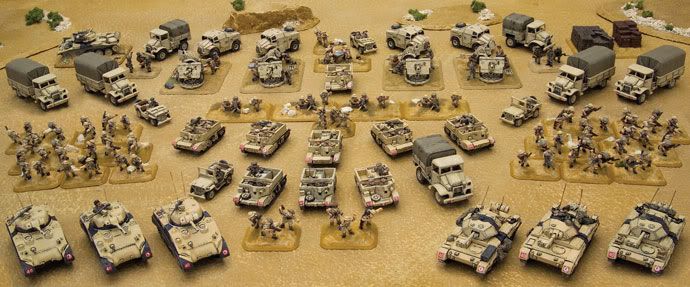 For all the miniatures see the Online store at -
http://www.flamesofwar.com/Default.aspx?tabid=79
Stockists
Below you can find a list of stores that stock Flames of War products.
As the list of Stores holding Flames of War products is so large, I am going to link to the Flames of War 'Stores' page. Once you are there, just use the store locations list on the sidebar to track down a store near you.
For each System of the Month I will give a rating of what I think the game is like (1 being terrible, 10 being excellent).
My Rating - 9/10
- Flames of War is a brilliant Historic wargame with great gameplay and some nice models. If you haven't played it before, I suggest you give it a go
Thank you for reading!
---
Regards,
Jake.
Slave to Heresy!
Join Date: Oct 2006
Location: Essex
Posts: 8,803
Reputation: 26

---
Awesome report Red Corsairs,

Reading through brought up a couple of questions about the miniatures, are they predominantly plastic or metal?

Clearly they're on a far smaller scale to 40k so the detail isn't so hot although the vehicles do look superb.

Some of the guys down the club were playing this, will have to look into it further.
---
Never played FoW myself but there are a few players in the area and they rave about it. Nice review Red, very concise.
---
one thing I want is the ability to split my fire everywhere, it makes no sense that a squad of 10 guard or marines or whatever all have to fire at 1 target with everything, is the guy with the lascannon not smart enough to realize maybe he would be better off firing at the massive tank looming overhead instead of the little man no bigger than a squat running at him, or is that far too complex for the 10yr olds?
My Thousand Sons Project Log
My Warriors of Chaos Project Log
My Cryx Project Log
My Necron Project Log
---
I never could get into FoW myself, but as games go, it seems to be a solid rules set-- and this was a solid report. Kudos, Red Corsair!
---
IN THE US? ASK ME HOW TO GET 10% OFF GAMES WORKSHOP PRODUCTS!


---
Brillaint review there Red, I've seen this around but have never really looked into it properly. Didn't realise they were a NZ company either.

Whats the pricing like for this? About the same as GW products or less?
---
wow great review mate, like jez ive seen people play but not known too much about it myself.
youve gotten some great pics in there as well, which i know sounds silly but it really helps people get an idea of what its all about
---
Thanks for all the comments about the review, it's nice to know that it's been appreciated and helpful.

@Jez - The miniatures are generally cast in white metal. Vehicles are unique in that they are made of two mediums. The hulls are cast in polyester resin, which gives a sharp attention to detail, while more delicate components are cast in white metal to provide robustness.

@Jacobite - Their generally cheaper than GW. A standard Aircraft costs 70 NZD (£25), whereas a Standard Rifle Company (which Contains 1 Command Rifle/MG team, 1 Light Mortar team, 1 PIAT team, and 6 Rifle/MG teams) would cost 30 NZD (£10). So yes they're relatively cheap.
---
Regards,
Jake.
Lower Navigation
Game of the Month Dec '08 - Flames of War