---
Awesome update, Arete is an interesting character, look forward to seeing more about her
.
---
"Evil is relative…You can't hang a sign on it. You can't touch it or taste it or cut it with a sword. Evil depends on where you are standing, pointing your indicting finger."
-Glen Cook, The Black Company
Tales of Heroism and Bravery, in the 41st Millennium and the Old World. Perhaps some Realm Gate Wars in the future
.
Gods' Hall (Completed)
https://www.heresy-online.net/forums/...d.php?t=161618
The New Word (Completed)
https://www.heresy-online.net/forums/...d.php?t=121879
---
Quote:
Great to see you guys team up. Very enjoyable so far. When's the next bit?
Quote:
Awesome update, Arete is an interesting character, look forward to seeing more about her
.
Thanks so much guys. The next part is in the works and hopefully will be done soon.
---
Chapter 2: III
'
No
.'
The word had little resonance to it. It did not echo throughout the large chamber. Its deadweight simply seemed to crush all other sounds. At some point, the shuffling uniforms, the clatter of medals bumping into each other, the clipping of closing data slates and styluses sliding into their resting spots, broke the silence.
The Fabricator-General, disenchanted, managed to get himself to officially conclude the meeting.
'That is all for now, everyone. A host of adepts will be outside to greet those who have just recently arrived and show you to your faction's accommodations here in the habitation area of my forge. Everyone who has agreed to lend aid will also be given all of the necessary preparation information by day's end. Thank you for your time and support of Ryza's concerns and endeavours.'
The audience began standing and walking down the tiers of steps toward the floor. A slow crescendo of conversational volume began. The multitude of servo-skulls now moved through the air at a faster pace, finished with their recordings. Some of them left through veiled holes lining the high points of the chamber's walls, their crimson optic-lights revealing the hidden escape routes, lighting up the edges of these small tunnels as they swam into them, disappearing.
Officers pushed back their large, heavy thrones, shaking the hands of those who had been sitting nearest to them. Several of them made their way around the length of the table to set up further, more private meetings with those they would be working alongside, or simply to get the chance to create a greater camaraderie with the other leaders of the investigatory force.
As they did so, they had to be careful when making there way around, and practically under, the towering, armored Space Marines who began to stand as well, moving to rejoin their respective groups. Marines in dark-orange and metallic-blue already stood waiting on opposite sides of the room, at the base level of the seated tiers.
The Fabricator-General had barely moved. He stood with his little projector wand, still extended but pointed low towards the floor, same as his gaze. At the drop of Akillian's single word decision, the Fabricator-General's ebullient nature seemed to float away from him like a soul attaining apotheosis, no longer needing its physical husk.
Ludus Ghral, the Princeps-Majoris, still stood firmly by his side. Though his posture remained strong, certain points of his facial structure seemed concerned for his long-term colleague. One could safely say it gave away the fact that these two were not just peers, but, friends.
'Not exactly what I had hoped for, Ludus.' He said quietly, turning to the Princeps.
Ghral shrugged in his heavy, studded plate.
'The higher you set your ideals, the more room there is for disappointment.'
'I am
disappointed
, that out of
five
Astartes Chapters, only one of them showed up and agreed to help.' retorted the Fabricator-General.
'Both Garr and the Fire Lords have agreed to lend their mighty hands, Lord.' continued Ghral, who had just noticed the Commodore, Nymeros, still sitting patiently at his place along the table's edge as if deep in thought.
One of the Fabricator-General's hands waved quickly through the air, dismissing the fact, the rest folding back beneath his cloak.
'Garr has helped me more than once, yes, he is a longstanding ally. However, my needs have never been a priority for his clan of Iron Hands. He always answers in such a manner, that he will help but to some undefinable degree. Delayed. Who knows for how long?'
He circled around, almost in place, glancing over the groups as they continued to depart the large chamber.
'The Fire Lords are in debt to us. They wouldn't have come otherwise.'
Ghral nodded and grunted, to indicate he saw that to be true.
'And the Catachans - they are practically our neighbors! How is it possible the Munitorum has not already sanctioned a force of them for our cause?'
In thought, one of his many long, golden fingers reached up to a delicate head-framing piece that represented a chin.
Ghral noticed the Commodore finally take a deep breath, straighten his jacket with the palms of his hands and stand up making ready to leave. Beyond him, the imposing phantom-like figure of the Executioners Chapter Master passed through the chamber doors into the Grand Hall, light reflecting off of the coronet on his head but little else. His band of warriors followed in his wake.
'I will never see him again in my life. I must admit though, I am curious as to why he made his decision.' said Ghral.
The Fabricator-General's jovial nature suddenly returned.
'Perhaps, it is not too late!'
He was already scurrying across the long, hot room.
-----
The Executioners had reached the intersection of the Hall, where they had first ran into the Fire Lords not long before. The small crowd began to thin and separate, led in different directions by their hosts.
The tech adept that had led them from the orbital station to the Fabricator-General's Forge was waiting for them dutifully. He raised his gray-fleshed face, which tugged at some of the shorter cable hoses attached to his neck and throat.
'You travelled far compared to most of our other guests, Lords, will you be staying?' asked the adept, bowing his head again, straining the cables in the opposite direction now.
Grimir answered for the group.
'We will be departing immediately, of course.'
'Very well, I shall-'
A rather shrill voice erupted from behind them, hurried, interrupting the adept. It was the Fabricator-General.
'Lord Akillian! Please, wait, I implore you to stay a bit longer.'
'I presume what you implore, is for us to reconsider.' said the Lord Speaker of the Dead.
The Fabricator-General hesitated, anxiously turning his eight-eyed, metal head back and forth between the Chaplain and the Chapter Master. He found it an odd thing that he had addressed Lord Akillian, and the other had responded. He wished to speak with the one who actually
made
the decision not to go to Golan. His advanced brain worked arduously for a moment, trying to calculate a way to get Akillian to talk, and not his right-hand.
The Chapter Master's emotionless metal mask stared blankly at him. Rectangular eye slits with nothing but blackness behind them. The Fabricator-General dealt with augmented men and women every day. Many of them had no flesh left to their faces, either. They should have been even more emotionless than this peculiar individual, but somehow even their machine augmentations seemed to provide more insight to their thoughts than this devious creation for a face. He began to doubt if anyone was actually behind the mask, seeing nothing but a hollow, giant suit of armor and cloak. He may have believed this, if the being inside hadn't spoken earlier.
The High-Executioner was bigger than his comrades. At least in his armor, he was both taller and broader than any of them. Rather than having the chapter emblem painted on, he had a physical representation of it strapped to his left shoulder pauldron with large criss-crossing chains. Two battle axes were bound tightly against a large slab of Stygian Redwood, carved into the shape of the shield. The dense wood held only a faint shade of red, but got the point across all the same.
To compensate for balance his right shoulder plate was covered in large, blunted molecular bonding studs, and heavy-looking skulls dipped in some dark metal alloy dangled from its edge. A large black cloak was draped over the rest of him. It concealed everything, all the way down to the king's feet, revealing no shapes or points to guess where his weapons or hands may have been.
The Fabricator-General only then realized that the Fire Lords' leadership, those invited to sit at the table and have a hand in the council, had complied with his request to come unarmed. These warriors had not, in the slightest, obeyed that request. Apparently no one who had seen them prior to the meeting had been able, or willing, to do anything about it. He did not blame them.
'I sent one of my finest emissaries all the way to your homeworlds, to your great fortress in the void. You came all this way. Records indicate that your Chapter has not been committed to any major engagements for more than half a century. Is it too much to ask for at least a more elaborate reasoning to your decision?'
Absolutius Akillian inclined his posture towards Grimir, giving a single nod. The Death Speaker nodded back, looked at the Fabricator-General one last time, then turned and left, taking the other Executioners with him.
The king spoke.
What is your name Fabricator-General? I admit, it has never been revealed to me.'
'My apologies, Lord Akillian. My designation is Beta Nine One Four Phi Five Two Xi Three Three Zero Gamma Kander Fi-'.
The High-Executioner revealed one of his hands. He Brought it up open palmed to stop the senior Magos from speaking further.
'Fabricator-General it is.' Said Akillian.
'Very well, as you prefer,' accepted the Fabricator-General, 'There is no chance of changing your mind, then?'
Praetorian Guards had appeared as if out of nowhere. Akillian noticed them practically lining the walls in every direction. Ghral, the Princeps Majoris, stepped out into the Hall from the council chamber, arms in their ever-crossed position.
'I fail to see
why
you need my Executioners.'
Something beneath the Magos's robes tinkered and tapped.
'As I mentioned earlier. The Golan mining operation is essential to our military production here on Ryza. It is of utmost importance that it continues to operate in capable, faithful hands. Beyond that, we are dealing with a traitor. That is not something I am used to seeing taken lightly. Throne knows it is our primary function to expel and prevent any person or group from aiding the Great Enemy.' he paused, 'The
betrayers
.'
He formed a many fingered fist from one of his golden hands, shaking it in the air before Akillian.
'Make no mistake about it. You are fortunate I have a lot of patience.' said Absolutius, 'You cannot even confirm that there are traitors in this system you speak of.'
The Fabricator-General turned to the side, head low, pressing fingers together from multiple hands. He began to pace, slowly.
'Lord Akillian, Rho-Theta XVII…' he shook his head now, solemn, not sure what to say, 'If something is wrong with the Golan system, then something is very,
very
wrong in the Golan system. This is not a threat that I can simply wave off.'
'Even still, you have assembled more than enough force to utterly crush any resistance there into oblivion. Our presence would only add to the already ostentatious display. It feels like I was called here to undertake an
errand
, not a crisis, not a war, not something that will reaffirm our existence. Waltzing around a few arid moons and orbital refinery stations, barely even knowing what it is that we are seeking is not what the Executioners do, Fabricator-General. We
slaughter
armies.'
They looked at each other in silence again.
Before the Fabricator-General could think of anything else to say, the High-Executioner's back was already to him, quickly gaining distance.
---
Last edited by unxpekted22; 03-26-15 at

01:03 PM

.
---
Great update, can't wait for the expedition to get underway
!
---
"Evil is relative…You can't hang a sign on it. You can't touch it or taste it or cut it with a sword. Evil depends on where you are standing, pointing your indicting finger."
-Glen Cook, The Black Company
Tales of Heroism and Bravery, in the 41st Millennium and the Old World. Perhaps some Realm Gate Wars in the future
.
Gods' Hall (Completed)
https://www.heresy-online.net/forums/...d.php?t=161618
The New Word (Completed)
https://www.heresy-online.net/forums/...d.php?t=121879
---
Chapter 2: IV
On board Night Hag
En route to Stygian-Aquilon
A fist, gloved in metallic-blue power armor, hit home. The other Marine's backside slammed into the wall behind him with the distinctive ring of ceramite chafing steel. Their boots hammered the floor as each tried to get the best footing. Uppercuts and knee strikes - clumsy fighting for Astartes.
They were beating each other senseless. So much had been pent up.
Here, in a small circular space serving as the connection point between two passageways of an enormous ship, is where a petty and minor disagreement had spilled over the edge. The place they brawled was brightly lit compared to the passages it connected. The fluorescent light above the two Executioners shone harshly off the edges of their suits as they swung, blocked, struck and dodged.
Their names were Erol, and Bharun.
The first and last major war they had been in was Hassla, against the Orks there. Ironic that, without a new enemy to fight for so long, they too had fallen to fighting each other instead.
The clang of power armor cuffing power armor flew down the cold corridor, hitting Conric's bristling ears. Three of his brothers, all members of his squad, followed him.
Yells and grunts echoed, somewhat, bouncing off the metal innards of
Night Hag
. The Executioner's main Battle Barge, their flagship, was fully submerged in the Warp now as it travelled home from Ryza. The exorbitant crone sailed smoothly, undaunted by the chaotic tides that were thrown against her hull.
The Strike Cruisers
Bootscraper
and
Gallows Glare
, her powerful escorts, travelled within the large wake she left in the waves behind her.
Akillian's First Company was the only one aboard the Night Hag, but its thousands of mortal crew and passengers kept it far from feeling desolate.
Bootscraper
had remained in the hands of Eirgrud and the Fifth Company.
Gallows Glare
, was the Eighth's.
Though some of the Executioners within these three vessels agreed with Akillian's decision, not one of them was happy to be going home without the good fight they were looking for.
Particularly
the younger ones.
The Executioner to Conric's left was Tevfik. His armor's right shoulder guard had been re-shaped into the visage of a giant skull. Plumes of parchment, with oaths and deeds scribbled down their lengths, spilled from the skull's mouth and eye sockets. He was a grim individual, bleak to the bone. He had come to find Conric, to let him know of the scuffle that had broken out between Bharun and Erol.
Röda was to his right. Both he and Tevfik were slightly taller than Conric. Röda was ever-silent, only speaking when necessary. His armor was styled, in such a way, that it appeared drenched in blood. The twin battle axes of the Chapter symbol were emblazoned large over his reddened chestplate. Two sets of billhooks hung from his waistline. His hands were balled into fists.
Behind him, was Savvas. His name meant war in their culture's tongue, Dünyalar Konuşmak, and he embodied it perfectly. Of the four of them, he was the oldest. Tevfik and Röda had been inducted during the same period of the Chapter's history as Conric.
'I almost felt the need to put a leash on those two before we walked onto Ryza,' started Conric, 'Now, there is no question.'
'The altercation with the Fire Lords and returning to Stygia-Aquilon rather than sailing to war, were the final nudges, I'm sure.' replied Savvas as they walked.
'Bharun's embarrassment,' suggested Tevfik, 'he takes his anger out on the child, since he can do no such thing to the Lord Speaker of the Dead.'
'He was a fool to strike at the Fire Lord anyway. We could have killed the Champion, but only because he would have been busy slicing Bharun in half.' concluded Conric.
Erol, his face bleeding, got a good angle in and went wild with the opening. A dozen follow up strikes went into Bharun's front before he lashed out another of his own. Connecting directly with Erol's knuckles, the punch came with a sickening crack of the wrists. They cared not for the dim figures approaching them, until the Red One stepped between them, parting them with a single hand on each. When Erol tried to shove Röda's arm aside to get at Bharun once more, the older Executioner's hand immediately went from Erol's chestplate, to his throat.
Through clenched vocal chords, practically gagging, Erol tried to speak.
'My Honor...for my honor.'
'There is no honor in this.' said Savvas, bluntly.
'Both of them, Röda,' ordered Conric, and the Red One's right hand moved from Bharun's chest to his throat, as well. He held them both at arms length, throwing their backs against the walls. Erol's face was beginning to lose color. His hands were clasped onto Röda's forearm.
'The two of you are anything but invincible. The only reason you were elevated to the Ilk Kardaslik is because the Chapter was lacking in number. You were placed with the Enjur Emektar specifically, because you both had the kind of talent needed for it.' Said Conric.
His face twisted into a visage of torcherous violence.
'I need you improving those talents, not wasting them by killing each other over nothing!
Imbeciles
!'
He slapped Röda on the shoulder guard, who then released both of the Marines. They fell to the floor in a heap. Bharun spoke first, rubbing his throat as he got back to his feet.
'It won't happen again, Cavus.'
Erol coughed.
'Why aren't we headed to Golan?' he asked.
Conric looked over Erol for a moment, gathering his answer. Erol was the newest to the squad, the youngest, Bharun was the second. During the Hassla campaign, Erol had been nothing short of ruthless in his charges, and miraculously came out alive of the most daring assaults, time and time again over the ten year period. He achieved the first kill of his squad in Third Company so often during engagements that, once the space opened, he was chosen for one of the newly needed Vanguard positions of the First.
To represent his renown for diving into the enemy and obtaining first blood, he had his serfs paint dozens of bloody hand prints over the front of his armor, from his greaves to his faceplate.
One could easily see the effects of so much reckless charging. His face was permanently scrunched, thanks to multiple blows from Ork Nobles. His nose was practically sideways, his eyes looked half-shut, one more so than the other. His jaw was crooked. His shaved head had spots of stained skin leftover from internal bleeding. Scar tissue lay in vulgar display over his cheeks, drawn by the clawing of Greenskins.
'That mission wasn't for us, Erol. It would have only angered you further. The likelihood of you getting to swing your blade there just once, was dismal at best. Time spent in the Golan system is time we can spend seeking the next possibility. Time we can spend better preparing ourselves.' explained Conric.
'Finding the
right
fight for us.' Savvas scoffed, 'How cowardly. I can't say I prefer this change.'
'Hassla was a decade, and we have done nothing but hone our skills for decades since. How much more can we attain in the Darkenvault?' asked Bharun.
No pause came before Conric's next reply.
'Can you beat me yet?'
Bharun, did pause.
'No, Cavus. You will always have some two centuries on me, brother, and have seen several campaigns. How could I ever beat you?'
'A good point?' asked Tevfik, beginning to raise his shoulders into a shrug. 'I can't say I feel that I can further master the art of war without facing a new enemy myself.'
Conric chuckled, menacingly.
'You will never beat me, Bharun, but that's the point. That is why you make it your goal. The sooner you accustom yourself to facing the impossible, the better.' he said, 'and Tevfik, I am disappointed to hear you utter such foolishness.'
Erol found his voice again.
'If we had gone to Golan, we could have simply flown in faster, ahead of the rest, gotten our hands on the traitors first.'
'You haven't been paying attention.' rumbled Conric.
Savvas made a grunt of agreement beside him.
'The Fabricator-General was just using the problem as an opportunity to show off to his allies, Erol. There is no true threat in that system. The more powerful Ryza is believed to be, the harder the Imperium will try to keep it a secured location.' he explained.
Both of the young Vanguard members were back on their feet, now.
'If you want to fight so badly, you can spar with me instead.' said Conric, 'That way, no one accidentally ends up dead. Go on, to the arena.' he waved a hand toward the respective corridor.
Without another word, the group of Executioners began moving to their new destination.
---
Last edited by unxpekted22; 03-26-15 at

01:14 PM

.
---
An interesting, more in-depth look at Conric's decision to leave Golan, nice
.
---
"Evil is relative…You can't hang a sign on it. You can't touch it or taste it or cut it with a sword. Evil depends on where you are standing, pointing your indicting finger."
-Glen Cook, The Black Company
Tales of Heroism and Bravery, in the 41st Millennium and the Old World. Perhaps some Realm Gate Wars in the future
.
Gods' Hall (Completed)
https://www.heresy-online.net/forums/...d.php?t=161618
The New Word (Completed)
https://www.heresy-online.net/forums/...d.php?t=121879
---
What you have to remember is, fella, that Conric's a bastard who wishes he was as handsome, successful, and handsome - Because he's that pretty - As Caderyn. ;)

Cheers for the post, mate.
---
Nyctophobia- Fear of the Dark Angel.

"No one ever spoke about of those two absent brothers. Their separate tragedies had seemed like aberrations. Had they, in fact, been warnings that no one had heeded?"

'Killing a man is like fucking, boy, only instead of giving life you take it. You experience the ecstasy of penetration as your warhead enters the enemy's belly and the shaft follows. You see the whites of his eyes roll inside the sockets of his helmet. You feel his knees give way beneath him and the weight of his faltering flesh draw down the point of your spear. Are you picturing this?'
'Yes, lord.'
'Is your dick hard yet?'
'No, lord.'
''What? You've got your spear in a man's guts and your dog isn't stiff? What are you, a woman?'
---
And, it's
alive
.
Chapter 3: I
I remember the days before Golan with painful clarity. I remember the Corinthian feast, the Witch-Princess, and I remember the training. Days upon days of soul-shattering, body-breaking training. Cooperation between the Companies was common; Gaelan's Fourth and Brennus' First training alongside us. I caught glimpses of Caderyn in these days, blinding
Illuminos
in hand, defeating countless challengers. Until
me
.
We had watched him, the assembled Companies, best Gaelan the Gold. The Captain was talented, his twin-blades striking out like vipers, but ultimately, Caderyn was better. They danced around one another, testing their defences, before Caderyn plunged into Gaelan's guard and scored a deep, squirting slice through the Captain's thigh. First-blood, Brennus announced, and the crowd cheered. Caderyn did not smile, he did not acknowledge his victory, merely stepped back and thrust his blade into the sand. Half-naked, lathered in sweat, his tattoos shining darkly - He was
magnificent
.
'Is there anyone else?' He asked, after the cheers subsided.
'Swordsman,' Kaer called, from besides me. His arm was sleeved in a sac of amniotic fluids; the flesh beneath had began to rot. The arm had not taken to his bionic hand, the veins thick and black, like leaches. 'Aeron will take up the challenge!'
For a moment, I failed to comprehend what he had said. And then, arms were pushing me forwards, into the makeshift arena. Caderyn examined me like a wolf, eyes narrowed and teeth bared, and spat.
'Do
you
want this?' He whispered, having stepped closer. I noticed, dimly, that his breath stank like charcoal and meat. 'I will think no less of you, Brother-Sergeant, if you turn away.'
I grinned. 'A weapon,' I shouted, turning. I lifted my hands. 'Would you have me face Caderyn unarmed?'
'Of course!' Someone jeered. I laughed and shook my head.
'No weapon,' Caderyn said, gruffly, from besides me. 'No duel.'
'You shall have mine,' I heard, and turned. Brennus was standing there, wearing his war-plate, a scorched, ragged pelt wrapped around his shoulders. He dwarfed me, dwarfed Caderyn, both in size and personality. He was gargantuan.
From over his shoulder, he drew his blade,
Soluis
. It was beautiful, six-hands long, glittering harshly in the light. The pommel was lacquered bone, inscribed with the names of the blade's previous owners - All the way back to Ancient Locrinus, our Founder. It was older, still, having been forged on icy Inwit. When activated, it glowed a cruel blue, a sharp contrast to Caderyn's flaming
Illuminos
.
Ice and fire
, I thought.
'A fine blade, my lord,' I said, reverently. 'But I cannot-'
'Oh, you can,' Brennus interrupted. The First Captain smiled. He was missing teeth, and others were plated gold. 'And you will.'
'I am not worthy,' I admitted.
'Look around, Stormcrow,' Brennus argued. 'Who else offers their arms? No-one. They are afraid - Afraid that Caderyn and his candlestick will beat you, and they too shall be shamed, if you carry their blade,' He snorted derisively. 'Bugger them. Either you take
Soluis
, Aeron, or you forfeit. What would be worse?'
I pondered the thought, cursed myself for not having my own weapons, and took
Soluis
. The crowd roared, blood drummed in my ears, and Caderyn smirked. That, of all things, terrified me.
Brennus rejoined the ranks, and in that tremendous voice of his, announced - 'Begin.'
***

Arete reclined, lazily tracing patterns in the pool, eyes unblinking. She had confined herself to the gardens, posting guardsmen at the doors, and ordering that no-one - Be they officer, soldier or courtesan, should be permitted entrance. Birdsong echoed around her, the chirping of bugs, the susurrus of the ornamental waterfalls. Her encounter with the Fire Lords had been startling, horrifying. Their grumbling voices, their sizes, their brutal honesty - It haunted Arete, like no phantom ever could.
She had barely eaten or slept, since. She had shook and wept aplenty, locked away in her chambers, in the dark, hair messy, eyes darkened with tiredness. Witch, witch,
witch
.
'Sister,' A voice said. Arete leapt to her feet, clutching her blade in one shaky hand.
Her brother raised his hands. 'Easy, now,' He purred. He wore a scarlet cloak over white robes.
Blood on snow
. 'Put the blade down.'
Slowly, Arete did. 'Hektor,' She stammered. 'I order-'
'My ship,' Hektor blurted out. 'I go where I want, regardless of orders,' He sat down on the grass, indicating that Arete should do the same. 'Your encounter with the Astartes,' Hektor said, slowly. He was angry, Arete noticed. He wasn't looking at her, but rather over her shoulder, at the fruit trees. His eyes looked guilty. 'Tell me everything.'
***

Caderyn flew at me,
Illuminos
crackling in his hands, teeth bared. There was no anger in his eyes, no emotion, just cold, clinical determination. I backpedaled,
Soluis
thrumming to life, and met the strike.
There was a strange noise, a warbling, as the blades met. Their energy fields overlapped, I felt the vibrations run along my arm, and shimmered. Light blossomed, a kaleidoscope of colours, wavering like oil on water, and I turned the attack aside. Caderyn regained his footing before I could press my advantage, rotating on his heel, and came back at me. He was unrelenting, hammering
Illuminos
at
Soluis
, and I realised then, as I retreated, that he was trying to
kill
me.
I couldn't win. Caderyn was unrivalled. He had banished the Daemon Prince, Afang, singlehandedly. He had led the Fire Lords to victory, against the Black Legion, upon the port-world, Vimbaar. He had beaten back Gaelan the Gold, effortlessly, and was now going to beat me. No, I couldn't win. But, I
would
give him a challenge, I vowed, as I stabbed and parried.
Soluis
invigorated me. It fed me with ambition, with power.
Illuminos
, aflame from point to guard, was a fine blade, a masterpiece. Caderyn had forged it himself, a hundred years ago, on Mundus Pyra. It was his pride and joy, his closest companion. He loved that blade, and everyone else admired it, lusted for it.
But,
Soluis
?
Soluis
was legendary. We circled, we struck. It was intense, it was exhaustive. Not only was I combating Caderyn, but also my own body. I could feel my muscles cramp and burn. How long had we dueled? Time had blurred. The Fire Lords, their chanting, had become one endless, tuneless cacophony.
And then- Shaking, rumbling, the entire ship straining against itself. The lights dimmed, darkened and then cut away completely. I went at Caderyn, unthinking, and thrust my sword into his forearm. It parted flesh, scorched muscle and jarred against bone. In turn, the swordsman buried
Illuminos
in my neck, a finger deep, and I slumped over; my chest slick with blood, turning sticky.
'What happened,' I heard Brennus bellow, furious, as the emergency lights tuned in - Bathing everything in a dull, pinkish red. Fire Lords were picking themselves up from the deck, most unarmoured and unarmed, and rallying into their units. 'What
was
that?'
Kaer was at my side, very suddenly. I was holding my throat together, spitting blood, thinking that I was going to die. Brennus came to me, plucked
Soluis
from my side, and continued to shout orders and demands. He didn't spare me a second glance, there were no congratulations. In that moment, he was the uncompromising warlord, terrible in his armour.
I propped myself up, onto my elbow, and glanced at Caderyn. He was standing, alone,
Illuminos
thrown at his feet. 'Well done,' He said, after a moment of glaring. His voice was everything
but
congratulatory. 'You have won.'
I laid back down, smiled and everything went black.
***

There was an explosion, somewhere deep in the
Hyperion
, and Hektor was on his feet. He dragged Arete up with him, iron-hard fingers digging into her forearm, and looked around. A statue of the Emperor had fallen, snapping an outstretched arm and shattering the skull. An ill omen, Arete thought, as she stared at the wreckage.
'Something is wrong,' He hissed, as alarms began to wail. 'Sister-'
Arete pressed a finger against his lips. 'Go, now,' She urged, with a worried half-smile. 'I will await in my chambers.'
'No,' Hektor said, quickly, and let go of her arm, turning in a flourish of silk. 'Mine. I will send Machanidas to you - You
will
obey him, Arete.'
And with that, Hektor left the gardens, and his sister behind. Agathon and an escort of storm-troopers, in their overlapping plate and plumed helmets, waited for him outside.
'What's going on, Leos?' Hektor asked, as he jogged along a marbled hallway, past women and children and their soldier-husbands. 'What
was
that?'
Agathon, taller and broader and uglier than Seleucus, shrugged. 'No idea, sire,' He said. If Hektor's voice was poetry, Agathon's was a death-knell. 'We are getting mixed reports. Leucon's led a platoon of men down to the kitchens - Someone reported rioting. Hipponax and Orestan are mustering the rest of the men, on deck eighteen, to repel boarders.'
'Boarders?' Seleucus sneered, with narrowed eyes.
'We all felt the explosion,' Agathon reasoned. 'It's just a precaution.'
Seleucus pursed his lips and nodded. 'Very well,' Ahead, the bridge loomed. The doors were thrown open, and beyond Seleucus could see the tiered deck. The floor was reinforced glass, and beneath it were streams of water -
Corinthian
water - Filled with coins. An old custom, older than the Imperium, perhaps. The coins were for the dead, to buy their way into the otherworld, where all must go.
Tiades stood, in the centre of the bridge, receiving reports. His face was creased, angry and concerned, his remaining arm resting on his basket-hilted blade.
'Shipmaster,' Seleucus greeted, as he stepped besides him. Agathon and his troops milled about, weapons slung. 'Care to tell me what that was?'
'Away with the formalities, Hektor,' Tiades said, not once looking at the Lord Militant. 'We exited the fugging warp,' He looked up. Great, armoured shutters were lifting upwards, casting starlight onto the bridge. 'There was an explosion on the starboard side, damage reports should be coming in soon - At best, it was external. If we have been hulled..'
The shutters ground to a halt. It revealed a starscape, and interestingly, planets. Seleucus recognised them - He had studied them ever since leaving Ryza. 'Is that...' He started.
'Golan,' Tiades said, his mouth crinkling into an uneasy smile.
---
Nyctophobia- Fear of the Dark Angel.

"No one ever spoke about of those two absent brothers. Their separate tragedies had seemed like aberrations. Had they, in fact, been warnings that no one had heeded?"

'Killing a man is like fucking, boy, only instead of giving life you take it. You experience the ecstasy of penetration as your warhead enters the enemy's belly and the shaft follows. You see the whites of his eyes roll inside the sockets of his helmet. You feel his knees give way beneath him and the weight of his faltering flesh draw down the point of your spear. Are you picturing this?'
'Yes, lord.'
'Is your dick hard yet?'
'No, lord.'
''What? You've got your spear in a man's guts and your dog isn't stiff? What are you, a woman?'
---
Finally, we have arrived! Great update, DA. The duel was well written and flowed well, didn't expect the end result
!
---
"Evil is relative…You can't hang a sign on it. You can't touch it or taste it or cut it with a sword. Evil depends on where you are standing, pointing your indicting finger."
-Glen Cook, The Black Company
Tales of Heroism and Bravery, in the 41st Millennium and the Old World. Perhaps some Realm Gate Wars in the future
.
Gods' Hall (Completed)
https://www.heresy-online.net/forums/...d.php?t=161618
The New Word (Completed)
https://www.heresy-online.net/forums/...d.php?t=121879
---
The Golan System

Year:
402.M40

Sector:
Ryza

Sub-sector:
Xolanis

Golan Solar System:

The Golan Star is an M-class Red Giant. The system has three planetary bodies. Two of these, are small rock planets so insignificant that the Imperium has yet to bother naming them. The Mechanicus in system have designated them RXG01057 and RXG01055. Minor mining operations have been planted on both for any amount of useful ore that can be gained.

Golan Majoris

The system's lone Gas Giant. It is approximately the same size as the Sol System's Jupiter. It is mainly bright blue and green in coloration, with frequent orange colored storms appearing from beneath the higher layers of gas clouds. It was discovered by the 403rd Expeditionary Fleet - Iron Warriors [Excommunicate Traitoris: Perdita] - During the fortieth year of the Great Crusade. The planet was found to have valuable gaseous resources. Initial colonization attempts ended in disaster. Nearby Forgeworld of Ryza was contacted to aid in the endeavor. Construction on a series of orbital mining plates began sometime in the following decades.

Like many Gas Giants, Golan Majoris had a small set of rings. The Mechanicus has withered these rings away through mining, as well as removal to allow safer range of movement to the orbital plates. Now, only half of a ring remains, appearing as a half circle of light orbiting the brightly colored world.

Moons:

Though Golan Majoris has a great number of small moons, only the largest four have been utilized.

Golan Primus: The closest moon. Mainly made of ice, it was melted down to serve as an agriworld. Massive farming operations of the imported Flora and Fauna are used to feed much of the labor force in the system.

Golan Secundus: This rocky moon is home to the systems only Hive city. Here, resides the majority of the systems mortal population. Home to 1.7 billion, the Hive provides the System mining operation with nearly all of its non-Mechanicus workforce, as well as bodies for the systems standing military, non-Skitarii. This population count does not include the tithes sent to serve in the Imperial Guard outside of the Golan System.

Golan Tertius: A desert covered moon, with vast swathes of blue sands. Large scale laboratories mainly operated by branches of the local Mechanicus are located here, as well as many manufactorums and various industrial cities.

Golan Quintus: A radiation-blasted wasteland, it is the only moon of the four that is completely uninhabited. However, an orbital docking ring encircles the moon. It serves as the primary transition point for most ships coming in and out of the system.




-Golan Majoris, upon system discovery, 40.M30 -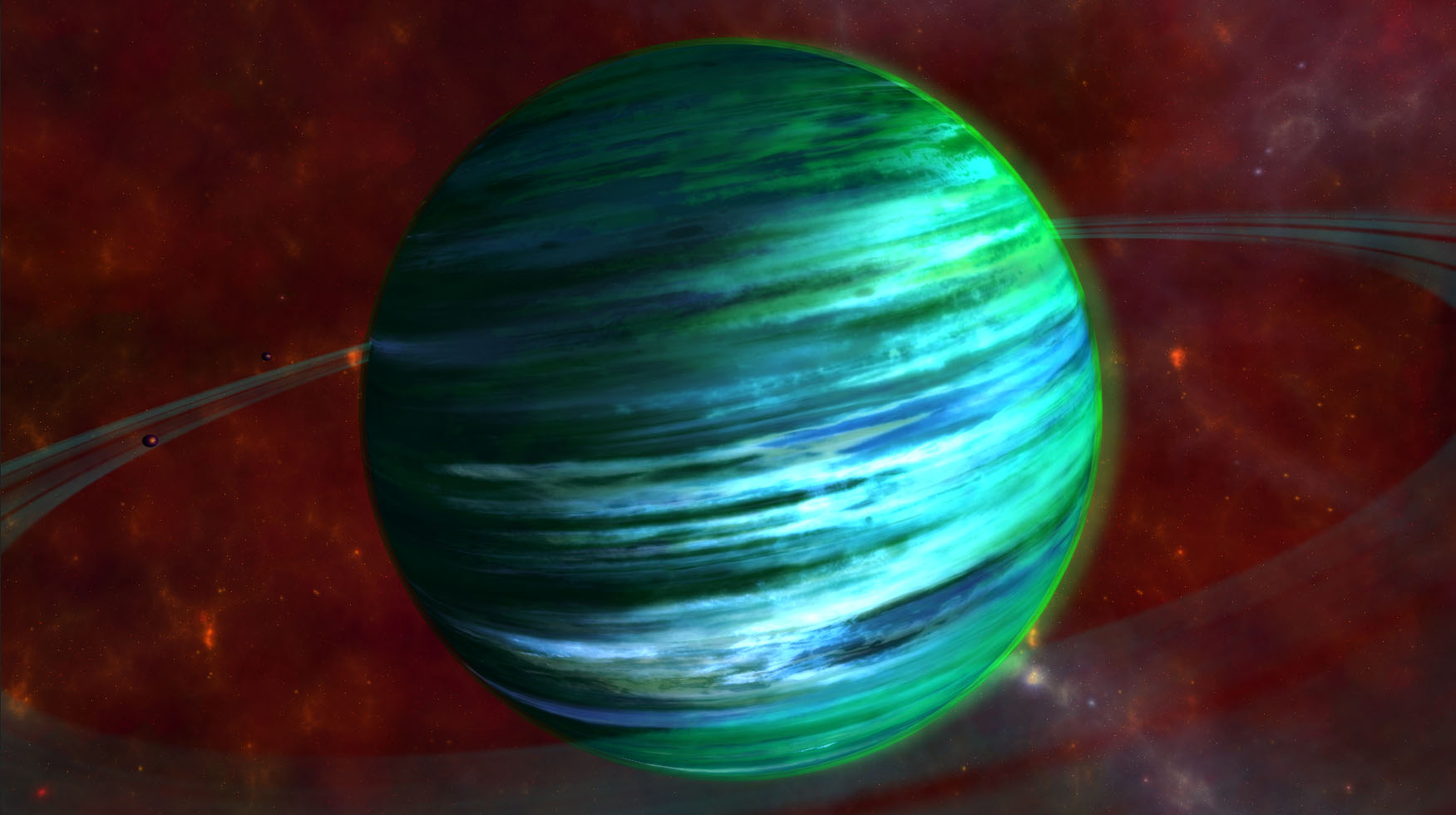 A view of Golan Secundus with Golan Primus behind, from the surface of one of the Gas Giant's more insignificant moons. A storm covered Golan Majoris fills the background
-Golan Tertius-
-Golan Quintus, before dockyard construction-
RXG-010155
---
Last edited by unxpekted22; 01-05-15 at

07:15 AM

.
Lower Navigation
The Rusting of Golan (Unxpekted & Dark Angel)