Greetings
---
Hello all, I'm Bill. I'm from Maine.

I've been lurking these boards for probably a good year or so, but might as well introduce myself, since I'm getting to the game more.

I've always been interested in 40k, but until recently just never had incentive to invest in it. After we found that one of my friends is a HUGE 40k fan, he pulled 2 of our group into the game hard, and that finally gave me a chance to pick it up.

I seem to be a masochist since I chose Daemons as my first army. Mostly because they seemed like the most fun to paint. Which brings me to my next point. I've more or less become our groups "master" painter. I don't consider myself a master by any stretch, but I seem to be a hell of alot better than them, so thus they thrust their armies to me to paint (and because they're too lazy)

As it Stands I plan to at least give 'Ard Boyz a shot in August, although I don't have high hopes, I'll find it entertaining to see 4 of the participating armies painted by me. (my Daemons, a Deathwing Dark Angels army which I'm painting this week, Salamanders, Tyranids.)
---
Welcome to the boards man! I hope to see some of your work around the forums.
---

Commissions, Project Logs, and Galleries
Follow me on Twitter: @MidgesWorkshop. You can aslo follow me on face book Here
Powered by Squig Tea
Join Date: Jan 2007
Location: In da Toolz cupboard in da Mekshop
Posts: 7,589
Reputation: 53

---
Welcome to Heresy.
Hope you are being rewarded for your time on those other armies.
That said it's great to get all that practice at somebody else's expense.
Look forward to seeing you pictures.
---
Welcome, great intro about your self
---
The creatures of the Warp have but one trait with which you need concern yourself - their undying contempt for the Emperor. It is your task to quell the rebellion they preach, and the only sure way is to destroy them utterly.
+++ Qualtak Shoram +++
---
Hey and welcome to the forums, glad to see another painter joining our fold. When you get a chance pop down to the painting section and post up some pics, the folks here are friendly (well except that djinn dude) and like to offer advice on how to improve. We will have you to a real master in no time.
---
Welcome to Heresy
---
Thanks everyone. Unfortunately, Since I don't have a working camera anymore, I won't be posting to much in the way of my stuff.
The only pictures I have besides a few of my Starship Troopers Minis, is some Bloodletters and Pink Horrors that I took a shots of while I was still working on them. I hadn't based them or finished some of the details, like the bloodletters' claws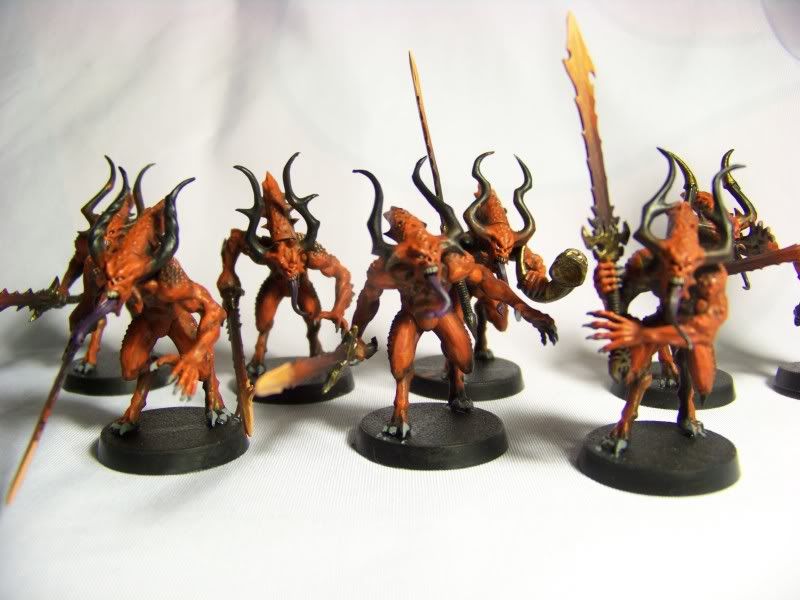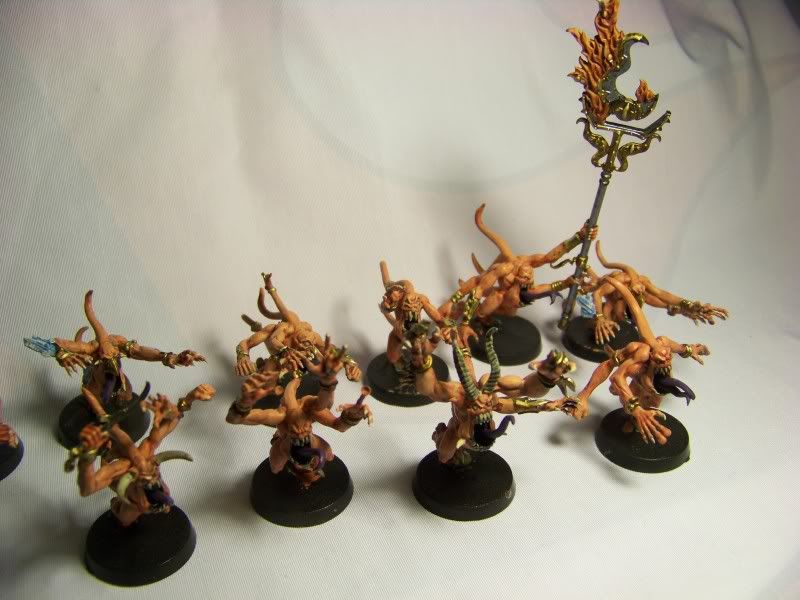 ---
Yay I like Daemons...not that you would've guessed. Welcome aboard. Glad to see you've some talent with a brush. Love the Bloodletter blades in particular.

All the best
---
http://www.daemonprincepaintbox.com/home.html
Check out my latest blogs, gallery or leave a message. Available for commissions.
---
Welcome aboard bud! Fine looking minis you have there! The work on the blades of the bloodletters is quite bloody great! The Horrors look ace too! Enjoy your stay!

Good luck and good gaming,

Nate
---
"If you can't stun them with your tactical brilliance, baffle them with your superior grasp of BS."
"I refuse to engage in a battle of wits with an unarmed man."
Quote:
Well, seeing as how you capitalize your characters, use proper grammar and punctuation, I'd say you qualify.
Lower Navigation
Greetings