Join Date: Apr 2009
Posts: 26
ello
---
Hi there.
I've lurked around these forums for a few months now but finally decided it was time to sign up and say hello.
I took interest in GW stuff when I was fairly young but lost interest somewhere along the way. I had never been particularly good at the painting side of things, a fact that I was reminded of when going through some of my old things and I happened upon some of my old minis (including my Hero Quest game! w00t!).
Seeing the mess I'd made of them back then my interest was immediately rekindled when I wondered if I could produce anything better now I was older and wiser and a little less impatient.
I found the 'Heracy' while looking for modelling and painting tips and tutorials. My interest is much more based in the hobby side of GW having never really got into any of the gaming side of things.
Having said that, I have a huge passion for video games (the intended target of my 2nd forum post) and it includes the Dawn of War series which is probably another factor in my re-found interest.

I've no real intention of building a specific army, I'm mostly drawn to whatever I feel like I'm capable of taking a stab at and hopefully before long I'll get some pictures up online for some constructive critisism.

One final hello and then on to the forums!

Mal
---
Hello and Welcome to the Heresy! I did a simular thing by not knowing what to choose, but I soon found an army that suited me, Necrons. Hopefully the same will happen to you
DarknessWithin
---
Fear the Darkness Within yourself, for there is no escape, there is no Mercy. Be afraid of the Dark, for it's here...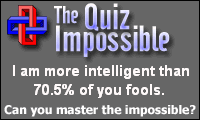 Impossible Quiz 2
Please, I am hungry for mouse. Please let your mouse feed me with it's clicks
---
Hello, and Welcome to Heresy! Thanks for a great intro! I look forward to seeing some pics of your collections when you've got the time!
Lower Navigation
ello