Help with painting
---
So why is it so darn hard to paint white? I was testing a SM last night and i had to do 6 trillion coats of white just to get it halfway decent. seems like it just runs off the edges of the mini. I wish i had pictures but my iphone is a junk when it comes time to take pictures of minis. Do you guys have any tips or tricks for white? What technique do you use?

By the way what cameras do you guys use to take those nice pictures?
---
Well I paint a decent amount of bleached bone on my Orks, not so much white but I imagine you can use the same technique. When painting difficult colors (Red, Yellow or white) the foundation paints are your friend. Start with a coat of Astronomican Grey then you should be able to get a nice, smooth white with 2 or 3 coats of thinned white over the grey.

As for the camera just get something with 5+ mega pixels and a Macro mode. Turning on the macro mode (on my camera its a flower icon) will sharpen a close up image significantly.

Hope that helps
---
Read 'em and leak saltwater
---
are you using white for basecoat, or detail work? If you're using it as a basecoat on the model, i personally use spraypaint whenever possible for priming and basecoating both, just because you get a more even color without all the freekin splotchiness.
---
I use Testor's gray spray on primer.
Ok here is a picture of what i did last night. not really happy with the way it is but i have to start somewhere. I know people say white is hard so people starting out shouldn't use them but i'd rather go head first into it like a ram to get it over with. Plus this is the color that i chose for my chapter so i am sticking to it.
---
Thanks.... so i guess i should use white primer and then thin down the paint to really thin?
---
Basically. If you are here hoping somebody is going to reveal a shortcut for doing great whites, then I have bad news for you I'm afraid...
Only way is applying a ton of thin coats, and be really patient. That is, if you are going to aply the paints by hand. If you want to duke out the cash for an airbrush, that's about the only way you'll get fast whites (and even then, it's by far the most demanding pigment to get right). But that is what an airbrush does basically: applying really thin coats of paint rather fast. Bad thing is that it's really expensive.
As the old saying goes: Cheap, fast, good. Pick two of those.
But I feel your pain... I have an IG army that uses white as it's primary color. If there is a tip I can give, it's starting from a really light grey color, like vallejo's stonewall grey and then paint thinned white from that point on. It'll still take 5-6 coats to get even coverage of your paint. But at least it'll be shaded.
I started from a dark grey basecoat: like codex grey/cold grey/ etc etc.
Then a very light grey for basecoat, leaving the codex grey in the recesses.
Then 5-6 coats of white.
Judging from your last picture, you'll have to add your shading by hand now. That's doing the work twice. Try the above method once and leave grey in the recesses. Good whites comes down to the shading, as highlighting is no longer an option...
Best of luck with the project.
---
There actually -are- fast ways to paint white smoothly.
-Prime the model black. Yes, really.
-Basecoat all areas that are going to be white with Khemri Brown.
-If you can undercoat the model with bleached bone, that's better-- The Army Painter Skeleton Bone spray is actually perfect for this, and you can skip the previous two steps if you can get a can of it. You could also spray the model white and use the citadel spraygun loaded with bleached bone, if you've managed to get one that actually works.
-Wash the bleached bone areas with Devlan Mud.
-Layer bleached bone back on. You should have nice, smooth shading in the recesses at this point.
-Now, apply a couple thin coats of white.
It ends up looking like this: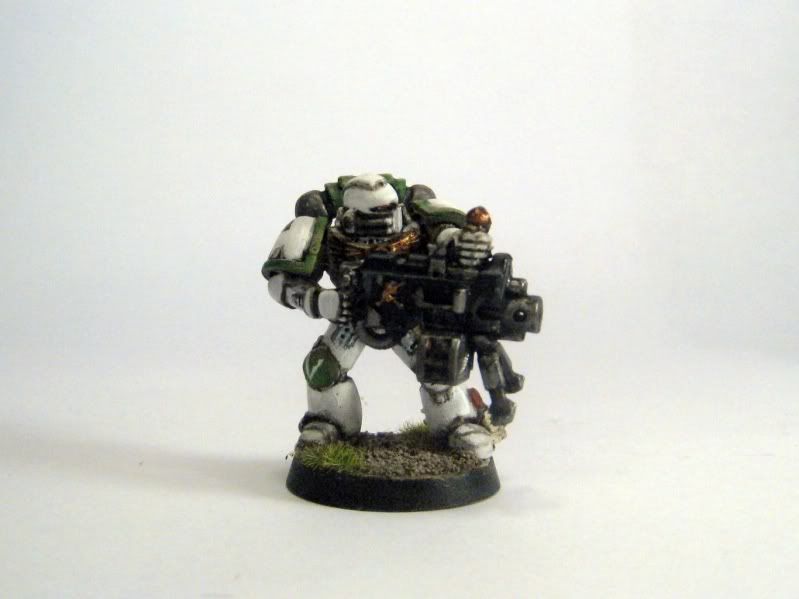 ---
IN THE US? ASK ME HOW TO GET 10% OFF GAMES WORKSHOP PRODUCTS!


---
Thanks for all the tips! i will try them and see which one will i like.
I did have an airbrush a few years back but it got lost somewhere.
---
White and Black are both a pain to paint.
Lower Navigation
Help with painting