Razorback Las/Plas WIP
---
Hi all,
I recently had some luck in coming across these as modifications for Razorbacks. I use them on my Rhino's and so far they are ok. They come in Resin and although I have only done them with a simple black undercoat, then heavy dry brush almost coat with Bolt gun metal, they are quite suitable for those of us who tend to CUT OUR FINGERS OFF WHENEVER WE TRY AND DO A DAMN MODIFICATION, CURSE YOU GW AND YOUR LACK OF BLAH BLAH... false teeth fly out, hit dog, who then steals them etc at al.
Any questions are welcomed. There is also a twin linked assault cannon variant and a twin linked multi melta and flamer and lascannon available. I won't do a link for em, but anyone can PM if they are interested. No i have no affiliation or get anything or make them myself etc.
Appologies for the shadows etc, had to take them outside.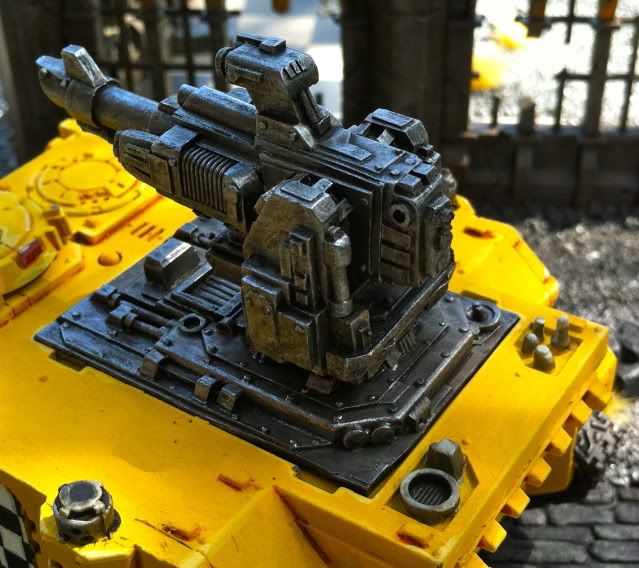 Sitting in the gap after removing the Rhino top plate hatch. They needed a little cleaning up to fit properly without destroying the rhino hatch edges. I haven't finished making them fit snuggly as yet. (yes snuggly is a word)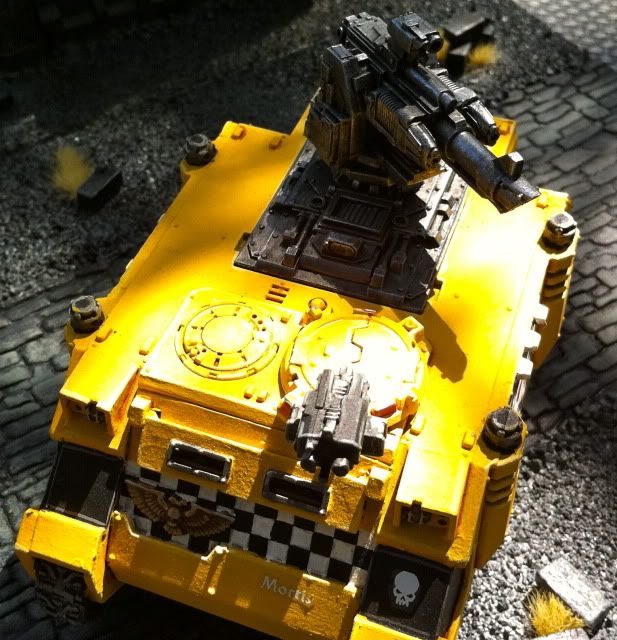 The turret swivels cleanly on all of them, I found the resin quite clean as well.
Comments etc welcomed.
For those that are interested, the Rhino is done in Lamenters Scheme, it is not a New York Taxi Cab.
---
HEY YO TAXI!

Paint is a bit rough on the front and I see a couple small mold line but overall nice job for the Taxi Rhino. I have to say the turret is interesting. Where did you pick them up at?
---
Thanks for the kind words. The Rhinos were picked up after they came sprayed Bright Yellow with Enamel Paint from Ebay.... I have 4 of them, 2 are Razorbacks with TLLC. I did my best to clean them up and then redo them in Lamenters scheme, but they are roughish..... But then again, at 10 a pop who cares!
---
---
Quote:
It's not a black and white question really, there are different shades of anal probing,
a rectum spectrum, if you will
---
Thinned down paint over the rough area will help smooth them down. You can always hit it with a varnish and then paint over the varnish. You can also hit them with a 2,000 grit sand paper and it will take off most of the rough finish.

10 a pop? Lucky you!
---
The guns look a little too big. Or maybe its that they are soo tall, it looks odd on the tanks. It reminds me of those people who use the stationary guns from the bastion kits on the back of their rhinos. It just looks odd.
---
I used to roll the dice, Feel the fear in my enemy's eyes
Quote:
I'm afraid there's no authoritative source for thinking you're an asshole
Aramoro
---
---
HUGE BITZ RESTOCK NOW ON
---
I guess each to his or her own with the turret. I like them as they are larger and chunkier. One of the things that I don't like always is how the marines have gone from chunky to being almost steamlined.

Take a look at the first ever Whirlwind, its gothic with the rockets etc... however now it looks almost like it could come out of the modern american military.
Lower Navigation
Razorback Las/Plas WIP