Kilroy the 30ft Tall Killer Robot
---
Here is a scratchbuild I thought you guys would like.
Some good ole Wierd War II
The Pride of Los Alamos "Kilroy" the 30 fooot tall killer robot.
Armed with a Tesla Disintergrator and mighty wrecking ball.
He is built to a 1:48 scale 1/4" = 1 foot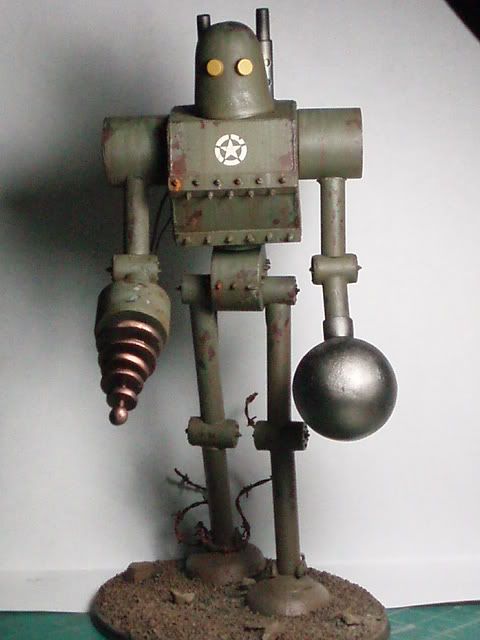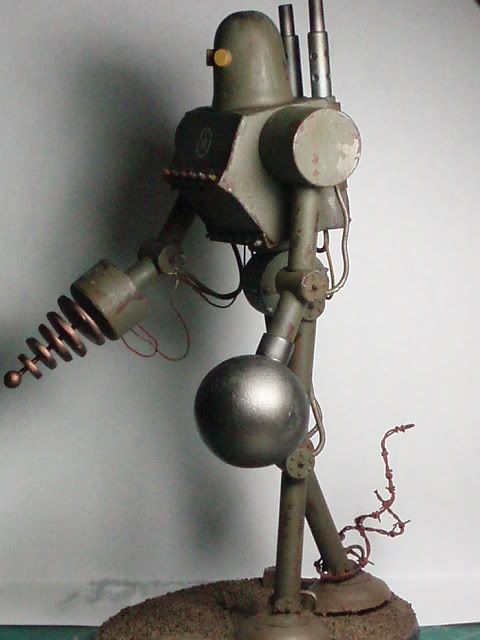 scale shot with a 1:48 figure
---
That is awesome! I'm playing Fallout at the moment, and he'd fit right in there. The paint job is excellent as well.
---
is it wrong to say he reminds me of the iron giant?
+Rep
---
Warhammer:Skaven 9000 points, Lizardmen 1250 points
Warmachine:Dwarves 261 points, Trolls 125 points Gatormen 174 points
Malifaux: Gremlins 100 Soul Stones
Infinity: Morats 1400 points, Shasvastii 600 points
---
Quote:
is it wrong to say he reminds me of the iron giant?
+Rep
hahaha he does! I remember that movie from when i was a kid
and yeah it would fit in Fallout
---

+MAY THE DARK GODS BLESS YOU WITH MANY TENTACLES+
---
Quote:
is it wrong to say he reminds me of the iron giant?
+Rep
you get rep for that memory my friend.
---
It's great +rep.

Ony 1 slight thing to point out, if it is actually using the massive exhaust pipes on its back they need to look used, not clean and factory fitted on a rusted robot.. Look at something along the lines of old industrial earth movers (specifically the exhausts) to get what i'm on about.
---
Everyone has a purpose, just so happens mine is more of an example to others of what NOT to do.

I know it's time to go to bed when the last post in every thread has been written by me.


Hooobit, nothing more nothing less.
XBL: Hooobit
PSN: Hooobit


---
The eye lenses and the smoke stack are the only things I see that make me scratch my head. Nice model, what is this Weird War 2 that you are talking about?
---
Any of the Story/Game where WWII goes on past 1946 like Incursion or in this case Dust Tactics is the game that insprired this.
I plan on making homegrown rules for him.


@ Hoobit: You know you are totally right,while in person they are not factory new,they do have soot and heat stress.
But it would be totally rusty if the main body was this banged up.
So,I will be rusting them up.
Thanks for the advice ;)
---
Last edited by Eisenhorn; 01-25-11 at

02:12 AM

.
Lower Navigation
Kilroy the 30ft Tall Killer Robot