Stormraven
---
I painted up the new Stormraven in my Lions Rampant chapter colors, rather than the red of the Blood Angels. While Codex chapters can't use the thing at the moment, I honestly think I'd only run it in Apocalypse anyway.
This was a big departure from what I normally paint-- vehicles have never been my forte to begin with, and aircraft are practically unknown to my brushes.
Assembling the Stormraven is pretty straightforward-- the sprues contain everything you can potentially give it, and the construction is pretty intuitive. However, the wings have to go on before the dorsal air intake; and the turret has to go on before the dorsal air intake. Once that air intake is on, the wings and the turret are not removable.
Anyway, the model's quite large-- it's a little bigger than a Valkyrie. It's utterly impossible to photograph, too-- I didn't have anything to use for a background, so bear with the crap behind it. haha...
This model is going in the local independent retailer's display case until the model is released (this is actually the store's black box copy). With that in mind, I sort of slapped the freehand chapter icons on, and figured it was good enough for the sort of dim, cramped display case that it'd be headed to for a few weeks. After the model is released, I'm going to come back and finish the little saintly image on the nose and clean up the Chapter icons.
As for weathering-- I'm actually terrible at weathering vehicles. I wasn't even sure what to do with this thing, since it's not really rolling around in the mud. I decided on weathering the assault ramps like you would any tank, and then I googled airplane model weathering to look at what people do on World War II planes and whatnot. Turns out, the only real weathering airplanes get is from wind damage and carbon scoring. So I broke out a large flat brush and applied some black haphazardly around the edges the wind would hit. Where the black ended up heaviest, I applied some boltgun metal, and then some mithril silver as a highlight.
I was on the fence about getting an airbrush before I did this project... and now I can safely say I'm going to go buy an airbrush on Monday. I spent about 15 hours on this thing, and it's not really done yet.
Anyway, enjoy-- this should be the first look at a painted Stormraven that isn't GW's online, and is certainly the first 'un that's not in red online.
Tactical Marine is there for scale-- it's really a much larger model than it looks in GW's pictures.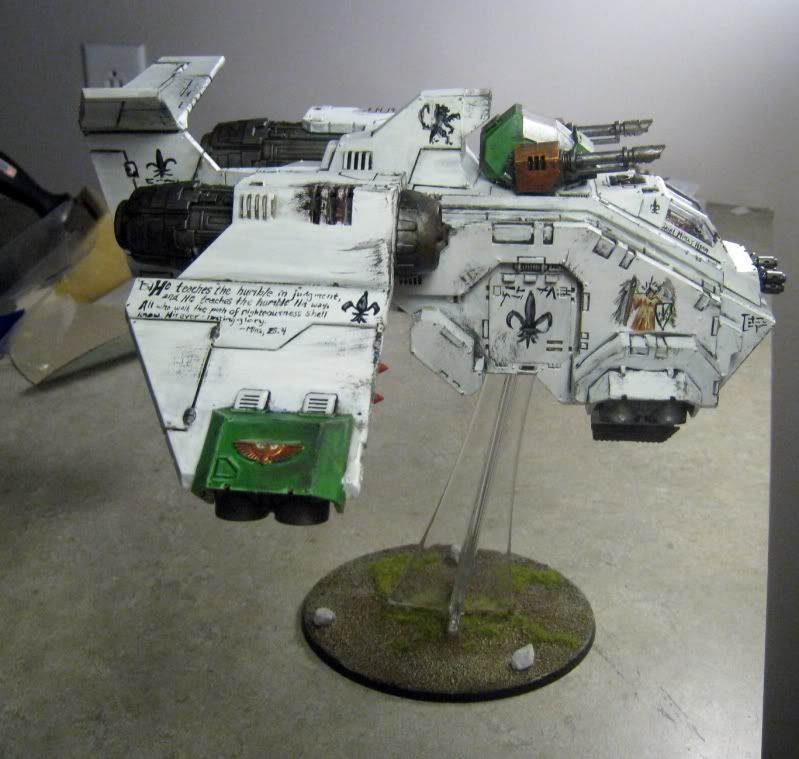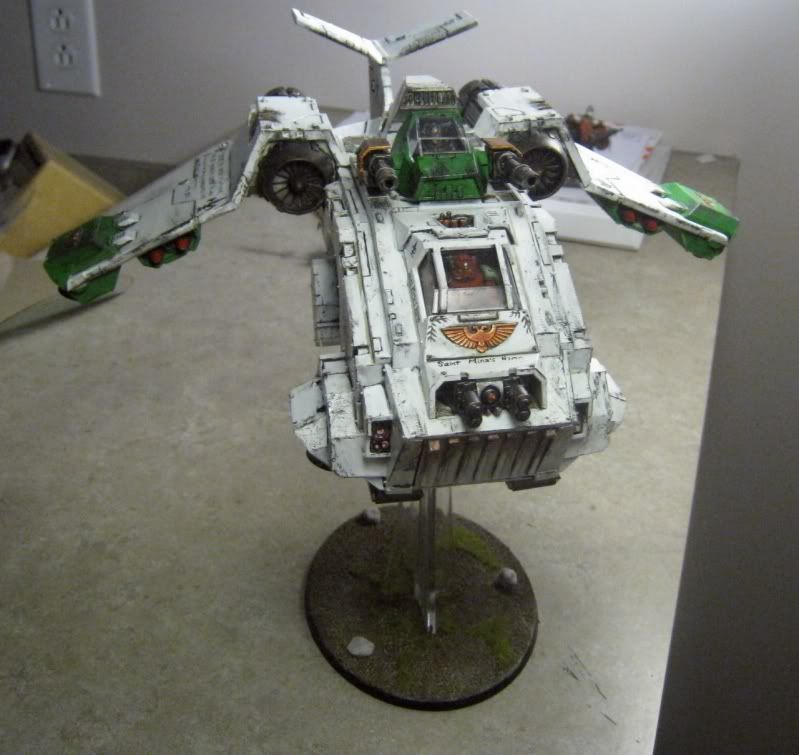 ---
IN THE US? ASK ME HOW TO GET 10% OFF GAMES WORKSHOP PRODUCTS!


---
huh...in white it actually looks a little less repulsive, that alone is quite amazing.

one gripe is the turret canopy, shouldnt something cover that like the cockpit canopy?, or does it not have anything for that, which is weird.
---
---
love the paintjob, hate the model
+ rep for making it look less horrible
---
Warhammer:Skaven 9000 points, Lizardmen 1250 points
Warmachine:Dwarves 261 points, Trolls 125 points Gatormen 174 points
Malifaux: Gremlins 100 Soul Stones
Infinity: Morats 1400 points, Shasvastii 600 points
---
Still not convinced about this model but the paint job looks pretty good and good thinking with the weathering research

+rep

Rev
---
I love this, and if possible would love to see your Lions Rampart models, as judging by the Stormraven, they'll look great.
---
Lovely stuff, you've turned me on that model, I do actually think it's rather cool.
---
Looking good Horus! I have liked the model since the photo leaks and the scale comparison to the Marine is rather impressive as I thought the model would be smaller. Good work.
---

Commissions, Project Logs, and Galleries
Follow me on Twitter: @MidgesWorkshop. You can aslo follow me on face book Here
---
I actually cant wait to get one of these now to be painted for my GKs when i start them. I think you paintshceme works well on this model. +rep
---
The black lining on the the front seems really uneven and the weathering around the side doors don't make a lot of sense.

You did manage to make the model look much better tho. What size doors does it use? Rhino or LR?
Lower Navigation
Stormraven