Idea for the wifes SM marine colour scheme
---
Hi peeps
the wife has decide to take the plunge and play 40K, and has gone for Marines, and she has come with 2 possible colours schemes
1st one
2nd one
shes leaning more towards the second scheme as, in her words, it looks more meanacing thatn the first.
So what you think, and any surgestions, bearing in mind it be her first time painting any models.
cheers for looking, and oh and we're after surgestions for a chapter name as well (but dont expect fluff.........lol)
---

---
Without knowing how good of a painter your wife is, im advising a simpler scheme, the second scheme is a nice looking one, but in terms of painting it will be difficult to pull off, white for a start is pain in the ass in general, but that many different elements will make painting that scheme a bit of a chore. Also you risk a bit of a "clown" look when you have many different colours in a small space, the helmet for example looks good but when it comes to painting it your talking about having a seriously neat paint job and steady hand to transfer the picture to the 3d model.
I would also loose the black jockstrap and pipes and make them the darker blue.
Never pay again for live sex! | Hot girls doing naughty stuff for free! | Chat for free!
---
HUGE BITZ RESTOCK NOW ON
---
What??? But who will provide refreshments as ASMOH if she is playing 40k??

But back to the marines. I like the second one myself, although it could be quite fidley with 3 different colours.

As for a chapter name how about something cold related, maybe Ice Devils?
---
Your toast has been burnt and no amount of scraping will get rid of the black bits.

---
dont worry humakt, shes already promiced to do the refreashments this year. And her SM's will be a long term project, gona buy her a SM battleforce and a chaplin with jump pack for her birthday next month, which gives her a nice little army for about 650pts, so she be starting of with small games, may also try and get hold of the SM's from the AoBR set as well.
Also keep me eyes open for anyone getting rid of any SM models on the cheap as well, as we're gameing on a budget
---

---
I'd definetly go for the second scheme, as it is way more menacing and good looking in general.
If you have to choose from those two.
That scheme just keep reminding me of pre-heresy world eaters.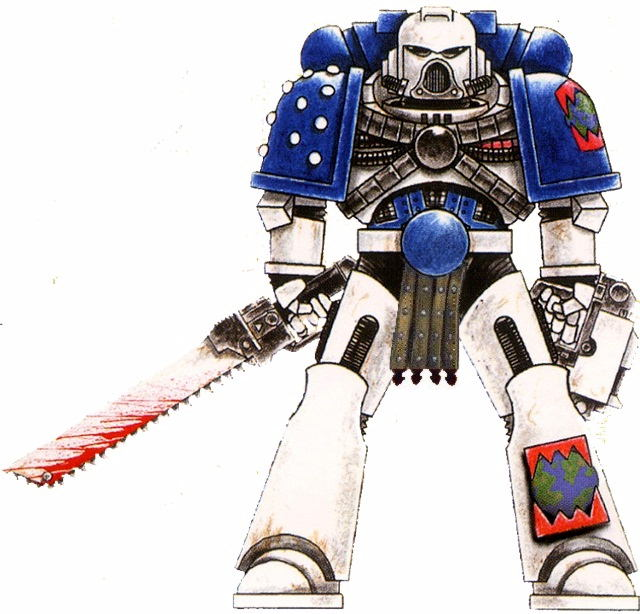 Well it reminded me of how i remembered them, not that much when they are lined up like this.
---
www.trollsforge.com
-A nice miniature company and sculpting forum. The forum has unrivaled gs sculpting tutorials.
---
In my opinion the scheme is too complex as it is, but the layout of the colours is nice and would make a nice scheme.

I would simplify the first scheme, probably closer to the pre heresy world eaters.
---
the 2nd one is much better.
---
I prefer the first scheme. The second schemes colors are just a little to pastel looking for me as I tend to go with bold colors. I also think that the color variations in the second scheme would be rather daunting for a new painter.

As to the chapter name I definitely agree with Humakt that it should be something cold related, but that would depend on chapter lineage. Is she going codex marines or one of the Chapters of Legend? Whose geneseed are they from?
---

Commissions, Project Logs, and Galleries
Follow me on Twitter: @MidgesWorkshop. You can aslo follow me on face book Here
Lower Navigation
Idea for the wifes SM marine colour scheme