[Commission] A few Bloodbowl things I did so far
---
Hi people,
In this thread I am going to showcase some BloodBowl stuffs I did as commission work over the past few years. It's not often that someone approaches you with BB stuff but I really like the style of the game and especially its laid-back attitude. It's also fairly seldom that you see BloodBowl minis in non-dedicated forums so I thought you might be interested.
This was the first one; pretty straightforward and with little requirement in too great painting quality: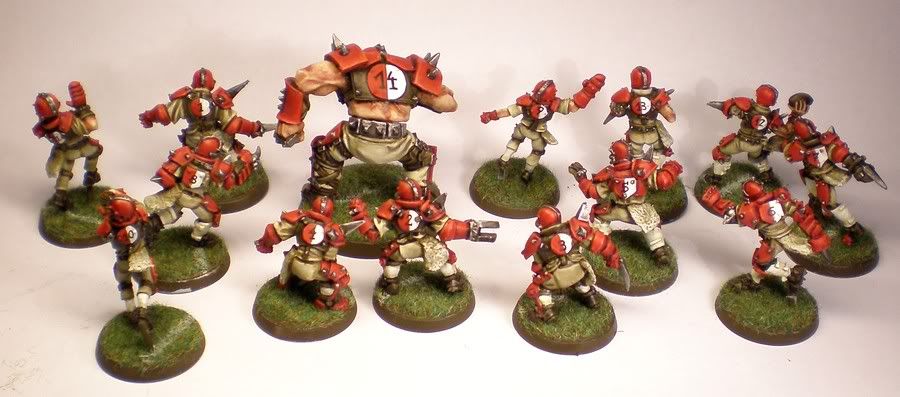 Then came the frogmen: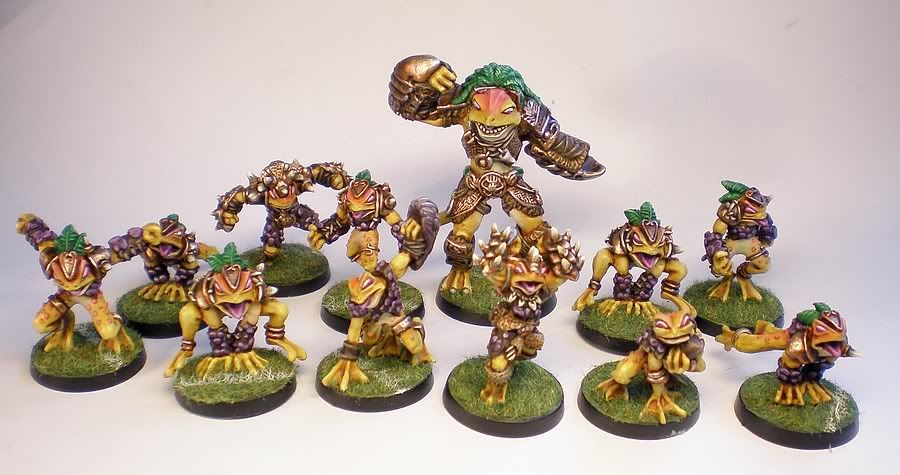 Awesome minis; loads of fun to paint.
This little guy came with very specific ideas for how to paint him: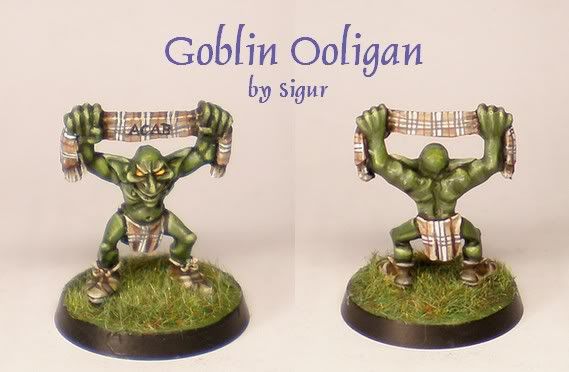 After that, for the same client, I did these:
...and now, for the above chaos team, the big guys (still very WIP of course):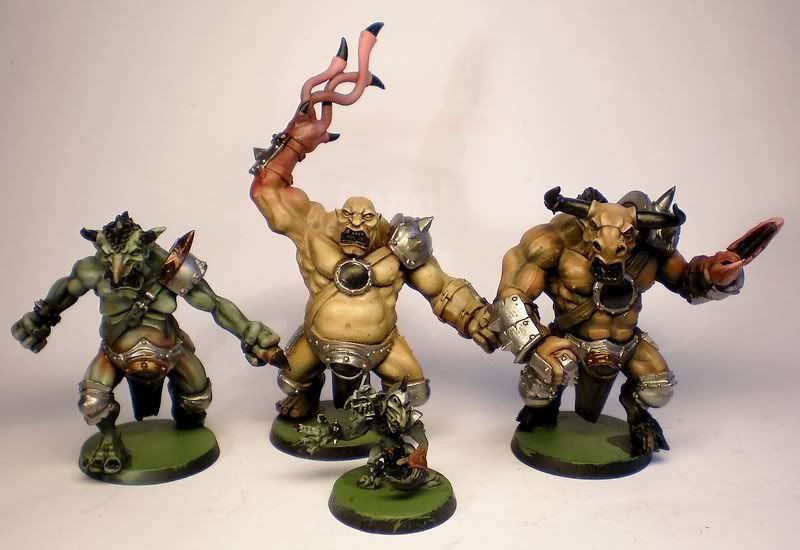 These guys are not only awesome looking but also huge.
Then there was the BloodBowl mini I did for myself (and a little painting competition on Garage Gamer's blog.):
So I hope I'll be able to deliver you with finished pictures of the three big chaos guys (and the one little guy) very soon. Until then, I hope you enjoyed the pictures.
---
Last edited by Sigur; 01-20-11 at

03:22 PM

.
---
wow frogmen, thats a very old set of minis, I love the designs you gave them, I've been thinking of getting into blood bowl, because I heard you pretty much need to get one set of guys, and a star player, and your ready to play pretty much, so its alot cheaper than warhammer.
---
Warhammer:Skaven 9000 points, Lizardmen 1250 points
Warmachine:Dwarves 261 points, Trolls 125 points Gatormen 174 points
Malifaux: Gremlins 100 Soul Stones
Infinity: Morats 1400 points, Shasvastii 600 points
---
Really nice work Sigur! I love the frog guys and the chaos team are very cool as well. The little cheerleader diorama is a great idea and nicely executed! Keep up the good work.
---

Commissions, Project Logs, and Galleries
Follow me on Twitter: @MidgesWorkshop. You can aslo follow me on face book Here
---
Great job, don't play bloodbowl myself but I love the specialist game range and I know when I see talent. +rep
---
@Flindo: Thanks. The Frogmen team isn't old minis though. These aren't GW minis, they're made and sold by an awesome little company named Gaspez Art. Apart from that, I never played BB myself but I always hear great things about it and as you say, no big initial investment is needed. And I guess that the fact that BB has a HUGE and very active community all over the world pretty much speaks for itself. A lot of people don't have to think twice before calling BloodBowl when being asked for GW's best game to date.
@Midge913: Thanks.
@El: Cheers. :D
Alright, I planned to finish the big guys tonight and didn't quite make it due to that little two-headed bugger. So here's another WIP shot:
I really really like the models of the big guys. They're so great. Shame that the casting on the little guy is a little fuzzy.
Lower Navigation
[Commission] A few Bloodbowl things I did so far