DE Razorwing concept
---
Not quite finished but this is my take on the Razorwing.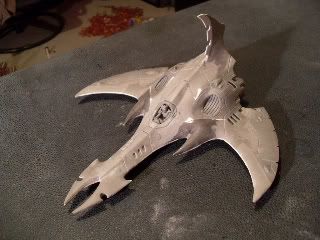 What do you think?.
---
In nomine Imperator
Junior Member
Join Date: Jun 2010
Posts: 4
Reputation: 1

---
Best I`ve seen yet, is that a wave serpent buried in there somewhere?
Anyway, +Rep
---
I like it very nice effort, the putty looks like it needs a little bit more 'sharpening' up near the points close to the cockpit, but otherwise, no issues that I'm seeing. In fact lots of good :D
---
The Indomitable March of the Death Guard.
Junior Member
Join Date: Apr 2010
Posts: 23
Reputation: 1

---
Great work, definitely the best I've seen. How have you made it?
---
Nice work
My question is what was the process you went through to make? I'd love to know
---
"Blood cries out to blood they say, so let us spill their blood so we can hear it all the clearer."
---
Lots of putty sculpting and Dremel work.
---
In nomine Imperator
Lower Navigation
DE Razorwing concept