Senior Member
Join Date: Dec 2008
Posts: 111
Reputation: 1

Dark Eldar test mini
---
So as I tend to suffer from "oh - shiny!" syndrome I picked up a box of Dark Eldar Warriors.
First thing is, these models are a dream to paint. Very quick to do. Here is my first sample warrior. Took me, maybe an hour or so to do: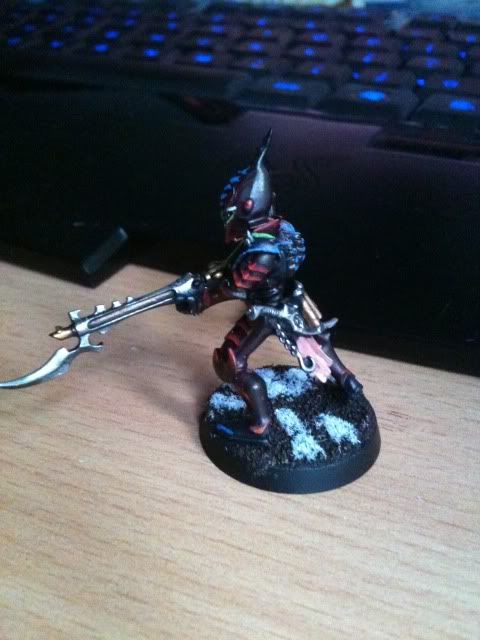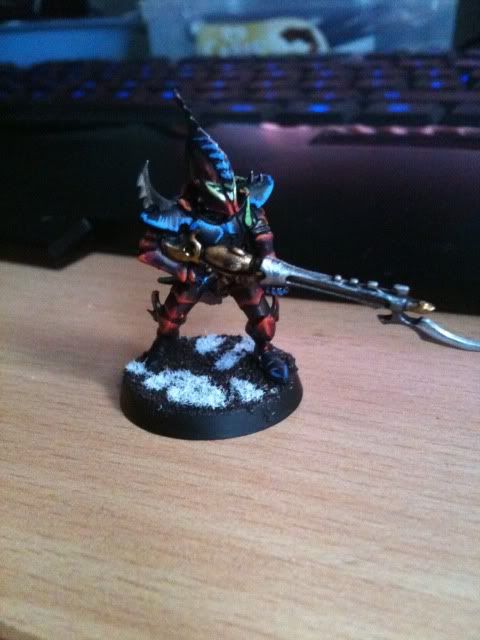 What do you think?
---
I am with Reaper. The photos are a bit blurry so making out the details is a little hard, but from what I can see they look great! I like the OSL around the eye lenses and the blue feathering on the shoulder armor is nicely done. Good work!
---

Commissions, Project Logs, and Galleries
Follow me on Twitter: @MidgesWorkshop. You can aslo follow me on face book Here
---
They are a tad too colourful for my liking, but they are painted quite well. Well done on the blending for the highlighting.
---
I used to roll the dice, Feel the fear in my enemy's eyes
Quote:
I'm afraid there's no authoritative source for thinking you're an asshole
Aramoro
Tzeentch laughs at likely
Join Date: Dec 2009
Location: Inside my Head, Bristol, UK
Posts: 8,556
Reputation: 44

---
The edge feathering looks well done, and the two colours coordinate well.

However I agree with asianavatar that they appear very colourful; possibly they would look even better if the feathering was lighter.
---
I think you did very well with this guy man! He is colourful, but in a way that kind of reminds us of where the Dark Eldar come from, yet dark enough to remind us they have fallen from the good! Nice work!
---
Lower Navigation
Dark Eldar test mini