Senior Member
Join Date: Jul 2009
Location: Indiana
Posts: 383
Reputation: 1

AoBR Ork Warboss
---
Here is my (nearly done..few touchups to do..) AoBR Ork Warboss.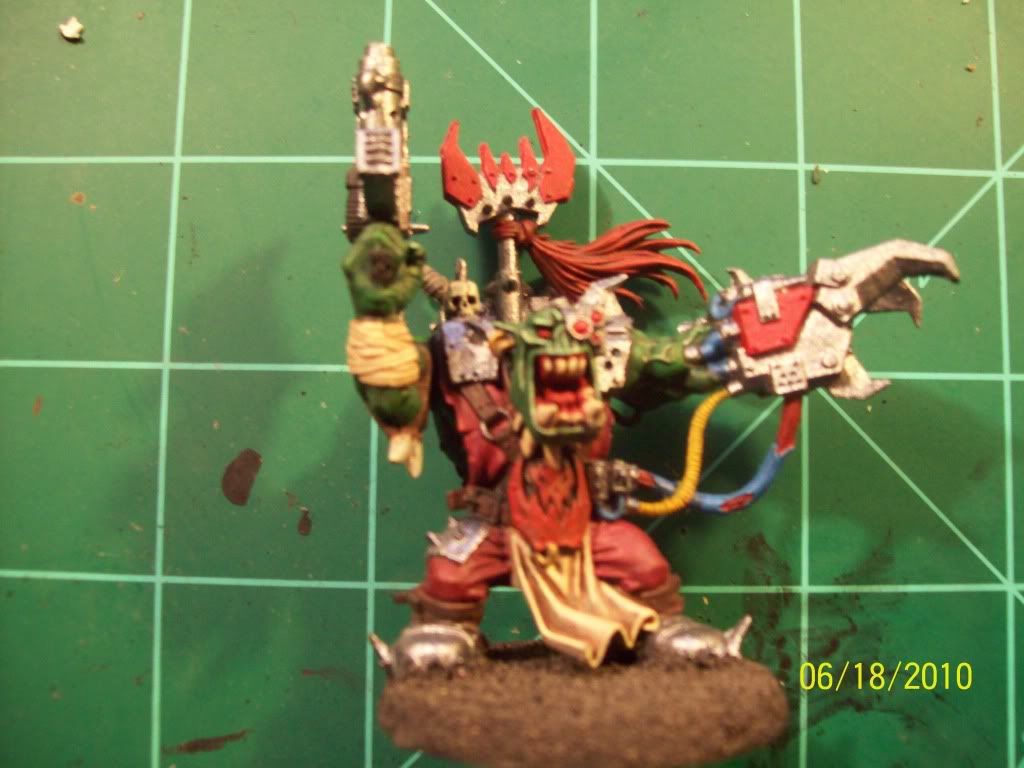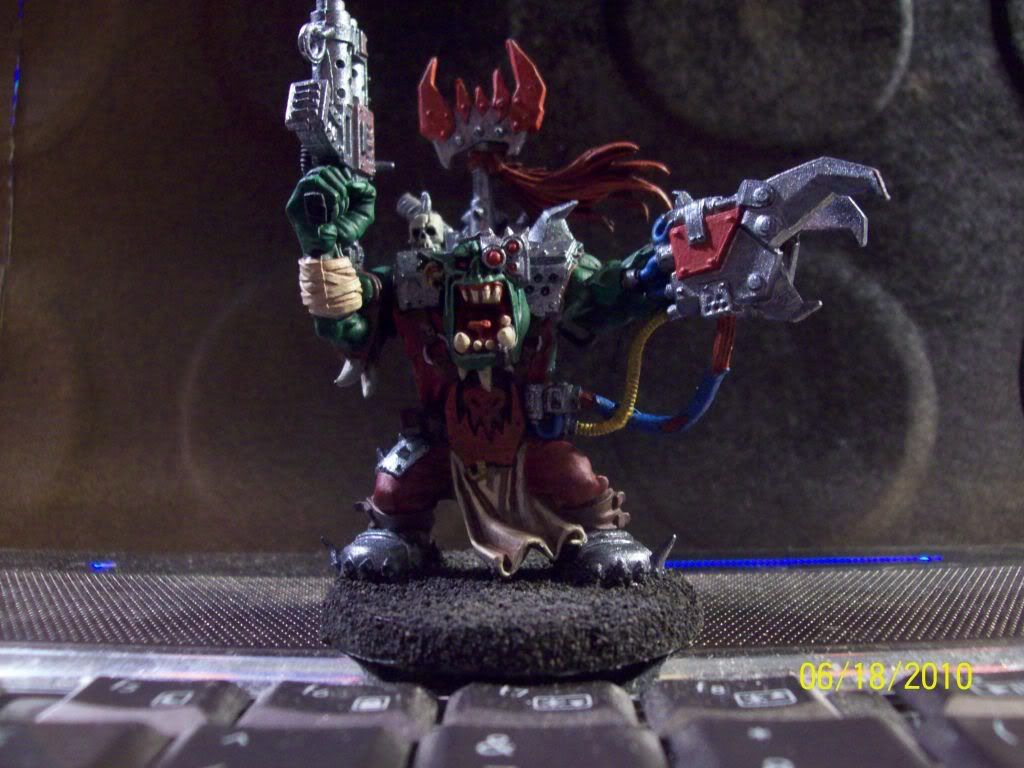 I know there are mold lines on his shoota arm..very slight miscast makes it kinda hard to get them off without doing damage to it so I said to hell with it and left them.
C&C welcome.
---
Very nice, I especially like the shading on the loincloth
Perhapse a little more rust/battle damage on the Power Klaw. You know, paint chips on the red, and a little staining around the bolts etc.
Otherwise, a very nice paintjob
---
Angry Marines
:
Flamer ------------ 5pts
Another Flamer ---- 5pts
Shit, Take a Third - 5pts
Powered by Squig Tea
Join Date: Jan 2007
Location: In da Toolz cupboard in da Mekshop
Posts: 7,589
Reputation: 53

---
Tidy job,
as jakkie said a bit more dirt or Devlan Mud wash might tone down the Clean look on the metals.
Senior Member
Join Date: Jul 2009
Location: Indiana
Posts: 383
Reputation: 1

---
Easy enough to do. I'll wash it when I do the touch ups on him.
---
Nice work on the ork warboss and I agree that the shading on the loin cloth is well done. I also quite like the green tone of the skin but I would have to agree that the claw could do with some 'dirtying' up.
---
Regards,
Jake.
Senior Member
Join Date: Jul 2009
Location: Indiana
Posts: 383
Reputation: 1

---
The skin was simple to do. I based in Dark Angel green and then semi-dry brushed a 3:1 Scorpion green/Skull White over it..then did a 1:1 Scorpion green/skull white for highlighting the skin..veins, ridges on the face, etc..and then washed it all with a thinned down Ogryn Flesh to darken it and dirty up the skin a little. Cant see it in the picture, but the recesses are brownish because it just looks better than leaving the DA green as the shadowing.
Senior Member
Join Date: Jul 2009
Location: Indiana
Posts: 383
Reputation: 1

---
Done with the washing the metals..did another wash on the pants as well as touched up the highlights a little on them..finished and washed the shoota, only a single wash instead of the double wash i did on the rest of the metals.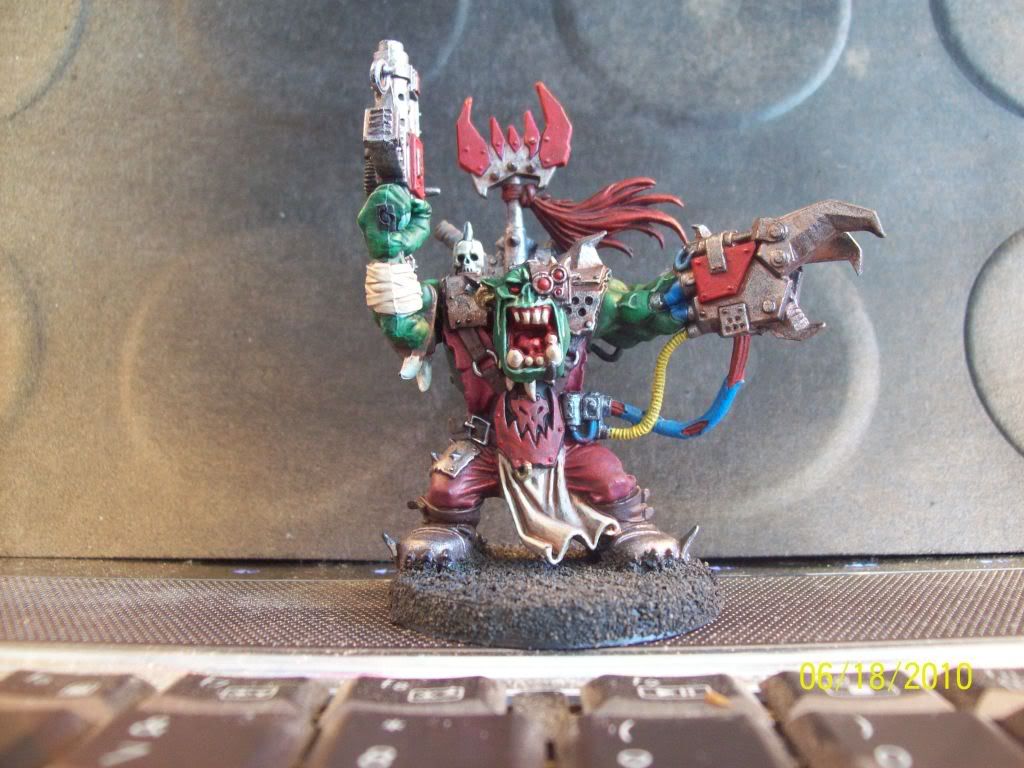 ---
Looking good. Those AoBR models are always miscast in some way, but as I commented earlier to an AoBR Marines post, it's always cool to see them crafted in to something easy on the eyes. I agree the metals and wire insulation look a little too clean for an Ork. A little more wear and tear as far as color is concerned would go a long way, but it looks excellent otherwise.
Senior Member
Join Date: Jul 2009
Location: Indiana
Posts: 383
Reputation: 1

---
The metals in the picture are washed out by the sun. In person, they look alot dingier and rusty. The cables, yeah. I agree, but I'm not really sure how to give them some more wear and tear..I've tried washing them..looked like crap. Atleast with a brown wash. I could always try another color wash and see how it looks..

Edit: trying brown wash again..a little heavier this time. Wet, it looks good, but we'll see how it looks when it dries.
---
Last edited by genesis108; 06-18-10 at

11:43 PM

.
Angryman
Join Date: Aug 2009
Location: A wretched hive of scum and villany. Actually PNG. Goddamn this place is a shithole.
Posts: 4,304
Reputation: 22

---
I Like it. Nice work.
---
Sanity is for the weak.
'Evil will triumph because good is dumb.' Dark Helmet,Spaceballs
According to LUKEVALENTINE's test i am a diciple of khorne. Figures really.
Lower Navigation
AoBR Ork Warboss