---
What is a genestealer cult fluffwise, could someone give me a quick rundown?
---
Quote:
What is a genestealer cult fluffwise, could someone give me a quick rundown?
Sure,
Taken from Lexicanum
A Genestealer Cult is a community of Genestealers, Genestealer-hybrids, as well as the completely human convert-hosts, infected victims and genetic relatives known as Brood Brothers, existing within another society. Such a cult forms if a Genestealer infects members of another species with its genotype. The resultant changes in the genome of the host cause a fanatical loyalty to the Genestealers as well as a drastic change to their reproduction system; their firstborn children will be Hybrids, a grotesque mixture of the host's race and Genestealers. These hybrids infect further victims, and the infection spreads exponentially. Fourth generation hybrids produce Purestrain Genestealers, and the cycle starts once again.
This brood of Purestrains, hybrids and Brood Brothers is held together by strong psychic and genetic bonds, and assembles around the original Genestealer which becomes the Patriarch.
Because this community is often hidden behind the facade of a religion or political movement, it is called a Genestealer Cult by the Imperium.
Here's a pic of some classic models including the patriarch, magus and a few hybrids
---
Last edited by RhYn0; 04-04-10 at

06:44 PM

.
---
OK, so why do tyranids field genestealers instead of them being their own army?

Or am i completely off... IE this has nothing to do with tyranids.
---
Quote:
OK, so why do tyranids field genestealers instead of them being their own army?

Or am i completely off... IE this has nothing to do with tyranids.
Originally i think Genestealers were their own Army, then they got merged with Tyranids but you could still play genestealer cult units. In the latest editions though, they have got rid of the option to play the genestealer cult units completely.
When Genestealers first got mixed in with tyranids they were described as the forward troops - infecting the planet through it'sown species before the rest of the hive turns up.
---
My Salamander Logs & Army Showcase:
The Ashbringers 3rd co.
:::
Into the fires of Battle
:::
Army Showcase

Currently Painting:
Landraider Redeemer
Member
Join Date: Jan 2010
Location: Dantooine
Posts: 45
Reputation: 1

---
Well, the whole genestealer cult idea emerged before genestealers were tyranids. Originally genestealers were just these creepy monsters that inhabited one of the moons of Ymgarl, and injected their DNA into animals/people.
---
yea as said Genestealers were around before the "tyranid" army was even conceived
Here's another exert from Lexicanum
Quote:
Originally Posted by Lexicanum
Genestealers are effectively the heralds of Tyranid invasion, because the psychic power of the Patriarch shines like a beacon in the Warp and is perceived by the Hive Fleets of the Tyranids. As the cult's power grows over the world, the beacon becomes stronger, signaling to the Tyranids the location of a biologically rich world. By the time the Hive Fleets arrive, the world may already be completely in the hands of the genestealer cult, or torn apart by civil war between the cult and the remaining free society, or at least weakened and rife with traitors. However, after the planet comes to the Hive Fleet's notice, the destiny of the cult is sealed, because all surviving members are absorbed like the rest of the planet
A lot of this is also linked in with space hulk, tyranids plant stealers on the hulks and when people board the hulks one or more of the crew will return infected, so when they return to their home planet the seeds of the cult have been planted.
It's a real shame Games workshop doesn't even acknowledge any of the Genestealer Cult fluff any more as it is very rich and for me (and many others) a massive part of the Tyranid fluff
If you want to know anymore have a read of this
http://www.box.net/shared/lyyxvnpk48
it's a Genestealer Cult mini Dex done by Bell Of Lost Souls and it's full of information and fluff that Games Workshop Published in White Dwarf many many years ago
On another note I've done a test model for my Brood Comrades not sure that I like it to much, but would be interested to see what other people think, initially I thought to do a scheme that has similarities with the rest of the cult but I'm now thinking something completely different and contrasting may be the way to go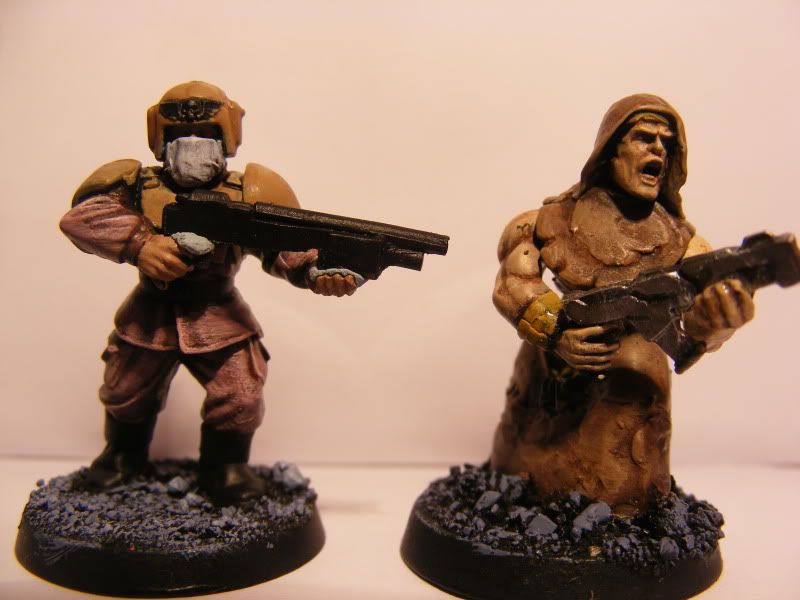 ---
Last edited by RhYn0; 04-05-10 at

09:07 AM

.
---
ok so I've woke up this morning, looked at the test mini I did last night and thought naaaaaa, not what I want at all. So the baby went for a nap for an hours or so, so I did this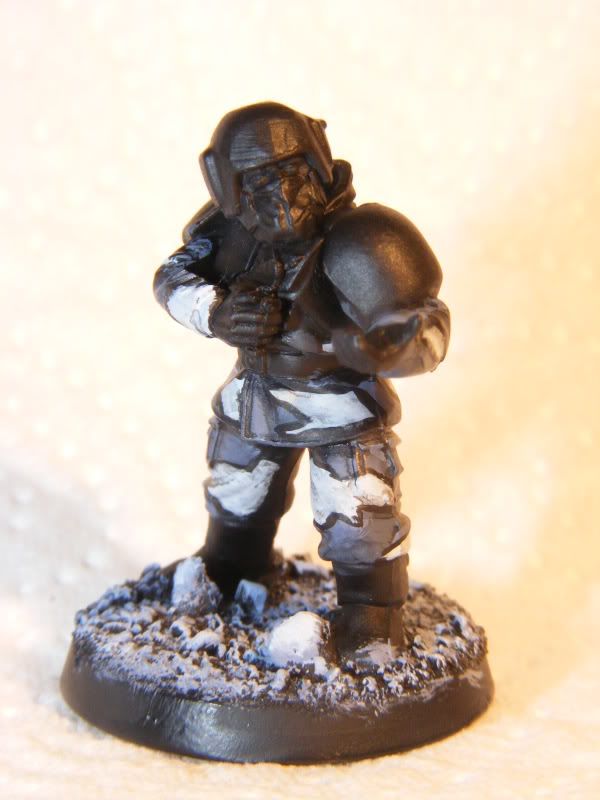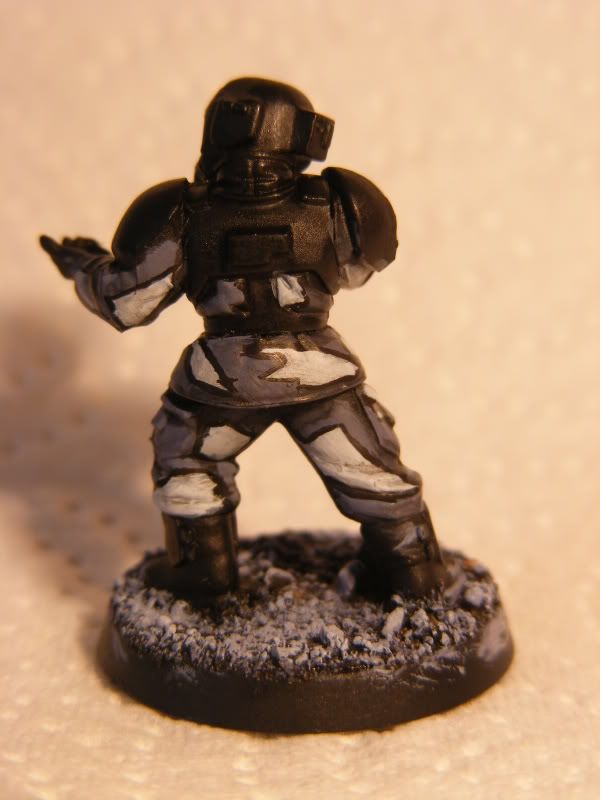 Now this is my 1st time ever trying to paint a camo pattern, I think it's turned out ok (a bit messy but I'll clean that up), but would like to hear from someone with a bit more experience painting a camo effect. Also I'm much happier with the look so far than the previous Veteran and think I'll be sticking with what I have so far. Anyone got any suggestions on colour for the armour plate? Not sure if I should go for a more solid colour or continue with the camo
Steve
---
For the urban camo, you want the spots to be small and overlapping. You want to mix between grey dark grey and white. For the armor bits I would go with black with a grey highlight maybe. Might blend too much with the rest of the model. For a clashing color maybe a dak silver like boltgun with bright silver highlights. Just a thought.
GW has a good section on different camo schemes,
CLICKY HERE
to check it out.
---
Last edited by Unforgiven302; 04-05-10 at

02:57 PM

.
---
Have done another guys camo this time in a different style, using smaller patches and using black alot more in the pattern aswell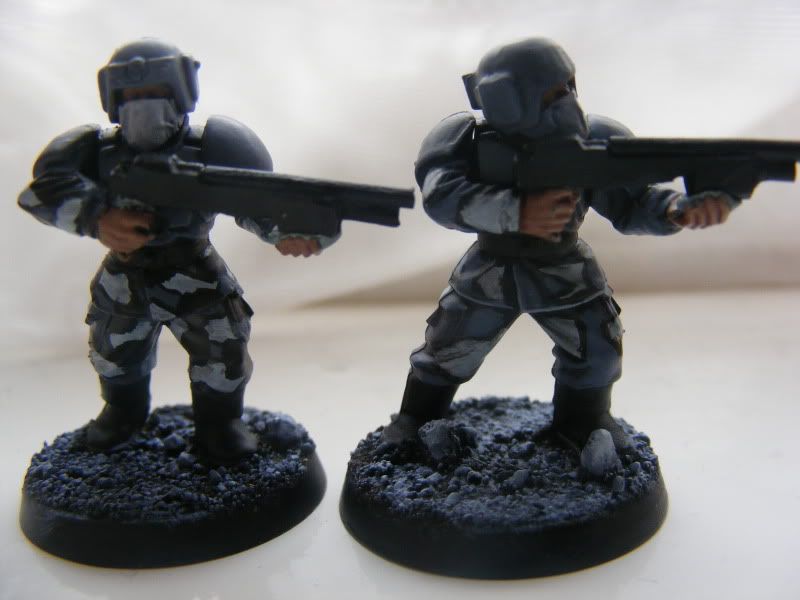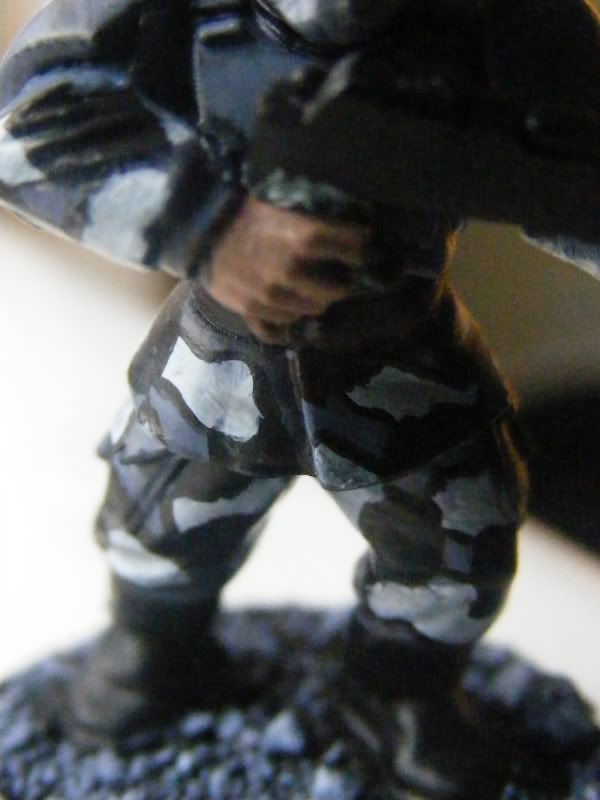 C&C please, more of the latter I'm sure, but it's the only way I'll learn :D
---
Last edited by RhYn0; 04-07-10 at

05:15 PM

.
Senior Member
Join Date: Aug 2009
Posts: 280
Reputation: 1

---
Very well done camo there. I like the idea of having the guard elements to the cult not be in sync with the cult itself's colour scheme.
---
Dub-Hammer,Wargaming For The Emerald Isle!
[/B]
Clicky-click!...please.
Lower Navigation
TGenestealer cult - the great father approches