---
Well, I belive some well deserved rep is in order here.

Great idea to start a g.cult army, the 'outlawed' look you made really captures attention.
Awsome, all the way.

P.S. Especially like the freaky seargent with twin pistols.
---
Quote:
GOLDEN THRONE: Does it include a flush? Or is that what the "custodians" are really there for?
---
Gee, that's pretty good. You're very ambitious for a first go at using GS.
---
On the subject of Rat Ogres:
But if we give them laser eyes and mounted guns, we'll have to bring in Clan Skryre, and everyone knows how much those limp-tailed snuff addicts overcharge.
Angryman
Join Date: Aug 2009
Location: A wretched hive of scum and villany. Actually PNG. Goddamn this place is a shithole.
Posts: 4,304
Reputation: 22

---
I am soooo impressed. To tackle a project like this without much prior gs experience id a big call. The thing is you have produced a damn fine force. These guys look fantastic. I am a big fan of aberrant or heavily customised forces. Fine work indeed.
Rep for the effort and the fine result.
---
Sanity is for the weak.
'Evil will triumph because good is dumb.' Dark Helmet,Spaceballs
According to LUKEVALENTINE's test i am a diciple of khorne. Figures really.
---
I like these guys. +rep
I like the contrast between the brown cloth and their grey bases. Are they loyalists? I would imagine not but I still see Imperial insignia. I really dig the reload A/C you got goin'.
Junior Member
Join Date: Mar 2010
Posts: 21
Reputation: 1

---
You might want to look at picking up some fine grit (1200+) wet/dry paper to sand down the joins where two areas of GS meet or where GW meets figure - at the moment the bumps and lines detract a bit from the overall finish.

Otherwise, it's always great to see more Genestealer cult's! Working on my own magus conversion at the moment.

Keep up the good work.

Cheers,

Dante
---
Thanks for all the kind words guys it's very much appreciated
Quote:
Are they loyalists? I would imagine not but I still see Imperial insignia
No their far from loyalist, I've left the loyalist insignia on on purpose. As a Genestealer cult they need to remain covert and undercover to some degree and take the system down from the inside
I have some new bit's and pieces hot of the press as they say, 1st up are my Brood Comrades, in game terms they count as Veterans to represent the higher level of training over the Brood Brothers, as mentioned they still bare there Imperial Insignia but they have covered their faces to remain anonymous within the cult
Sergent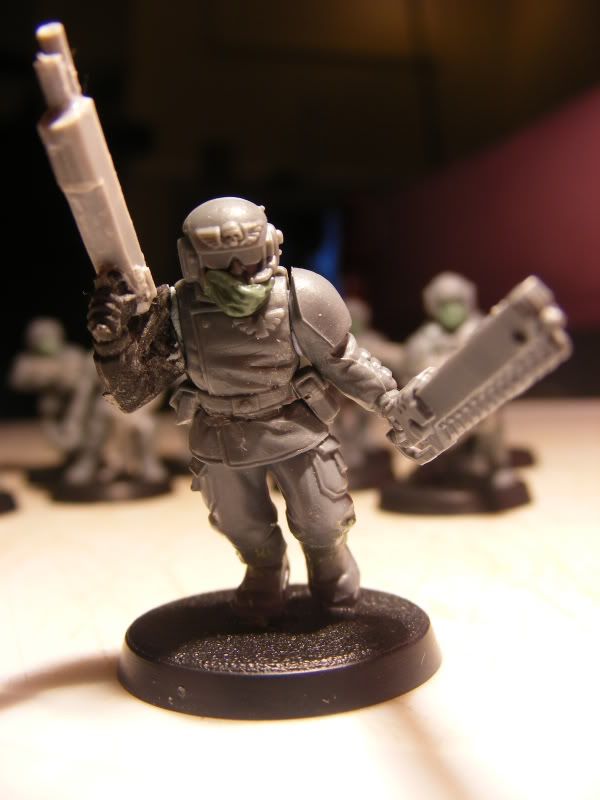 Shotgun Vets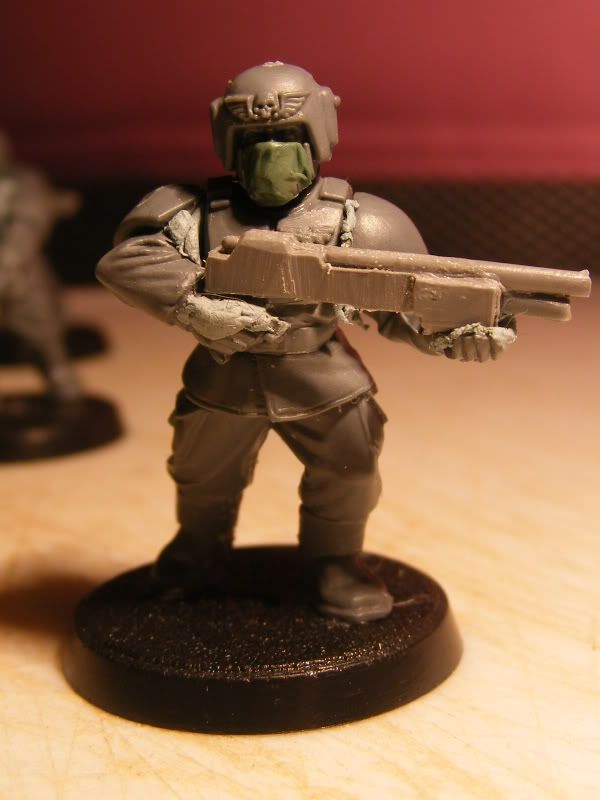 Not sure on this guy atm will probably get him painted and see how it comes out can always swap the head if it looks to poor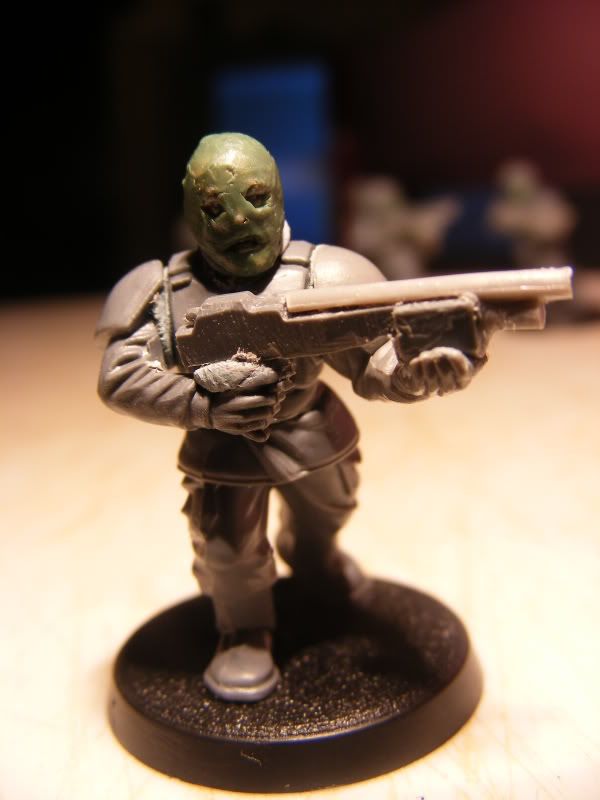 Melta Vets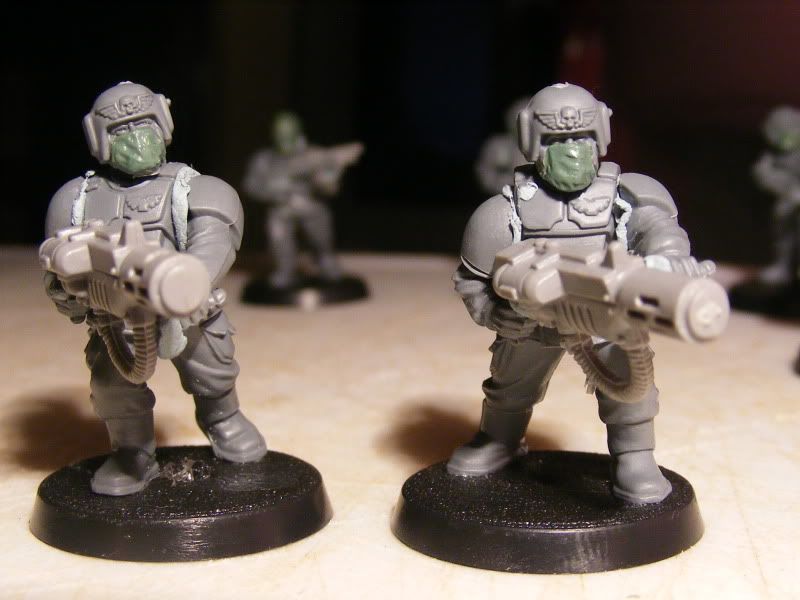 On top of this motley crew I have made the cults interpretation of Guardsman Marbo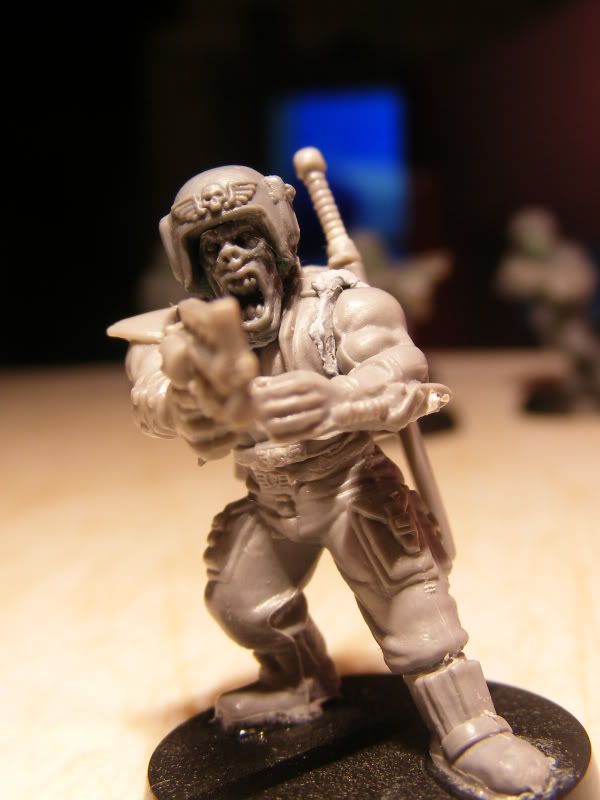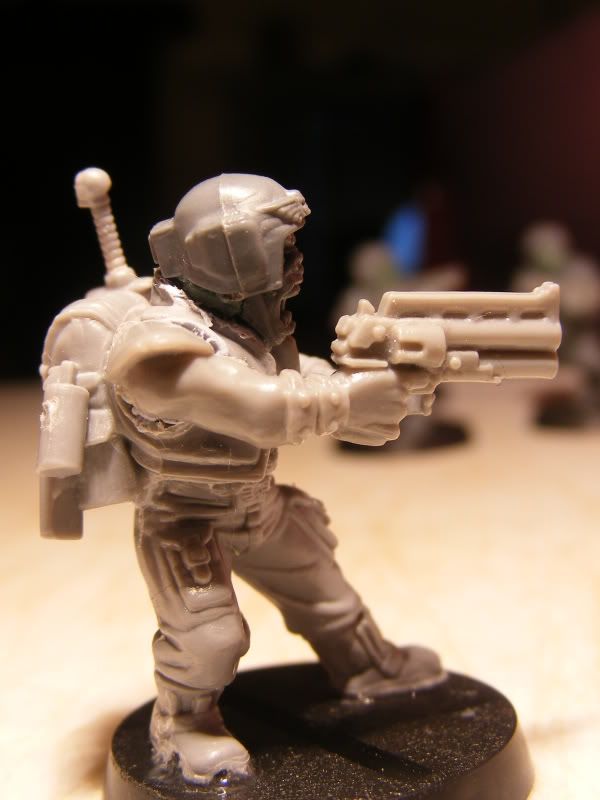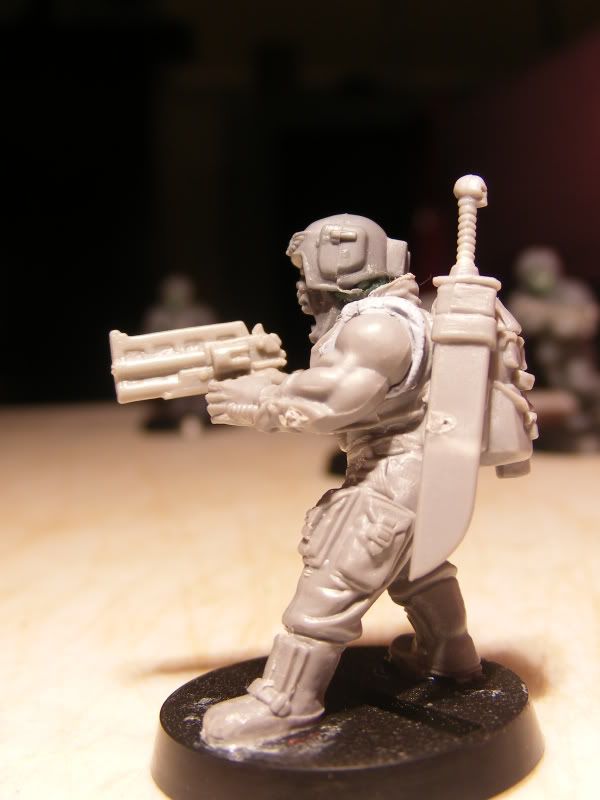 Last but not least I have entered the Heresy Online modeling competition with this fella, my dark commissar.
Voting kicks of on the 1st of April any votes will be much appreciated
Till next time
RhYn0
Junior Member
Join Date: Mar 2010
Posts: 21
Reputation: 1

---
Any plans for a paint scheme yet?
---
I'm thinking I'll use the baby blue/grey colour for the genestealer hybrids, possibly with some kind of yellow stripe to break up the colour a bit. I am however at a bit of a loss with the Veterans atm, might have to find an imperial guard online army painter thingy, I'm tempted to try and do an urban camo as their technically a PDF force but think it may be a bit beyond my skills
Junior Member
Join Date: Mar 2010
Posts: 21
Reputation: 1

---
What about a nice dark purple for the cultist robes and the militia uniforms?

Fits with the classic GS cult themes and would be quite easy to do?
Lower Navigation
TGenestealer cult - the great father approches