You can Suffer some more of my Waaaagh!
---
Storm Boyz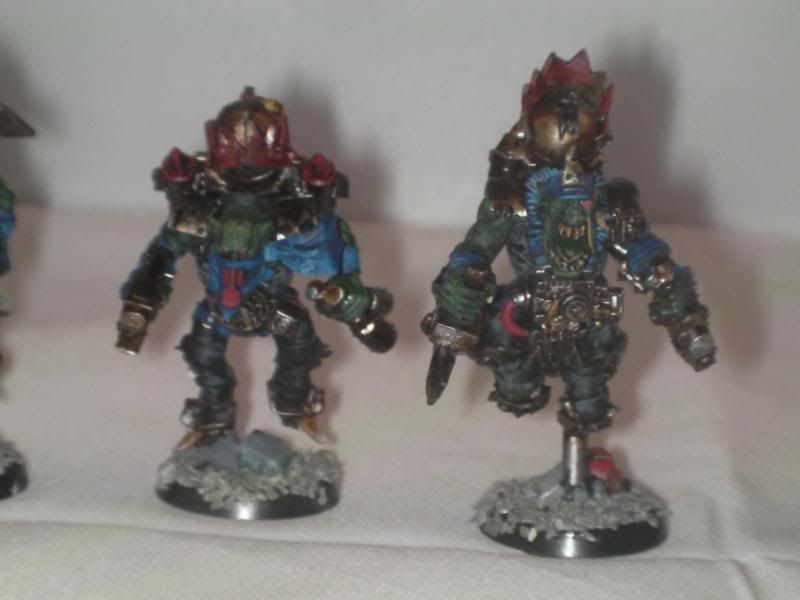 And my objective marker, always gotta help the damsels in distress!
Senior Member
Join Date: Nov 2008
Location: In a chair, in front of my computer
Posts: 1,282
Reputation: 2

---
Looking lovely! The scheme is rather dark and grim which is generally how I like my Orks. However I can not tell if the skin is just one colour or a layer of two or more. If it is just one layer then I suggest that your add a slightly brighter green on the raised areas of the skin. Otherwise your camera is playing tricks with my eyes and I can not give you any advice!
---
Praise the sun!
---
Thanx alot man....Now I gotta get me some stormboyz...awesome work on those!

Fallen
---
I've done 4 layers on the orcs skin, ork shade, dark angel, then a light covering of knarloc, and an even lighter coat of gretchin only on the raised areas, camera does seem to wash it out a bit though! thanks for the comments, now to work on my killa kan mob!


(edit - I re read that, and it didn't make a lot of sense!)
---
Last edited by FatBoyFat; 03-13-10 at

12:43 PM

.
Senior Member
Join Date: Jan 2010
Posts: 247
Reputation: 1

---
This just accentuates my love for the stormboyz models. Awesome to begin with, and an awesome paint job to boot.
---
Quote:
Originally Posted by
Stella Cadente
View Post
Blood angels - twilight fanbois
Lower Navigation
You can Suffer some more of my Waaaagh!