WIP ork bikers
---
just about done the first bike for my biker mob, still wip, as there is no biker or handlebars, but let me know what you think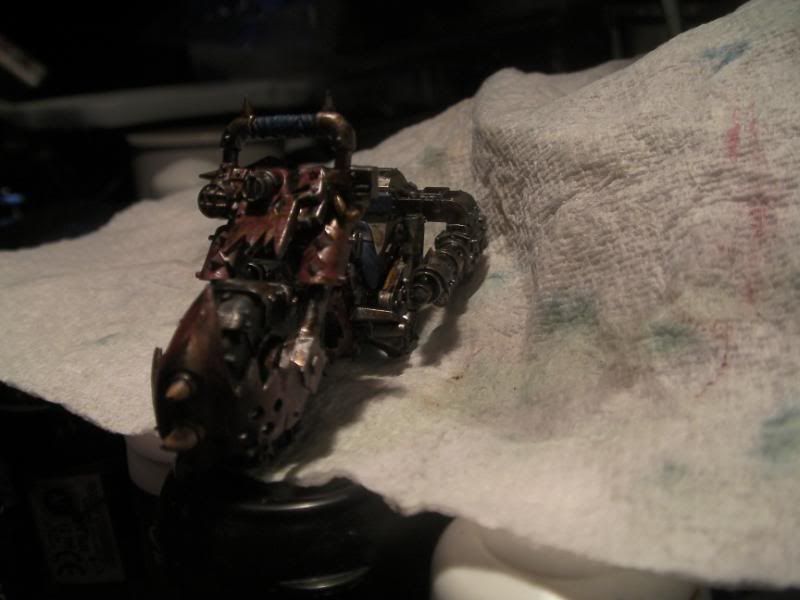 ---
The Bike, or at least what you have shown us, looks really good. Your metallics are done pretty well. I look forward to seeing more from you FatBoyFat
Have some rep.
---
Nyctophobia- Fear of the Dark Angel.

"No one ever spoke about of those two absent brothers. Their separate tragedies had seemed like aberrations. Had they, in fact, been warnings that no one had heeded?"

'Killing a man is like fucking, boy, only instead of giving life you take it. You experience the ecstasy of penetration as your warhead enters the enemy's belly and the shaft follows. You see the whites of his eyes roll inside the sockets of his helmet. You feel his knees give way beneath him and the weight of his faltering flesh draw down the point of your spear. Are you picturing this?'
'Yes, lord.'
'Is your dick hard yet?'
'No, lord.'
''What? You've got your spear in a man's guts and your dog isn't stiff? What are you, a woman?'
---
Thanks Dark Angel, its going the same way as my trukk and boys I posted up a while back, very dirty, greasy rusty metal, with very little paint on it, my orks don't have time for paintin' things when they can be killin' them instead!
---
So far so good it does look good a grimy like a propper ork army should.
---

Red Orc
"Ahh, isn't Morfang sweet, like a great big 350-pound (that's 25 stone, UK users!) ball of cuddly death...?"


God, gives children to people so that death won't seem so disappointing.
---
I was going to go and do something else.. but then I just kinda.. well
another 11 more to do
---
well done, very orkish, i like the dark and dirty look +rep
Lower Navigation
WIP ork bikers