The Waaaagh so far
---
Busy time, but had enough time to finish of the first trukk and the warboss, let me know what you think please!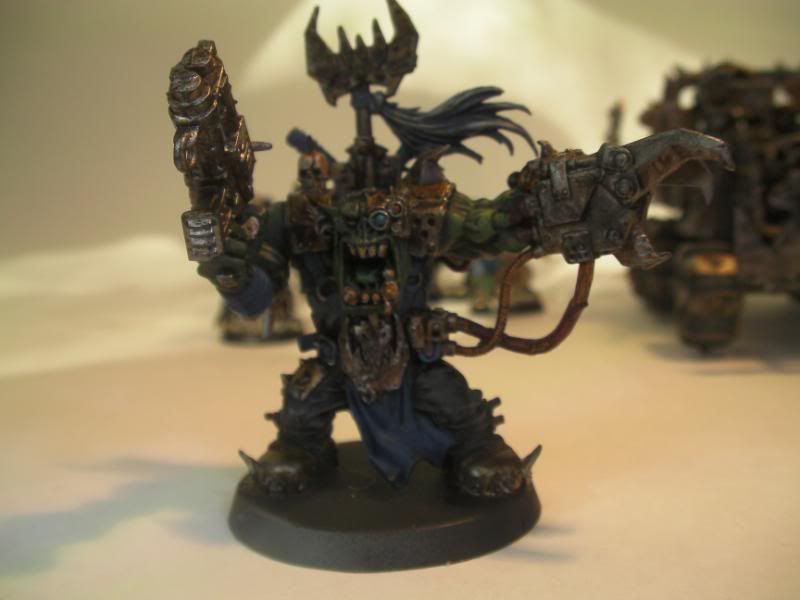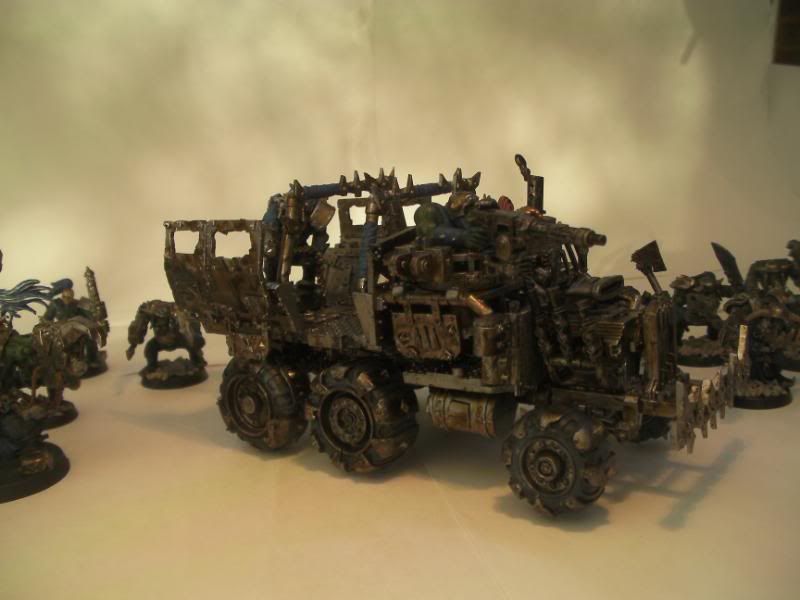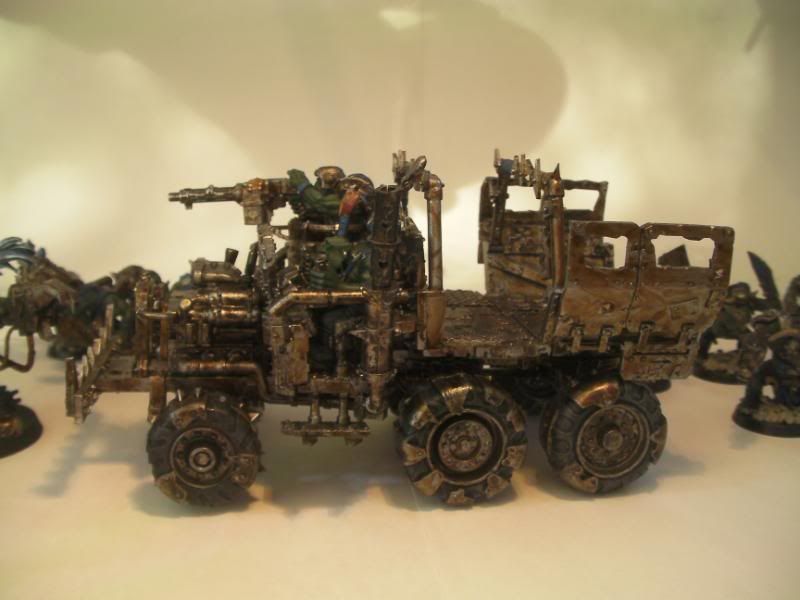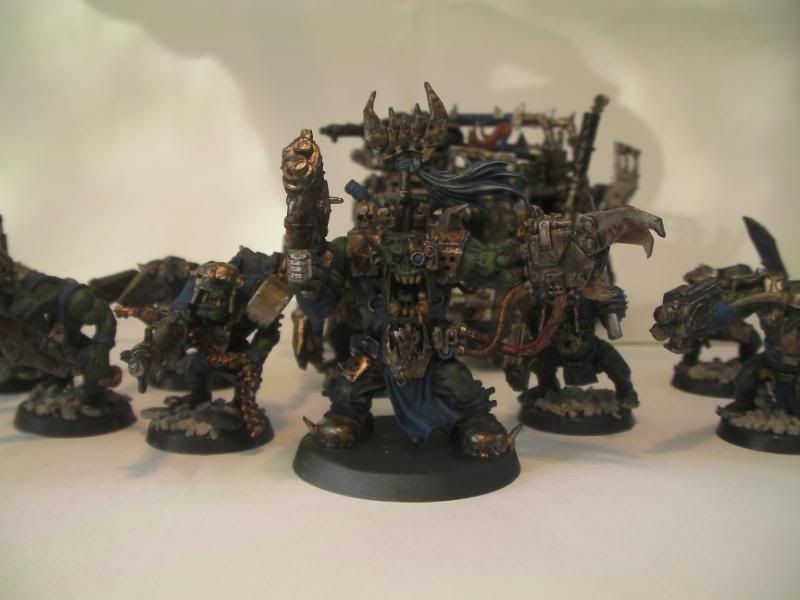 with the trukk, I'm thinking of painting some go faster red stripes on it, on the other hand, I like the rust effect, and its very quick and easy to paint, which should make painting a lot of models very easy.
---
I like them, their pretty reminiscent of John Blanche's models, very dark and gothic.
Senior Member
Join Date: Nov 2008
Location: In a chair, in front of my computer
Posts: 1,282
Reputation: 2

---
Nicely painted and I certainly like them, but because they are very dark and as such really don't stand out much don't expect people to pick up your models to have a look because they will often go unnoticed by passes by. Still they look very nice and certainly get my seal of approval! :D +rep
---
Praise the sun!
---
I like the rust effect but I would put some red markings on the trukk just incase you wanted to use the red paint job upgrade. Of course some nice red blood splatter on parts of the trukk could also work just as well.
---

Red Orc
"Ahh, isn't Morfang sweet, like a great big 350-pound (that's 25 stone, UK users!) ball of cuddly death...?"


God, gives children to people so that death won't seem so disappointing.
---
thanks for the comments and suggestions guys! started on the nobs now, then I was going to do a few bikes like this, I do like it, as it is a very easy scheme to do, but I think it does look pretty good, if a little dark as a few of you have said.
---
I agree with Morfang Dakka, I love using splatters of blood for an orky "Quick fix" red paintjob.


EDIT: also they look nicey nice.
---
I'm all for playing this game, but you don't have to be a dick about it.

~Someday I'll play 7th Edition ~
0 Win 0 Losses 0 Draws
---
Just to add the Nobs to the mix now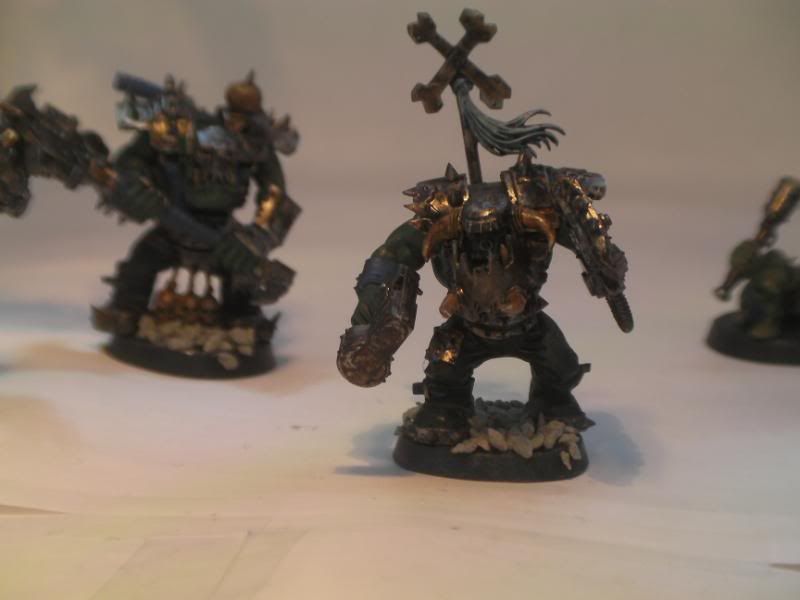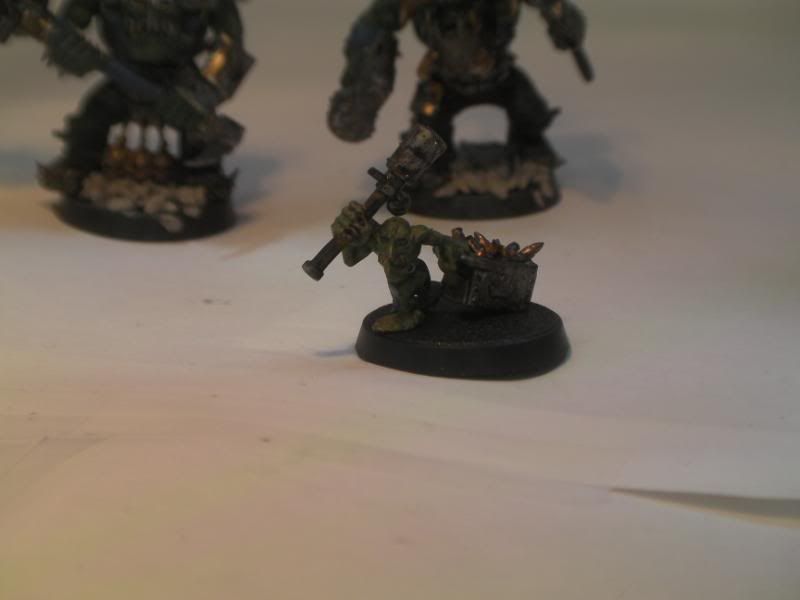 ---
Just a thought for da trukk- Grot Riggers with severed human/eldar arms/legs that they used as "paint brushez" to apply blood paint to da trukk...
---
aswome job. how did you do the rust so well?
---
Rust is done by black undercoat, then a layer of bolt gun metal, then I bought the 6 packs of inks at games day, so have loads of brown and black ink, so give it a good covering in brown ink, then a light covering black ink, but with the brown, you want it enough so it almost pools in places.
Lower Navigation
The Waaaagh so far